Pre-market actions: the global economy is closing for another uncertain winter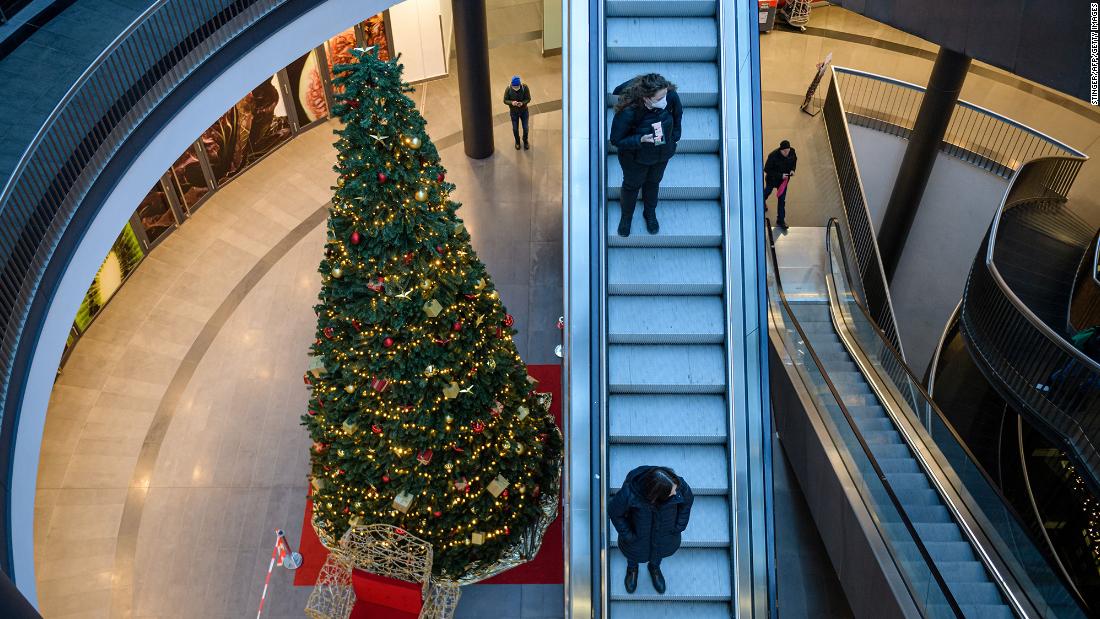 So far, the new wave of Covid-19 has had only a limited impact on the activity of the 19 countries that use the euro. The IHS Markit Purchasing Managers Index, a key indicator of the economy, rose in November after slipping to its six-month low in October, data showed Tuesday.
"A stronger expansion in business activity in November defied economists' expectations of a slowdown, but is unlikely to prevent the eurozone from experiencing slower growth in the fourth quarter, especially since the increase virus cases are expected to cause further disruption to the economy in December, "said Chris Williamson, chief economist at IHS Markit.
France could also announce new Covid-19 rules after reporting more than 30,000 new infections on Tuesday, a level last seen in early August. Government officials are expected to discuss new measures on Wednesday.
Ruben Segura-Cayuela, economist for Europe at Bank of America, told me that more data is needed to assess what restrictions in Europe might mean for the region's economy. He noted that with each wave of Covid-19 infections, the economic impact has diminished as businesses and consumers learn to cope.
"We know there will be a reaction, we just don't know if it will be of the same magnitude," he said. "I guess, based on what we've seen over the past few months, it will be smaller."
Much now depends on how the situation in Germany develops, said Jessica Hinds, Europe economist at Capital Economics. She told me it was "plausible" that Europe would stagnate at the end of the year if its largest economy goes into lockdown.
"We are likely to see economic activity affected, just as the increase in the number of cases makes consumers more fearful and governments are demanding a stricter Covid pass [screening] for various activities, "said Hinds.
Around the world: Uncertainty in Europe comes as Chinese authorities consider further stimulus measures to tackle stagnation at a difficult time for the economy, given the steep rise in prices. Labor shortages and supply chain delays are also weighing on production in the United States, where IHS Markit's PMI is at two-month low, although expectations for the future improve on hopes of more stability next year.
The global recovery from the pandemic remains intact. Consumer spending is
still high
that buyers tap into the accumulated savings.
"The US economy continues to run at full speed," said Williamson. "Despite a slower pace of business expansion in November, growth remains above the long-term pre-pandemic average as companies continue to focus on increasing their capacity to respond to the growing demand."
But more than 20 months after the start of the pandemic, reading the direction of the economy remains a difficult task, making it essential to watch the new numbers closely.
Watch this space: A US data dump arrives Wednesday before Thanksgiving. Shortly we will have the second estimate of third quarter GDP, jobless claims for last week, personal income and spending, a crucial measure of inflation and Federal Reserve minutes.
Market ignores the release of millions of barrels of oil
The White House's announcement this week that China, India, Japan, South Korea and the UK are all joining the United States in the first coordinated emergency oil release in a decade did not lower gas prices until the Thanksgiving holiday.
The latest: US oil prices were stable Wednesday after gaining 2.3% Tuesday. The average price of gasoline in the United States remains stubbornly at $ 3.40 per gallon from $ 2.11 a year ago.
Which give? First, investors had been
anticipate the move
. US oil fell about 10% from the end of October as discussions on the exploitation of strategic reserves increased. Prices are still around 7% below levels reached towards the end of last month.
Investors have also started to assess an impact on oil demand over the winter due to an increase in coronavirus cases, said strategist Damien Courvalin at Goldman Sachs.
In addition, the number of barrels to be put on the market estimated between 70 million and 80 million is lower than the 100 million barrels or more which were expected, by Courvalin.
And then: gasoline prices could start to fall again in the short term. The "best-case scenario" is that prices drop 15 to 20 cents a gallon, Bob McNally, president of Rapidan Energy Group, told my CNN Business colleague Matt Egan.
Oil supply has not kept up with rising demand as the global economy recovers from Covid-19. There is a finite amount of oil in the reserves, which cannot be exploited indefinitely. And the oil companies
do not increase production
as quickly as they could have had in the past. Some prioritize repayment to shareholders rather than new investments; others are reducing their production to refocus on renewable energies as pressure mounts to tackle the climate crisis.
The latest puzzle for supply chains? Disappearance of ships
Analysts told my CNN Business colleague Laura He that they started noticing the drop in shipping traffic towards the end of October, as China prepares to enact data privacy legislation.
Usually, maritime data companies are able to track ships around the world because they are equipped with an automatic identification system, or AIS, transceiver. This system allows vessels to send information such as position, speed, course and name to stations based along the coast using a high frequency radio.
But this is not happening in the world's second-largest economy, a key player in global trade. In the past three weeks, the number of vessels sending signals from the country has fallen by nearly 90%, according to data from global maritime data provider VesselsValue.
Analysts believe the culprit is China's Personal Information Protection Law, which went into effect on November 1. the data could end up in the hands of foreign governments.
The law does not mention shipping data. But Chinese data providers could withhold information as a precaution.
Why it matters: As Christmas approaches, a loss of information from mainland China, home to six of the world's 10 busiest container ports, could create more problems for a global shipping industry already in trouble.
Following
Deere publishes its results before the US markets open.
Also today :
The second estimate of third-quarter U.S. GDP, initial jobless claims for last week, and durable goods orders for October are released at 8:30 a.m. ET.
Next comes personal income and spending data at 10 a.m. ET, along with the Federal Reserve's preferred measure of inflation and new home sales in the United States.
The November Fed meeting minutes arrive at 2 p.m. ET.
Coming soon: U.S. markets are closed for Thanksgiving and will close early Friday. We're taking a break for the holidays and hope you can too. Before the bell will be back in your inbox on Sunday.
Sources
2/ https://www.cnn.com/2021/11/24/investing/premarket-stocks-trading/index.html
The mention sources can contact us to remove/changing this article
What Are The Main Benefits Of Comparing Car Insurance Quotes Online
LOS ANGELES, CA / ACCESSWIRE / June 24, 2020, / Compare-autoinsurance.Org has launched a new blog post that presents the main benefits of comparing multiple car insurance quotes. For more info and free online quotes, please visit https://compare-autoinsurance.Org/the-advantages-of-comparing-prices-with-car-insurance-quotes-online/ The modern society has numerous technological advantages. One important advantage is the speed at which information is sent and received. With the help of the internet, the shopping habits of many persons have drastically changed. The car insurance industry hasn't remained untouched by these changes. On the internet, drivers can compare insurance prices and find out which sellers have the best offers. View photos The advantages of comparing online car insurance quotes are the following: Online quotes can be obtained from anywhere and at any time. Unlike physical insurance agencies, websites don't have a specific schedule and they are available at any time. Drivers that have busy working schedules, can compare quotes from anywhere and at any time, even at midnight. Multiple choices. Almost all insurance providers, no matter if they are well-known brands or just local insurers, have an online presence. Online quotes will allow policyholders the chance to discover multiple insurance companies and check their prices. Drivers are no longer required to get quotes from just a few known insurance companies. Also, local and regional insurers can provide lower insurance rates for the same services. Accurate insurance estimates. Online quotes can only be accurate if the customers provide accurate and real info about their car models and driving history. Lying about past driving incidents can make the price estimates to be lower, but when dealing with an insurance company lying to them is useless. Usually, insurance companies will do research about a potential customer before granting him coverage. Online quotes can be sorted easily. Although drivers are recommended to not choose a policy just based on its price, drivers can easily sort quotes by insurance price. Using brokerage websites will allow drivers to get quotes from multiple insurers, thus making the comparison faster and easier. For additional info, money-saving tips, and free car insurance quotes, visit https://compare-autoinsurance.Org/ Compare-autoinsurance.Org is an online provider of life, home, health, and auto insurance quotes. This website is unique because it does not simply stick to one kind of insurance provider, but brings the clients the best deals from many different online insurance carriers. In this way, clients have access to offers from multiple carriers all in one place: this website. On this site, customers have access to quotes for insurance plans from various agencies, such as local or nationwide agencies, brand names insurance companies, etc. "Online quotes can easily help drivers obtain better car insurance deals. All they have to do is to complete an online form with accurate and real info, then compare prices", said Russell Rabichev, Marketing Director of Internet Marketing Company. CONTACT: Company Name: Internet Marketing CompanyPerson for contact Name: Gurgu CPhone Number: (818) 359-3898Email: [email protected]: https://compare-autoinsurance.Org/ SOURCE: Compare-autoinsurance.Org View source version on accesswire.Com:https://www.Accesswire.Com/595055/What-Are-The-Main-Benefits-Of-Comparing-Car-Insurance-Quotes-Online View photos
to request, modification Contact us at Here or [email protected]