Mortgage rates at their highest since 2009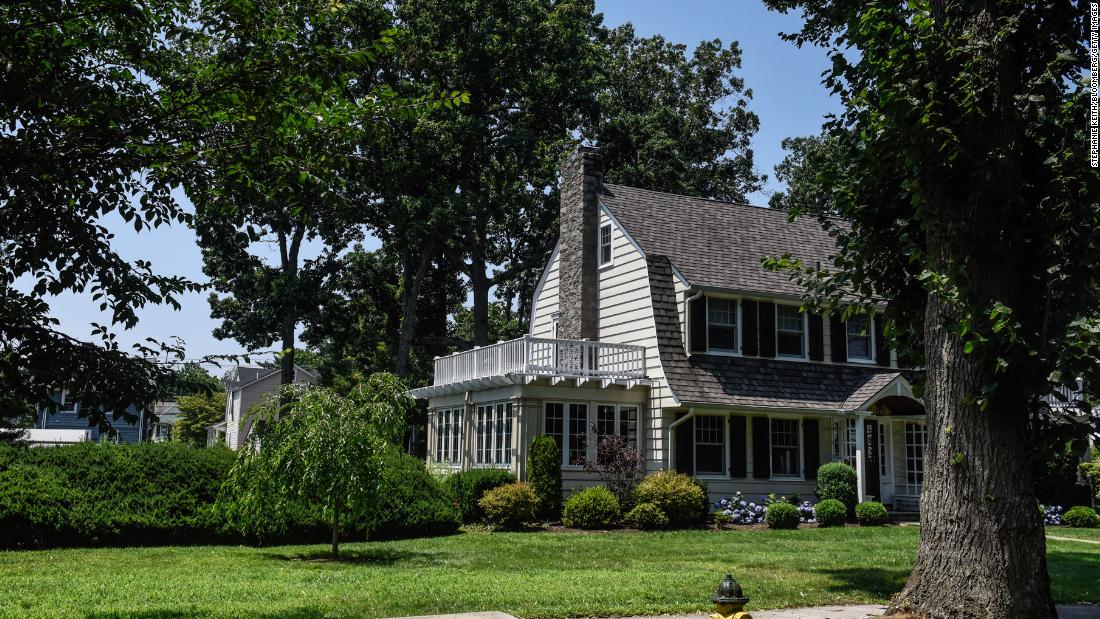 The 30-year fixed-rate mortgage averaged 5.27% in the week ending May 5, down from 5.10% the previous week, according to Freddie Mac. This is the highest since 2009 and well above the average of 2.96% at this time last year.
"Mortgage rates resumed their ascent this week as the 30-year fixed rate hit its highest level since 2009," said Sam Khater, chief economist at Freddie Mac. "While housing affordability and inflationary pressures pose challenges to potential buyers, house price growth will continue but is expected to slow in the coming months."
Hoping to rein in inflation, the Federal Reserve announced earlier this week that it would raise the federal funds rate by half a percentage point, the biggest jump since 2000.
After the meeting, Fed Chairman Jerome Powell said more hikes are expected, including increases of more than 50 basis points. But Powell said the central bank wasn't considering any bigger hikes than that.
"A 75 basis point increase is not something the committee is actively considering," Powell told reporters. "If inflation goes down, we're not going to stop. We're just going to go down to 25 basis point increases."
Mortgage rates tend to follow 10-year US Treasuries. But rates are indirectly impacted by the Fed's actions on inflation. When investors see or anticipate rate hikes, they often sell government bonds, driving up yields and, therefore, mortgage rates.
Since the start of this year, mortgage rates have climbed more than two percentage points, the fastest pace in decades.
"The financial conditions facing homebuyers have changed significantly," Danielle Hale, chief economist for Realtor.com said following the Fed's announcement.
She said the cost of financing a home with a 20% down payment is up nearly 50% from a year ago, "an increase that has caused many buyers to rethink their budgets and likely eliminated some households from the home buying market for the time being. "
At the same time, she said, the demand to buy a home is still strong.
"House prices have continued to rise as rents are high and many young households seeking the certainty and relatively fixed costs of home ownership are feeling a strong sense of urgency to find a house and lock in a rate before mortgage rates and house prices go up again," she said.
Looking ahead to the rest of the year, the housing market is uncertain, Lawrence Yun, chief economist for the National Association of Realtors, said at the organization's legislative meeting this week.
"Mortgage loans today compared to a few months ago cost home buyers more," Yun said. "For a median-priced home, the price difference is $300 to $400 more per month, which is a heavy toll on a working family."
He believes that inflation will remain elevated over the next few months and that the market will see further monetary policy tightening through a series of rate hikes.
But, he said, as rates rise, house prices should fall.
Sources
2/ https://www.cnn.com/2022/05/05/homes/us-mortgage-rates-may-5/index.html
The mention sources can contact us to remove/changing this article
What Are The Main Benefits Of Comparing Car Insurance Quotes Online
LOS ANGELES, CA / ACCESSWIRE / June 24, 2020, / Compare-autoinsurance.Org has launched a new blog post that presents the main benefits of comparing multiple car insurance quotes. For more info and free online quotes, please visit https://compare-autoinsurance.Org/the-advantages-of-comparing-prices-with-car-insurance-quotes-online/ The modern society has numerous technological advantages. One important advantage is the speed at which information is sent and received. With the help of the internet, the shopping habits of many persons have drastically changed. The car insurance industry hasn't remained untouched by these changes. On the internet, drivers can compare insurance prices and find out which sellers have the best offers. View photos The advantages of comparing online car insurance quotes are the following: Online quotes can be obtained from anywhere and at any time. Unlike physical insurance agencies, websites don't have a specific schedule and they are available at any time. Drivers that have busy working schedules, can compare quotes from anywhere and at any time, even at midnight. Multiple choices. Almost all insurance providers, no matter if they are well-known brands or just local insurers, have an online presence. Online quotes will allow policyholders the chance to discover multiple insurance companies and check their prices. Drivers are no longer required to get quotes from just a few known insurance companies. Also, local and regional insurers can provide lower insurance rates for the same services. Accurate insurance estimates. Online quotes can only be accurate if the customers provide accurate and real info about their car models and driving history. Lying about past driving incidents can make the price estimates to be lower, but when dealing with an insurance company lying to them is useless. Usually, insurance companies will do research about a potential customer before granting him coverage. Online quotes can be sorted easily. Although drivers are recommended to not choose a policy just based on its price, drivers can easily sort quotes by insurance price. Using brokerage websites will allow drivers to get quotes from multiple insurers, thus making the comparison faster and easier. For additional info, money-saving tips, and free car insurance quotes, visit https://compare-autoinsurance.Org/ Compare-autoinsurance.Org is an online provider of life, home, health, and auto insurance quotes. This website is unique because it does not simply stick to one kind of insurance provider, but brings the clients the best deals from many different online insurance carriers. In this way, clients have access to offers from multiple carriers all in one place: this website. On this site, customers have access to quotes for insurance plans from various agencies, such as local or nationwide agencies, brand names insurance companies, etc. "Online quotes can easily help drivers obtain better car insurance deals. All they have to do is to complete an online form with accurate and real info, then compare prices", said Russell Rabichev, Marketing Director of Internet Marketing Company. CONTACT: Company Name: Internet Marketing CompanyPerson for contact Name: Gurgu CPhone Number: (818) 359-3898Email: [email protected]: https://compare-autoinsurance.Org/ SOURCE: Compare-autoinsurance.Org View source version on accesswire.Com:https://www.Accesswire.Com/595055/What-Are-The-Main-Benefits-Of-Comparing-Car-Insurance-Quotes-Online View photos
to request, modification Contact us at Here or [email protected]