What you can and can't do to overcome the baby formula shortage, experts say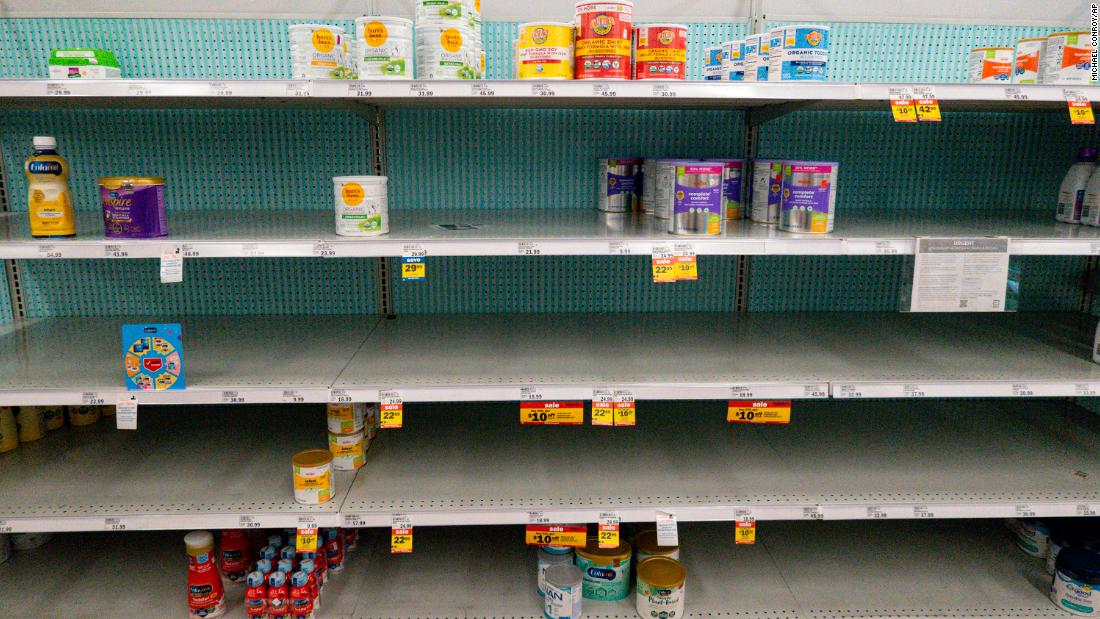 The California doctor has received phone calls, emails and social media posts – not just from his patients but from families across the US – as well as photos of empty store shelves that once held preparations for infants.
Parents say they've been to a dozen stores and looked at a hundred websites and they can't find their baby's formula, and they want to know what to do and if some of the so-called alternatives they hear about are legitimate. .
"It's scary for these moms and their babies, and it becomes a real problem," Altmann said.
Supply chain issues and product recalls have triggered the national infant formula shortage. In early April, seven states reported that between 40% and 50% of infant formula was out of stock. Manufacturers said they were producing at full capacity to make as many as they could, but this week 43% of infant formula was out of stock, according to a new report from Datasembly.
Pediatricians said there are ways to overcome the shortage for many people and that it is important to work with your pediatrician to meet your baby's special needs. Here are the answers to some of your questions about what's safe and what's not.
Can I make formula milk at home?
No.
"There's a lot of talk about making your own formula at home and things like that, and I really want to discourage that as much as possible," Abrams said.
The formulas are complex, and researchers have spent years developing the right ratio to give babies the nutrients they need, Altmann said.
Infant formula should be dense in protein, fat, vitamins and minerals, many of which cannot be purchased at the grocery store. And the balance must be precise for the health and development of babies, she added.
"You can see how very difficult it would be to replicate in your own kitchen," she said.
Homemade formulas can prevent a baby from feeding properly or have their electrolyte ratio disrupted, which can be dangerous, Altmann said. There have also been cases of bacterial contamination, which can make infants sick.
Can I expand my formula supply?
No.
It's tempting to add other food sources or add more water to formula as you near the end of your last container of formula, but pediatricians say it's not. a good idea.
Families can start introducing solids into an infant's diet when the infant is between 4 and 6 months old, Altmann said. But these foods are not a nutritional substitute for formula at this age.
"Even when you start eating solids, breast milk or infant formula is still the primary source of nutrition for your baby," Altmann said.
And adding extra water to stretch the formula you have can dilute the essential nutrient profile and lead to serious health issues and interfere with proper growth and development, she added.
"We're not irrational. If there's nothing you can put in the baby's mouth but cow's milk, you will," Abrams said. "But that's not what we want people to do."
Can I use formula or cow's milk instead?
Perhaps.
It really depends on how old your baby is and what your pediatrician says.
For at least the first six months, infant formula is really important, Altmann said. But the closer they are to a year, the more flexibility there is.
"You can actually choose a toddler formula at this stage where normally you'd want to wait until they're exactly one year old," Altmann said. "Talk to your pediatrician, always, first."
"We advise against the use of cow's milk up to one year of age, but it is certainly true that as the baby approaches one year of age, especially if there is no just no formula, you can use this or a toddler formula," Abrams said. "None are ideal, but the closer you get to the year, especially in the short term, there are alternatives."
Can I buy international formulas online?
Perhaps.
Altmann said there are high-quality products made in Europe and Australia that she loves that are available online. But it's important to make sure you're ordering from reputable retailers.
She recommended buying from trusted pharmacies in the country where the formula originated and checking how the nutrition of the formula compares to the FDA-approved formula.
"Not all international formulas are created equal, so you might want to make sure you know what you're getting and that it's a high quality product," she said. .
But Abrams cautions against imports, reminding families that imported formulas are not reviewed by the FDA.
"It's a less than ideal alternative, but if that's what they have to do, then that's what they have to do," he said.
The FDA recommends not importing any preparation online because it could be counterfeit, a spokesperson said.
Can I change formula brands?
Yes.
"What we want people to do if possible is to be as flexible as possible and change the formula," Abrams said.
It becomes more complicated, however, in cases where a child may be on a certain formula due to an allergy or sensitivity.
"If your child has an allergy or sensitivity and has had reactions to formulas in the past, please consult your pediatrician before switching off as not all formulas are the same," Altmann said. "But in most cases there are other options available that we can help you with."
Can I restart my breast milk production?
It is complicated.
There have been cases where parents may induce lactation for the first time or restart lactation after choosing not to breastfeed, Altmann said. However, the process is complicated and likely requires the help of a lactation specialist.
Sources
2/ https://www.cnn.com/2022/05/11/health/infant-formula-shortage-misinformation-wellness/index.html
The mention sources can contact us to remove/changing this article
What Are The Main Benefits Of Comparing Car Insurance Quotes Online
LOS ANGELES, CA / ACCESSWIRE / June 24, 2020, / Compare-autoinsurance.Org has launched a new blog post that presents the main benefits of comparing multiple car insurance quotes. For more info and free online quotes, please visit https://compare-autoinsurance.Org/the-advantages-of-comparing-prices-with-car-insurance-quotes-online/ The modern society has numerous technological advantages. One important advantage is the speed at which information is sent and received. With the help of the internet, the shopping habits of many persons have drastically changed. The car insurance industry hasn't remained untouched by these changes. On the internet, drivers can compare insurance prices and find out which sellers have the best offers. View photos The advantages of comparing online car insurance quotes are the following: Online quotes can be obtained from anywhere and at any time. Unlike physical insurance agencies, websites don't have a specific schedule and they are available at any time. Drivers that have busy working schedules, can compare quotes from anywhere and at any time, even at midnight. Multiple choices. Almost all insurance providers, no matter if they are well-known brands or just local insurers, have an online presence. Online quotes will allow policyholders the chance to discover multiple insurance companies and check their prices. Drivers are no longer required to get quotes from just a few known insurance companies. Also, local and regional insurers can provide lower insurance rates for the same services. Accurate insurance estimates. Online quotes can only be accurate if the customers provide accurate and real info about their car models and driving history. Lying about past driving incidents can make the price estimates to be lower, but when dealing with an insurance company lying to them is useless. Usually, insurance companies will do research about a potential customer before granting him coverage. Online quotes can be sorted easily. Although drivers are recommended to not choose a policy just based on its price, drivers can easily sort quotes by insurance price. Using brokerage websites will allow drivers to get quotes from multiple insurers, thus making the comparison faster and easier. For additional info, money-saving tips, and free car insurance quotes, visit https://compare-autoinsurance.Org/ Compare-autoinsurance.Org is an online provider of life, home, health, and auto insurance quotes. This website is unique because it does not simply stick to one kind of insurance provider, but brings the clients the best deals from many different online insurance carriers. In this way, clients have access to offers from multiple carriers all in one place: this website. On this site, customers have access to quotes for insurance plans from various agencies, such as local or nationwide agencies, brand names insurance companies, etc. "Online quotes can easily help drivers obtain better car insurance deals. All they have to do is to complete an online form with accurate and real info, then compare prices", said Russell Rabichev, Marketing Director of Internet Marketing Company. CONTACT: Company Name: Internet Marketing CompanyPerson for contact Name: Gurgu CPhone Number: (818) 359-3898Email: [email protected]: https://compare-autoinsurance.Org/ SOURCE: Compare-autoinsurance.Org View source version on accesswire.Com:https://www.Accesswire.Com/595055/What-Are-The-Main-Benefits-Of-Comparing-Car-Insurance-Quotes-Online View photos
to request, modification Contact us at Here or [email protected]