L3Harris to convert Embraer KC-390s for aerial refueling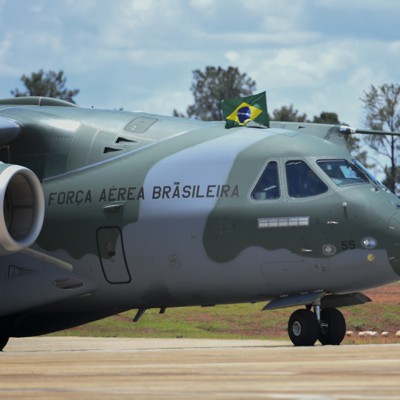 L3Harris Technologies has reached an agreement with Brazil's Embraer to convert KC-390 cargo planes into aerial tankers capable of refueling US combat aircraft.
The goal is to create a tactical tanker that can fly closer to the front lines in a war with an even competitor and refuel all types of US military aircraft, according to Chris Kubasik, president and CEO of L3Harris.
"I think it's going to fill a void for the Air Force," Kubasik said in an interview. "So, of course, it will also have international applications."
The company calls the aircraft the "Agile Tanker". Under the partnership agreement announced on Monday, L3Harris will soon begin modifications to a Brazilian-made twin-engine cargo plane at a plant in Waco, Texas. Kubasik briefed Air Force leaders on the company's plan to build a prototype aircraft during meetings at the Pentagon last week.
L3Harris plans to install a refueling boom and special military communications equipment on the planes, Kubasik said. While the KC-390 is already equipped to refuel aircraft with wing pods, the boom would allow the aircraft to refuel all types of US Air Force fighters, bombers and transports. The ramps can get jet fuel through faster than the hose-and-basket refueling pods that are used to refuel US Navy fighter jets and some allied-piloted fighter jets.
The company plans "to start right away" and hopes to have the plane flying with a boom by the end of 2025, Kubasik said, noting that "government money could accelerate that timeline."
The KC-390 is well suited for the types of conflicts military leaders envision in the future where access to large airfields is more limited, either because they are vulnerable to attack or because they have been bombed. Compared to the current US fleet of large tanker aircraft, the KC-390 can take off on much shorter runways; it can even land on strips of land.
First offered in 2019, the Embraer-made cargo plane has been sold to Brazil, Portugal and Hungary. In June, the Netherlands announced it would buy the plane, which is about the size of a C-130 but can fly faster, higher and farther than the four-engine turboprop.
The KC-390 is not intended to compete with the larger strategic refueling aircraft the Air Force is purchasing now and in the years to come.
"We have been very clear: we are not trying to replace Boeing or Airbus at the strategic level," Kubasik said. "We're trying to complement that, you know, sort of a big-throttle, low-throttle strategy."
The Air Force is currently retiring two types of tankers — KC-135s dating from the Eisenhower administration and KC-10s from the 1980s — and building a fleet of 179 twin-engine Boeing KC-46s. The Air Force also plans to purchase up to 160 additional tankers, in an effort known as the "Bridge Tanker." Air Force leaders said they could just buy more KC-46 tankers, but lawmakers pushed the service to hold a competition, in part because of a host of development issues. KC-46 and for political reasons since Lockheed Martin and its European partner Airbus have pledged to create hundreds of new jobs in Georgia and Alabama by building A330 tankers if the Air Force holds a competition.
With the competition in doubt, Air Force officials recently talked about accelerating development of an even newer tanker, in an effort known as KC-Z. This is where L3Harris says its tanker made with Embraer fits.
"The cost of [the KC-390]both to procure and especially to maintain, is significantly inferior…to the strategic aircraft," Kubasik said.
But the Air Force has yet to set any requirements or other bidding parameters for the KC-Z competition.
"It's an interesting match. [between L3Harris and Embraer]but KC-Z is still a long way off and it's unclear what form it will take," said Doug Royce, aviation analyst at Forecast International, a data analytics company owned by defense one parent company GovExec.
If the Air Force buys the KC-390, it could create opportunities to sell it to the Air National Guard and its allies.
The oil effort is part of the company's desire to be a "trust destroyer" among defense contractors. In August, US Special Operations announced it would buy up to 75 small turboprops that L3Harris, the sixth-largest US defense company, would turn into attack aircraft.
"It kind of fits our strategy [of] identify gaps, try to get ahead of the budget process, if you want, and think differently," Kubasik said.
Sources
2/ https://www.defenseone.com/business/2022/09/l3harris-convert-embraer-kc-390s-aerial-refueling/377313/
The mention sources can contact us to remove/changing this article
What Are The Main Benefits Of Comparing Car Insurance Quotes Online
LOS ANGELES, CA / ACCESSWIRE / June 24, 2020, / Compare-autoinsurance.Org has launched a new blog post that presents the main benefits of comparing multiple car insurance quotes. For more info and free online quotes, please visit https://compare-autoinsurance.Org/the-advantages-of-comparing-prices-with-car-insurance-quotes-online/ The modern society has numerous technological advantages. One important advantage is the speed at which information is sent and received. With the help of the internet, the shopping habits of many persons have drastically changed. The car insurance industry hasn't remained untouched by these changes. On the internet, drivers can compare insurance prices and find out which sellers have the best offers. View photos The advantages of comparing online car insurance quotes are the following: Online quotes can be obtained from anywhere and at any time. Unlike physical insurance agencies, websites don't have a specific schedule and they are available at any time. Drivers that have busy working schedules, can compare quotes from anywhere and at any time, even at midnight. Multiple choices. Almost all insurance providers, no matter if they are well-known brands or just local insurers, have an online presence. Online quotes will allow policyholders the chance to discover multiple insurance companies and check their prices. Drivers are no longer required to get quotes from just a few known insurance companies. Also, local and regional insurers can provide lower insurance rates for the same services. Accurate insurance estimates. Online quotes can only be accurate if the customers provide accurate and real info about their car models and driving history. Lying about past driving incidents can make the price estimates to be lower, but when dealing with an insurance company lying to them is useless. Usually, insurance companies will do research about a potential customer before granting him coverage. Online quotes can be sorted easily. Although drivers are recommended to not choose a policy just based on its price, drivers can easily sort quotes by insurance price. Using brokerage websites will allow drivers to get quotes from multiple insurers, thus making the comparison faster and easier. For additional info, money-saving tips, and free car insurance quotes, visit https://compare-autoinsurance.Org/ Compare-autoinsurance.Org is an online provider of life, home, health, and auto insurance quotes. This website is unique because it does not simply stick to one kind of insurance provider, but brings the clients the best deals from many different online insurance carriers. In this way, clients have access to offers from multiple carriers all in one place: this website. On this site, customers have access to quotes for insurance plans from various agencies, such as local or nationwide agencies, brand names insurance companies, etc. "Online quotes can easily help drivers obtain better car insurance deals. All they have to do is to complete an online form with accurate and real info, then compare prices", said Russell Rabichev, Marketing Director of Internet Marketing Company. CONTACT: Company Name: Internet Marketing CompanyPerson for contact Name: Gurgu CPhone Number: (818) 359-3898Email: [email protected]: https://compare-autoinsurance.Org/ SOURCE: Compare-autoinsurance.Org View source version on accesswire.Com:https://www.Accesswire.Com/595055/What-Are-The-Main-Benefits-Of-Comparing-Car-Insurance-Quotes-Online View photos
to request, modification Contact us at Here or [email protected]