Stock market today: Global stocks trade mixed after tech selloff on Wall Street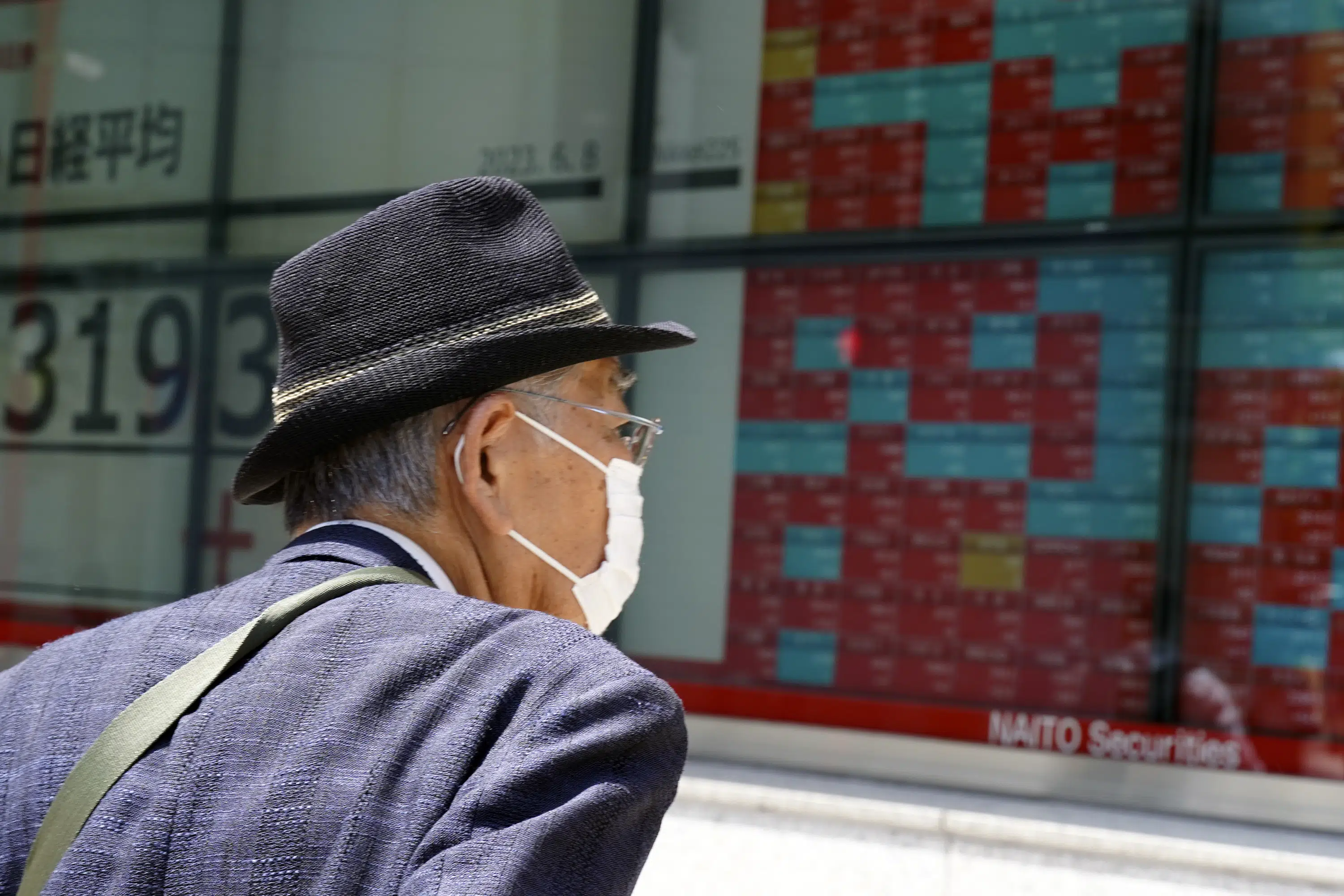 TOKYO (AP) Global stocks were trading mixed on Thursday after strong selling in big-name tech stocks pushed benchmarks lower on Wall Street.
Shares rose in Paris, Frankfurt, Shanghai and Hong Kong but fell in Tokyo, London and Sydney. US futures were flat and oil prices fell.
The European economy is contracting slightly to late last year and early 2023, according to revised figures released Thursday that underscore the impact of the loss of Russian natural gas and high inflation on consumer spending. This means that the euro zone has suffered two consecutive quarters of declining output, which is a definition of recession often used in political and economic discussions, dubbed a technical recession..
The economic growth figure for the 20 countries that use the euro has been revised down from zero to minus 0.1% for the fourth quarter of 2022. The figure for the first three months of this year has also been lowered from weak growth of 0.1% minus 0.1%.
France's CAC 40 gained 0.3% in early trading to 7,224.07, while Germany's DAX gained 0.2% to 15,993.05. Britain's FTSE 100 slipped 0.2% to 7,612.19. Futures on the Dow Jones Industrial Average and S&P 500 remained virtually unchanged.
In Asian trading, Japan's benchmark Nikkei 225 fell 0.9% to 31,641.27. Australia's S&P/ASX 200 fell 0.3% to 7,099.70. The South Korean Kospi slipped 0.2% to 2,610.85. Hong Kongs Hang Seng edged up 0.3% to 19,299.18. The Shanghai Composite gained 0.5% to 3,213.59. Taiwans Taiex lost 1.1%, while Indias Sensex lost 0.4%.
The Japanese government has revised its growth estimate for the January-March quarter upwards to 2.7%. This was above what analysts had expected. The economy has been recovering since the lifting of restrictions linked to the coronavirus pandemic. The nation has seen a return of tourists, as well as other economic activities.
The focus is now on when Japan's central bank could step away from the accommodative monetary policy it has stuck to for years. Over the past year, the US Federal Reserve and other central banks around the world have raised interest rates. Japan's benchmark rate is minus 0.1%.
While higher growth may leave some room to consider a policy exit from the Bank of Japan, central banks' stance may remain unchanged for now, with Governor Kazuo Ueda's recent comments indicating more of a wait-and-see attitude, Yeap Jun Rong, a market analyst at IG said in a report.
On Wall Street on Wednesday, the S&P 500 fell 0.4% although the majority of stocks in the index rose. The Dow Jones Industrial Average gained 0.3% and the tech-heavy Nasdaq composite fell 1.3%.
Microsoft, Amazon, Nvidia and Alphabet all fell at least 3% and were the heaviest weights in the S&P 500. Because they are among the most valuable stocks on Wall Street, their movements provide an additional boost at the index.
Wall Street wonders which will come first: a recession or a sufficient drop in inflation to cause the Federal Reserve to lower interest rates? Most Traders Expect the Fed to Leave Rates Stable next week. It would mark the first policy meeting in more than a year where it has not raised its benchmark rate, which is at its highest level since 2007. But the Fed could start raising rates again in July.
The purpose of higher interest rates is to stifle high inflation by slowing the overall economy and hurting the prices of stocks, bonds, and other investments. Pressure from high rates is squeezing the US banking and manufacturing sectors, although the labor market has remained strong.
In energy trading on Thursday, benchmark U.S. crude fell 16 cents to $72.37 a barrel in electronic trading on the New York Mercantile Exchange. It gained 79 cents to $72.53 on Wednesday. Brent crude, the international standard, fell 16 cents to $76.79 a barrel.
In currency trading, the US dollar fell to 139.80 Japanese yen from 140.10 yen. The Euro traded at $1.0729, down from $1.0698 previously.
Yuri Kageyama is on Twitter https://twitter.com/yurikageyama
Sources
2/ https://apnews.com/article/stock-markets-japan-economy-rates-8c6384ceaeae38c30a31aea5974028d0
The mention sources can contact us to remove/changing this article
What Are The Main Benefits Of Comparing Car Insurance Quotes Online
LOS ANGELES, CA / ACCESSWIRE / June 24, 2020, / Compare-autoinsurance.Org has launched a new blog post that presents the main benefits of comparing multiple car insurance quotes. For more info and free online quotes, please visit https://compare-autoinsurance.Org/the-advantages-of-comparing-prices-with-car-insurance-quotes-online/ The modern society has numerous technological advantages. One important advantage is the speed at which information is sent and received. With the help of the internet, the shopping habits of many persons have drastically changed. The car insurance industry hasn't remained untouched by these changes. On the internet, drivers can compare insurance prices and find out which sellers have the best offers. View photos The advantages of comparing online car insurance quotes are the following: Online quotes can be obtained from anywhere and at any time. Unlike physical insurance agencies, websites don't have a specific schedule and they are available at any time. Drivers that have busy working schedules, can compare quotes from anywhere and at any time, even at midnight. Multiple choices. Almost all insurance providers, no matter if they are well-known brands or just local insurers, have an online presence. Online quotes will allow policyholders the chance to discover multiple insurance companies and check their prices. Drivers are no longer required to get quotes from just a few known insurance companies. Also, local and regional insurers can provide lower insurance rates for the same services. Accurate insurance estimates. Online quotes can only be accurate if the customers provide accurate and real info about their car models and driving history. Lying about past driving incidents can make the price estimates to be lower, but when dealing with an insurance company lying to them is useless. Usually, insurance companies will do research about a potential customer before granting him coverage. Online quotes can be sorted easily. Although drivers are recommended to not choose a policy just based on its price, drivers can easily sort quotes by insurance price. Using brokerage websites will allow drivers to get quotes from multiple insurers, thus making the comparison faster and easier. For additional info, money-saving tips, and free car insurance quotes, visit https://compare-autoinsurance.Org/ Compare-autoinsurance.Org is an online provider of life, home, health, and auto insurance quotes. This website is unique because it does not simply stick to one kind of insurance provider, but brings the clients the best deals from many different online insurance carriers. In this way, clients have access to offers from multiple carriers all in one place: this website. On this site, customers have access to quotes for insurance plans from various agencies, such as local or nationwide agencies, brand names insurance companies, etc. "Online quotes can easily help drivers obtain better car insurance deals. All they have to do is to complete an online form with accurate and real info, then compare prices", said Russell Rabichev, Marketing Director of Internet Marketing Company. CONTACT: Company Name: Internet Marketing CompanyPerson for contact Name: Gurgu CPhone Number: (818) 359-3898Email: [email protected]: https://compare-autoinsurance.Org/ SOURCE: Compare-autoinsurance.Org View source version on accesswire.Com:https://www.Accesswire.Com/595055/What-Are-The-Main-Benefits-Of-Comparing-Car-Insurance-Quotes-Online View photos
to request, modification Contact us at Here or [email protected]