Money & Markets' What to watch in Wall St.
The week of September 14, 2020: It's a relatively light week for corporate earnings as the second quarter earnings season ends.
A report of note is for Aspen Group Inc. (Nasdaq: ASPU), which publishes its results on Monday.
We recommended Aspen Group as a purchase on July 6, as the company scored high on the Adam ODells Green Zone rating system.
Well, he didn't disappoint.
Even with the recent market downturn, Aspen Group, an online education company, has jumped nearly 20% since our recommendation.
The Aspen group has been jumping since July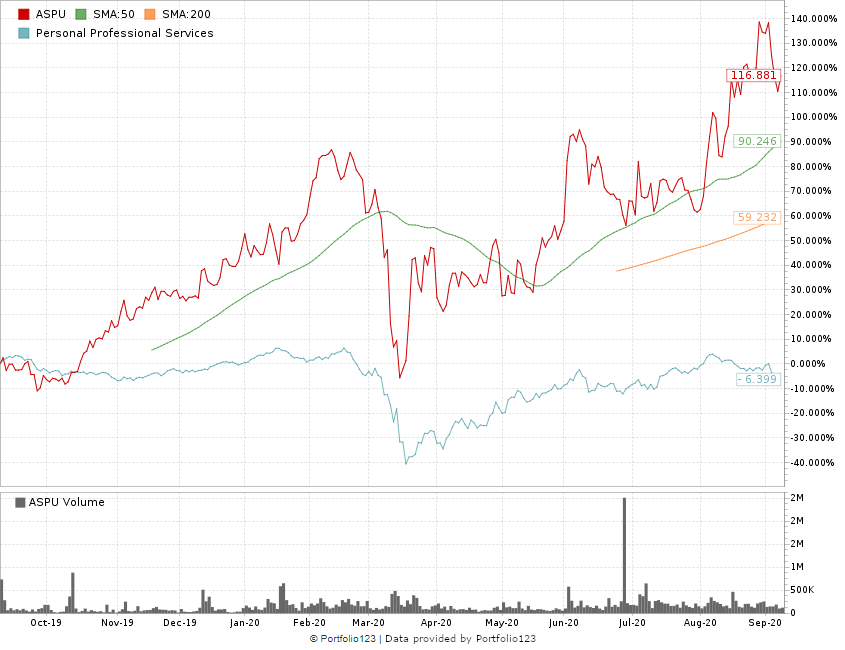 If you bought, congratulations on your winnings!
Here are a few other things investors will be looking at on Wall Street next week, the week of September 14:
On the IPO front
There are a few Initial Public Offerings (IPOs) slated for this week.
One will be JFrog Ltd., which will trade on the Nasdaq with the ticker symbol FROG.
It's a software company that focuses on what it calls liquid software.
No, not real liquid software but constantly updated software. JFrog uses its management platform to help software developers release software faster and more securely.
According to the company, it has nearly 5,800 organizations, including those of the Fortune 500:
All top 10 tech organizations (Facebook, Google, Amazon Web Services and more).
Eight of the top 10 financial services organizations.
Nine of the 10 largest retail companies.
Eight of the top 10 healthcare organizations.
Seven of the nine major telecommunications organizations.
The company's headquarters are in Israel and its US offices are in Sunnyvale, California.
Its revenue was $ 69.3 million for the six months ending June 30, 2020, up about 50% for the year.
The company plans to sell 11.6 million shares with a target price of between $ 33 and $ 37 per share. He hopes to raise around $ 492 million with the IPO.
This IPO is scheduled to launch on September 16.
Another big IPO slated for this day is for the data cloud warehouse company Snowflake. It will trade on the New York Stock Exchange under the symbol SNOW.
The company recently announced that its year-over-year revenue increased 133% for the first six months of 2020 to $ 242 million.
Additionally, Warren Buffetts Berkshire Hathaway Inc. (NYSE: BRK.B) and Salesforce (NYSE: CRM) each has committed to purchase $ 250 million of Class A shares of the company.
Snowflake plans to offer 28 million shares at a price range of between $ 75 and $ 85 in the hopes of raising $ 2.24 billion.
Money and Markets Week ahead: data dump
On Tuesday, the Federal Reserve Bank of New York will release its Empire State Index for September.
The Federal Reserve conducts this monthly survey of New York manufacturers. It is considered a precursor of the overall activity of manufacturers nationwide.
In August, the general business conditions index fell 14 points against 3.7, which indicates a slower growth rate than in July.
Industry optimism waned for the second month in a row.
On Wednesday, the US Census Bureau will release the August 2020 monthly retail report.
This report provides data on retail and food sales in the United States
In July, the report indicated a 1.2% increase compared to the previous month and 2.7% from July 2019. However, the total sales from May 2020 to July 2020 were down 0.2%.
Federal Reserve Chairman Jerome Powell will also hold a press conference on Wednesday afternoon.
The Ministry of Labor will publish its weekly unemployment figures on Thursday.
Income Reports
To complete the Money and Markets Week ahead, here's a look at some of the key expected results reports for the week of September 14:
Monday
Aspen Group Inc. (Nasdaq: ASPU)
Lennar Corp. (NYSE: LEN)
Tuesday
Cracker Barrel Old Country Store Inc. (Nasdaq: CBRL)
FedEx Corp. (NYSE: FDX)
Wednesday
Herman Miller Inc. (Nasdaq: MLHR)
Thursday
Apogee Enterprises Inc. (Nasdaq: APOG)
Friday
No report on planned income.
It's all for this week.
Till next time
Secure trading,

Matt clark
Research analyst, Money and Markets
Matt Clark is the research analyst for Money and Markets. He's the host of our podcast, The bull and the bear, as good as Marijuana Market Update. Before joining the team, he spent 25 years as an investigative reporter and editor covering everything from politics to business.
What Are The Main Benefits Of Comparing Car Insurance Quotes Online
LOS ANGELES, CA / ACCESSWIRE / June 24, 2020, / Compare-autoinsurance.Org has launched a new blog post that presents the main benefits of comparing multiple car insurance quotes. For more info and free online quotes, please visit https://compare-autoinsurance.Org/the-advantages-of-comparing-prices-with-car-insurance-quotes-online/ The modern society has numerous technological advantages. One important advantage is the speed at which information is sent and received. With the help of the internet, the shopping habits of many persons have drastically changed. The car insurance industry hasn't remained untouched by these changes. On the internet, drivers can compare insurance prices and find out which sellers have the best offers. View photos The advantages of comparing online car insurance quotes are the following: Online quotes can be obtained from anywhere and at any time. Unlike physical insurance agencies, websites don't have a specific schedule and they are available at any time. Drivers that have busy working schedules, can compare quotes from anywhere and at any time, even at midnight. Multiple choices. Almost all insurance providers, no matter if they are well-known brands or just local insurers, have an online presence. Online quotes will allow policyholders the chance to discover multiple insurance companies and check their prices. Drivers are no longer required to get quotes from just a few known insurance companies. Also, local and regional insurers can provide lower insurance rates for the same services. Accurate insurance estimates. Online quotes can only be accurate if the customers provide accurate and real info about their car models and driving history. Lying about past driving incidents can make the price estimates to be lower, but when dealing with an insurance company lying to them is useless. Usually, insurance companies will do research about a potential customer before granting him coverage. Online quotes can be sorted easily. Although drivers are recommended to not choose a policy just based on its price, drivers can easily sort quotes by insurance price. Using brokerage websites will allow drivers to get quotes from multiple insurers, thus making the comparison faster and easier. For additional info, money-saving tips, and free car insurance quotes, visit https://compare-autoinsurance.Org/ Compare-autoinsurance.Org is an online provider of life, home, health, and auto insurance quotes. This website is unique because it does not simply stick to one kind of insurance provider, but brings the clients the best deals from many different online insurance carriers. In this way, clients have access to offers from multiple carriers all in one place: this website. On this site, customers have access to quotes for insurance plans from various agencies, such as local or nationwide agencies, brand names insurance companies, etc. "Online quotes can easily help drivers obtain better car insurance deals. All they have to do is to complete an online form with accurate and real info, then compare prices", said Russell Rabichev, Marketing Director of Internet Marketing Company. CONTACT: Company Name: Internet Marketing CompanyPerson for contact Name: Gurgu CPhone Number: (818) 359-3898Email: [email protected]: https://compare-autoinsurance.Org/ SOURCE: Compare-autoinsurance.Org View source version on accesswire.Com:https://www.Accesswire.Com/595055/What-Are-The-Main-Benefits-Of-Comparing-Car-Insurance-Quotes-Online View photos
picture credit
to request, modification Contact us at Here or [email protected]