China unveils its Shenzhen plan to court investment
AUTONOMY:


Shenzhen would offer better intellectual property protection and streamline visa regulations and other changes to attract talent and investors

China yesterday announced measures that would give its booming southern city of Shenzhen more autonomy as Beijing seeks to raise the region's profile as a technology and financial hub amid tensions with the United States.

China's National Development and Reform Commission has released a reform list for Shenzhen that includes steps for financial markets, intellectual property protection, economic legislation, and talent attraction.

Support policies for Shenzhen are more than those given to the free trade zone in southern China's island province Hainan, former deputy commission director Peng Sen said ().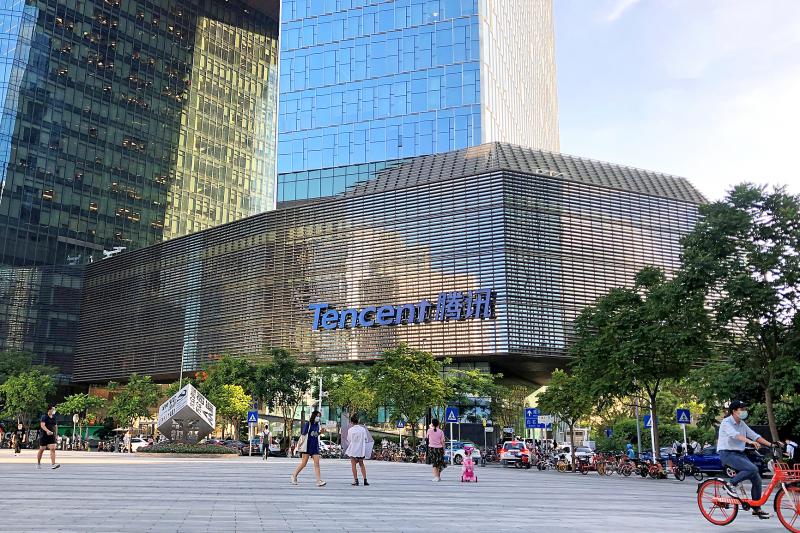 Photo: Reuters
The city is home to some of China's leading tech giants, including Huawei Technologies Co () and Tencent Holdings Ltd (), and is a crucial part of Beijing's plan to foster economic integration with Hong Kong and Macau in the so-called Great Bay region to finally compete with Tokyo Bay or Silicon Valley.
In a speech commemorating the 40th anniversary of the establishment of Shenzhens as a special economic zone on Wednesday, Chinese President Xi Jinping () said the city should also be given greater autonomy for reforms and strive to solve any problem related to dizzying growth.
The interests of foreign investors should be better taken into account through measures including the protection of intellectual rights, he said.
According to some of the key measures covered by the list, Shenzhen is to launch a stock futures index, and innovative companies can hold initial public offerings on the Shenzhen Stock Exchange with certificates of deposit.
State-owned enterprises in the region would be given greater autonomy to carry out market-based reforms, the commission said.
Shenzhen would build a new intellectual property rights protection system that provides protection for digital intellectual property and punishes infringements, he said.
Foreign ownership restrictions in telecommunications would be lifted and Shenzhen would streamline visa rules to attract talent, the commission said.
The city would be allowed to issue local government bonds abroad, denominated in yuan, and designated medical institutions in nine mainland cities of the Great Bay region will be allowed to use drugs available in Hong Kong and Macau, he added.
Comments will be moderated. Keep comments relevant to the article. Comments containing abusive and obscene language, personal attacks of any kind or promotion will be removed and the user banned. The final decision will be at the discretion of the Taipei Times.
What Are The Main Benefits Of Comparing Car Insurance Quotes Online
LOS ANGELES, CA / ACCESSWIRE / June 24, 2020, / Compare-autoinsurance.Org has launched a new blog post that presents the main benefits of comparing multiple car insurance quotes. For more info and free online quotes, please visit https://compare-autoinsurance.Org/the-advantages-of-comparing-prices-with-car-insurance-quotes-online/ The modern society has numerous technological advantages. One important advantage is the speed at which information is sent and received. With the help of the internet, the shopping habits of many persons have drastically changed. The car insurance industry hasn't remained untouched by these changes. On the internet, drivers can compare insurance prices and find out which sellers have the best offers. View photos The advantages of comparing online car insurance quotes are the following: Online quotes can be obtained from anywhere and at any time. Unlike physical insurance agencies, websites don't have a specific schedule and they are available at any time. Drivers that have busy working schedules, can compare quotes from anywhere and at any time, even at midnight. Multiple choices. Almost all insurance providers, no matter if they are well-known brands or just local insurers, have an online presence. Online quotes will allow policyholders the chance to discover multiple insurance companies and check their prices. Drivers are no longer required to get quotes from just a few known insurance companies. Also, local and regional insurers can provide lower insurance rates for the same services. Accurate insurance estimates. Online quotes can only be accurate if the customers provide accurate and real info about their car models and driving history. Lying about past driving incidents can make the price estimates to be lower, but when dealing with an insurance company lying to them is useless. Usually, insurance companies will do research about a potential customer before granting him coverage. Online quotes can be sorted easily. Although drivers are recommended to not choose a policy just based on its price, drivers can easily sort quotes by insurance price. Using brokerage websites will allow drivers to get quotes from multiple insurers, thus making the comparison faster and easier. For additional info, money-saving tips, and free car insurance quotes, visit https://compare-autoinsurance.Org/ Compare-autoinsurance.Org is an online provider of life, home, health, and auto insurance quotes. This website is unique because it does not simply stick to one kind of insurance provider, but brings the clients the best deals from many different online insurance carriers. In this way, clients have access to offers from multiple carriers all in one place: this website. On this site, customers have access to quotes for insurance plans from various agencies, such as local or nationwide agencies, brand names insurance companies, etc. "Online quotes can easily help drivers obtain better car insurance deals. All they have to do is to complete an online form with accurate and real info, then compare prices", said Russell Rabichev, Marketing Director of Internet Marketing Company. CONTACT: Company Name: Internet Marketing CompanyPerson for contact Name: Gurgu CPhone Number: (818) 359-3898Email: [email protected]: https://compare-autoinsurance.Org/ SOURCE: Compare-autoinsurance.Org View source version on accesswire.Com:https://www.Accesswire.Com/595055/What-Are-The-Main-Benefits-Of-Comparing-Car-Insurance-Quotes-Online View photos
picture credit
to request, modification Contact us at Here or [email protected]