Vuzix M400 Smart Glasses to Support BioSig's PURE EP (TM) System Deployment in Hospitals Nationwide | New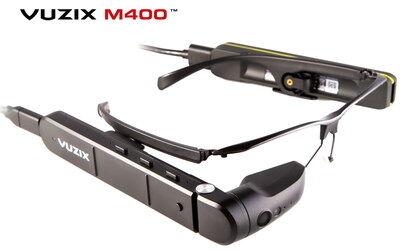 ROCHESTER, NY, January 13, 2021 / PRNewswire / –Vuzix Corporation(NASDAQ: VUZI), ("Vuzix" or, the "Company"), a leading provider of smart glasses and augmented reality (AR) technologies and products, today announced that it is working with medical device company BioSig Technologies, Inc. (NASDAQ: BSGM) to provide remote service for BioSig's PURE EP system for electrophysiology, expanding the company's remote support solutions for the medical device market to help customers adjust to COVID-19 travel and site visit restrictions. Vuzix's M400 smart glasses will enhance the utility of BioSig's PURE EP systems ahead of their accelerated commercialization and deployment in hospitals nationwide. This remote maintenance solution is intended to enable ongoing BioSIG installations, upgrades and training during COVID-19 travel and lockdown restrictions.
The size of the global medical and diagnostic devices (MD&D) market has been estimated to be 460 billion dollars in 2019 according to a 2020 reportby Life Science Intelligence (LSI) and Health Research International (HRI). The same report states that MD & Drevenues is expected to grow at an annual rate of 4.9% through 2024. Entering this market segment significantly expands the company's healthcare possibilities.
Equipped with Vuzix Remote Assist (VRA) software, Vuzix Smart Glasses products provide physicians and clinicians with rapid remote access to technical experts who can help maintain a unique hardware architecture and digital modality for a wide range of medical devices. used in the field. Using Vuzix smart glasses in business allows technicians to eliminate the need for most site visits, dramatically reducing time and expense for the business and its customers. For support during the COVID-19 pandemic, Vuzix Smart Glasses has provided much-needed maintenance and service options for medical device companies. Vuzix products also offer a key COVID-19 compliance solution for medical centers and hospitals operating at maximum capacity of beds that require rapid maintenance for HVAC, electrical and technical needs, among others.
President and CEO of Vuzix Paul Travers commented, "Vuzix continues to support many medical and healthcare organizations that rely on our smart glasses to perform a wide range of healthcare services, from performing surgeries, providing healthcare to patients, training, distance learning, remote field services, and more. Vuzix smart glasses have been successfully deployed around the world to support healthcare and solve operational challenges. We are pleased to support BioSig as they continue their plans to commercialize their PURE EP system. "
"It's clear that remote technologies like this have been critical for many industries, especially healthcare in areas like telemedicine and remote services in recent times. The use of the Vuzix smart glasses solution brings greater flexibility to BioSig as well as to our customers. "Said Kenneth L. Londoner, CEO of BioSig Technologies, Inc." This opens up many new avenues for us as we continue to roll out our PURE EP system across the country. "
About BioSig Technologies
BioSig Technologies is a medical technology company that markets a proprietary biomedical signal processing platform designed to improve signal fidelity and discover the full range of ECG and intra-cardiac signals (www.biosig.com). The company's first product, the PURE EP ™ system, is a computerized system for acquiring, digitizing, amplifying, filtering, measuring and calculating, displaying, recording and storing EKG and intracardiac signals for patients undergoing diagnostic procedures. electrophysiology (EP) in an EP Laboratory.
About Vuzix Corporation
Vuzix is ​​a leading provider of smart glasses and augmented reality (AR) technologies and products for the consumer and enterprise markets. The company's products include personal displays and portable computing devices that provide users with a high-quality portable viewing experience, provide solutions for mobility, portable displays and augmented reality. Vuzix holds 184 patents and pending patents and numerous IP licenses in the field of video eyewear. The company has won Consumer Electronics Show (or CES) awards for innovation for the years 2005 to 2021 and several innovation awards in wireless technology, among others. Founded in 1997, Vuzix is ​​a public company (NASDAQ: VUZI) with offices in Rochester, NY, Oxford, United Kingdom, and Tokyo, Japan. For more information visit Vuzixwebsite,TwitterandFacebookpages.
Disclaimer Regarding Forward-Looking Statements
Certain statements contained in this press release are "forward-looking statements" within the meaning of the Securities Litigation Reform Act of 1995 and applicable Canadian securities laws. The forward-looking statements contained in this press release relate to the potential for future growth and future success of Vuzix with BioSig, the overall opportunities in the medical devices and diagnostics market, and among others, the company's leadership in the smart glasses industry. and AR screens. They are usually identified by words such as "believes", "may", "expects", "anticipates", "should" and similar expressions. Readers should not place undue reliance on these forward-looking statements, which are based on the beliefs and assumptions of the company as of the date of this release. The actual results of the Company could differ materially due to risk factors and other items described in more detail in the "Risk Factors" section of the Company's Annual Reports and MD&A filed with the Securities and Exchange. Commission of the United States and applicable Canadian Securities Administrators (copies of which can be obtained at www.sedar.com or www.sec.gov). Subsequent events and developments may cause these forward-looking statements to change. The Company specifically disclaims any obligation or intention to update or revise these forward-looking statements as a result of changes in events or circumstances occurring after the date of this press release, except as required by applicable law.
Media contact and investor relations:
Ed McGregor, Director of Investor Relations, Vuzix Corporation [email protected] Tel: (585) 359-5985
Vuzix Corporation, 25 Hendrix Road, Suite A, West Henrietta, New York 14586 United States,
Investor information [email protected] www.vuzix.com
What Are The Main Benefits Of Comparing Car Insurance Quotes Online
LOS ANGELES, CA / ACCESSWIRE / June 24, 2020, / Compare-autoinsurance.Org has launched a new blog post that presents the main benefits of comparing multiple car insurance quotes. For more info and free online quotes, please visit https://compare-autoinsurance.Org/the-advantages-of-comparing-prices-with-car-insurance-quotes-online/ The modern society has numerous technological advantages. One important advantage is the speed at which information is sent and received. With the help of the internet, the shopping habits of many persons have drastically changed. The car insurance industry hasn't remained untouched by these changes. On the internet, drivers can compare insurance prices and find out which sellers have the best offers. View photos The advantages of comparing online car insurance quotes are the following: Online quotes can be obtained from anywhere and at any time. Unlike physical insurance agencies, websites don't have a specific schedule and they are available at any time. Drivers that have busy working schedules, can compare quotes from anywhere and at any time, even at midnight. Multiple choices. Almost all insurance providers, no matter if they are well-known brands or just local insurers, have an online presence. Online quotes will allow policyholders the chance to discover multiple insurance companies and check their prices. Drivers are no longer required to get quotes from just a few known insurance companies. Also, local and regional insurers can provide lower insurance rates for the same services. Accurate insurance estimates. Online quotes can only be accurate if the customers provide accurate and real info about their car models and driving history. Lying about past driving incidents can make the price estimates to be lower, but when dealing with an insurance company lying to them is useless. Usually, insurance companies will do research about a potential customer before granting him coverage. Online quotes can be sorted easily. Although drivers are recommended to not choose a policy just based on its price, drivers can easily sort quotes by insurance price. Using brokerage websites will allow drivers to get quotes from multiple insurers, thus making the comparison faster and easier. For additional info, money-saving tips, and free car insurance quotes, visit https://compare-autoinsurance.Org/ Compare-autoinsurance.Org is an online provider of life, home, health, and auto insurance quotes. This website is unique because it does not simply stick to one kind of insurance provider, but brings the clients the best deals from many different online insurance carriers. In this way, clients have access to offers from multiple carriers all in one place: this website. On this site, customers have access to quotes for insurance plans from various agencies, such as local or nationwide agencies, brand names insurance companies, etc. "Online quotes can easily help drivers obtain better car insurance deals. All they have to do is to complete an online form with accurate and real info, then compare prices", said Russell Rabichev, Marketing Director of Internet Marketing Company. CONTACT: Company Name: Internet Marketing CompanyPerson for contact Name: Gurgu CPhone Number: (818) 359-3898Email: [email protected]: https://compare-autoinsurance.Org/ SOURCE: Compare-autoinsurance.Org View source version on accesswire.Com:https://www.Accesswire.Com/595055/What-Are-The-Main-Benefits-Of-Comparing-Car-Insurance-Quotes-Online View photos
picture credit
to request, modification Contact us at Here or [email protected]