Las Vegas convention center extension opens DRONE VIDEO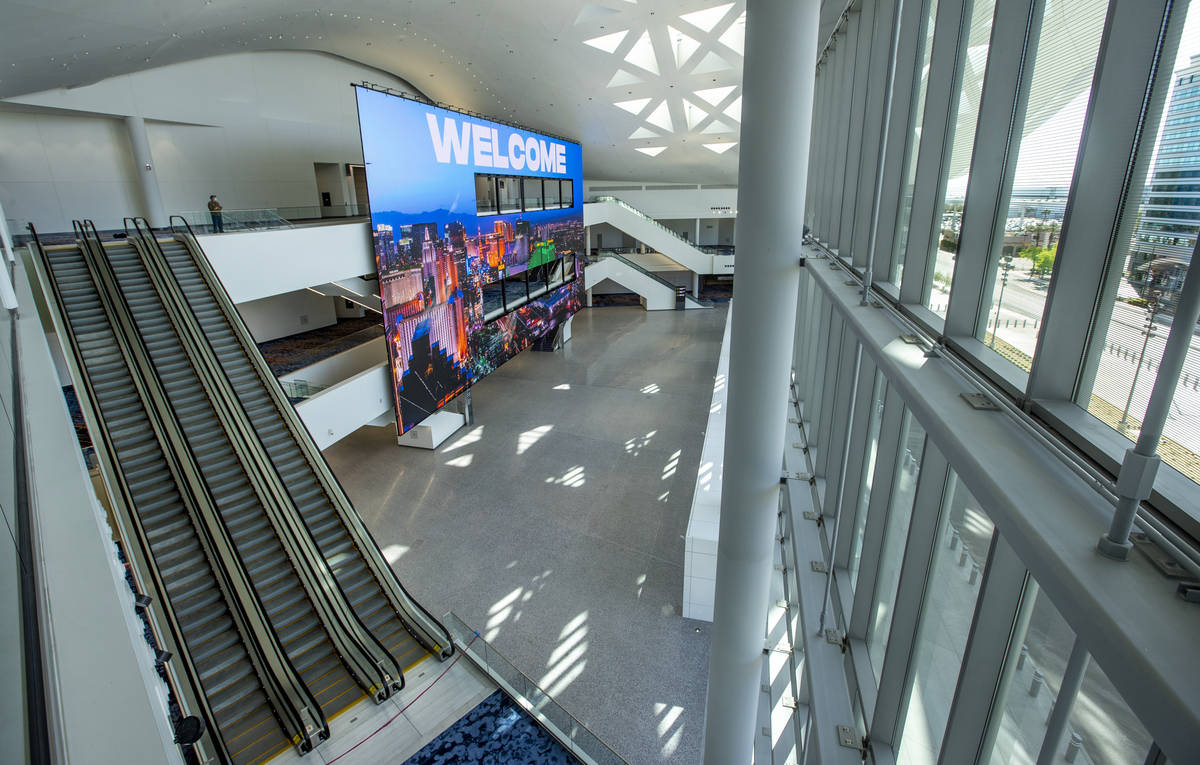 The buildings are ready. Now all it takes are people.
Meetings, convention and trade show press heard from industry leaders in Las Vegas on Thursday and got their first glimpse of the $ 989 million, 1.4 million foot West Hall expansion squares of the Las Vegas Convention and Visitors Authority on World Meetings Industry Day.
Panelists said pent-up demand for a return to live face-to-face meetings is real, and major players in the Las Vegas meeting and convention industry say they are seeing impressive bookings for their show facilities.
"We are making great progress and I think things will continue to move quickly," said Steve Hill, president and CEO of the Las Vegas Convention and Visitors Authority.
"There was already an appreciation of meetings and trade shows among our elected officials and I'm sure the absence makes the heart more loving," Hill said. "It's not a hard sell. Who can't get enough of Zoom meetings? "
Two companies represented on the panel – Wynn Resorts Ltd. and Caesars Entertainment Inc. – just opened a whole new convention facility when the coronavirus took hold last March. Wynn's new facility was only open for a few months, while the new Caesars Forum was only open for a few weeks when state health and government officials ordered closures to protect against the spread. virus.
Two other companies represented on the panel, Las Vegas Sands Corp. and MGM Resorts International, operate the city's two largest private convention centers.
Chris Flatt, executive vice president of hotel sales and marketing at Wynn, said guests have craved back face-to-face meetings because they add to the energy that occurs when people build relationships. business. She added that in-person meetings also give attendees the opportunity to socialize and have fun while building business relationships.
"People are ready," said Stephanie Glanzer, director of sales and senior vice president of sales for MGM Resorts International. "Groups were surprised by the popularity of face-to-face meetings."
Mike Massari, director of sales for Caesars Entertainment, said meetings and shows are picking up where they left off in 2019.
"We have booked more in the past 12 months than we had" leading up to the closure, said Massari. "And that's how you grow up."
While meeting planners have emphasized the importance of meeting face to face, they have also worked hard to convince attendees that their return to Las Vegas will be safe.
MGM, for example, has implemented its Convene with Confidence program which allows for virus screening in hotel rooms and the ability to log an individual's test results and possibly vaccination records through the company. Clear biometric identity application.
Chandra Allison, senior vice president of hotel sales and marketing at The Venetian and Las Vegas Sands Corp., said her company also had Venetian Clean, its own health and safety program that emphasizes cleaning. in-depth installations.
Allison said companies have added amenities in preparation for returning convention attendees. She noted that the most visible addition for Sands was happening next to the Sands Expo and Convention Center – the MSG Sphere at the Venetian, which is slated to open in 2023.
Hill said Las Vegas has an edge over its competition because longtime city fans already enjoy attending events there.
A recent poll indicated that convention attendees were confident they would be safe when they returned to meetings in Las Vegas and that Las Vegas is the best-equipped city to safely accommodate returning visitors.
The panel was hosted in the new West Hall of the Las Vegas Convention Center.
The LVCVA has the second largest convention center in the country with 4.5 million square feet with the addition of the West Hall.
The new west hall includes a 600,000 square foot concrete floor for a new showroom. Journalists were also to take a look at the property's meeting rooms, food court, atrium and third-floor outdoor plaza when touring the building.
The Review-Journal is owned by the family of Sheldon Adelson, the late President and CEO of Las Vegas Sands Corp.
Contact Richard N. Velotta at [email protected] or 702-477-3893. To pursue @RickVelotta on Twitter.
What Are The Main Benefits Of Comparing Car Insurance Quotes Online
LOS ANGELES, CA / ACCESSWIRE / June 24, 2020, / Compare-autoinsurance.Org has launched a new blog post that presents the main benefits of comparing multiple car insurance quotes. For more info and free online quotes, please visit https://compare-autoinsurance.Org/the-advantages-of-comparing-prices-with-car-insurance-quotes-online/ The modern society has numerous technological advantages. One important advantage is the speed at which information is sent and received. With the help of the internet, the shopping habits of many persons have drastically changed. The car insurance industry hasn't remained untouched by these changes. On the internet, drivers can compare insurance prices and find out which sellers have the best offers. View photos The advantages of comparing online car insurance quotes are the following: Online quotes can be obtained from anywhere and at any time. Unlike physical insurance agencies, websites don't have a specific schedule and they are available at any time. Drivers that have busy working schedules, can compare quotes from anywhere and at any time, even at midnight. Multiple choices. Almost all insurance providers, no matter if they are well-known brands or just local insurers, have an online presence. Online quotes will allow policyholders the chance to discover multiple insurance companies and check their prices. Drivers are no longer required to get quotes from just a few known insurance companies. Also, local and regional insurers can provide lower insurance rates for the same services. Accurate insurance estimates. Online quotes can only be accurate if the customers provide accurate and real info about their car models and driving history. Lying about past driving incidents can make the price estimates to be lower, but when dealing with an insurance company lying to them is useless. Usually, insurance companies will do research about a potential customer before granting him coverage. Online quotes can be sorted easily. Although drivers are recommended to not choose a policy just based on its price, drivers can easily sort quotes by insurance price. Using brokerage websites will allow drivers to get quotes from multiple insurers, thus making the comparison faster and easier. For additional info, money-saving tips, and free car insurance quotes, visit https://compare-autoinsurance.Org/ Compare-autoinsurance.Org is an online provider of life, home, health, and auto insurance quotes. This website is unique because it does not simply stick to one kind of insurance provider, but brings the clients the best deals from many different online insurance carriers. In this way, clients have access to offers from multiple carriers all in one place: this website. On this site, customers have access to quotes for insurance plans from various agencies, such as local or nationwide agencies, brand names insurance companies, etc. "Online quotes can easily help drivers obtain better car insurance deals. All they have to do is to complete an online form with accurate and real info, then compare prices", said Russell Rabichev, Marketing Director of Internet Marketing Company. CONTACT: Company Name: Internet Marketing CompanyPerson for contact Name: Gurgu CPhone Number: (818) 359-3898Email: [email protected]: https://compare-autoinsurance.Org/ SOURCE: Compare-autoinsurance.Org View source version on accesswire.Com:https://www.Accesswire.Com/595055/What-Are-The-Main-Benefits-Of-Comparing-Car-Insurance-Quotes-Online View photos
picture credit
to request, modification Contact us at Here or [email protected]