Court reinstates 11 p.m. curfew for restaurants suing New York state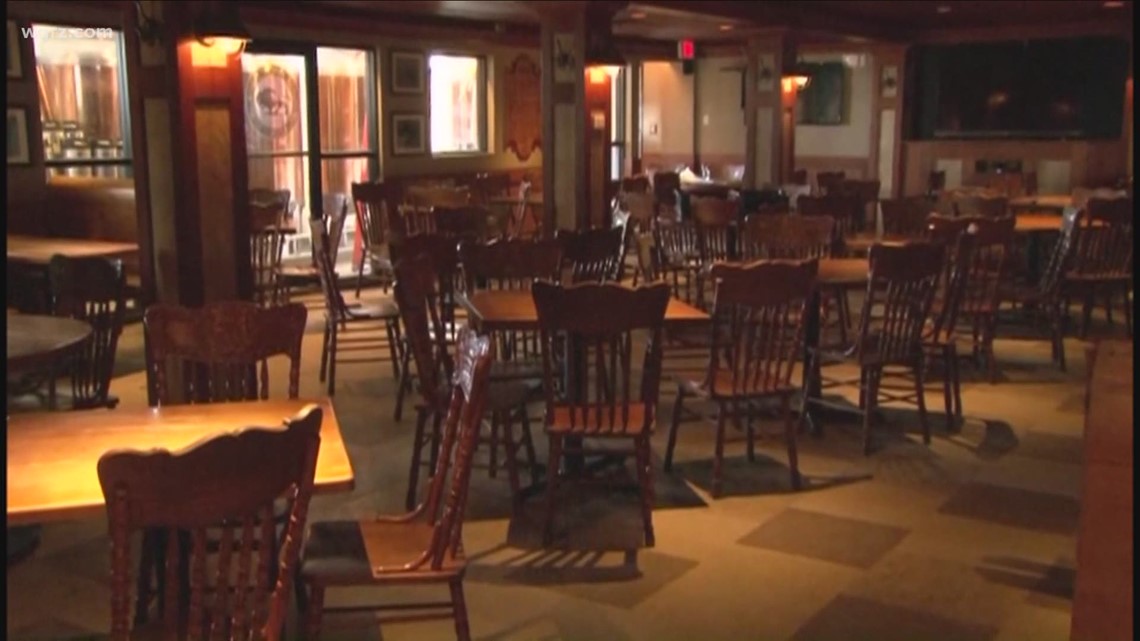 According to court documents, a state appeals court reinstated the curfew after it was lifted for those more than 90 restaurants alone.
BUFFALO, NY A group of restaurants and bars in western New York that had won a lawsuit to stay open after the 11 p.m. curfew in New York will have to close again at that time.
According to court documents, a state appeals court reinstated the curfew after it was lifted for just those 90 restaurants.
Lawyer Tom Eoannou, who is unrelated to this case, explained what happened.
"Originally, Judge Walker, in his February 27 ruling, allowed the bars to remain open. That decision was turned to the Appeal Division, and today five Appeal Division justices sided with Governor Cuomo and indicated and ordered that all restaurants in western New York, including including these 90 must be closed at 11 pm, "said Eoannou.
He added, "I understand that restaurateurs have done a tremendous job showing that opening overtime scientifically does not increase the risk of COVID. So the Appeal Division said they had until May 8 to submit their briefs to find out more. argument."
For the restaurateurs involved in the case, the decision is disheartening and confusing.
"I'm a little numb at this point. It's been a roller coaster of emotions last year. From the opening, to the closing, to the layoff, to the loss of a lot of money. been very, very difficult, and the biggest impact is on our employees and the number of people it affects is the hardest part, "said KC Mullett, owner of Neat Restaurant in Williamsville.
Mullett told 2 On Your Side that restaurants are following all guidelines, from social distancing to putting up dividers and more. He said the curfew, as well as the rule to order food with alcohol, just doesn't make sense.
"That's the most frustrating part, why is 11 p.m.? Why not 11:30 p.m.? Why not midnight? Why not 1 a.m.? We make sure all of our clients wear masks and social distancing, and we're really on top of that. … Everyone follows the protocols that they have established, and I just don't understand the 11pm rule at all. "
It comes as the governor extended the 11-hour curfew statewide until May 6.
New York State Senate Minority Leader Rob Ortt and his Republican colleagues on Thursday called for the rule to be lifted, calling it unscientific and saying it is killing restaurants.
"I am disappointed. I am frustrated and I will continue to fight for the restaurants and bars in our community," said New York State Senator Edward Rath (right) of the 61st Senate.
He added: "New York State needs to pull itself together. It needs to reverse these restrictions because nothing changes from 10:59 p.m. to 11:01 p.m. in restaurants. … Let's reverse these crazy regulations, and help our restaurants recover. 100% standing. "
Meanwhile, State Senator Sean Ryan believes COVID restrictions will remain in place until at least July 4.
"As we vaccinate more and more people, we can start to lift these restrictions. But right now, western New York is experiencing a severe case of spring fever, and it shows in our COVID rates and hospitalization rates, "said Ryan (D) of the 60th Senate District.
Regarding the more than 90 restaurants involved in the lawsuit, their lawyers told 2 On Your Side that it was not over and that they would return to court on Friday to continue their efforts to lift the curfew.
What Are The Main Benefits Of Comparing Car Insurance Quotes Online
LOS ANGELES, CA / ACCESSWIRE / June 24, 2020, / Compare-autoinsurance.Org has launched a new blog post that presents the main benefits of comparing multiple car insurance quotes. For more info and free online quotes, please visit https://compare-autoinsurance.Org/the-advantages-of-comparing-prices-with-car-insurance-quotes-online/ The modern society has numerous technological advantages. One important advantage is the speed at which information is sent and received. With the help of the internet, the shopping habits of many persons have drastically changed. The car insurance industry hasn't remained untouched by these changes. On the internet, drivers can compare insurance prices and find out which sellers have the best offers. View photos The advantages of comparing online car insurance quotes are the following: Online quotes can be obtained from anywhere and at any time. Unlike physical insurance agencies, websites don't have a specific schedule and they are available at any time. Drivers that have busy working schedules, can compare quotes from anywhere and at any time, even at midnight. Multiple choices. Almost all insurance providers, no matter if they are well-known brands or just local insurers, have an online presence. Online quotes will allow policyholders the chance to discover multiple insurance companies and check their prices. Drivers are no longer required to get quotes from just a few known insurance companies. Also, local and regional insurers can provide lower insurance rates for the same services. Accurate insurance estimates. Online quotes can only be accurate if the customers provide accurate and real info about their car models and driving history. Lying about past driving incidents can make the price estimates to be lower, but when dealing with an insurance company lying to them is useless. Usually, insurance companies will do research about a potential customer before granting him coverage. Online quotes can be sorted easily. Although drivers are recommended to not choose a policy just based on its price, drivers can easily sort quotes by insurance price. Using brokerage websites will allow drivers to get quotes from multiple insurers, thus making the comparison faster and easier. For additional info, money-saving tips, and free car insurance quotes, visit https://compare-autoinsurance.Org/ Compare-autoinsurance.Org is an online provider of life, home, health, and auto insurance quotes. This website is unique because it does not simply stick to one kind of insurance provider, but brings the clients the best deals from many different online insurance carriers. In this way, clients have access to offers from multiple carriers all in one place: this website. On this site, customers have access to quotes for insurance plans from various agencies, such as local or nationwide agencies, brand names insurance companies, etc. "Online quotes can easily help drivers obtain better car insurance deals. All they have to do is to complete an online form with accurate and real info, then compare prices", said Russell Rabichev, Marketing Director of Internet Marketing Company. CONTACT: Company Name: Internet Marketing CompanyPerson for contact Name: Gurgu CPhone Number: (818) 359-3898Email: [email protected]: https://compare-autoinsurance.Org/ SOURCE: Compare-autoinsurance.Org View source version on accesswire.Com:https://www.Accesswire.Com/595055/What-Are-The-Main-Benefits-Of-Comparing-Car-Insurance-Quotes-Online View photos
picture credit
to request, modification Contact us at Here or [email protected]