Industry suffers in Germany and France from lockdown by viral forces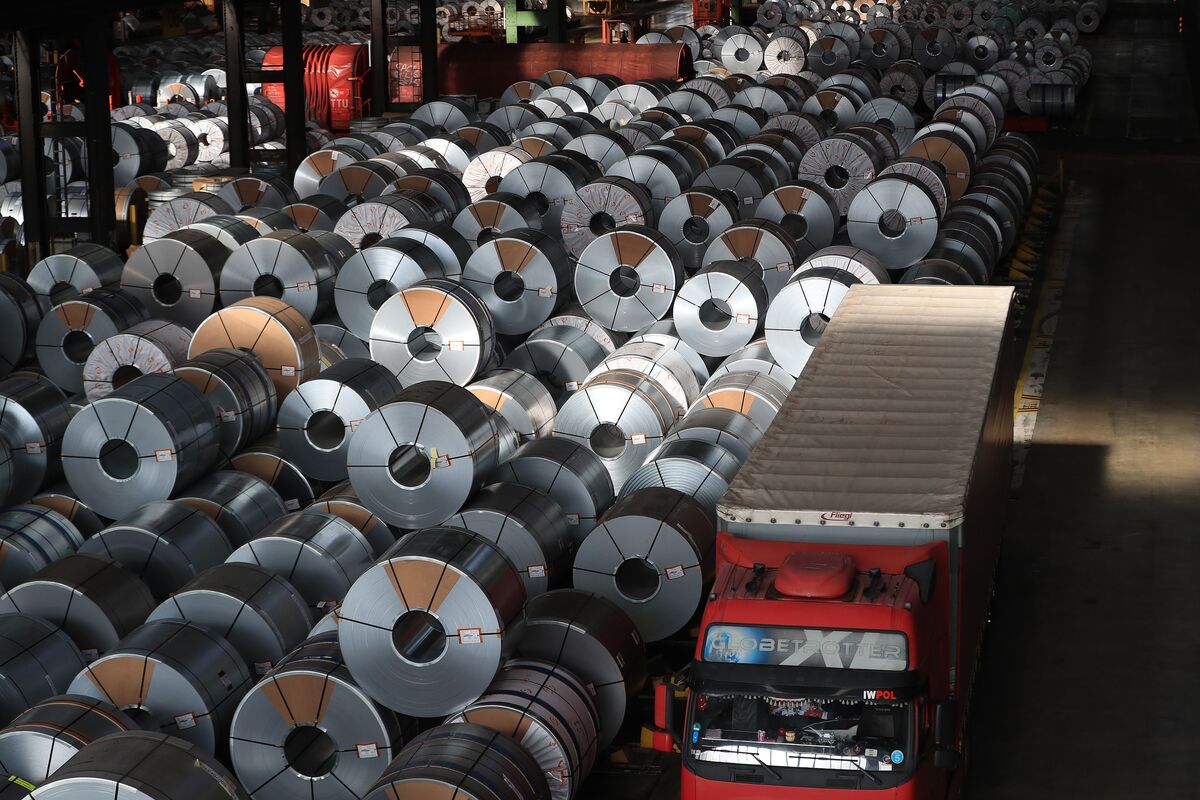 Germany and France, the two largest economies in the euro area, both experienced unexpected declines in industrial production in February, suggesting that coronavirus restrictions are increasingly hurting parts of the world. economies that have been shown to be resilient so far.
German production fell 1.6% from the previous month, surprising all but three economists in a Bloomberg survey. Production in France fell 4.7% and stagnated in Spain.

The eurozone's manufacturing sector has held up relatively well in recent months, as it benefits from the economic recovery in China and elsewhere. A separate statement showed that German exports rose 0.9% in February.
At home, persistently high coronavirus infections have crippled much of the service sector, likely leading to production contractions in the first quarter.
The decline in industrial production in France – the largest in ten months – was driven by an 11.4% drop in the automotive sector. In Germany, capital goods were particularly affected.
However, the German Ministry of the Economy has expressed some optimism about the resumption of growth momentum in the coming months.
"Improving business confidence and the positive trend in orders signal a positive outlook in the industry," he said. "Nevertheless, the future course of the pandemic poses uncertainties."
What Bloomberg Economics Says …

"The surprise drop in German production casts doubt on the narrative that the boom in global manufacturing is a big source of support for activity. Order books continue to fill, and survey data shows companies are as optimistic as they have ever been about the outlook. Data from Friday suggests that is not translating into higher production yet. "

-Jamie Rush. For the full note, clickhere
Chancellor Angela Merkel has announced that she would be in favor of another brief and brutal two to three week stop to contain the pandemic. While some regional leaders are reluctant to even fully implement current measures, she has threatened to transfer powers to the federal level to impose further restrictions.
Earlier this week, France slashed its forecast for economic growth for this year from 6% to 5% as a tighter one-month lockdown is hurting activity. The government is counting on a strong rebound from the summer to compensate for a weak start to the year.
"I am convinced that as soon as the health crisis is behind us, I hope that this summer, the French economy will recover quickly and strongly," Finance Minister Bruno Le Maire said on Sud Radio on Friday.
– With the help of Harumi Ichikura and Kristian Siedenburg
What Are The Main Benefits Of Comparing Car Insurance Quotes Online
LOS ANGELES, CA / ACCESSWIRE / June 24, 2020, / Compare-autoinsurance.Org has launched a new blog post that presents the main benefits of comparing multiple car insurance quotes. For more info and free online quotes, please visit https://compare-autoinsurance.Org/the-advantages-of-comparing-prices-with-car-insurance-quotes-online/ The modern society has numerous technological advantages. One important advantage is the speed at which information is sent and received. With the help of the internet, the shopping habits of many persons have drastically changed. The car insurance industry hasn't remained untouched by these changes. On the internet, drivers can compare insurance prices and find out which sellers have the best offers. View photos The advantages of comparing online car insurance quotes are the following: Online quotes can be obtained from anywhere and at any time. Unlike physical insurance agencies, websites don't have a specific schedule and they are available at any time. Drivers that have busy working schedules, can compare quotes from anywhere and at any time, even at midnight. Multiple choices. Almost all insurance providers, no matter if they are well-known brands or just local insurers, have an online presence. Online quotes will allow policyholders the chance to discover multiple insurance companies and check their prices. Drivers are no longer required to get quotes from just a few known insurance companies. Also, local and regional insurers can provide lower insurance rates for the same services. Accurate insurance estimates. Online quotes can only be accurate if the customers provide accurate and real info about their car models and driving history. Lying about past driving incidents can make the price estimates to be lower, but when dealing with an insurance company lying to them is useless. Usually, insurance companies will do research about a potential customer before granting him coverage. Online quotes can be sorted easily. Although drivers are recommended to not choose a policy just based on its price, drivers can easily sort quotes by insurance price. Using brokerage websites will allow drivers to get quotes from multiple insurers, thus making the comparison faster and easier. For additional info, money-saving tips, and free car insurance quotes, visit https://compare-autoinsurance.Org/ Compare-autoinsurance.Org is an online provider of life, home, health, and auto insurance quotes. This website is unique because it does not simply stick to one kind of insurance provider, but brings the clients the best deals from many different online insurance carriers. In this way, clients have access to offers from multiple carriers all in one place: this website. On this site, customers have access to quotes for insurance plans from various agencies, such as local or nationwide agencies, brand names insurance companies, etc. "Online quotes can easily help drivers obtain better car insurance deals. All they have to do is to complete an online form with accurate and real info, then compare prices", said Russell Rabichev, Marketing Director of Internet Marketing Company. CONTACT: Company Name: Internet Marketing CompanyPerson for contact Name: Gurgu CPhone Number: (818) 359-3898Email: [email protected]: https://compare-autoinsurance.Org/ SOURCE: Compare-autoinsurance.Org View source version on accesswire.Com:https://www.Accesswire.Com/595055/What-Are-The-Main-Benefits-Of-Comparing-Car-Insurance-Quotes-Online View photos
picture credit
to request, modification Contact us at Here or [email protected]