Tiger Shroff vs Disha Patani vs Jackie Shroff: Krishna Shroff predicts who will win this dance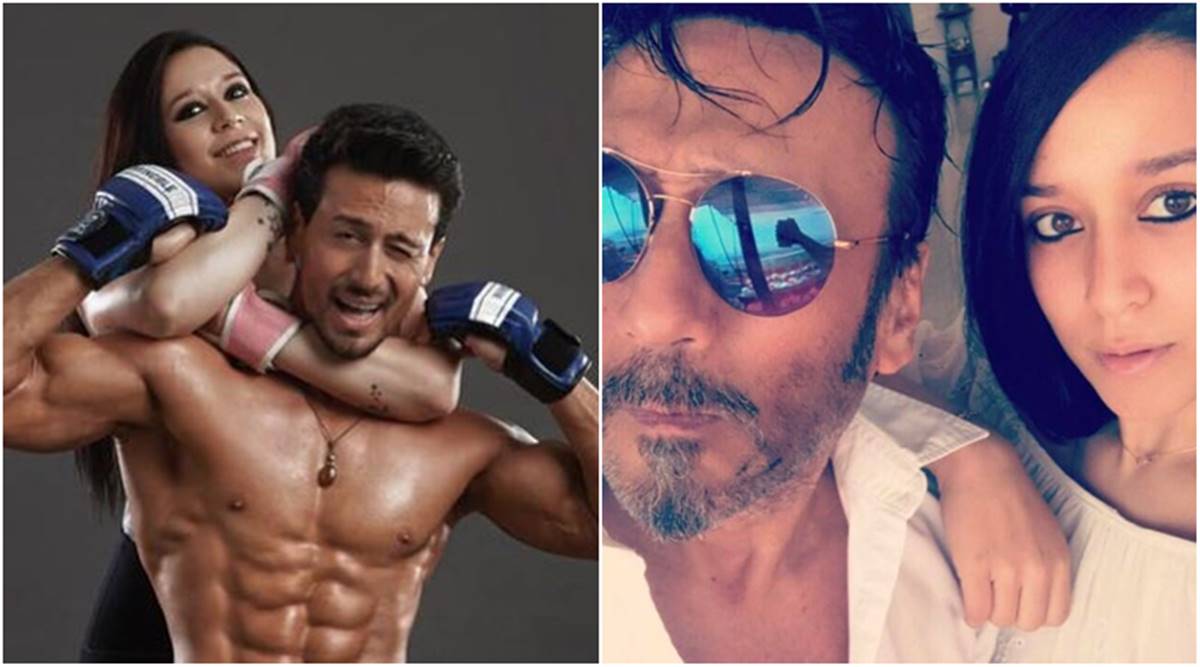 With his circular kicks and incredible agility, have you ever wondered why Tiger Shroff didn't try the sport before the movies? As Tiger's sister and daughter of actor Jackie Shroff, Krishna Shroff reveals, sport has always been the young actor's first choice, with Bollywood as a "fallback" option.
"I don't think Tiger ever wanted to be an actor. He wanted a career in sports," Krishna said, adding that "acting was something he fell back on. always in his head. "
Krishna agrees that the decision to become an actor "worked so amazingly for him." "He absolutely kills him. He is so happy to do what he does, "she said of her brother.
But we wondered what took Krishna away from the world of cinema. "Bollywood didn't seem like a place for me. Maybe when I'm old and bored, I'll give it a try. At the moment, I have a lot of things that excite me and excite me. I don't like putting my eggs in one basket. I like to explore and do different things. Seeing my brother do the same, dive into the world of music and explore his passion, it's inspiring. It motivates me to do something different. So Bollywood is not even on my radar, "she said.
However, she is sure that a collaboration with Tiger is quite possible in the future, "You would probably see me collaborate on a song with Tiger before you see me in a movie with him. I think I have a good voice. but I did not dare to sing in front of anyone.
But growing up, how did she deal with the pressure of being Jackie's daughter? "Can you imagine growing up with Tiger Shroff as your older brother?" The amount of pressure and wait. Having to live up to not only Jackie Shroff's standard but also that of Tiger Shroff is just plain foolish. It is incomparable. When asked if she thought she would be compared to Jackie Shroff and Tiger Shroff after her on-screen debut with her recently released track "Kinni Kinni Vaari", Krishna said the comparisons would have been "unfair" .
"What my father has created for himself and has done to this day is unmatched. What Tiger has done in such a short time is so impressive. So it is not fair to compare Tiger with our father or me with one of the two. We are both different individuals. I have chosen my own path, which is similar but different. There is room for everyone. So people should live and let live, "replied the 28-year-old.
Krishna also admitted that she does not watch Hindi movies or listen to Hindi music.
"The only Bollywood movies I have watched are my father's. Back then my parents would put me to bed and think I was asleep, but I would sneak out, go to my grandmother's room late at night. She and I would put on my dad's movies and watch them together. Now Tiger has taken that over. Now you will only see me watching his films. I am so stunned by everything he does. He is so different. There is no one like him. I'm just looking for inspiration from him, "admitted Krishna.
"Until today, I would say there is no actor like Jackie Shroff. When it comes to emotion, my dad is the best. I loved him in Brothers. He was so performed his role well. As for Tiger, it's hard to choose one but I loved Baaghi 2 for its story. I watched the movie when it premiered. Ten minutes later I was sobbing, which doesn't happen often with me. It also happened with war. I think in War the director gave him a character that had a scope to play, "Krisha told us of her favorite Tiger performances. and Jackie Shroff.
On a lighter note, we asked who was likely to win a dance battle – Krishna, Tiger, Disha Patani or Jackie Shroff – "One hundred percent daddy. Not because he's the best dancer, Tiger is gifted on another level, but daddy can let go, be free and not be disturbed by what people think of him, "laughed Krishna.
Before concluding the conversation, we asked Krishna about the pressures of being a child star. "People talk about nepotism and how star kids have it all on a silver platter. We do, I agree. But once you have it, it's hard to keep it. There are so many expectations (from the star kids). People expect you to be great because of the legacy your parents had before you, which is unfair. I don't blame people for thinking it's easy, but they have to understand that even though we have opportunities, it takes a lot of work to create our own identity and move away from the massive legacy of our parents, "he said. Krishna said as she signed.
Sources
2/ https://indianexpress.com/article/entertainment/bollywood/tiger-shroff-vs-disha-patani-vs-jackie-shroff-krishna-shroff-predicts-who-will-win-this-dance-off/
The mention sources can contact us to remove/changing this article
What Are The Main Benefits Of Comparing Car Insurance Quotes Online
LOS ANGELES, CA / ACCESSWIRE / June 24, 2020, / Compare-autoinsurance.Org has launched a new blog post that presents the main benefits of comparing multiple car insurance quotes. For more info and free online quotes, please visit https://compare-autoinsurance.Org/the-advantages-of-comparing-prices-with-car-insurance-quotes-online/ The modern society has numerous technological advantages. One important advantage is the speed at which information is sent and received. With the help of the internet, the shopping habits of many persons have drastically changed. The car insurance industry hasn't remained untouched by these changes. On the internet, drivers can compare insurance prices and find out which sellers have the best offers. View photos The advantages of comparing online car insurance quotes are the following: Online quotes can be obtained from anywhere and at any time. Unlike physical insurance agencies, websites don't have a specific schedule and they are available at any time. Drivers that have busy working schedules, can compare quotes from anywhere and at any time, even at midnight. Multiple choices. Almost all insurance providers, no matter if they are well-known brands or just local insurers, have an online presence. Online quotes will allow policyholders the chance to discover multiple insurance companies and check their prices. Drivers are no longer required to get quotes from just a few known insurance companies. Also, local and regional insurers can provide lower insurance rates for the same services. Accurate insurance estimates. Online quotes can only be accurate if the customers provide accurate and real info about their car models and driving history. Lying about past driving incidents can make the price estimates to be lower, but when dealing with an insurance company lying to them is useless. Usually, insurance companies will do research about a potential customer before granting him coverage. Online quotes can be sorted easily. Although drivers are recommended to not choose a policy just based on its price, drivers can easily sort quotes by insurance price. Using brokerage websites will allow drivers to get quotes from multiple insurers, thus making the comparison faster and easier. For additional info, money-saving tips, and free car insurance quotes, visit https://compare-autoinsurance.Org/ Compare-autoinsurance.Org is an online provider of life, home, health, and auto insurance quotes. This website is unique because it does not simply stick to one kind of insurance provider, but brings the clients the best deals from many different online insurance carriers. In this way, clients have access to offers from multiple carriers all in one place: this website. On this site, customers have access to quotes for insurance plans from various agencies, such as local or nationwide agencies, brand names insurance companies, etc. "Online quotes can easily help drivers obtain better car insurance deals. All they have to do is to complete an online form with accurate and real info, then compare prices", said Russell Rabichev, Marketing Director of Internet Marketing Company. CONTACT: Company Name: Internet Marketing CompanyPerson for contact Name: Gurgu CPhone Number: (818) 359-3898Email: [email protected]: https://compare-autoinsurance.Org/ SOURCE: Compare-autoinsurance.Org View source version on accesswire.Com:https://www.Accesswire.Com/595055/What-Are-The-Main-Benefits-Of-Comparing-Car-Insurance-Quotes-Online View photos
to request, modification Contact us at Here or [email protected]