Aubrey Entertainment Seeks To Bring A Variety Of Music To Athens | Arts & Culture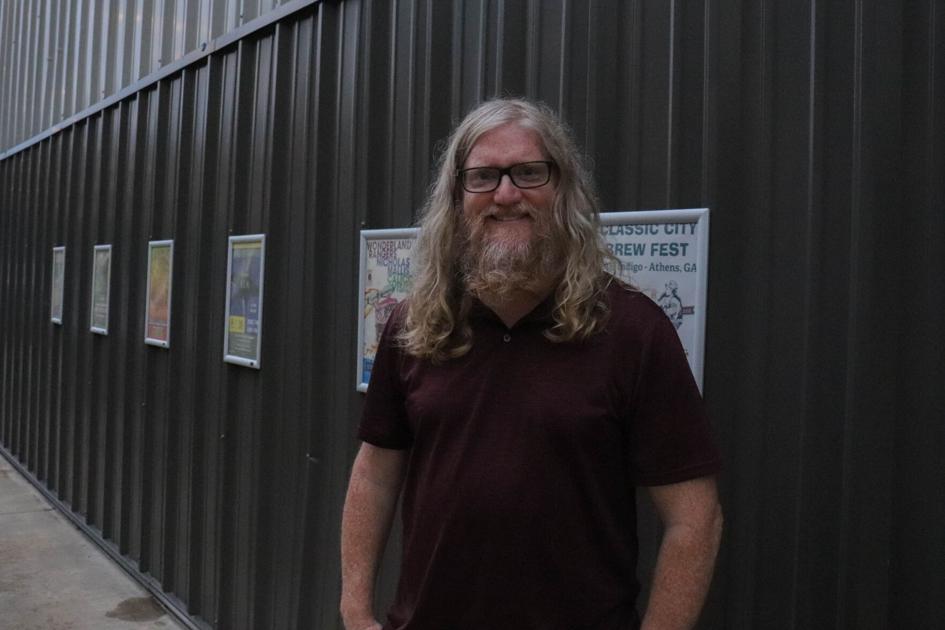 At age 2, Troy Aubrey latched onto the handle of his parents' stereo system and shook any air that passed through his airways. By the time he was in high school he was booking shows at local facilities in East Cobb. Aubrey believed his love for music was ingrained in him, and he was determined to do something with his passion.
Today, as the creator and owner of Aubrey Entertainment, Aubrey works daily with a wide range of artists and venues to bring music to the community of Athens.
From booking hip-hop artists to country music singers, Aubrey refuses to limit himself or Athens to just one type of musical genre.
I really want to be with open arms to different genres of music, new traditional places and also create things in alternative places that might not be known as a music place, Aubrey said.
The beginnings of Aubrey Entertainment
Aubrey Entertainment was formed in September 2019, but Aubreys has been involved in the booking, management and promotion of the entertainment aspect of Athens since 1988, when he arrived at the University of Georgia.
One of those jobs included 10 years of work as president of the entertainment division at Foundry Entertainment. However, Aubrey said he no longer wanted to limit himself to booking for one place.
I needed to branch out, to open my eyes to other stages, Aubrey said. I came to the conclusion that I was going to try to help promote things of all different kinds by working with eclectic rooms, from small to rooms the size of a classic center.
From then on, in an effort to match artists to complementary venues, Aubrey Entertainment was prepared to navigate smoothly until the COVID-19 pandemic shuts down the business for several months. This brought the company to a standstill, but did nothing to deter Aubrey's future plans.
[The pandemic] was very difficult, but it also reset my mind and my outlook to help me clarify what to do in the future. I've had a lot of time to think about it, Aubrey said. I feel like it set me up for success and to really bring some great entertainment to the city to keep things going.
Work with Aubrey
Aubrey Entertainment was recently able to resume booking through the Southern Brewing Company outside site. Most recently, on July 17, Aubrey booked Todd Cowart, Clay Leverett and Holman Autry Band at the brewery.
I'm still excited now that Troy is constantly booking, to the point that I'm frustrated because if there are three big shows a week and I can't go to three shows, I have to choose, said the Southern Brewing co-owner Company Brian Roth.
Long before Aubrey Entertainment's debut, Roth worked at the AthFest Music & Arts Festival with Aubrey for over 20 years, Roth said. Aubrey was the first person Roth spoke to after AthFest was canceled last year due to COVID-19, and soon enough they put on a show to benefit charities associated with the festival.
Jill Helme, Executive Director of AthFest Educates, a nonprofit organization associated with AthFest, also worked with Aubrey, who serves as the Reservation Chair for AthFest.
Troy has a very good understanding of what an event seeks to produce, as well as the musical talent that exists in that region, Helme said. Hes has a great ear for recognizing the talents that are coming to the area.
Roth highlighted Aubrey's ability to see potential in small groups and how this talent allows him to give platforms to those groups.
It gives the smaller local bands that are just starting out a chance to perform in front of really great crowds and build a bigger base, Roth said.
Aubrey may not be swinging while holding his parents' stereo anymore, but he now stands in the back of his shows, reveling in the excitement of what he was able to put together.
When there's a big crowd and they're singing, One more song, one more song, it makes me feel good to see that, Aubrey said. The crowd and the group feel this energy together and for me it is totally worth it.
Sources
2/ https://www.redandblack.com/culture/aubrey-entertainment-seeks-to-bring-variety-of-music-to-athens/article_02b5ed20-e9d6-11eb-8d11-3f235a10526e.html
The mention sources can contact us to remove/changing this article
What Are The Main Benefits Of Comparing Car Insurance Quotes Online
LOS ANGELES, CA / ACCESSWIRE / June 24, 2020, / Compare-autoinsurance.Org has launched a new blog post that presents the main benefits of comparing multiple car insurance quotes. For more info and free online quotes, please visit https://compare-autoinsurance.Org/the-advantages-of-comparing-prices-with-car-insurance-quotes-online/ The modern society has numerous technological advantages. One important advantage is the speed at which information is sent and received. With the help of the internet, the shopping habits of many persons have drastically changed. The car insurance industry hasn't remained untouched by these changes. On the internet, drivers can compare insurance prices and find out which sellers have the best offers. View photos The advantages of comparing online car insurance quotes are the following: Online quotes can be obtained from anywhere and at any time. Unlike physical insurance agencies, websites don't have a specific schedule and they are available at any time. Drivers that have busy working schedules, can compare quotes from anywhere and at any time, even at midnight. Multiple choices. Almost all insurance providers, no matter if they are well-known brands or just local insurers, have an online presence. Online quotes will allow policyholders the chance to discover multiple insurance companies and check their prices. Drivers are no longer required to get quotes from just a few known insurance companies. Also, local and regional insurers can provide lower insurance rates for the same services. Accurate insurance estimates. Online quotes can only be accurate if the customers provide accurate and real info about their car models and driving history. Lying about past driving incidents can make the price estimates to be lower, but when dealing with an insurance company lying to them is useless. Usually, insurance companies will do research about a potential customer before granting him coverage. Online quotes can be sorted easily. Although drivers are recommended to not choose a policy just based on its price, drivers can easily sort quotes by insurance price. Using brokerage websites will allow drivers to get quotes from multiple insurers, thus making the comparison faster and easier. For additional info, money-saving tips, and free car insurance quotes, visit https://compare-autoinsurance.Org/ Compare-autoinsurance.Org is an online provider of life, home, health, and auto insurance quotes. This website is unique because it does not simply stick to one kind of insurance provider, but brings the clients the best deals from many different online insurance carriers. In this way, clients have access to offers from multiple carriers all in one place: this website. On this site, customers have access to quotes for insurance plans from various agencies, such as local or nationwide agencies, brand names insurance companies, etc. "Online quotes can easily help drivers obtain better car insurance deals. All they have to do is to complete an online form with accurate and real info, then compare prices", said Russell Rabichev, Marketing Director of Internet Marketing Company. CONTACT: Company Name: Internet Marketing CompanyPerson for contact Name: Gurgu CPhone Number: (818) 359-3898Email: [email protected]: https://compare-autoinsurance.Org/ SOURCE: Compare-autoinsurance.Org View source version on accesswire.Com:https://www.Accesswire.Com/595055/What-Are-The-Main-Benefits-Of-Comparing-Car-Insurance-Quotes-Online View photos
to request, modification Contact us at Here or [email protected]