Officer turned actor shares story in book | Herald Community Newspapers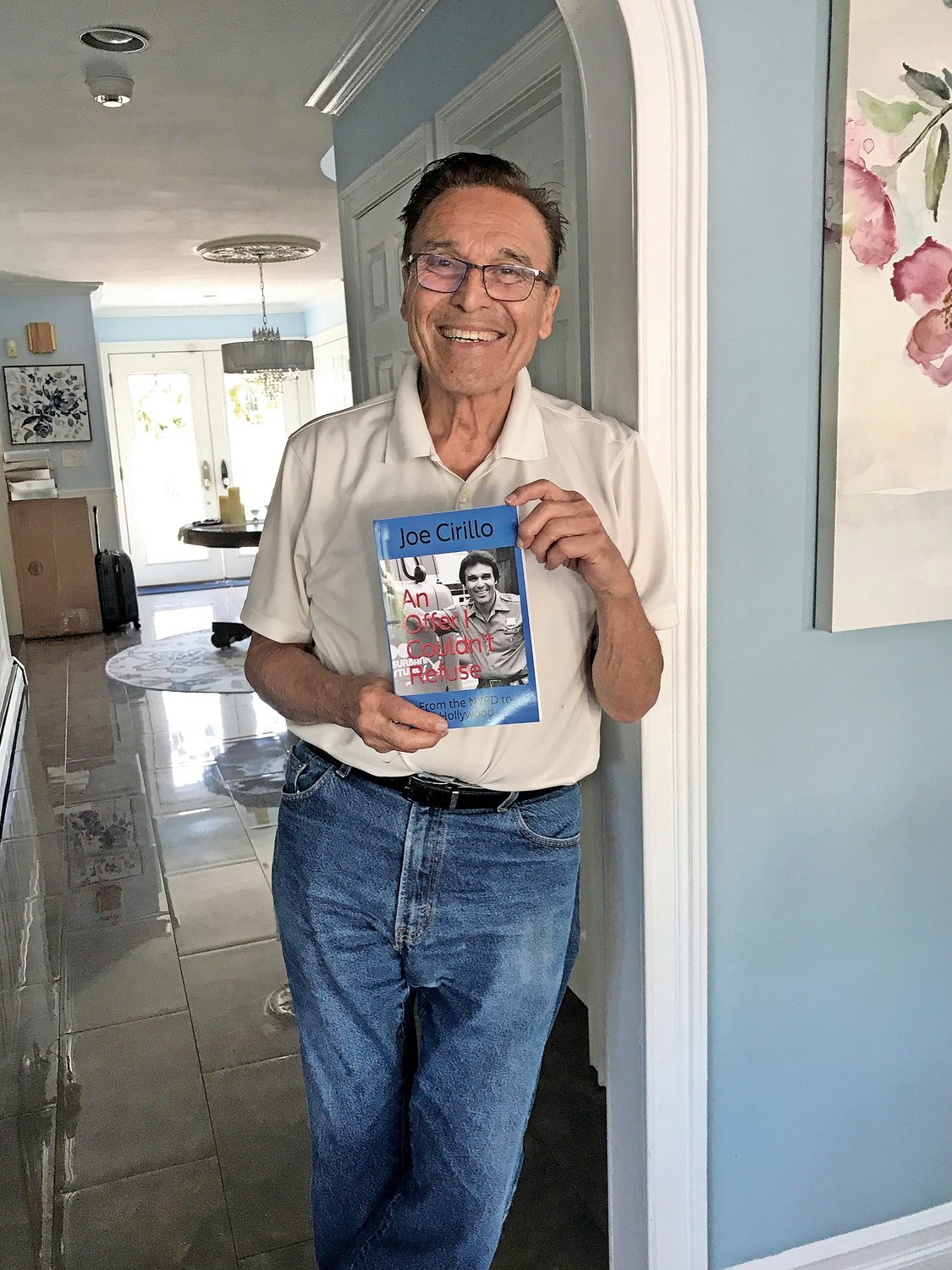 Joe Cirillo, a resident of South Bellmore for almost 50 years, has had a remarkable life. Now the 90-year-old – who said he saw it and done it all – recounts his life in his recently published autobiography, "An Offer I Couldn't Refuse".
Cirillo, who is also a Korean War veteran, began his career as a police officer for the New York City Police Department in the 1950s.
In 1958, Cirillo was one of the first people to make composite drawings of suspects, he said. When they offered him an office job in the department, he turned it down because he wanted to be on the streets. While patrolling the streets, Cirillo began to meet people, including Oscar-winning director and producer Mike Nichols.
"We became friends," Cirillo recalls. "Mike said to me, 'How would you like to be an actor?' He then got me an interview with Paramount Pictures.
The rest is history, he said.
Cirillo's interview with Paramount earned him his first small speaking role in "The Godfather," the classic Mafia-era movie starring Marlon Brando and Al Pacino.
"The speaking part never made the movie," he laughed. "But it got me my Screen Actor's Guild card."
Cirillo, who recorded most of the photos, articles, and other media about him in large filing cabinets, was eager to open and flip through them and look back on his life.
In 1976, "the most popular show on television" was "Kojak," a crime drama starring Telly Savalas and set in New York City, according to Cirillo.
"It was first shot in California," Cirillo said. "But, they did archive photos in New York."
When they needed someone to keep Savalas safe, Cirillo said the police told them, "We have the right guy for you. "
"I got out of the police department 2 months later," Cirillo said. "I moved to California and started working for Savalas."
After working with Savalas until the end of "Kojak" in 1978, Cirillo remained in California where he secured a co-starring role in the short-lived television series Eischied, another crime drama. At its conclusion, Cirillo returned to New York.
"I started my own security business for movie stars" and other big names in Hollywood, he said. The list of people he has provided security for includes Frank Sinatra, Barbra Streisand, Tom Hanks, Dustin Hoffman, Jerry Lewis and Goldie Hawn, among countless others.
Thinking back on all the people he had worked for, he said he was not just their security guard – "We became friends," he said with a smile.
Perhaps Cirillo's most memorable role is as the police captain in "Ghostbusters," in the scene where the supernatural containment center is shut down by authorities. Cirillo's character says the quote line: "You do your work with the pencil, don't tell me how to do mine!" "
In addition, Cirillo considers himself a writer.
"I wrote 12 screenplays," he says. "I also wrote a musical version of the movie 'Marty', although it was never produced."
Cirillo also has his own production company, and at the moment two of his screenplays, titled "Comeback in Vienna" and "Megaballs", are potentially in the process of being turned into films.
Encouraged by many for years to write a book about his life, he explained, he finally decided to do it – but not for himself.
"I did it for my family," he said. "So that my children, grandchildren and great-grandchildren can know me and my heritage. "
Cirillo's book, "An Offer I Couldn't Refuse" – a play on the famous line "The Godfather", "I'll Make You An Offer You Can't Refuse", delivered by Brando – is available at Amazon and Kindle, and so far, has received praise from readers and critics.
"I'm talking about Korea, my years in the police department, Hollywood, my security company and today," Cirillo said.
Still working hard to see his scripts turn into movies, Cirillo said, "I'm not giving up. Perseverance is what it is about.
Sources
2/ https://www.liherald.com/bellmore/stories/officer-turned-actor-shares-story-in-book,133626
The mention sources can contact us to remove/changing this article
What Are The Main Benefits Of Comparing Car Insurance Quotes Online
LOS ANGELES, CA / ACCESSWIRE / June 24, 2020, / Compare-autoinsurance.Org has launched a new blog post that presents the main benefits of comparing multiple car insurance quotes. For more info and free online quotes, please visit https://compare-autoinsurance.Org/the-advantages-of-comparing-prices-with-car-insurance-quotes-online/ The modern society has numerous technological advantages. One important advantage is the speed at which information is sent and received. With the help of the internet, the shopping habits of many persons have drastically changed. The car insurance industry hasn't remained untouched by these changes. On the internet, drivers can compare insurance prices and find out which sellers have the best offers. View photos The advantages of comparing online car insurance quotes are the following: Online quotes can be obtained from anywhere and at any time. Unlike physical insurance agencies, websites don't have a specific schedule and they are available at any time. Drivers that have busy working schedules, can compare quotes from anywhere and at any time, even at midnight. Multiple choices. Almost all insurance providers, no matter if they are well-known brands or just local insurers, have an online presence. Online quotes will allow policyholders the chance to discover multiple insurance companies and check their prices. Drivers are no longer required to get quotes from just a few known insurance companies. Also, local and regional insurers can provide lower insurance rates for the same services. Accurate insurance estimates. Online quotes can only be accurate if the customers provide accurate and real info about their car models and driving history. Lying about past driving incidents can make the price estimates to be lower, but when dealing with an insurance company lying to them is useless. Usually, insurance companies will do research about a potential customer before granting him coverage. Online quotes can be sorted easily. Although drivers are recommended to not choose a policy just based on its price, drivers can easily sort quotes by insurance price. Using brokerage websites will allow drivers to get quotes from multiple insurers, thus making the comparison faster and easier. For additional info, money-saving tips, and free car insurance quotes, visit https://compare-autoinsurance.Org/ Compare-autoinsurance.Org is an online provider of life, home, health, and auto insurance quotes. This website is unique because it does not simply stick to one kind of insurance provider, but brings the clients the best deals from many different online insurance carriers. In this way, clients have access to offers from multiple carriers all in one place: this website. On this site, customers have access to quotes for insurance plans from various agencies, such as local or nationwide agencies, brand names insurance companies, etc. "Online quotes can easily help drivers obtain better car insurance deals. All they have to do is to complete an online form with accurate and real info, then compare prices", said Russell Rabichev, Marketing Director of Internet Marketing Company. CONTACT: Company Name: Internet Marketing CompanyPerson for contact Name: Gurgu CPhone Number: (818) 359-3898Email: [email protected]: https://compare-autoinsurance.Org/ SOURCE: Compare-autoinsurance.Org View source version on accesswire.Com:https://www.Accesswire.Com/595055/What-Are-The-Main-Benefits-Of-Comparing-Car-Insurance-Quotes-Online View photos
to request, modification Contact us at Here or [email protected]