Opening of an immersive exhibition on Van Gogh in Hollywood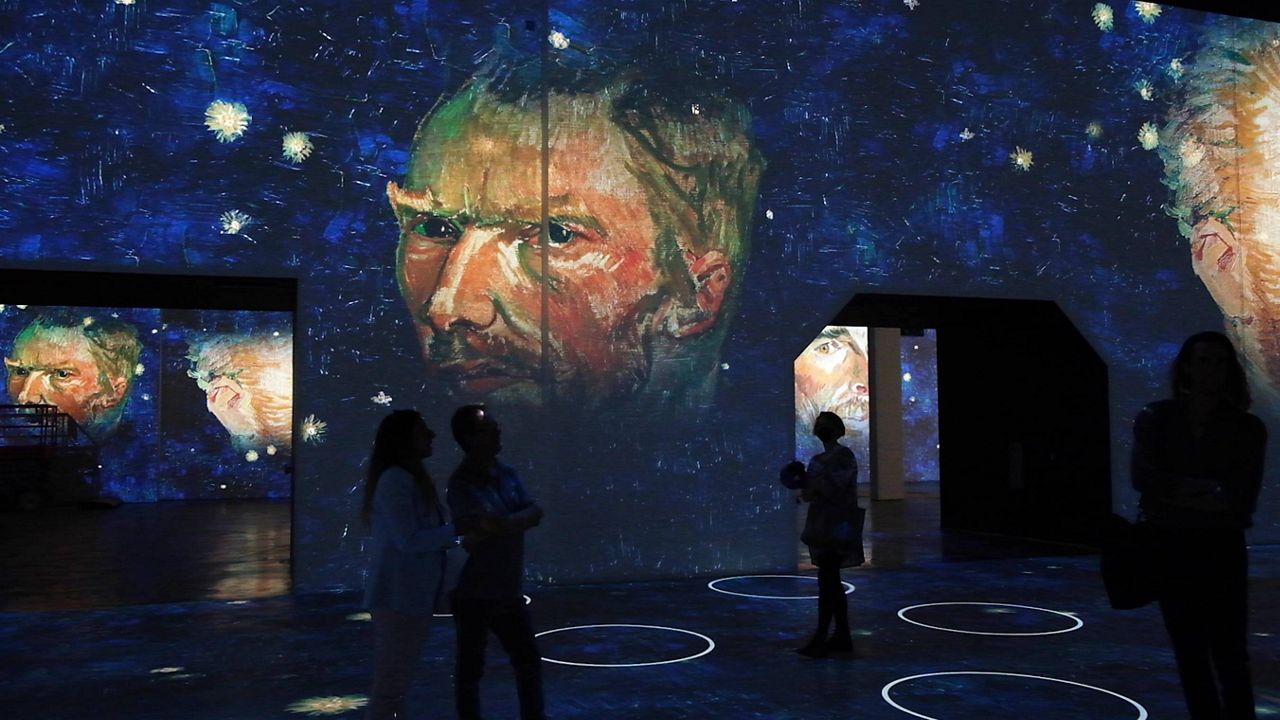 HOLLYWOOD, Calif. Have you ever wanted to discover one of your favorite paintings?
The iconic building that once housed Amoeba Music in Hollywood has been transformed into an immersive Van Gogh exhibit using 500,000 cubic feet of projections and 90 million pixels of high-definition light.
---
What would you like to know
The immersive Van Gogh exhibition is the creation of Italian artist Massimiliano Siccardi
360-degree exposures use 500,000 cubic feet of projection and 90 million high-definition pixels

The show's creative team includes Broadway production designer David Korins ("Hamilton", "Beetlejuice") and producer Corey Ross

Additional measures have been taken to ensure the safety of visitors
---
The larger-than-life works of post-impressionist painter Vincent Van Gogh are projected on the walls along with the music and sounds of composer Luca Longobardi.
Iconic paintings such as Starry Night and the famous irises move and transform before your eyes as you walk through the spaces.
The creative director of the exhibition is David Korins, whose stage design work includes Broadways "Hamilton" and "Beetlejuice".
Korins said his challenge with the Van Gogh exhibit was twofold.
It's my job as a creative director to create an experience that both contextualizes the man, the artist, but also theatricalizes him, Korins said.
Korins added that audiences have responded well to the kind of fusion of art, architecture, technology and sound that the show brings together.
The audience sees a transparent 360-degree image, but in this room it's actually 67 digital projectors linked together, Korins explained. There are seventeen miles of cables going through this building. It is a massive, massive technical undertaking.
The exhibition has already enjoyed success in other cities around the world and its original creator, Italian artist Massimiliano Siccardi, has been working with immersive experiences for 20 years.
The show is tailored for each city it appears in, and it's Korins job to bring it to life in an engaging way.
being able to engage, learn and be entertained by one of the five most recognizable artists of all time, and filter that through my own artistic sensibility, literally curated for the city we set it up in is amazing, said Korins. I remember watching [Van Goghs] paintings when I was a kid and studying it in art history and finding a new goal to get there is really, really amazing.
Show producer Corey Ross has said that the life of Vincent Van Gogh, who died at the age of 37 from a self-inflicted gunshot wound, has many resonances with our present moment and gives the experience a additional depth and intensity.
People know very well [Van Goghs] life experience, and now more than ever, coming out of COVID, I believe we can all relate to it, Ross said. Here is a guy who suffered from depression, struggled with mental illness, struggled with isolation, loneliness, and now I think we can all relate to each other.
Visitors to the exhibition can set their own pace as they make their way through the exhibition halls, which is like entering, browsing the paintings as they move. and transform.
His work has transcended the difficult times he went through, Ross said. I think people find it very cathartic right now.
Although Van Gogh's works remain among the most viewed of all artists, David Korins hopes the exhibition will bring new depth and appreciation to his life and work.
I think every piece of art you experience changes you, Korins said. I think it opens your eyes, and opens your mind, and opens your heart. The work speaks for itself and people show up in droves, and it's really a testament to, I think, Van Gogh, his vision and his resistance.
The immersive Van Gogh exhibit kicks off in Hollywood on July 31.
Sources
2/ https://spectrumnews1.com/ca/la-east/arts/2021/07/29/immersive-van-gogh-exhibit-set-to-open-in-hollywood
The mention sources can contact us to remove/changing this article
What Are The Main Benefits Of Comparing Car Insurance Quotes Online
LOS ANGELES, CA / ACCESSWIRE / June 24, 2020, / Compare-autoinsurance.Org has launched a new blog post that presents the main benefits of comparing multiple car insurance quotes. For more info and free online quotes, please visit https://compare-autoinsurance.Org/the-advantages-of-comparing-prices-with-car-insurance-quotes-online/ The modern society has numerous technological advantages. One important advantage is the speed at which information is sent and received. With the help of the internet, the shopping habits of many persons have drastically changed. The car insurance industry hasn't remained untouched by these changes. On the internet, drivers can compare insurance prices and find out which sellers have the best offers. View photos The advantages of comparing online car insurance quotes are the following: Online quotes can be obtained from anywhere and at any time. Unlike physical insurance agencies, websites don't have a specific schedule and they are available at any time. Drivers that have busy working schedules, can compare quotes from anywhere and at any time, even at midnight. Multiple choices. Almost all insurance providers, no matter if they are well-known brands or just local insurers, have an online presence. Online quotes will allow policyholders the chance to discover multiple insurance companies and check their prices. Drivers are no longer required to get quotes from just a few known insurance companies. Also, local and regional insurers can provide lower insurance rates for the same services. Accurate insurance estimates. Online quotes can only be accurate if the customers provide accurate and real info about their car models and driving history. Lying about past driving incidents can make the price estimates to be lower, but when dealing with an insurance company lying to them is useless. Usually, insurance companies will do research about a potential customer before granting him coverage. Online quotes can be sorted easily. Although drivers are recommended to not choose a policy just based on its price, drivers can easily sort quotes by insurance price. Using brokerage websites will allow drivers to get quotes from multiple insurers, thus making the comparison faster and easier. For additional info, money-saving tips, and free car insurance quotes, visit https://compare-autoinsurance.Org/ Compare-autoinsurance.Org is an online provider of life, home, health, and auto insurance quotes. This website is unique because it does not simply stick to one kind of insurance provider, but brings the clients the best deals from many different online insurance carriers. In this way, clients have access to offers from multiple carriers all in one place: this website. On this site, customers have access to quotes for insurance plans from various agencies, such as local or nationwide agencies, brand names insurance companies, etc. "Online quotes can easily help drivers obtain better car insurance deals. All they have to do is to complete an online form with accurate and real info, then compare prices", said Russell Rabichev, Marketing Director of Internet Marketing Company. CONTACT: Company Name: Internet Marketing CompanyPerson for contact Name: Gurgu CPhone Number: (818) 359-3898Email: [email protected]: https://compare-autoinsurance.Org/ SOURCE: Compare-autoinsurance.Org View source version on accesswire.Com:https://www.Accesswire.Com/595055/What-Are-The-Main-Benefits-Of-Comparing-Car-Insurance-Quotes-Online View photos
to request, modification Contact us at Here or [email protected]