Retired FDNY EMT Who Survived 9/11 Builds Memorial Exhibit Outside Hollywood House – WSVN 7News | Miami News, Weather, Sports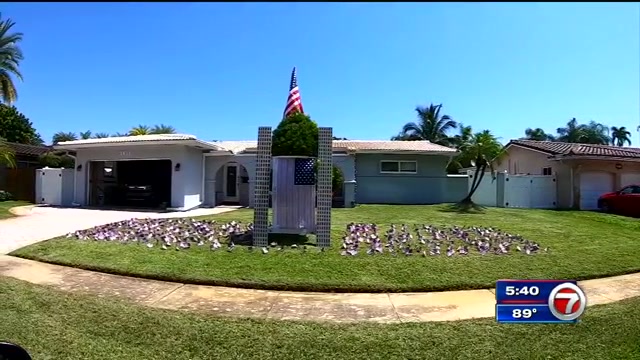 HOLLYWOOD, FL. (WSVN) – A former first responder who survived 9/11 in New York City marks the 20th anniversary of the tragedy with a moving tribute outside his Hollywood home.
The exhibit outside Shaya Gutleizers' home may not be the most extravagant 9/11 memorial, but it is deeply personal.
Inside his residence and with his family by his side, the retired firefighter, 40, reflected on the day that changed his life two decades ago.
I was 20 years old. It's like it was yesterday, even though it was 100 years ago around the same time, he said.
Gutleizer was a young emergency medical technician at the time. He said he had a day off when it became known that one of the World Trade Center towers was being evacuated.
He chose to react to the scene.
It is an incident that claims many victims like you never thought you would see, he said.
Gutleizer said he was at a safe distance when the south tower fell, but was just below the north tower moments before it collapsed.
I will be the first to admit that I was not prepared for what was to come, what I saw, he said. We understood the dangers, but seeing people jumping towers was, I think, the scariest and most messed up thing, for lack of a better word, the thing I have ever seen.
The retired EMT outlined his next steps.
The second tower began to collapse. We ran like hell, and at one point I ducked into a store front. I remember the big gray cloud that envelops everything, he said.
Like so many first responders, Gutleizer has spent over a week at Ground Zero, helping in any way he can.
It was what they call the bucket brigade. They were sort of passing buckets of rubble, he said.
Gutleizer still has the red World Trade Center emergency badge that granted him access to the site, as well as his mask and two helmets.
This one had fallen when I was fleeing the tower, he said, brandishing a blue helmet.
Gutleizer said he joined the military because of the 9/11 attacks, but his service was interrupted by lung problems.
I had friends who were dying of cancer, friends who were dying of cancer, he said.
Gutleizer retired from the New York Fire Department in 2017, and his family moved to South Florida.
He decided that the exterior of their home would pay a respectful tribute to the dead on this 20th anniversary.
It's Home Depot, I was trying to figure it out, he said.
The exhibition includes painted wooden towers, connected by the flag of honor, with the names of the victims.
Gutleizer placed 412 small flags in the court, one for each first responder lost.
He hopes his dark display arouses the curiosity of a new generation.
A lot of them are going to come by, they're going to see it, and they're going to want to know it and ask questions, he said.
In 2016, Gutleizers' service as a first responder was honored in Congress, not only for his time spent at Ground Zero, but also for his efforts to renew federal law providing health benefits to those who fell ill in the years after September 11.
Copyright 2021 Sunbeam Television Corp. All rights reserved. This material may not be published, broadcast, rewritten or redistributed.
Sources
2/ https://wsvn.com/news/local/broward/retired-firefighter-who-survived-9-11-builds-commemorative-display-outside-hollywood-home/
The mention sources can contact us to remove/changing this article
What Are The Main Benefits Of Comparing Car Insurance Quotes Online
LOS ANGELES, CA / ACCESSWIRE / June 24, 2020, / Compare-autoinsurance.Org has launched a new blog post that presents the main benefits of comparing multiple car insurance quotes. For more info and free online quotes, please visit https://compare-autoinsurance.Org/the-advantages-of-comparing-prices-with-car-insurance-quotes-online/ The modern society has numerous technological advantages. One important advantage is the speed at which information is sent and received. With the help of the internet, the shopping habits of many persons have drastically changed. The car insurance industry hasn't remained untouched by these changes. On the internet, drivers can compare insurance prices and find out which sellers have the best offers. View photos The advantages of comparing online car insurance quotes are the following: Online quotes can be obtained from anywhere and at any time. Unlike physical insurance agencies, websites don't have a specific schedule and they are available at any time. Drivers that have busy working schedules, can compare quotes from anywhere and at any time, even at midnight. Multiple choices. Almost all insurance providers, no matter if they are well-known brands or just local insurers, have an online presence. Online quotes will allow policyholders the chance to discover multiple insurance companies and check their prices. Drivers are no longer required to get quotes from just a few known insurance companies. Also, local and regional insurers can provide lower insurance rates for the same services. Accurate insurance estimates. Online quotes can only be accurate if the customers provide accurate and real info about their car models and driving history. Lying about past driving incidents can make the price estimates to be lower, but when dealing with an insurance company lying to them is useless. Usually, insurance companies will do research about a potential customer before granting him coverage. Online quotes can be sorted easily. Although drivers are recommended to not choose a policy just based on its price, drivers can easily sort quotes by insurance price. Using brokerage websites will allow drivers to get quotes from multiple insurers, thus making the comparison faster and easier. For additional info, money-saving tips, and free car insurance quotes, visit https://compare-autoinsurance.Org/ Compare-autoinsurance.Org is an online provider of life, home, health, and auto insurance quotes. This website is unique because it does not simply stick to one kind of insurance provider, but brings the clients the best deals from many different online insurance carriers. In this way, clients have access to offers from multiple carriers all in one place: this website. On this site, customers have access to quotes for insurance plans from various agencies, such as local or nationwide agencies, brand names insurance companies, etc. "Online quotes can easily help drivers obtain better car insurance deals. All they have to do is to complete an online form with accurate and real info, then compare prices", said Russell Rabichev, Marketing Director of Internet Marketing Company. CONTACT: Company Name: Internet Marketing CompanyPerson for contact Name: Gurgu CPhone Number: (818) 359-3898Email: [email protected]: https://compare-autoinsurance.Org/ SOURCE: Compare-autoinsurance.Org View source version on accesswire.Com:https://www.Accesswire.Com/595055/What-Are-The-Main-Benefits-Of-Comparing-Car-Insurance-Quotes-Online View photos
to request, modification Contact us at Here or [email protected]