Stay Focused and Engaged: Actor Shishir Sharmas' Tips for Futurebound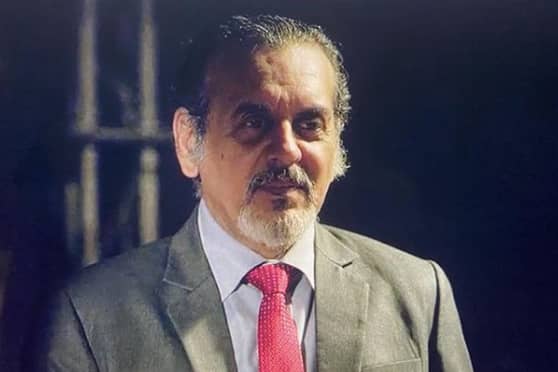 Summary
The session was part of a three-day youth conference organized by AIESEC and supervised by Infosys from November 19 to 21.
Shishir Sharma describes the path to success in the entertainment industry
How do you prepare to become an actor? And what do you need to be successful in the entertainment industry?
Indian film and television actor Shishir Sharma presented a roadmap for young actors during the A Journey through the Entertainment Industry virtual session on November 21. The session was part of Futurebound, a three-day pan-Indian conference organized by AIESEC (International Association of Business and Economics Students) and supervised by Infosys.
Here are excerpts from the session.
An actor is preparing
Naseeruddin Shah once said: An actor is a messenger responsible for conveying something without distorting or damaging it. And I trust these words. As an actor, you have a specific responsibility to convincingly convey what the writer has asked you to do.
It might sound easy, but there is a long way to go. Don't flirt with acting if you want to be a real actor. Five or seven years of concentrated theater experience will help, there is no better place to learn the basics. You will develop the subtle nuances of acting over time. No one was born an actor; it is a profession that must be mastered. I had no formal training and had to work hard. To become an actor, you have to be on the spot all the time.
In the wings
You can't taste success without experiencing setbacks first. The constant desire to improve is the biggest driver of improvement. Reaching for the stars will at least make you work towards a goal. Commitment, concentration and discipline, you must respect them to go on stage.
Actors need to read books every day to sharpen their memory. Try to memorize a passage from a novel. Reading a novel over and over again can be boring, but eventually you'll find out how it benefits your acting skills. You will soon be able to play this story in several ways; you will be able to modulate your voice with practice.
Regular repetitions are essential. You must be on time for rehearsals every day. Every time you take the stage, you are alone. If you make a mistake, this could be the end of the road for you. So stay engaged and disciplined, and focus on the script.
During rehearsals, you will learn to stand or sit, take the light, change your facial expression in front of the camera, and learn from other actors. There is no alternative to harsh practice in this profession. If you are really passionate about acting, it will pass. Don't be afraid of what you're supposed to do.
Passion, precision and performance
It's hard to survive in the entertainment industry without a mix of passion and precision. As soon as you start to be late for rehearsals, people will stop taking you seriously. Work with passion and be specific if you want to become something in life.
When I was doing television, I stopped getting calls from directors for 11 straight months. It bothered me terribly. I had even started to question my abilities. Then one fine day the doors opened again and opportunities began to present themselves to me.
Waiting for success behind the scenes
Let's face it, there is no shortcut to success. It depends on your passion for acting. Remember that being true to yourself and not compromising on a role will pay off in the long run. You will only want to do something when you are convinced that your audience will not be convinced until you are convinced. You could be a fantastic actor, but that won't help unless people recognize you in a movie.
Always do your work with sincerity and fully engage in the work. Whatever you do, do it with determination, commitment and focus and stay disciplined all the time. Follow this routine and use your passion for acting, nothing can stop you from being successful.
Last updated on November 23, 2021
Sources
2/ https://www.telegraphindia.com/edugraph/career/stay-focused-and-committed-actor-shishir-sharmas-advice-at-futurebound/cid/1840233
The mention sources can contact us to remove/changing this article
What Are The Main Benefits Of Comparing Car Insurance Quotes Online
LOS ANGELES, CA / ACCESSWIRE / June 24, 2020, / Compare-autoinsurance.Org has launched a new blog post that presents the main benefits of comparing multiple car insurance quotes. For more info and free online quotes, please visit https://compare-autoinsurance.Org/the-advantages-of-comparing-prices-with-car-insurance-quotes-online/ The modern society has numerous technological advantages. One important advantage is the speed at which information is sent and received. With the help of the internet, the shopping habits of many persons have drastically changed. The car insurance industry hasn't remained untouched by these changes. On the internet, drivers can compare insurance prices and find out which sellers have the best offers. View photos The advantages of comparing online car insurance quotes are the following: Online quotes can be obtained from anywhere and at any time. Unlike physical insurance agencies, websites don't have a specific schedule and they are available at any time. Drivers that have busy working schedules, can compare quotes from anywhere and at any time, even at midnight. Multiple choices. Almost all insurance providers, no matter if they are well-known brands or just local insurers, have an online presence. Online quotes will allow policyholders the chance to discover multiple insurance companies and check their prices. Drivers are no longer required to get quotes from just a few known insurance companies. Also, local and regional insurers can provide lower insurance rates for the same services. Accurate insurance estimates. Online quotes can only be accurate if the customers provide accurate and real info about their car models and driving history. Lying about past driving incidents can make the price estimates to be lower, but when dealing with an insurance company lying to them is useless. Usually, insurance companies will do research about a potential customer before granting him coverage. Online quotes can be sorted easily. Although drivers are recommended to not choose a policy just based on its price, drivers can easily sort quotes by insurance price. Using brokerage websites will allow drivers to get quotes from multiple insurers, thus making the comparison faster and easier. For additional info, money-saving tips, and free car insurance quotes, visit https://compare-autoinsurance.Org/ Compare-autoinsurance.Org is an online provider of life, home, health, and auto insurance quotes. This website is unique because it does not simply stick to one kind of insurance provider, but brings the clients the best deals from many different online insurance carriers. In this way, clients have access to offers from multiple carriers all in one place: this website. On this site, customers have access to quotes for insurance plans from various agencies, such as local or nationwide agencies, brand names insurance companies, etc. "Online quotes can easily help drivers obtain better car insurance deals. All they have to do is to complete an online form with accurate and real info, then compare prices", said Russell Rabichev, Marketing Director of Internet Marketing Company. CONTACT: Company Name: Internet Marketing CompanyPerson for contact Name: Gurgu CPhone Number: (818) 359-3898Email: [email protected]: https://compare-autoinsurance.Org/ SOURCE: Compare-autoinsurance.Org View source version on accesswire.Com:https://www.Accesswire.Com/595055/What-Are-The-Main-Benefits-Of-Comparing-Car-Insurance-Quotes-Online View photos
to request, modification Contact us at Here or [email protected]