Eurovision live updates: Ukraine seen as favorites to win as grand final kicks off in Italy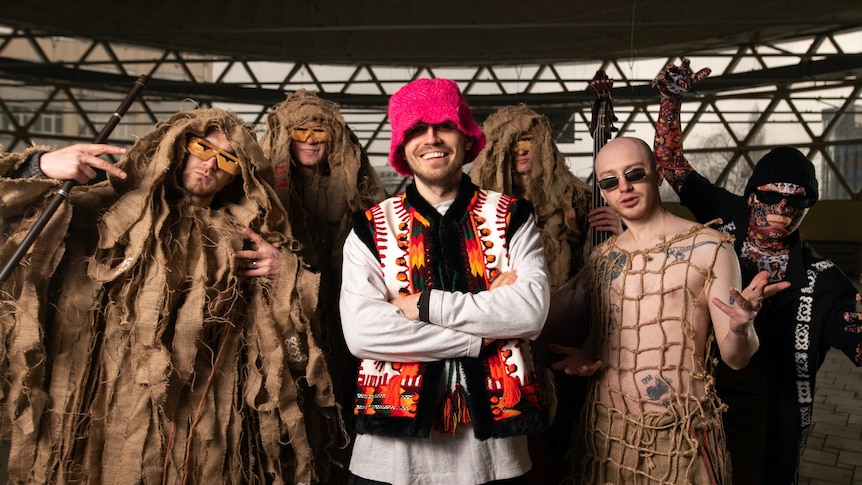 The final round of the Eurovision Song Contest is underway in Italy, with Ukraine tagged as favorites to win.
Follow all the performance, fashion and drama on our live blog.
Live updates
16.Belgium: Jrmie Makiese Miss You
Jrmie rose to prominence when he won The Voice Belgium last year. Fair enough, also he has a beautiful voice.
He started singing in church choirs when he was young and Jrmie would have said that this song which mixes soul and gospel / R'n'B and a little more dance is about his faith and his hope to help make big decisions.
He's a solid performer, but I think that will get lost a bit in the reshuffle, in terms of upvoting. I don't expect this to end up on the left side of the board.
WORDS:
Sometimes I feel down / Sometimes I drink / Sometimes I fall / Sometimes I hurt /

One day I'm cool / One day I'm cold / And I tried to escape my past / Let go of all the sadness you left behind /
I'm not sure about this topping…
The scruffy look made him look more emotionally haunted.
15.Azerbaijan: Nadir Rustamli fade to black
Another nerve-wracking piano ballad this time from Azerbaijan.
Nadir Rustamli seems to be the Azerbaijani version of Daniel Radcliffewith a better voice even though I'm afraid he needs to lay down in the middle of the song.
This number swells nicely in the middle, and there's a big falsetto, but after a bit of Spandau Ballet vocals, the ending leaves you wanting more.
I don't know if it will really turn out well.
WORDS:
Remains this story barely begun / Can't you stay? You really don't want to be part of it? /

It hurts so fast / when love goes wrong
14. Lithuania: Monika Liu Sentimentai
This jazzy, cabaret-style act was seeded last of 40 countries in the bet to win Eurovision but made it through to the final, prompting gasps from fan media in Turin when the name was read out.
Another in the endless list of heartbreaking numbers, it features Monika in one of the pageant outfits, with twinkling stars/lights behind her.
She sparkles too, despite the talk of her long-lost love and "drowning in a sea of ​​clouds," she delivers with a wink, a sway, and a smile.
It's on Monika's performance and personality that it goes. Unfortunately I am thinking of Lithuania, it will be the right side of the ranking at the end of the contest.
WORDS:
You, it's you, it's you / A face seen long ago / Why are you laughing like a clown / At my glassy eyes?

A million roses like feelings / Drowning in a sea of ​​clouds
I feel like I've heard that before…
This chorus reminds me of this Flashlight song from Pitch Perfect 2.
13. Germany: Malik Harris – Rockstars
Another spin on the theme of angst is the nostalgic look at the good old days probably 5, 10 years ago.
Malik is a one-man band, literally! There are instruments all over the stage for it, although no live instruments can be played at Eurovision, so it will mimic playing but not singing.
Germany is one of the "Big Five" with Italy, Spain, UK and France – meaning they don't have to qualify for the semi-finals every year. This shows.
To be fair, he has an Eminem-like flow with his rapping, but overall I don't see that doing business with voters.
WORDS:
Now life ain't the same / I sit and miss and reminisce about the old innocent days /

When I was afraid of nobody / Now I'm afraid of being nobody
Ok, everybody breathe… now it's time for Germany
Huge response from the crowd there.
Singer Oleh Psiuk says "I ask all of you, please help Ukraine, Mariupol, help us. Now."
A moment of emotion.
YES THOSOPILKA!
Damn it's good.
12. Ukraine: Kalouch Orchestra – Stefania
Here we are! It's that old Eurovision favorite, Ukrainian hip-hop folk combo.
They bring back the sopilka (Ukrainian recorder) last year solo with Go_A. Good time
This song is ostensibly about the mother of one of the Kalush Orchestra members, but much like old Irish (non-Eurovision) songs, there is a tradition of singing about your mother as a proxy for your country or homeland.
So there are the lyrics: "I will always find the way back even if all the roads are destroyed."
This is likely to get a huge reception in the lobby.
WORDS:
Stefania my mother / the field is blooming but her hair is turning gray /

Mother sing me the lullaby / I want to hear your dear word.
As we said, given current events, there is more to consider here than song or presentation when it comes to Ukraine's chances in Turin. If that doesn't run away with the televised vote, I'll be surprised.
11. Netherlands: S10 – Depth
In keeping with the widespread theme of angst and/or breakup songs for Eurovision 2022, we bring you the Dutch entry, which aims to join by Duncan Laurence Arcade as recent winners for the Netherlands.
S10 is a prominent Dutch alt-pop artist and she chose to sing in her own language rather than English. Luckily for audiences, S10's fragile voice makes the script pretty clear.
De diepte, or "the deep" refers to depression and confusion.
WORDS:
Here in the depths I keep hearing your name / oh no, what am I supposed to do? / I'm too involved and I don't want to let you go
S10's fragile voice is beautiful, even if there's a bit too much tadada dadadaadadas here. It's good enough for the top 10. My only concern is, is it immediate enough to grab viewers' attention?
10. Spain: Chanel – SloMo
Spain is one of the Big Five, and this time they released a Fuego-type banger that gained popularity as the contest approached.
It must be said that the music will move the feet in the room, but the lyrics are a bit average.
The phrase "booty hypnotic" is well-trained and the movement of the scene leaves little to the imagination.
It's catchy and dynamic and almost lifted the roof off the PalaOlimpico in last night's jury final, but it leaves me cold, no Fuego here!
WORDS:
I'm just doomed, doomed with my boom, boom / And I made it zoom, zoom on my yummy /

And make no mistake / ladies and gentlemen, I'm always ready / to break hips, to break hearts

Take a video / Watch it in slow motion mo, mo, mo, mo, mo / Booty hypnotic /
WOW. It was awesome…and the crowd was singing verbatim in the chorus…
9. Italy: Mahmood and Blanco – Brividi
Mahmood is back in Eurovision after his big hit with Soldi who finished second in 2019.
This time he won the San Remo Festival giving the opportunity to go to Eurovision with rising 19-year-old singing/rap star Blanco and a song called Brividi (Shivers).
The song can be read in many ways, but given that it is an emotional ballad/hip-hop mix sung against each other by the two male singers, it is considered by some to be a song. of LGBTQI rupture.
There's no shortage of emotion, and the harmonies and falsetto voices are stunning, not to mention Blancos spitting lyrics into the bridge. Whatever the result, it is a top-notch effort on the part of the host country.
Wait for the roar for it in the lobby.
WORDS:
I wish I could love you / but I'm always wrong /

I wish I could steal a sky of pearls from you / And I'd pay to leave, I'd even accept a lie /

And I wish I could love you, but I'm always wrong/ And I get chills, chills, chills/
Hell, there's a really bad filler here on the Italian hand gestures…
I don't know why – there's nothing huge that needs to hit the stage for the next entry.
Oi, those sleeves!
Laura Pausini looks like a disco witch and I love it.
It's time for a Eurovision commercial break…
OK, guys, get ready. The next four songs are going to be HUGE… and will probably contain the winner.
Sources
2/ https://www.abc.net.au/news/2022-05-15/eurovision-song-contest-final-voting-win-sheldon-riley-ukraine/101064394
The mention sources can contact us to remove/changing this article
What Are The Main Benefits Of Comparing Car Insurance Quotes Online
LOS ANGELES, CA / ACCESSWIRE / June 24, 2020, / Compare-autoinsurance.Org has launched a new blog post that presents the main benefits of comparing multiple car insurance quotes. For more info and free online quotes, please visit https://compare-autoinsurance.Org/the-advantages-of-comparing-prices-with-car-insurance-quotes-online/ The modern society has numerous technological advantages. One important advantage is the speed at which information is sent and received. With the help of the internet, the shopping habits of many persons have drastically changed. The car insurance industry hasn't remained untouched by these changes. On the internet, drivers can compare insurance prices and find out which sellers have the best offers. View photos The advantages of comparing online car insurance quotes are the following: Online quotes can be obtained from anywhere and at any time. Unlike physical insurance agencies, websites don't have a specific schedule and they are available at any time. Drivers that have busy working schedules, can compare quotes from anywhere and at any time, even at midnight. Multiple choices. Almost all insurance providers, no matter if they are well-known brands or just local insurers, have an online presence. Online quotes will allow policyholders the chance to discover multiple insurance companies and check their prices. Drivers are no longer required to get quotes from just a few known insurance companies. Also, local and regional insurers can provide lower insurance rates for the same services. Accurate insurance estimates. Online quotes can only be accurate if the customers provide accurate and real info about their car models and driving history. Lying about past driving incidents can make the price estimates to be lower, but when dealing with an insurance company lying to them is useless. Usually, insurance companies will do research about a potential customer before granting him coverage. Online quotes can be sorted easily. Although drivers are recommended to not choose a policy just based on its price, drivers can easily sort quotes by insurance price. Using brokerage websites will allow drivers to get quotes from multiple insurers, thus making the comparison faster and easier. For additional info, money-saving tips, and free car insurance quotes, visit https://compare-autoinsurance.Org/ Compare-autoinsurance.Org is an online provider of life, home, health, and auto insurance quotes. This website is unique because it does not simply stick to one kind of insurance provider, but brings the clients the best deals from many different online insurance carriers. In this way, clients have access to offers from multiple carriers all in one place: this website. On this site, customers have access to quotes for insurance plans from various agencies, such as local or nationwide agencies, brand names insurance companies, etc. "Online quotes can easily help drivers obtain better car insurance deals. All they have to do is to complete an online form with accurate and real info, then compare prices", said Russell Rabichev, Marketing Director of Internet Marketing Company. CONTACT: Company Name: Internet Marketing CompanyPerson for contact Name: Gurgu CPhone Number: (818) 359-3898Email: [email protected]: https://compare-autoinsurance.Org/ SOURCE: Compare-autoinsurance.Org View source version on accesswire.Com:https://www.Accesswire.Com/595055/What-Are-The-Main-Benefits-Of-Comparing-Car-Insurance-Quotes-Online View photos
to request, modification Contact us at Here or [email protected]