When Madhuri Dixit Revealed Shriram Nene Only Knows One Bollywood Star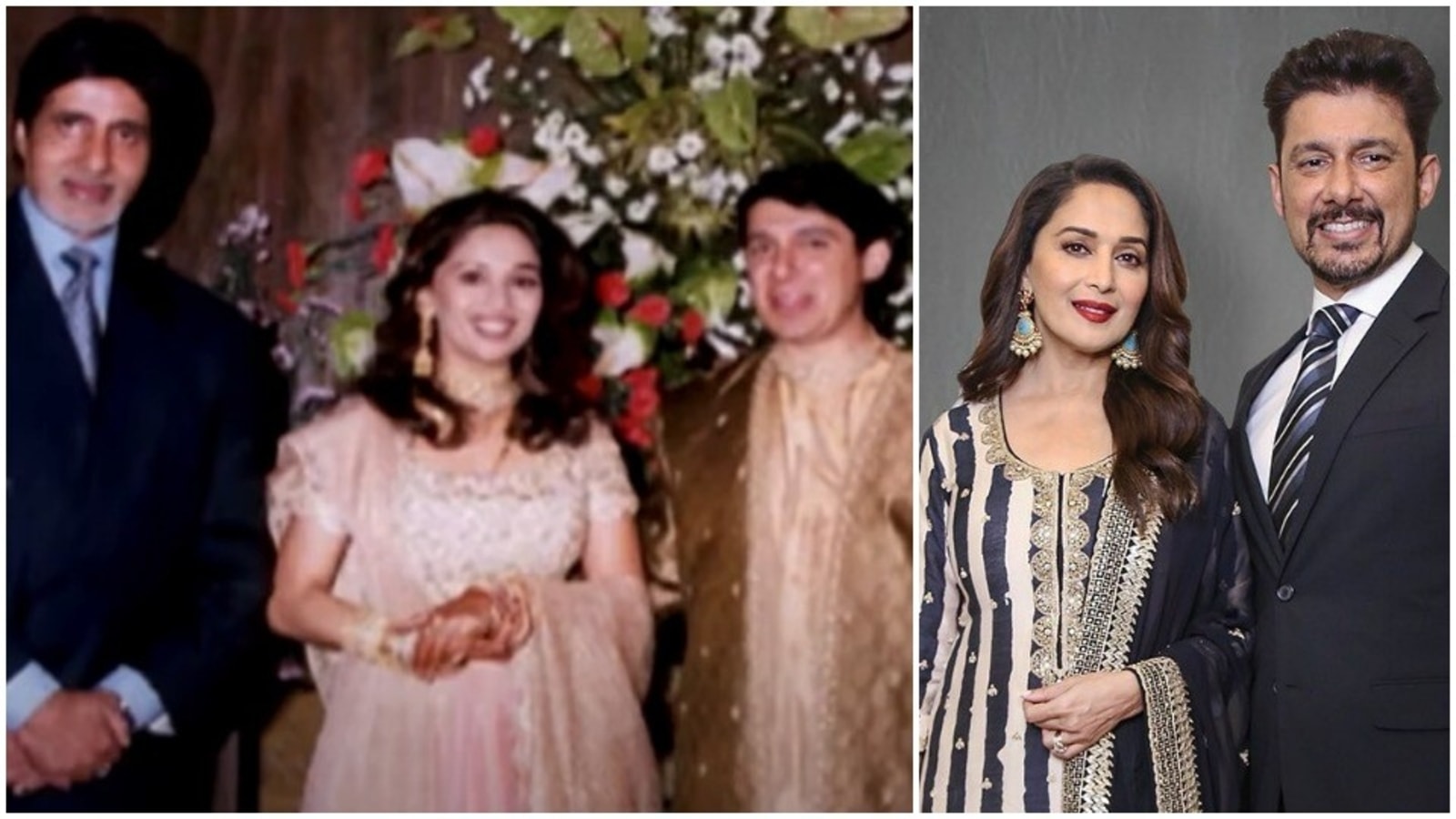 Madhuri Dixit, who celebrates her 55th birthday on Sunday May 15, surprised many when she married Dr Shriram Nene and moved to the United States. Shriram, a cardiovascular surgeon from Los Angeles, California, had no idea Madhuri's fame in India and hadn't seen any of his films. Madhuri later shared that Shriram's lack of knowledge about the Bollywood industry was one of the biggest reasons why she chose him as her partner, as he didn't meet her with a preconceived idea to his subject. Read also | Madhuri Dixits' husband Shriram Nene drops her off at the airport in 2 million Porsches; fan says: 'That's called class'
Madhuri and Shriram were married on October 17, 1999 in a traditional ceremony held at her older brother's residence in Southern California. They then held a wedding reception in Mumbai which was attended by many popular names in the Bollywood industry except for prominent politicians. Actors like Dilip Kumar, Saira Banu and Sridevi were present at the ceremony, but Shriram did not recognize any of them. In an interview with Simi Garewal a few years after her marriage, Madhuri had shared that the only star her husband could recognize was Amitabh Bachchan, as he had seen one of his movies as a child.
She said in the interview, "Me and his mom, we kind of tried to show him one of my movies and say 'watch this song'. And he's like, 'can't we do another let's go out and do something.' He never watched a lot of Bollywood movies. It's a different sensibility, but he loved Devdas." Devdas, which also starred Shah Rukh Khan and Aishwarya Rai apart from Madhuri, was released in 2002, three years after her marriage to Shriram.
Madhuri recalled Shriram's ignorance at their wedding reception, "I think the only star he recognized at my reception was Mr. Amitabh Bachchan. He had seen his film when he was in school, and it was Amar Akbar Anthony (1977). So (he's like) 'Yeah, I think I know that face.' I'm like, 'yeah, you know him from that movie.'"
After her marriage, Madhuri moved to Denver, Colorado for over a decade. She gave birth to a son, Arin, in March 2003, and welcomed another son, Ryan, in March 2005. The family moved back to Mumbai with her in October 2011.
Madhuri made her acting debut at the age of 17 with the 1984 drama Abodh after which she acted in films like Tezaab, Beta, Dil, Hum Aapke Hain Kaun, Mrityudand, Dil To Paagal Hai, Devdas , and more. She was last seen in the Netflix series The Fame Game, which also starred actors Sanjay Kapoor and Manav Kaul and marked her OTT debut. She will next be seen in the Amazon Prime Video movie Maja Maa, which will also star Gajraj Rao, Barkha Singh and Ritwik Bhowmik.
Sources
2/ https://www.hindustantimes.com/entertainment/bollywood/when-madhuri-dixit-revealed-shriram-nene-could-only-identify-amitabh-bachchan-at-wedding-party-said-i-know-that-face-101652530226718.html
The mention sources can contact us to remove/changing this article
What Are The Main Benefits Of Comparing Car Insurance Quotes Online
LOS ANGELES, CA / ACCESSWIRE / June 24, 2020, / Compare-autoinsurance.Org has launched a new blog post that presents the main benefits of comparing multiple car insurance quotes. For more info and free online quotes, please visit https://compare-autoinsurance.Org/the-advantages-of-comparing-prices-with-car-insurance-quotes-online/ The modern society has numerous technological advantages. One important advantage is the speed at which information is sent and received. With the help of the internet, the shopping habits of many persons have drastically changed. The car insurance industry hasn't remained untouched by these changes. On the internet, drivers can compare insurance prices and find out which sellers have the best offers. View photos The advantages of comparing online car insurance quotes are the following: Online quotes can be obtained from anywhere and at any time. Unlike physical insurance agencies, websites don't have a specific schedule and they are available at any time. Drivers that have busy working schedules, can compare quotes from anywhere and at any time, even at midnight. Multiple choices. Almost all insurance providers, no matter if they are well-known brands or just local insurers, have an online presence. Online quotes will allow policyholders the chance to discover multiple insurance companies and check their prices. Drivers are no longer required to get quotes from just a few known insurance companies. Also, local and regional insurers can provide lower insurance rates for the same services. Accurate insurance estimates. Online quotes can only be accurate if the customers provide accurate and real info about their car models and driving history. Lying about past driving incidents can make the price estimates to be lower, but when dealing with an insurance company lying to them is useless. Usually, insurance companies will do research about a potential customer before granting him coverage. Online quotes can be sorted easily. Although drivers are recommended to not choose a policy just based on its price, drivers can easily sort quotes by insurance price. Using brokerage websites will allow drivers to get quotes from multiple insurers, thus making the comparison faster and easier. For additional info, money-saving tips, and free car insurance quotes, visit https://compare-autoinsurance.Org/ Compare-autoinsurance.Org is an online provider of life, home, health, and auto insurance quotes. This website is unique because it does not simply stick to one kind of insurance provider, but brings the clients the best deals from many different online insurance carriers. In this way, clients have access to offers from multiple carriers all in one place: this website. On this site, customers have access to quotes for insurance plans from various agencies, such as local or nationwide agencies, brand names insurance companies, etc. "Online quotes can easily help drivers obtain better car insurance deals. All they have to do is to complete an online form with accurate and real info, then compare prices", said Russell Rabichev, Marketing Director of Internet Marketing Company. CONTACT: Company Name: Internet Marketing CompanyPerson for contact Name: Gurgu CPhone Number: (818) 359-3898Email: [email protected]: https://compare-autoinsurance.Org/ SOURCE: Compare-autoinsurance.Org View source version on accesswire.Com:https://www.Accesswire.Com/595055/What-Are-The-Main-Benefits-Of-Comparing-Car-Insurance-Quotes-Online View photos
to request, modification Contact us at Here or [email protected]