Fred Ward: Tremors, The Right Stuff and The Player star dies aged 79 | Ents & Arts News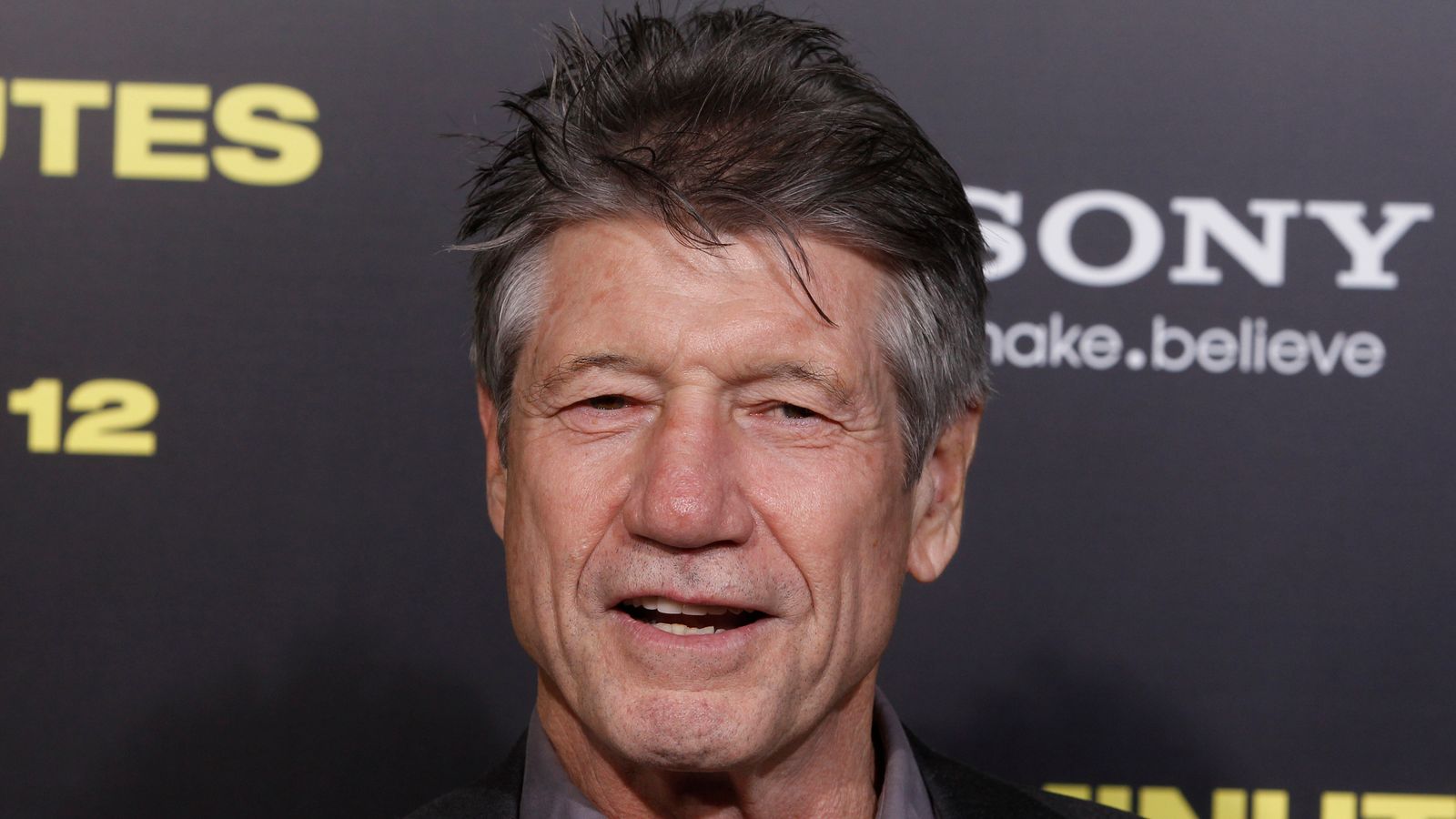 Fred Ward, who starred in films such as Tremors, The Right Stuff and The Player, has died aged 79.
The actor died last Sunday according to his publicist Ron Hofmann. The cause and place of death were not specified.
Ward had previously worked as a boxer, a lumberjack in Alaska, and a short-lived cook who served in the US Air Force.
Originally from San Diego, Ward was part Cherokee. Although he was known for his badass roles, he was renowned for bringing a certain warmth to his roles.
After studying acting in Rome, Ward landed his first major role opposite Clint Eastwood in Escape From Alcatraz in 1979.
He won a Golden Globe and an ensemble prize at the Venice Film Festival for his performance in Robert Altman's comedy-drama Short Cuts.
Other big roles include lead character in Remo Williams: The Adventure Begins and Mercury 7 astronaut Virgil 'Gus' Grissom in the 1983 Oscar-nominated The Right Stuff, and as a labor activist and co-worker of the character of Meryl Streep in Silkwood by Mike Nichols.
One of his most memorable roles was opposite Kevin Bacon in the horror comedy Tremors, playing a repairman battling giant underground snakes in the Nevada desert.
Bacon paid tribute to Ward, writing on social media, "So sad to hear about Fred Ward. When it came to fighting underground worms, I couldn't have asked for a better partner. I I will always remember talking about his love for Django Reinhardt and jazz guitar during our long hot days in the high desert. Rest In Peace Fred."
Actor Matthew Modine, who co-starred with Ward in Alan Rudolph's Short Cuts and Equinox tweeted: "Devastated to hear of the passing of my friend, Fred Ward. A harsh facade covering emotions as deep as Pacific Ocean. Godspeed amigo."
Actress Kate Mulgrew wrote: "I mourn the loss of Fred Ward, who was so kind to me when we worked together on Remo Williams. Decent and unassuming and utterly professional, he disarmed with a smile at both warm and playful."
Ward's other key performances include a scruffy cop chasing a psychotic criminal played by Alec Baldwin in George Armitage's Miami Blues; an intimidating father to Freddie Prinze Jr's character in Summer Catch and David Spade's main character in Joe Dirt.
He played President Ronald Reagan in the 2009 Cold War spy thriller Farewell and had a supporting role in the 2013 action film 2 Guns, starring Denzel Washington and Mark Wahlberg.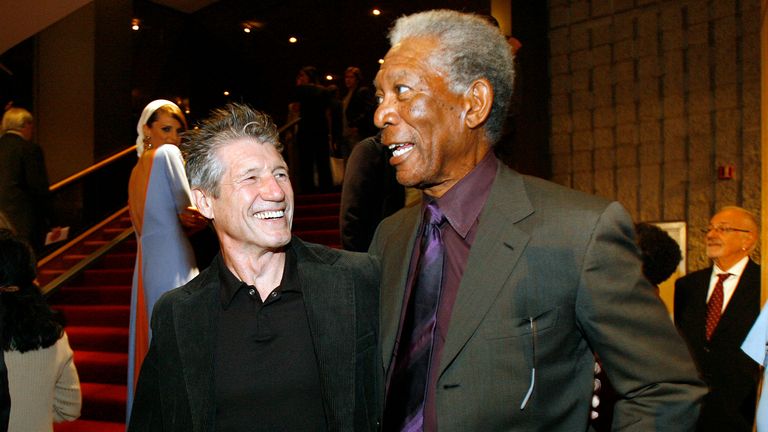 Ward played a more revealing role in Philip Kaufman's Henry & June. Based on the erotic novel by Anais Nin, he played novelist Henry Miller. Speaking to The Washington Post at the time, he said of the film's success: "My rear end seemed to have something to do with (that rating)."
Ward demonstrated his comedy timing in 1994's Naked Gun 33 1/3: The Final Insult, playing a terrorist intent on blowing up the Oscars.
On television, he had recurring roles on NBC's ER playing Maura Tierney's father Abby Lockhart between 2006 and 2007 and guest-starred on shows such as Grey's Anatomy.
Subscribe to the Backstage podcast at Apple podcast, Google Podcasts, Spotify, Loud speaker
Ward most recently appeared on the second season of HBO's True Detective as the retired detective father of Colin Farrell's Detective Ray Velcoro.
Ward is survived by his third wife, Marie-France Ward and his son from his second marriage, Django Ward.
Sources
2/ https://news.sky.com/story/fred-ward-tremors-the-right-stuff-and-the-player-star-dies-aged-79-12612660
The mention sources can contact us to remove/changing this article
What Are The Main Benefits Of Comparing Car Insurance Quotes Online
LOS ANGELES, CA / ACCESSWIRE / June 24, 2020, / Compare-autoinsurance.Org has launched a new blog post that presents the main benefits of comparing multiple car insurance quotes. For more info and free online quotes, please visit https://compare-autoinsurance.Org/the-advantages-of-comparing-prices-with-car-insurance-quotes-online/ The modern society has numerous technological advantages. One important advantage is the speed at which information is sent and received. With the help of the internet, the shopping habits of many persons have drastically changed. The car insurance industry hasn't remained untouched by these changes. On the internet, drivers can compare insurance prices and find out which sellers have the best offers. View photos The advantages of comparing online car insurance quotes are the following: Online quotes can be obtained from anywhere and at any time. Unlike physical insurance agencies, websites don't have a specific schedule and they are available at any time. Drivers that have busy working schedules, can compare quotes from anywhere and at any time, even at midnight. Multiple choices. Almost all insurance providers, no matter if they are well-known brands or just local insurers, have an online presence. Online quotes will allow policyholders the chance to discover multiple insurance companies and check their prices. Drivers are no longer required to get quotes from just a few known insurance companies. Also, local and regional insurers can provide lower insurance rates for the same services. Accurate insurance estimates. Online quotes can only be accurate if the customers provide accurate and real info about their car models and driving history. Lying about past driving incidents can make the price estimates to be lower, but when dealing with an insurance company lying to them is useless. Usually, insurance companies will do research about a potential customer before granting him coverage. Online quotes can be sorted easily. Although drivers are recommended to not choose a policy just based on its price, drivers can easily sort quotes by insurance price. Using brokerage websites will allow drivers to get quotes from multiple insurers, thus making the comparison faster and easier. For additional info, money-saving tips, and free car insurance quotes, visit https://compare-autoinsurance.Org/ Compare-autoinsurance.Org is an online provider of life, home, health, and auto insurance quotes. This website is unique because it does not simply stick to one kind of insurance provider, but brings the clients the best deals from many different online insurance carriers. In this way, clients have access to offers from multiple carriers all in one place: this website. On this site, customers have access to quotes for insurance plans from various agencies, such as local or nationwide agencies, brand names insurance companies, etc. "Online quotes can easily help drivers obtain better car insurance deals. All they have to do is to complete an online form with accurate and real info, then compare prices", said Russell Rabichev, Marketing Director of Internet Marketing Company. CONTACT: Company Name: Internet Marketing CompanyPerson for contact Name: Gurgu CPhone Number: (818) 359-3898Email: [email protected]: https://compare-autoinsurance.Org/ SOURCE: Compare-autoinsurance.Org View source version on accesswire.Com:https://www.Accesswire.Com/595055/What-Are-The-Main-Benefits-Of-Comparing-Car-Insurance-Quotes-Online View photos
to request, modification Contact us at Here or [email protected]