Watch an exclusive clip from MSNBC's "The Culture Is: Black Women"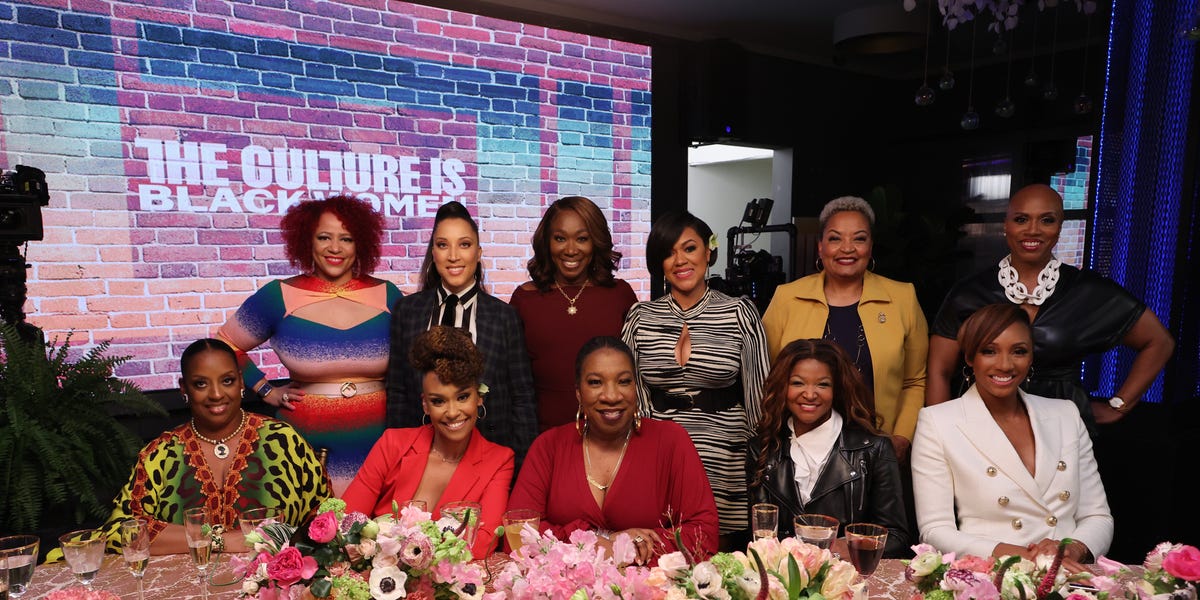 Mark your calendars for Sunday, June 19: MSNBC presents the first part of an exciting new special, Culture is. Oprah Daily has an exclusive clip from the inaugural episode, titled The culture is: black womenwhich features a conversation between black women hosted by MSNBC hosts Tiffany Cross, The cross connection, and Joy Reid, of The ReidOutwho both produced the special, as well as an interview between Reid and Vice President Kamala Harris.
Cross and Reid take us behind the scenes of this new project, which has its roots in deep friendships and the sense of community that comes from sharing a meal together. In 2021, Cross, Reid and a host of other successful black women, including Sunny Hostin and Alicia Garza, were taking a girls' trip together. This group of women came together because we had formed, over a text thread, a bond to get through the pandemic and the end of the Trump era, Reid says. We were just there to support each other. But they all quickly became true friends who vacationed together. It was our time to relax, decompress and have very raw, real, comfortable and authentic conversations with each other, Cross says.
We had these moments to celebrate each of these women. Joy Reid
After their return, the women reunited post instagram photos of the trip at the same time, prompting an avalanche of positive comments. Everyone thought the trip was part of an organized gathering and wanted to participate. We thought we should expand that conversation and that table to other people, says Cross.
Some of the best parts of this trip were our dinners, where we just sat around and listened to each other's stories, Reid says. I thought if we were going to have an event about brotherhood, why not try to recreate that magic of being around a table together? Everyone involved in the creative process agreed. This is where women share their experiences, says Cross. We come together over food, and it's part of our fellowship.
From there, Cross and Reid took the idea to MSNBC. Rashida Jones, the first black woman to serve as president of MSNBC, loved the concept of the projects. They were then tasked with determining who should be part of those conversations. I'm happy to say we had an embarrassment of riches, reveals Cross. They wanted a wide range of women from a variety of industries: entertainment, sports, military, journalism, etc. There is such rich diversity within our own communities. Black women are not a monolith; weren't homogeneous in our way of thinking, says Cross. Reid agrees: It's impossible to have a conversation about the lived experiences of black women without having such a wide range of voices.
This perimeter is certainly represented. Cross and Reid have compiled a roster of notable women, including Congresswoman Ayanna Pressley, Tarana Burke, Nikole Hannah-Jones, and Robin Thede, among others. They talked about the delicious food prepared by chef Melba Wilson at Minton's Playhouse, a historic Harlem speakeasy that Reid chose because she's a bit obsessed with the flapper era.
Former ESPN sports commentator Maria Taylor was also in attendance and spoke for the first time about her departure from the network. Taylor left ESPN in 2021 after a white colleague publicly suggested that Taylor was promoted solely because she was black. What happened is emblematic of what happens to so many black women in these corporate spaces, Reid says. We all face those moments of insensitivity and slights to your presence and qualifications that are based solely on how, unfortunately, much of our culture thinks of black people and black women. Watch Taylor tell the story in our exclusive clip above.
Despite the coverage of these more serious topics, the conversation was not lacking in joy and laughter. Seeing people's interactions, just having fun and having fun, was my favorite thing, says Reid. This included the hilarity between Thede, creator of HBO Maxs A dark lady sketch showand NBC star Ryan Michelle Bathe The end gamewhile celebrating the achievements of Hannah Jones Project 1619. We had these moments to celebrate each of these women and their accomplishments and to just lift them up, says Reid.
Black women are not a monolith; were not homogeneous in our thinking. Tiffany Cross
This extends to what Cross and Reid hope audiences will remember watching. The culture is: black women. We want the women watching to feel uplifted, Reid says. There is a story at this table for every woman. Cross and Reid are excited to see what their counterparts do for the following specials, each of which will focus on a different group of women of color. Justina Machado will host the next episode, The culture is: Latin women, airing this summer. After that, MSNBC's Katie Phang will moderate Culture is: AAPI Womenand NBC News Alyssa London will host The culture is: Indigenous womenboth of which will air later in the summer of 2022.
The country's growing majority is left out of the conversation, Cross says. that's why Culture is is an important and necessary project: it highlights the often marginalized experiences of these women. It's letting them speak to themselves and for themselves, but also to America as a whole.
Knowing that they speak to the country is also not a role that Cross and Reid take lightly. It's just an honor, a privilege and really a responsibility that we took very seriously, says Cross. It was divine how we were all able to come together, it was just a perfect table.
---
The culture is: black women airs Sunday, June 19 at 10 p.m. ET on MSNBC. It will also be available to stream on Peacock.
This content is imported from OpenWeb. You may be able to find the same content in another format, or you may be able to find more information, on their website.
Sources
2/ https://www.oprahdaily.com/entertainment/tv-movies/a40011988/the-culture-is-black-women-msnbc-exclusive-clip/
The mention sources can contact us to remove/changing this article
What Are The Main Benefits Of Comparing Car Insurance Quotes Online
LOS ANGELES, CA / ACCESSWIRE / June 24, 2020, / Compare-autoinsurance.Org has launched a new blog post that presents the main benefits of comparing multiple car insurance quotes. For more info and free online quotes, please visit https://compare-autoinsurance.Org/the-advantages-of-comparing-prices-with-car-insurance-quotes-online/ The modern society has numerous technological advantages. One important advantage is the speed at which information is sent and received. With the help of the internet, the shopping habits of many persons have drastically changed. The car insurance industry hasn't remained untouched by these changes. On the internet, drivers can compare insurance prices and find out which sellers have the best offers. View photos The advantages of comparing online car insurance quotes are the following: Online quotes can be obtained from anywhere and at any time. Unlike physical insurance agencies, websites don't have a specific schedule and they are available at any time. Drivers that have busy working schedules, can compare quotes from anywhere and at any time, even at midnight. Multiple choices. Almost all insurance providers, no matter if they are well-known brands or just local insurers, have an online presence. Online quotes will allow policyholders the chance to discover multiple insurance companies and check their prices. Drivers are no longer required to get quotes from just a few known insurance companies. Also, local and regional insurers can provide lower insurance rates for the same services. Accurate insurance estimates. Online quotes can only be accurate if the customers provide accurate and real info about their car models and driving history. Lying about past driving incidents can make the price estimates to be lower, but when dealing with an insurance company lying to them is useless. Usually, insurance companies will do research about a potential customer before granting him coverage. Online quotes can be sorted easily. Although drivers are recommended to not choose a policy just based on its price, drivers can easily sort quotes by insurance price. Using brokerage websites will allow drivers to get quotes from multiple insurers, thus making the comparison faster and easier. For additional info, money-saving tips, and free car insurance quotes, visit https://compare-autoinsurance.Org/ Compare-autoinsurance.Org is an online provider of life, home, health, and auto insurance quotes. This website is unique because it does not simply stick to one kind of insurance provider, but brings the clients the best deals from many different online insurance carriers. In this way, clients have access to offers from multiple carriers all in one place: this website. On this site, customers have access to quotes for insurance plans from various agencies, such as local or nationwide agencies, brand names insurance companies, etc. "Online quotes can easily help drivers obtain better car insurance deals. All they have to do is to complete an online form with accurate and real info, then compare prices", said Russell Rabichev, Marketing Director of Internet Marketing Company. CONTACT: Company Name: Internet Marketing CompanyPerson for contact Name: Gurgu CPhone Number: (818) 359-3898Email: [email protected]: https://compare-autoinsurance.Org/ SOURCE: Compare-autoinsurance.Org View source version on accesswire.Com:https://www.Accesswire.Com/595055/What-Are-The-Main-Benefits-Of-Comparing-Car-Insurance-Quotes-Online View photos
to request, modification Contact us at Here or [email protected]