'Lux girl' Bollywood's own soap brand that brought affordable luxury to everyone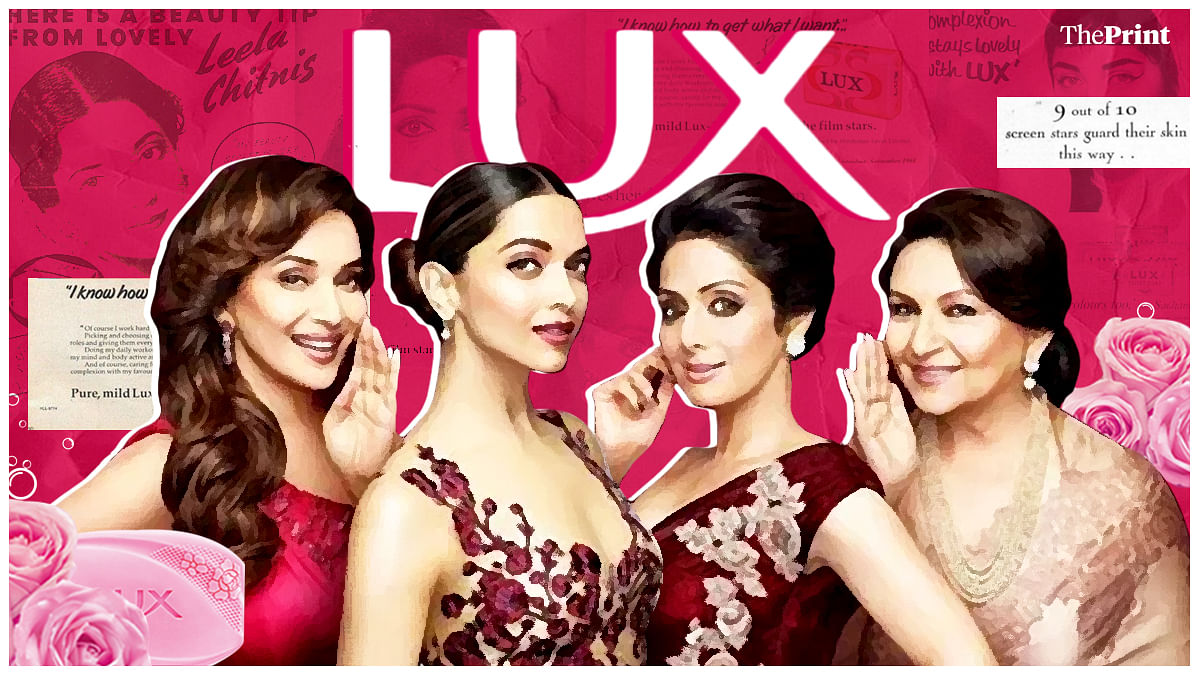 New Delhi: Filmi sitaaro ka manpasand saabun (favorite soap of movie stars) is how Hindustan Unilever Lux was first launched in India in 1941, with famous Bollywood actress Leela Chitnis as brand ambassador. A line in the first advertisement for the soaps featuring Chitnis said: 9 out of 10 movie stars use Lux toilet soap.
Featured in successive blockbuster films such as Kangan (1939), bandhan (1940), and jhoola (1941), Chitnis was one of the most sought-after actors at the time, and Lux ​​successfully positioned himself as the stars' beauty soap.
He has since had some of the biggest names in Bollywood as his brand ambassadors. From Madhubala, Rekha, Meena Kumari, Zeenat Aman, Hema Malini, Madhuri Dixit, Sridevi, Aishwarya Rai, Juhi Chawla, Kareena Kapoor, Priyanka Chopra Jonas, Katrina Kaif, Anushka Sharma, Deepika Padukone to Alia Bhatt, the baton was passed from from one generation to another.
Lux is the epitome'filmi sitaron ki soundarya saabun' which means a glamorous lifestyle. From the start, the focus was on building a beauty soap brand strongly associated with movie stars, Harish Bijoor, marketing consultant and founder of consulting firm Brand Guru, told ThePrint.
Securing an endorsement deal with Lux has become associated with the arrival of a new movie star. Being a Lux girl was recognition that the star had arrived. It was a sort of reverse endorsement from the brand for the chosen star. The relationship between the star and the Lux brand was symbiotic, added Bijoor.
---
Read also : iPhone 1 A breakthrough smartphone that debuted at the 2007 Oscars
---
A luxury accessible to all
Targeting the upper and middle class population, the British multinational Hindustan Lever, now called Hindustan Unilever, promoted Lux ​​as a luxury soap accessible to all.
From dream girl complexion Hema Malinis to the light of Vidya Sinha's smile, the soap brand himself as the secret behind the beautiful faces of the Hindi film industry.
When asked if this is an effective marketing strategy, Pradip Unni, a Kerala-based marketing and branding strategist, said: Celebrity endorsement, or the fact that they call Lux the beauty secret of Bollywood actors, in the past as well as today, worked because it created a memorability for the product, not just because a celebrity said so.
In the 2000s, with the aim of deepening popularize their mujhme star jagaaye theme, the company launched its first promotional contest called Lux star bano, Aish karo with Aishwarya Rai.
The ad asked consumers to purchase the special Lux soap promotional pack that came with a special scratch card. There were various rewards for the winners including coming to Mumbai and live a day like Rai would like to.
Later, the company also made commercials with real Bollywood couples, including one featuring Aishwarya Rai and Abhishek Bachchan, and another with Virat Kohli and Anushka Sharma. Another major event was when Lux hired its first male ambassador, Shah Rukh Khan, who turned the game on the face of women's beauty product advertising by focusing the gaze on a man instead of sexualizing women.
Lux girl a benchmark for Bollywood heroines
Unlike other soap brands, a deal with Lux also promised reverse endorsement for movie stars.
For any new entrant, appearing in a Lux commercial signified his arrival in the Hindi film industry. Even today, a sponsorship deal with the soap brand is a success criteria for movie actresses.
In an article titled Selling soap and being famous: the story of Lux, wrote: Many filmmakers in India who remember Lux's early commercials would follow them as a form of featured iconography similar to checking the covers of popular film magazines like Filmfare. This might help explain the repetitive nature of this ad which was not so much about selling soap as selling fame.
The Lux campaign, with photographer Gautam Rajyadhakshas wordswas, the company recognizing that you had become a star and the star thanking you.
---
Read also : The Fruity Marbels Candy Everyone Loved In The Early 2000s That Mysteriously Disappeared
---
Sources
2/ https://theprint.in/features/brandma/lux-girl-bollywoods-own-soap-brand-that-brought-affordable-luxury-to-all/965637/
The mention sources can contact us to remove/changing this article
What Are The Main Benefits Of Comparing Car Insurance Quotes Online
LOS ANGELES, CA / ACCESSWIRE / June 24, 2020, / Compare-autoinsurance.Org has launched a new blog post that presents the main benefits of comparing multiple car insurance quotes. For more info and free online quotes, please visit https://compare-autoinsurance.Org/the-advantages-of-comparing-prices-with-car-insurance-quotes-online/ The modern society has numerous technological advantages. One important advantage is the speed at which information is sent and received. With the help of the internet, the shopping habits of many persons have drastically changed. The car insurance industry hasn't remained untouched by these changes. On the internet, drivers can compare insurance prices and find out which sellers have the best offers. View photos The advantages of comparing online car insurance quotes are the following: Online quotes can be obtained from anywhere and at any time. Unlike physical insurance agencies, websites don't have a specific schedule and they are available at any time. Drivers that have busy working schedules, can compare quotes from anywhere and at any time, even at midnight. Multiple choices. Almost all insurance providers, no matter if they are well-known brands or just local insurers, have an online presence. Online quotes will allow policyholders the chance to discover multiple insurance companies and check their prices. Drivers are no longer required to get quotes from just a few known insurance companies. Also, local and regional insurers can provide lower insurance rates for the same services. Accurate insurance estimates. Online quotes can only be accurate if the customers provide accurate and real info about their car models and driving history. Lying about past driving incidents can make the price estimates to be lower, but when dealing with an insurance company lying to them is useless. Usually, insurance companies will do research about a potential customer before granting him coverage. Online quotes can be sorted easily. Although drivers are recommended to not choose a policy just based on its price, drivers can easily sort quotes by insurance price. Using brokerage websites will allow drivers to get quotes from multiple insurers, thus making the comparison faster and easier. For additional info, money-saving tips, and free car insurance quotes, visit https://compare-autoinsurance.Org/ Compare-autoinsurance.Org is an online provider of life, home, health, and auto insurance quotes. This website is unique because it does not simply stick to one kind of insurance provider, but brings the clients the best deals from many different online insurance carriers. In this way, clients have access to offers from multiple carriers all in one place: this website. On this site, customers have access to quotes for insurance plans from various agencies, such as local or nationwide agencies, brand names insurance companies, etc. "Online quotes can easily help drivers obtain better car insurance deals. All they have to do is to complete an online form with accurate and real info, then compare prices", said Russell Rabichev, Marketing Director of Internet Marketing Company. CONTACT: Company Name: Internet Marketing CompanyPerson for contact Name: Gurgu CPhone Number: (818) 359-3898Email: [email protected]: https://compare-autoinsurance.Org/ SOURCE: Compare-autoinsurance.Org View source version on accesswire.Com:https://www.Accesswire.Com/595055/What-Are-The-Main-Benefits-Of-Comparing-Car-Insurance-Quotes-Online View photos