Bollywood stars and their NFTS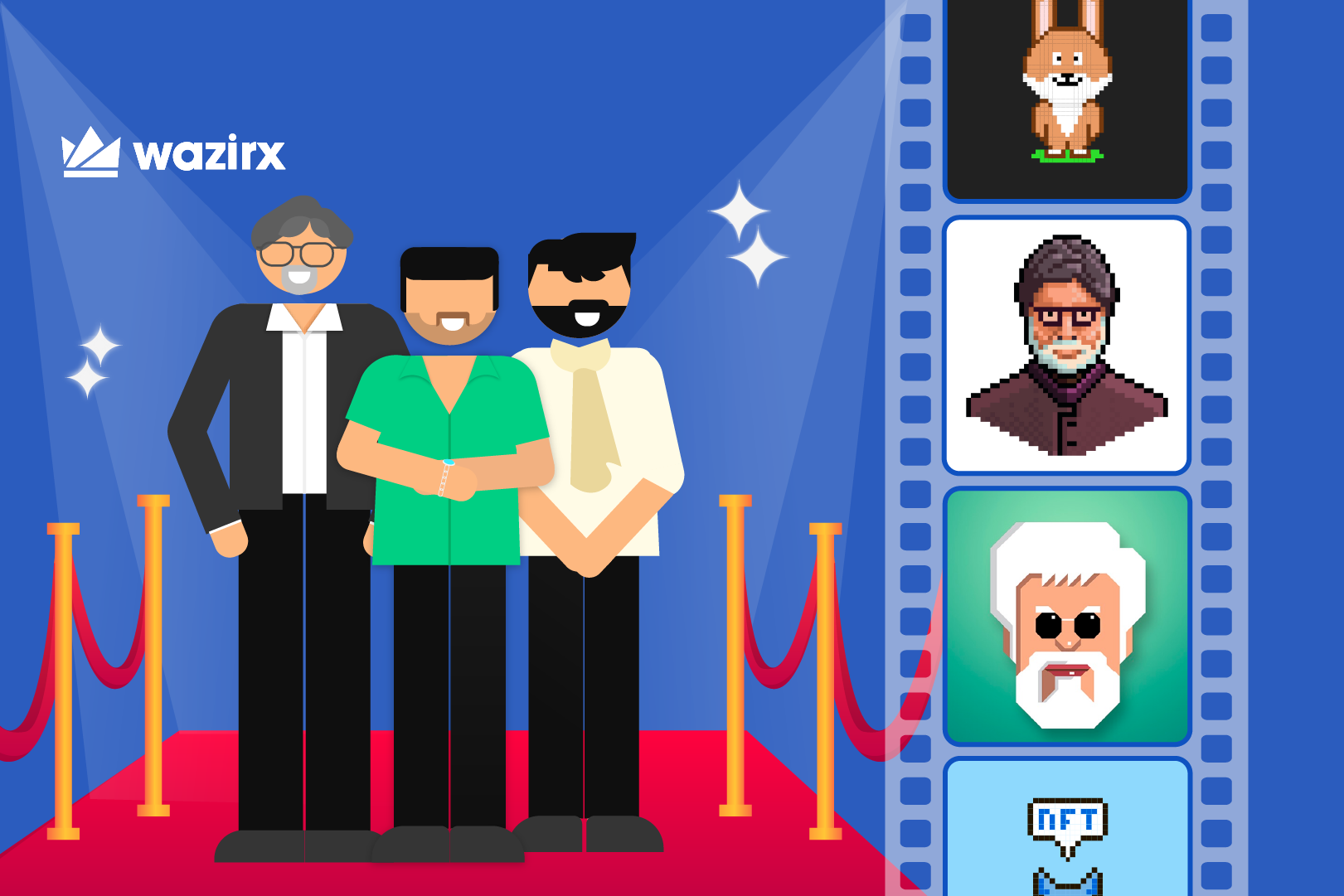 Note: This blog is written by an external blogger. The views and opinions expressed in this article belong solely to the author.
According to a CoinGecko report, the NFT market is expected to grow by more than $800 billion in the next two years. According to the report, around 72% of respondents in Asia and the Pacific already have at least one NFT, and more than half have five or more.
For the uninitiated, NFTs are simply certificates of ownership issued on a blockchain that represent a digital or real asset, such as a work of art, collectible, piece of music, or memorabilia. Ever since Beeples' artwork sold for $69 million at an auction at Christies, NFTs have become a rage among the internet masses. The NFT industry is currently worth billions of dollars and will grow, given the endless possibilities that NFT technology possesses.
Iconic brands such as Nike, Louis Vuitton, Tanishq, Coca-Cola, Pepsi, McDonalds, Samsung, Lamborghini and many more have released their NFT collections to extend their marketing and brand promotion to the digital realm while creating a customer engagement.
Celebrities and influencers haven't been far behind in the NFT race. Global names like Lindsay Lohan, Shawn Medes, Eminem, Madonna, etc. have dropped their NFT collections for their fans. NFTs have changed the way we view digital ownership and marketing. Unsurprisingly, the NFT world has grown like never before, and Indian celebrities have not been spared from the NFT fever.
Vishakha Singh, VP of WazirX Marketplace, believes that involving celebrities in the NFT segment will help create greater excitement and adoption among Indian masses. She said," (it's) great for the ecosystem. It will help us raise awareness of this new, game-changing world of digital assets.
Let's look at some of the big names in India's entertainment and fashion industry:
Amitabh Bachchan
Amitabh Bachchan, the legendary Bollywood actor, joined the NFT movement in November 2021. He launched Madhushala, his father's famous poetry recitation, as part of his NFT collection, which included autographed Sholay posters and other movie memories. The collection was auctioned off for Rs. 7.18 crores via an NFT marketplace.
Salman Khan
The Dabangg star launched her NFT collection based on her movie Dabangg. He launched the NFT series, which had 200 NFTs, 42 of which were movie scenes. Salman Khan announced his NFT series on Twitter on December 25, 2021, and the collection went live on December 30, 2021. Fans could purchase NFTs using ETH or MATIC tokens.
Rajnikanth
Superstar Rajinikanth launched his NFT collectibles based on his 2007 Tamil action film Shivaji The Boss in July 2021, in conjunction with Singapore-based NFT marketplace Diginoor.io. Prices ranged from $99 to $1,500 and sold out fairly quickly.
Kamal Hasan |
Kamal Haasan, a well-known Southern superstar and politician, has teamed up with popular NFT platform Fantico to auction off his NFT collectibles. Release dates for the NFT collection have yet to be revealed.
Kamal Hassan will launch around 100-1000 NFTs based on movie posters, memorabilia, avatars, etc. Fantico plans to develop a metaverse game where each avatar has its own world. Attendees and fans will have the opportunity to chat with the avatar, purchase souvenirs, and even attend meet-and-greet sessions.
Manish Malhotra
Manish Malhotra, India's top fashion designer, is the country's first in his industry to enter the crypto realm. Manish Malhotra launched five NFTs based on sketches and runway GIFs of his couture which were worn by Deepika Padukone, Kareena Kapoor, Lisa Ray and Alia Bhatt in October 2021. The collection was sold on the WazirX marketplace, and the NFT, which was based on one of his sketches of outfits worn by Kareena Kapoor, was called Illuminous Showstopper and fetched the highest price of 3,000 WRX.
sunny leon
Sunny Leone becomes the first Indian actress to release her own collection NFT – Misfitz, by Sunny Leone. The collection was marked by quirky designs, loud characters and eclectic vibes. The collection had around 9600 NFTs and sold out quite quickly in November 2021.
The union of NFT and Bollywood is solely driven by the fans and the influence of the actor.
Since the introduction of digitization in 2020, NFTs have had the opportunity to thrive and find their niche in India. However, NFTs gained momentum when Indian celebrities, athletes, musicians, actors, humanitarians and others started taking an interest in them and starting their own collections. The fever and fervor of the NFT has yet to subside, and we will soon see many more well-known names and personalities joining the roster.
Suppose you want to buy and sell NFTs or even mint them; the WazirX NFT Marketplace presents a great opportunity to do so at affordable rates, and the trust and security associated with the brand is the icing on the cake.

Disclaimer: Cryptocurrency is not legal tender and is currently unregulated. Please ensure that you carry out sufficient risk assessment when trading cryptocurrencies as they are often subject to high price volatility. The information provided in this section does not represent investment advice or the official position of WazirX. WazirX reserves the right, in its sole discretion, to modify or modify this blog post at any time and for any reason without notice.
Sources
2/ https://wazirx.com/blog/bollywood-stars-and-their-nfts-2/
The mention sources can contact us to remove/changing this article
What Are The Main Benefits Of Comparing Car Insurance Quotes Online
LOS ANGELES, CA / ACCESSWIRE / June 24, 2020, / Compare-autoinsurance.Org has launched a new blog post that presents the main benefits of comparing multiple car insurance quotes. For more info and free online quotes, please visit https://compare-autoinsurance.Org/the-advantages-of-comparing-prices-with-car-insurance-quotes-online/ The modern society has numerous technological advantages. One important advantage is the speed at which information is sent and received. With the help of the internet, the shopping habits of many persons have drastically changed. The car insurance industry hasn't remained untouched by these changes. On the internet, drivers can compare insurance prices and find out which sellers have the best offers. View photos The advantages of comparing online car insurance quotes are the following: Online quotes can be obtained from anywhere and at any time. Unlike physical insurance agencies, websites don't have a specific schedule and they are available at any time. Drivers that have busy working schedules, can compare quotes from anywhere and at any time, even at midnight. Multiple choices. Almost all insurance providers, no matter if they are well-known brands or just local insurers, have an online presence. Online quotes will allow policyholders the chance to discover multiple insurance companies and check their prices. Drivers are no longer required to get quotes from just a few known insurance companies. Also, local and regional insurers can provide lower insurance rates for the same services. Accurate insurance estimates. Online quotes can only be accurate if the customers provide accurate and real info about their car models and driving history. Lying about past driving incidents can make the price estimates to be lower, but when dealing with an insurance company lying to them is useless. Usually, insurance companies will do research about a potential customer before granting him coverage. Online quotes can be sorted easily. Although drivers are recommended to not choose a policy just based on its price, drivers can easily sort quotes by insurance price. Using brokerage websites will allow drivers to get quotes from multiple insurers, thus making the comparison faster and easier. For additional info, money-saving tips, and free car insurance quotes, visit https://compare-autoinsurance.Org/ Compare-autoinsurance.Org is an online provider of life, home, health, and auto insurance quotes. This website is unique because it does not simply stick to one kind of insurance provider, but brings the clients the best deals from many different online insurance carriers. In this way, clients have access to offers from multiple carriers all in one place: this website. On this site, customers have access to quotes for insurance plans from various agencies, such as local or nationwide agencies, brand names insurance companies, etc. "Online quotes can easily help drivers obtain better car insurance deals. All they have to do is to complete an online form with accurate and real info, then compare prices", said Russell Rabichev, Marketing Director of Internet Marketing Company. CONTACT: Company Name: Internet Marketing CompanyPerson for contact Name: Gurgu CPhone Number: (818) 359-3898Email: [email protected]: https://compare-autoinsurance.Org/ SOURCE: Compare-autoinsurance.Org View source version on accesswire.Com:https://www.Accesswire.Com/595055/What-Are-The-Main-Benefits-Of-Comparing-Car-Insurance-Quotes-Online View photos
to request, modification Contact us at Here or [email protected]