Ramón Estvez regrets being called Martin Sheen | people
In the early sixties, Ramón Estvez was in despair. His first steps as an actor on television had gone well, but he had remained stuck in this medium. He wanted to do theater, cinema, and at that time his name weighed on him: there were not many successful Latinos in the United States. Every time I called for a position, whether for work or for an apartment, when I gave my name they answered with doubts and when I arrived the position was already filled, he said in 2003. And he decided to create a scene name for himself by merging that of CBS casting director Robert Dale Martin, who had aided him in those fledgling small-screen appearances, and that of Bishop Fulton J. Sheen, who, as Estvez's little sister Carmen recalls, went out a lot on time.
This is how Martin Sheen was born, who brilliantly, thanks to his talent, triumphed first in the theater and, later, in the cinema: Badlands, Apocalypse Now, The Departed oh Wall Street. However, Ramón Antonio Gerardo Estvez has not disappeared: this name remains in all of Sheen's official documents (passport, driver's license and marriage certificate)… and in the soul of the interpreter. This week, in a magazine interview Closer, he confessed: one of the great regrets of his life was this change of name. And he speaks proudly of the stubbornness of his son Emilio, who kept him on despite being advised by his agent to change him, in what he considers to have been his only influence on his career. By his own decision, he reflects: Sometimes they convince you, when you don't have enough insight or even enough courage to stand up for what you believe, and you pay for it later.
Over time, Sheen returned to his Galician roots, the land where his father, Francisco Estvez Martínez, an immigrant who left for Cuba at the age of 18 in 1916, was born from Parderrubias, in Salceda de Caselas (Pontevedra), without even speaking Spanish, a language I learned on the Caribbean island. From there he emigrated to the United States in the early 1930s, to Dayton, Ohio, in a modest Irish neighborhood, where he married another immigrant, Mary-Ann Phelan.
Martin Sheen's life was powerfully marked by his childhood. His father worked in the NCR Company, industrial conglomerate that began by manufacturing cash registers. Barely married, the company sent him to the Bermuda Islands, and his eldest children were born there. Sheen was the seventh of their ten children (nine boys and a girl), and the first to be born in Dayton, in 1940, after the Estvezes returned to the mainland. During childbirth, a clamp improperly gripped her left arm, which is therefore three inches shorter than her right. Thus, in the series The West Wing of the White House, President Josiah Bartlet, his character, dons his jackets with a strange body twist. As a child he suffered from poliomyelitis, which kept him bedridden for a year, and when he was 11 his mother died. Thanks to the help of Catholic charity and the efforts of the father, the family remained united against the then usual distribution of children by orphanages or foster homes.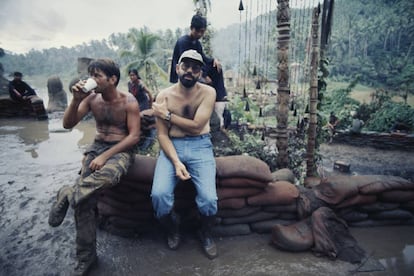 He was the monster of the family: he decided to act. Against his father's stubbornness, the quieter son appreciates only theater and decides to study acting. He doesn't know how to sing or dance!, he tells her, to which his son replies: You like westerns on TV and there nobody sings or dances. But you don't ride a horse either!, I was told. Despite this, he settled in New York, following in the footsteps of his idol, James Dean. In the legendary episode two cathedrals, of the west wing, explains how the character of President Bartlet reflects his childhood and adolescent experiences. Same thing with Estvez/Sheen: practicing Catholic and tireless fighter against global warming and in favor of civil rights and immigrants, he was arrested several times during demonstrations in front of the White House. This activism began when he was 14 years old, when he led a strike of shopping carts at the golf club where he worked, protesting the numerous swear words uttered by members in front of children.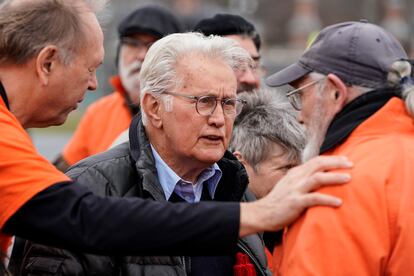 And then there is Spain. Francisco Estvez didn't teach his children Spanish, but the Estvezes tapped into their roots. The patriarch was able to return to Galicia in 1967 (just when Sheen got his first big role in The story of three strangers), and began to come and go from his town to Dayton, while building a house in his native village that he would never see completed. He died in the American city in 1974 and was buried with his wife and son Manuel, who died in 1968. His only daughter, Carmen, ended up teaching English at a school in Madrid, where he is married. This is why, for years, many Madridians have met Sheen in the city, visiting his sister. Carmen was the one who finished her father's house, inaugurated a river walk dedicated to his memory and kept the Estvez brand alive in Salceda de Caselas.
The Camino de Santiago, a dream come true
In the mid-2000s, Sheen, her son Emilio Estvez, and her son Taylor hiked the Camino de Santiago. In Burgos, the grandson met a girl, and at the end of the tour he decided not to return to Los Angeles and to stay in the Castilian city, where he got married. Influenced by this trip, Sheen and Estvez made the film The path (2010), which both starred in and the second directed. A few months ago, Sheen spoke proudly of The path, a great success by word of mouth, and a faithful portrait of his spirituality. During this shoot, while having lunch under huge pergolas at the back of Burgos Cathedral, Sheen explained: I am Catholic, and a lot of that spirituality is in this film. I had an extremely happy life, with normal ups and downs in my career. But I survived illnesses, my family is wonderful [sus cuatro hijos, entre ellos Charlie Sheen, son actores]…I believe in a Church that is doing amazing work in the third world. Other things, like messages from the pope [en aquel momento, Benedicto XVI], they are difficult for me. I live my faith, and it's between God and me. A few yards from Sheen and the reporter, at the long tables, there was a strange group that didn't look like actors: That's my wife, that's my sister and her husband, that's my best friend from childhood…I made them come for you to enjoy with Emilio, Taylor [que trabajaba como asistente] and with me. Taylor Estvez currently works as a stunt coordinator in California.
Carmen Estvez says that for decades they didn't understand their deeply Galician father's sense of humor until they discovered that he often didn't speak seriously to them. And that this sarcasm had been inherited by his son Ramón / Martin. In Burgos, he made a show of it. After a question about his career, he replied: With my CV full of bad titles, I can't open my mouth. I'm an actor and that's how I supported my family. But he must have acted in a dozen films of which I can be proud… At that moment, he dropped his coffee and said: You see? For celebrating my career. Divine punishment.
Sources
2/ https://elpais.com/gente/2022-06-26/ramon-estevez-lamenta-llamarse-martin-sheen.html
The mention sources can contact us to remove/changing this article
What Are The Main Benefits Of Comparing Car Insurance Quotes Online
LOS ANGELES, CA / ACCESSWIRE / June 24, 2020, / Compare-autoinsurance.Org has launched a new blog post that presents the main benefits of comparing multiple car insurance quotes. For more info and free online quotes, please visit https://compare-autoinsurance.Org/the-advantages-of-comparing-prices-with-car-insurance-quotes-online/ The modern society has numerous technological advantages. One important advantage is the speed at which information is sent and received. With the help of the internet, the shopping habits of many persons have drastically changed. The car insurance industry hasn't remained untouched by these changes. On the internet, drivers can compare insurance prices and find out which sellers have the best offers. View photos The advantages of comparing online car insurance quotes are the following: Online quotes can be obtained from anywhere and at any time. Unlike physical insurance agencies, websites don't have a specific schedule and they are available at any time. Drivers that have busy working schedules, can compare quotes from anywhere and at any time, even at midnight. Multiple choices. Almost all insurance providers, no matter if they are well-known brands or just local insurers, have an online presence. Online quotes will allow policyholders the chance to discover multiple insurance companies and check their prices. Drivers are no longer required to get quotes from just a few known insurance companies. Also, local and regional insurers can provide lower insurance rates for the same services. Accurate insurance estimates. Online quotes can only be accurate if the customers provide accurate and real info about their car models and driving history. Lying about past driving incidents can make the price estimates to be lower, but when dealing with an insurance company lying to them is useless. Usually, insurance companies will do research about a potential customer before granting him coverage. Online quotes can be sorted easily. Although drivers are recommended to not choose a policy just based on its price, drivers can easily sort quotes by insurance price. Using brokerage websites will allow drivers to get quotes from multiple insurers, thus making the comparison faster and easier. For additional info, money-saving tips, and free car insurance quotes, visit https://compare-autoinsurance.Org/ Compare-autoinsurance.Org is an online provider of life, home, health, and auto insurance quotes. This website is unique because it does not simply stick to one kind of insurance provider, but brings the clients the best deals from many different online insurance carriers. In this way, clients have access to offers from multiple carriers all in one place: this website. On this site, customers have access to quotes for insurance plans from various agencies, such as local or nationwide agencies, brand names insurance companies, etc. "Online quotes can easily help drivers obtain better car insurance deals. All they have to do is to complete an online form with accurate and real info, then compare prices", said Russell Rabichev, Marketing Director of Internet Marketing Company. CONTACT: Company Name: Internet Marketing CompanyPerson for contact Name: Gurgu CPhone Number: (818) 359-3898Email: [email protected]: https://compare-autoinsurance.Org/ SOURCE: Compare-autoinsurance.Org View source version on accesswire.Com:https://www.Accesswire.Com/595055/What-Are-The-Main-Benefits-Of-Comparing-Car-Insurance-Quotes-Online View photos
to request, modification Contact us at Here or [email protected]