Where to watch the 4th of July fireworks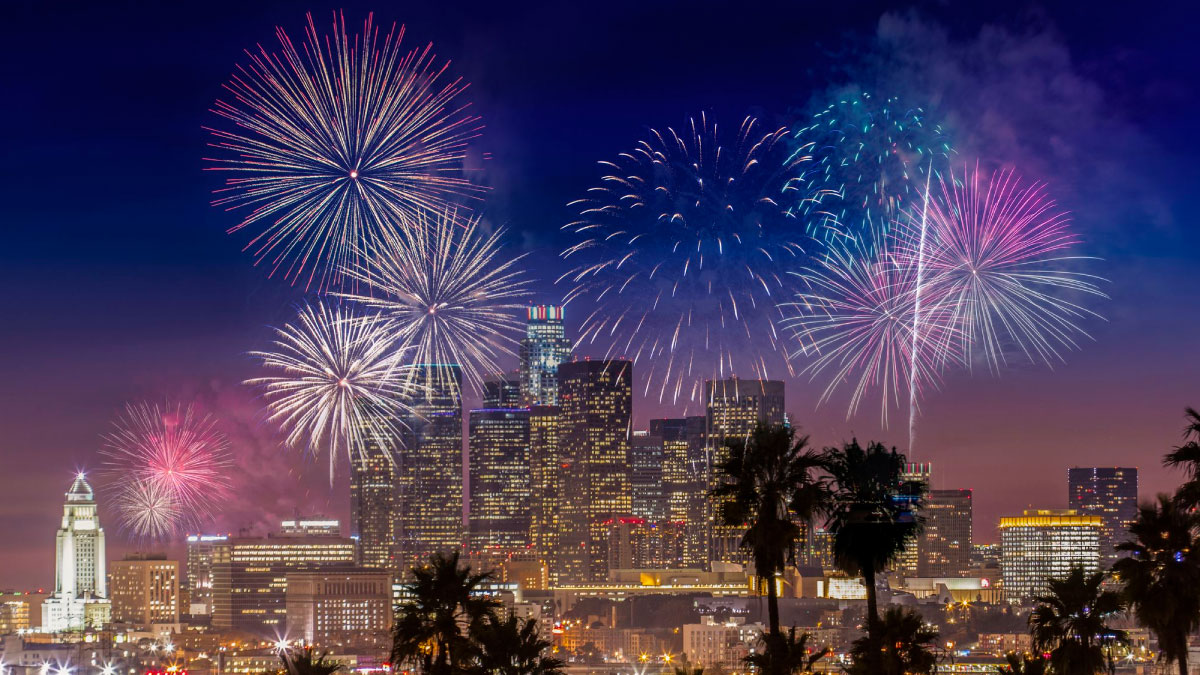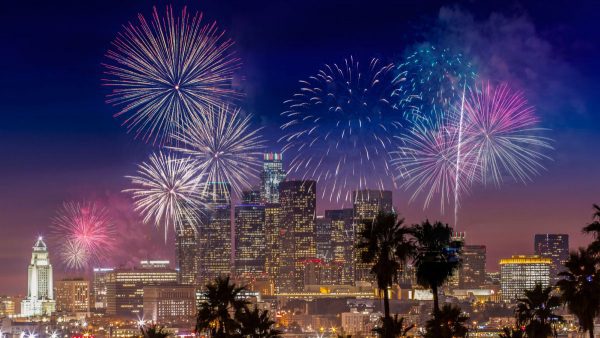 Grand Park's July 4 Block Party returns to downtown Los Angeles on Monday after being canceled each of the past two years due to the coronavirus pandemic, with more than 30,000 people expected for the free 5-hour event and a half which will include a 15-minute fireworks display.
Doors will open at 4pm for the party described by organizers as "designed for the whole family". It will include musical performances featuring the global and diverse sounds of Los Angeles, DJ sets and spoken word recitals on two stages.
The fireworks will be launched from the roof of the Music Center's Dorothy Chandler Pavilion starting at 9 p.m., accompanied by a playlist by Rani de Leon, director of performing arts at the Japanese American Cultural & Community Center.
Attendees are encouraged to bring their own food or purchase items from gourmet food trucks, including tacos, barbecues and burgers. Vegan options will also be available. Alcohol is not permitted and will not be sold at Grand Park.
Parking for $9 is available at the Music Center and Walt Disney Concert Hall. Due to the large number of people expected, the use of public transport is strongly encouraged.
In Pasadena, what is billed as California's oldest Independence Day fireworks display will be held at the Rose Bowl during the 96th annual AmericaFest celebration. Doors will open at 5:30 p.m., with the celebration starting at 6:30 p.m. with a 30-minute performance by TNT motocross riders.
Performances by pop singer Haylee Joe and all-around singer Tia Simone will follow at 7 and 7:30 p.m. TNT Motocross Riders will perform again at 8:15 p.m., followed by a performance by country singing star Drake Milligan at 8:30 p.m. The fireworks show is due to start at 9 p.m.
Rose Bowl parking lots will open at 1 p.m. and the Fun Zone at 2 p.m.
General admission tickets are $20, while reserved seating is $40. Children 5 and under are admitted free in the general admission section and children 2 and under in the reserved admission section. General admission parking is $45 in advance and $55 on Mondays. Preferred parking is $60 in advance and $70 on Mondays.
Marina del Rey's 20-minute fireworks display will begin at 9 p.m., synchronized with music playing over loudspeakers at Burton Chace Park and Fisherman's Village.
Fireworks are also scheduled at Six Flags Magic Mountain, Universal Studios Hollywood and the Hollywood Bowl. Fireworks will also follow the Los Angeles Dodgers-Colorado Rockies game at Dodger Stadium and the Los Angeles Galaxy-CF Montreal Major League Soccer game at Dignity Health Sports Park.
Fireworks are also planned at 9 p.m. at:
— Artesia Park, 18750 Clarkdale Avenue;
– Calabasas High School, 22855 Mulholland Highway;
– Cerritos High School, 12500 E. 183rd St.;
– Rowley Park, 13220 S. Van Ness Ave., Gardena;
— Irwindale Park, 5050 N. Irwindale Avenue;
– Crescenta Valley High School, 2900 Community Ave., La Crescenta;
– La Bonita Park, 1440 W. Whittier Blvd., La Habra;
– Pico Rivera Sports Arena, 11003 Sports Arena Drive;
– Fairplex, 1101 W. McKinley Ave., Pomona;
– Shepherd of the Hills Church, 19700 Rinaldi St., Porter Ranch;
— Rosemead Park, 4343 Encinita Avenue;
— Downtown Valencia, 24201 W. Valencia Blvd., Santa Clarita;
– South Gate Park, 4900 South Avenue;
— Walnut High School, 400 Pierre Road;
— Westlake Village Golf Course, 4812 Lakeview Canyon;
– Friendly Hills Country Club, 8500 S. Villaverde Drive, Whittier; and
— York Field, 9110 Santa Fe Springs Road, Whittier.
Copyright 2022, City News Service, Inc.
Sources
2/ https://wehoville.com/2022/07/03/watch-fireworks-july-4/
The mention sources can contact us to remove/changing this article
What Are The Main Benefits Of Comparing Car Insurance Quotes Online
LOS ANGELES, CA / ACCESSWIRE / June 24, 2020, / Compare-autoinsurance.Org has launched a new blog post that presents the main benefits of comparing multiple car insurance quotes. For more info and free online quotes, please visit https://compare-autoinsurance.Org/the-advantages-of-comparing-prices-with-car-insurance-quotes-online/ The modern society has numerous technological advantages. One important advantage is the speed at which information is sent and received. With the help of the internet, the shopping habits of many persons have drastically changed. The car insurance industry hasn't remained untouched by these changes. On the internet, drivers can compare insurance prices and find out which sellers have the best offers. View photos The advantages of comparing online car insurance quotes are the following: Online quotes can be obtained from anywhere and at any time. Unlike physical insurance agencies, websites don't have a specific schedule and they are available at any time. Drivers that have busy working schedules, can compare quotes from anywhere and at any time, even at midnight. Multiple choices. Almost all insurance providers, no matter if they are well-known brands or just local insurers, have an online presence. Online quotes will allow policyholders the chance to discover multiple insurance companies and check their prices. Drivers are no longer required to get quotes from just a few known insurance companies. Also, local and regional insurers can provide lower insurance rates for the same services. Accurate insurance estimates. Online quotes can only be accurate if the customers provide accurate and real info about their car models and driving history. Lying about past driving incidents can make the price estimates to be lower, but when dealing with an insurance company lying to them is useless. Usually, insurance companies will do research about a potential customer before granting him coverage. Online quotes can be sorted easily. Although drivers are recommended to not choose a policy just based on its price, drivers can easily sort quotes by insurance price. Using brokerage websites will allow drivers to get quotes from multiple insurers, thus making the comparison faster and easier. For additional info, money-saving tips, and free car insurance quotes, visit https://compare-autoinsurance.Org/ Compare-autoinsurance.Org is an online provider of life, home, health, and auto insurance quotes. This website is unique because it does not simply stick to one kind of insurance provider, but brings the clients the best deals from many different online insurance carriers. In this way, clients have access to offers from multiple carriers all in one place: this website. On this site, customers have access to quotes for insurance plans from various agencies, such as local or nationwide agencies, brand names insurance companies, etc. "Online quotes can easily help drivers obtain better car insurance deals. All they have to do is to complete an online form with accurate and real info, then compare prices", said Russell Rabichev, Marketing Director of Internet Marketing Company. CONTACT: Company Name: Internet Marketing CompanyPerson for contact Name: Gurgu CPhone Number: (818) 359-3898Email: [email protected]: https://compare-autoinsurance.Org/ SOURCE: Compare-autoinsurance.Org View source version on accesswire.Com:https://www.Accesswire.Com/595055/What-Are-The-Main-Benefits-Of-Comparing-Car-Insurance-Quotes-Online View photos
to request, modification Contact us at Here or [email protected]