Red Velvet Burlesque Show: World-Class Entertainment and Smart Business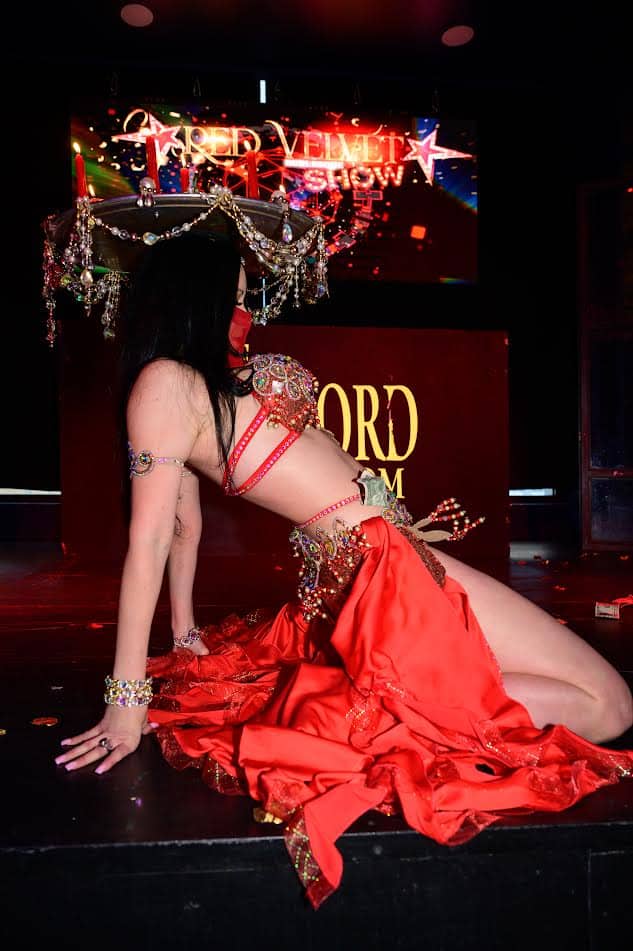 The Red Velvet Burlesque Show – launched during the pandemic at venues across the country has made a name for itself with captivating burlesque and variety performances. His unique approach keeps audiences coming back for more. Venue owners seek out and retain quality talent, as performance excellence is the show's top priority.
Originally launched in the Big Apple, also known as New York, its popularity and accolades prompted the show to spread across the United States. As a result, the Red Velvet Burlesque Show is now one of the fastest growing burlesque and variety shows nationwide. Thanks to excellent reviews and word of mouth, its popularity has allowed it to expand to major cities across the country.
A burlesque first
Burlesque began in the late 1800s, with dancers performing sensually and artistically. Do you think burlesque isn't just another strip show with dancing? A burlesque show shouldn't be directly compared to the experience of visiting a strip club. For example, you shouldn't expect to see nudity; rather think of the best burlesque shows as combinations of various routines. Performers design their numbers carefully and often incorporate singing, acrobatics, gymnastics, and various performance art techniques to give their performances a unique appeal and creative flow. In burlesque shows, performers may incorporate other people into their acts and may perform with others as part of a group act or even draw a specific audience member into the act. Creativity is also a big part of each performer's unique approach to makeup, costumes, and various props, giving each performer a unique look and style. However, you must not touch a burlesque performer unless asked to, and this is another way burlesque differs from other genres.
Given the traditional expectations set by the show for many years, including the variety format designed to keep all sorts of audiences thrilled and surprised, this has resulted in the style being accepted by mainstream audiences as a respected genre. Given its mass appeal, burlesque has become very popular over time, gaining wide recognition in the United States and around the world.
A unique adventure, a dazzling start
The burlesque foundation established for many years is a key aspect that has helped the Red Velvet Burlesque Show become popular and well-known in just a few years. Once established, the show began hosting weekly venues using some of the most talented and diverse performers, much to the delight of audiences around the world. These performances incorporate the latest choreographic styles combined with traditional burlesque sequences to deliver a new and unique style that differentiates and sets the Red Velvet Burlesque show apart from other shows. Given the acceptance and popularity of burlesque, it's no surprise that the quality talent of the Red Velvet Burlesque Show continues to entertain more and more viewers from coast to coast. While most are intrigued and thrilled to see a unique take on variety and slapstick, it's also inspired more than its fair share of reviews and critics. These are often shoddy, rejected contestants and acts, unable to demonstrate the professionalism, real talent, and attention to detail that the producers of The Red Velvet Burlesque Show handled with such care and diligence.
Red Velvet Burlesque Show A First-Hand Account
Having attended many burlesque shows, regulars of these shows have noticed how Red Velvet Burlesque Show stands out from other burlesque shows. They notice the unique costumes, the variety of acts, the quality of the talent, the attention to detail and the typical exploration of boundaries. For example, customers often say the shows are fun and humorous, as often burlesque performers will make the audience laugh in addition to demonstrating a sultry and seductive performance.
It is common for birthday parties, bachelor or bachelorette parties and various celebrations to be key audiences at the Red Velvet Burlesque Show. They notice that the performers are on another level of quality, given the selection process carried out by the venue's talent scouts. The variety aspect is also another aspect of the show's uniqueness; often his acts are something the public has never seen before. Whether it's the unique combination of dance styles, the innovative approach to driving both sensuality and humor, or the beautiful costumes and accoutrements that complement and enhance the artistic nature of their performance. Audiences often get the best experience
A Red Velvet Burlesque show attendee recently wrote, "Came here for my uncle's birthday party when we were in town celebrating southern nights in Tampa; it was so much fun, i don't even know where to start. The host was hilarious and all the performers were extremely entertaining and talented. It was something I didn't really expect; I thought it was going to be decent, but it was really over the top and fun. I highly recommend checking out this burlesque show." Truly a testament to the detail and quality of Red Velvet Burlesque's performance, humor and fun!
When envious competition takes the low road
There is nothing wrong with fair competition. It improves shows and venues over time, and the positive evolution of the craft is a very positive aspect of these fair and competitive practices. However, everyone loses when false allegations are made to bring down another organization. It undermines the artists and talent performing at the Red Velvet Burlesque show and hurts them when they read lies about their acts or harshly critical reviews from trolls who obviously never even attended their shows. Everyone connected with the Red Velvet Burlesque Show, not only its founders, but many talented performers and others supporting the show, are hurt and disappointed by the actions of some contestants. These people have gone too far to spread garbage on social media platforms like Facebook and Instagram.
On the other hand, smart contestants learn more about these unique performances and how producers reach audiences everywhere. They watch their own shows and realize that there is a lot of room for improvement given the scope of quality of the Red Velvet Burlesque Show. It's a great example of fair competition, which is good for the industry. It drives everyone to keep innovating and evolving so we can keep touching lives and bringing joy to many through great artistic performances. Unfortunately, some contestants chose to ignore the social media slander and not communicate with the show's producers. This could result in industry-beneficial collaboration and solidarity against lies and misinformation. A smaller group has even encouraged these vicious attacks and in doing so indirectly contributes to burlesque itself being hit with made-up criticism. The good thing about the Red Velvet Burlesque show is that the people who attend the shows and enjoy them with their friends and family show that these claims are false and baseless.
Go beyond nonsense: the show continues and grows
Regardless of the misinformation and lies being spread by some contestants, fake reviews from so-called talent who couldn't make the cut and are angry at being rejected, and other reviews contributing to the lies about social media, the Red Velvet Burlesque Show moves past negativity quickly. In 2023 and beyond, we will continue to focus on the good instead of paying attention to the bad. Producers are constantly innovating and improving the show so that it stays far ahead of the competition, delights audiences everywhere, and continues to grow nationally. Continuous improvement and constant innovation means that they always seek out and find the best burlesque and variety performers and performances in the country.
There are several reasons why the Red Velvet Burlesque show has enjoyed success and growth since 2020. Among them is the experience that makes the venue innovative and exciting. By attending one of the Red Velvet Burlesque shows, you too will see the magic live and be enchanted and captivated by the wonderful talent of the show. It's all about the quality of performance, which results in a unique, exciting and fun experience.
For entrance tickets, please visit redvelvetburlesqueshow.com or follow their remarkable journey on Instagram @redvelvetburlesqueshow.
Presented by: Ascend Agency
Sources
2/ https://fashionweekdaily.com/red-velvet-burlesque-show-world-class-entertainment-and-smart-business/
The mention sources can contact us to remove/changing this article
What Are The Main Benefits Of Comparing Car Insurance Quotes Online
LOS ANGELES, CA / ACCESSWIRE / June 24, 2020, / Compare-autoinsurance.Org has launched a new blog post that presents the main benefits of comparing multiple car insurance quotes. For more info and free online quotes, please visit https://compare-autoinsurance.Org/the-advantages-of-comparing-prices-with-car-insurance-quotes-online/ The modern society has numerous technological advantages. One important advantage is the speed at which information is sent and received. With the help of the internet, the shopping habits of many persons have drastically changed. The car insurance industry hasn't remained untouched by these changes. On the internet, drivers can compare insurance prices and find out which sellers have the best offers. View photos The advantages of comparing online car insurance quotes are the following: Online quotes can be obtained from anywhere and at any time. Unlike physical insurance agencies, websites don't have a specific schedule and they are available at any time. Drivers that have busy working schedules, can compare quotes from anywhere and at any time, even at midnight. Multiple choices. Almost all insurance providers, no matter if they are well-known brands or just local insurers, have an online presence. Online quotes will allow policyholders the chance to discover multiple insurance companies and check their prices. Drivers are no longer required to get quotes from just a few known insurance companies. Also, local and regional insurers can provide lower insurance rates for the same services. Accurate insurance estimates. Online quotes can only be accurate if the customers provide accurate and real info about their car models and driving history. Lying about past driving incidents can make the price estimates to be lower, but when dealing with an insurance company lying to them is useless. Usually, insurance companies will do research about a potential customer before granting him coverage. Online quotes can be sorted easily. Although drivers are recommended to not choose a policy just based on its price, drivers can easily sort quotes by insurance price. Using brokerage websites will allow drivers to get quotes from multiple insurers, thus making the comparison faster and easier. For additional info, money-saving tips, and free car insurance quotes, visit https://compare-autoinsurance.Org/ Compare-autoinsurance.Org is an online provider of life, home, health, and auto insurance quotes. This website is unique because it does not simply stick to one kind of insurance provider, but brings the clients the best deals from many different online insurance carriers. In this way, clients have access to offers from multiple carriers all in one place: this website. On this site, customers have access to quotes for insurance plans from various agencies, such as local or nationwide agencies, brand names insurance companies, etc. "Online quotes can easily help drivers obtain better car insurance deals. All they have to do is to complete an online form with accurate and real info, then compare prices", said Russell Rabichev, Marketing Director of Internet Marketing Company. CONTACT: Company Name: Internet Marketing CompanyPerson for contact Name: Gurgu CPhone Number: (818) 359-3898Email: cgurgu@internetmarketingcompany.BizWebsite: https://compare-autoinsurance.Org/ SOURCE: Compare-autoinsurance.Org View source version on accesswire.Com:https://www.Accesswire.Com/595055/What-Are-The-Main-Benefits-Of-Comparing-Car-Insurance-Quotes-Online View photos
to request, modification Contact us at Here or collaboration@support.exbulletin.com