Dolly Singh's successful tribute to old Bollywood with a beaded bralette and ruffled cape wins Cannes 2023 Best Look Award!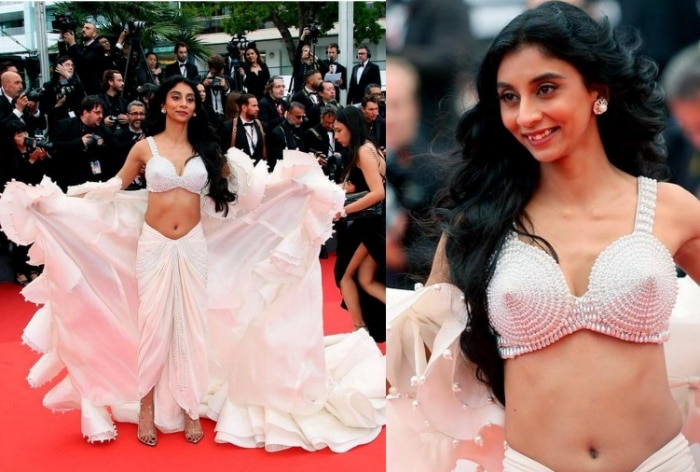 Dolly Singh made a statement on the red carpet in a jaw-dropping white ensemble created by the illustrious design team of Abu Jani and Sandeep Khosla.

And the prize for the best Cannes 2023 look goes to Dolly Singh…!
One of social media's most famous influencers, Dolly Singh, made her highly anticipated debut at the 76th Cannes Film Festival. She donned a beautiful conical top with pearl accents and an ivory sarong skirt which were both inspired by Zeenat Aman's attire in the timeless Satyam Shivam Sundaram.
Dolly Sing opted for a pristine white set of shelves by designer duo, Abu Jani Sandeep Khosla. Her ensemble was stunning, with a mesmerizing flowing skirt adorned with shimmering beads that charmed everyone. She accessorized it with a whimsical ruffled cape to further enhance the enchanting charm, giving it a fairy-like appearance. She accessorized it with a whimsical ruffled cape to further enhance the enchanting charm, giving it a fairy-like appearance. Not to mention, the essential beaded bralette with conical cups and delicate straps adds a touch of elegance.
Dolly Singh chose modest makeup for her red carpet look, including slightly blushed cheeks, an accentuated T-zone, defined winged eyes and bare lips. Her appearance was enhanced by her loose and wavy locks. She also chose to wear transparent heels, matching bracelets and diamond earrings.
CANNES 2023 DOLLY SINGH'S WINNING INTERNET LOOK
Dolly Singh opened up about her Cannes debut in an elaborate Instagram post. The caption on the post read: "I WALKED ON MY FIRST RED CARPET IN CANNES!! 🥺 I wanted to pay homage to old Bollywood and when Sandeep from @abujanisandeepkhosla pulled out that conical bra and cape I knew that was it and I can't believe that's the iconic AJSK that I wore for my first red carpet here! @mohitrai I LOVE YOU and thank you for bringing my vision to life and understanding the mission haha! Mohit and I absolutely wanted to do Indian silhouettes for my first time in Cannes and I love the result. I kept my hair long and the apsara like it weighed half my body weight 😂 but beauty is pain, right? 🥸"
"Thank you to @brut.india and @ajiolife for bringing this dream to life. 🥺💖 Many thanks to my amazing team at @onlymuchlouder India, @ruchii95 @nikitasahota for working tirelessly for months to make this happen and @dreamnhustlemedia Jashoda and his team for making it the talk of every household. I'm so grateful 💖💖 I'm so grateful to all of you for supporting me all these years because look, ahem Cannes aa gaye! 🥰" , she concluded.
Dolly Singh, your debut on the Cannes red carpet fascinated us. Your appearance is nothing short of a spellbinding sight that leaves us wanting more!
Sources
2/ https://www.india.com/women/dolly-singhs-successful-tribute-to-old-bollywood-with-pearl-bralette-and-ruffle-cape-wins-best-cannes-2023-look-6060694/
The mention sources can contact us to remove/changing this article
What Are The Main Benefits Of Comparing Car Insurance Quotes Online
LOS ANGELES, CA / ACCESSWIRE / June 24, 2020, / Compare-autoinsurance.Org has launched a new blog post that presents the main benefits of comparing multiple car insurance quotes. For more info and free online quotes, please visit https://compare-autoinsurance.Org/the-advantages-of-comparing-prices-with-car-insurance-quotes-online/ The modern society has numerous technological advantages. One important advantage is the speed at which information is sent and received. With the help of the internet, the shopping habits of many persons have drastically changed. The car insurance industry hasn't remained untouched by these changes. On the internet, drivers can compare insurance prices and find out which sellers have the best offers. View photos The advantages of comparing online car insurance quotes are the following: Online quotes can be obtained from anywhere and at any time. Unlike physical insurance agencies, websites don't have a specific schedule and they are available at any time. Drivers that have busy working schedules, can compare quotes from anywhere and at any time, even at midnight. Multiple choices. Almost all insurance providers, no matter if they are well-known brands or just local insurers, have an online presence. Online quotes will allow policyholders the chance to discover multiple insurance companies and check their prices. Drivers are no longer required to get quotes from just a few known insurance companies. Also, local and regional insurers can provide lower insurance rates for the same services. Accurate insurance estimates. Online quotes can only be accurate if the customers provide accurate and real info about their car models and driving history. Lying about past driving incidents can make the price estimates to be lower, but when dealing with an insurance company lying to them is useless. Usually, insurance companies will do research about a potential customer before granting him coverage. Online quotes can be sorted easily. Although drivers are recommended to not choose a policy just based on its price, drivers can easily sort quotes by insurance price. Using brokerage websites will allow drivers to get quotes from multiple insurers, thus making the comparison faster and easier. For additional info, money-saving tips, and free car insurance quotes, visit https://compare-autoinsurance.Org/ Compare-autoinsurance.Org is an online provider of life, home, health, and auto insurance quotes. This website is unique because it does not simply stick to one kind of insurance provider, but brings the clients the best deals from many different online insurance carriers. In this way, clients have access to offers from multiple carriers all in one place: this website. On this site, customers have access to quotes for insurance plans from various agencies, such as local or nationwide agencies, brand names insurance companies, etc. "Online quotes can easily help drivers obtain better car insurance deals. All they have to do is to complete an online form with accurate and real info, then compare prices", said Russell Rabichev, Marketing Director of Internet Marketing Company. CONTACT: Company Name: Internet Marketing CompanyPerson for contact Name: Gurgu CPhone Number: (818) 359-3898Email: [email protected]: https://compare-autoinsurance.Org/ SOURCE: Compare-autoinsurance.Org View source version on accesswire.Com:https://www.Accesswire.Com/595055/What-Are-The-Main-Benefits-Of-Comparing-Car-Insurance-Quotes-Online View photos
to request, modification Contact us at Here or [email protected]