All You Need To Know About Aditya Singh Rajput, Actor Who Died Of Suspected Drug Abuse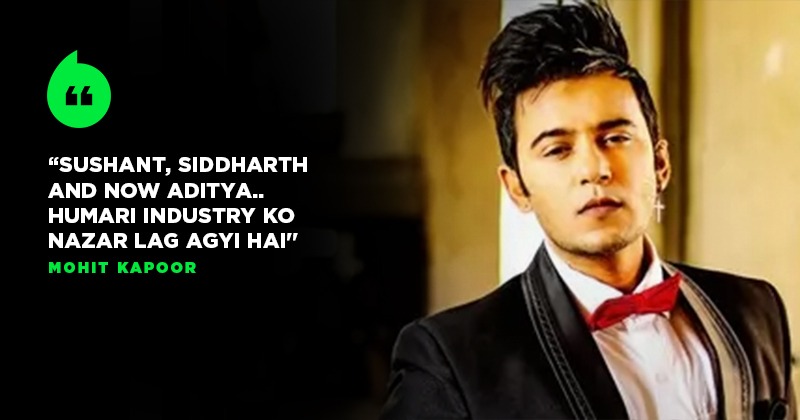 The bright afternoon of May 22 turned dark when actor Aditya Singh Rajput was found dead in his Andheri house on the 11th floor. Several media reports suggest that the Splitsvilla fame died due to a suspected drug overdose, but post-mortem reports have yet to be released.
But who was he? Here's everything you need to know about him!
Aditya was 32 years old and hailed from Delhi. He started his career as a model and later starred in a few movies like Maine Gandhi Ko Nahin Mara and Krantiveer. One of his most popular stints remains Splitsvilla 9 alongside youth TV shows like Love, Aashiqui, Code Red, Aawaz Season 9, and Bad Boy Season 4, among others.
Aditya has featured in over 25 commercials including the popular Hero Honda Ad with actor Hrithik Roshan and cricketer Saurav Ganguly. Rajput, who was also prominent in the casting industry, was also part of Pogo TV's popular show Cambala Investigation Agency. Other than that, Aditya has been frequently spotted at events.
Aditya's close friend, Sweety Walia, talks about the death of the actors and talks about his last text.
She told Aaj Tak, My friendship with Aditya is very deep. He was such a cheerful boy that he used to give a lot of respect to those who were older than him. The news of his death left me broken. I received his message a few days ago. I hurt myself and he was sending me voice messages. Nobody says you're hurt, you'll be fine.
His last message was, Come home soon…I'll feed you Maggi.
Sweety added, I still hope this news is fake. I learned this an hour ago and I couldn't believe it. He lived alone in Mumbai. He was an animal lover and had adopted a seven-month-old puppy some time ago. I don't know what will happen to his dog now.
Actor Mohit Kapoor said that according to India Today, Sushant, Siddharth and now Aditya…our industry is looking to the future.
Sabyasachi Sathpaty who appeared in Big Boss season 11 said: I can't believe Aditya is not in this world anymore. The departure of someone at such a young age is very shocking. My soul trembles thinking of his parents. I can only pray for them. Aditya often mentioned his mother.
He had a great desire to appear in Bigg Boss. When I came from there, he told me that he was also approached by the canal. He said he would come back after having had a lot of fun. He was always the life of the party and would never leave a chance for fun.
(For more news and updates from the world of Bollywood and Hollywood celebrities, keep reading Indiatimes Entertainment and let us know your thoughts on this story in the comments below.)
Sources
2/ https://www.indiatimes.com/entertainment/bollywood/all-you-need-to-know-about-aditya-singh-rajput-actor-who-died-by-alleged-drug-abuse-603435.html
The mention sources can contact us to remove/changing this article
What Are The Main Benefits Of Comparing Car Insurance Quotes Online
LOS ANGELES, CA / ACCESSWIRE / June 24, 2020, / Compare-autoinsurance.Org has launched a new blog post that presents the main benefits of comparing multiple car insurance quotes. For more info and free online quotes, please visit https://compare-autoinsurance.Org/the-advantages-of-comparing-prices-with-car-insurance-quotes-online/ The modern society has numerous technological advantages. One important advantage is the speed at which information is sent and received. With the help of the internet, the shopping habits of many persons have drastically changed. The car insurance industry hasn't remained untouched by these changes. On the internet, drivers can compare insurance prices and find out which sellers have the best offers. View photos The advantages of comparing online car insurance quotes are the following: Online quotes can be obtained from anywhere and at any time. Unlike physical insurance agencies, websites don't have a specific schedule and they are available at any time. Drivers that have busy working schedules, can compare quotes from anywhere and at any time, even at midnight. Multiple choices. Almost all insurance providers, no matter if they are well-known brands or just local insurers, have an online presence. Online quotes will allow policyholders the chance to discover multiple insurance companies and check their prices. Drivers are no longer required to get quotes from just a few known insurance companies. Also, local and regional insurers can provide lower insurance rates for the same services. Accurate insurance estimates. Online quotes can only be accurate if the customers provide accurate and real info about their car models and driving history. Lying about past driving incidents can make the price estimates to be lower, but when dealing with an insurance company lying to them is useless. Usually, insurance companies will do research about a potential customer before granting him coverage. Online quotes can be sorted easily. Although drivers are recommended to not choose a policy just based on its price, drivers can easily sort quotes by insurance price. Using brokerage websites will allow drivers to get quotes from multiple insurers, thus making the comparison faster and easier. For additional info, money-saving tips, and free car insurance quotes, visit https://compare-autoinsurance.Org/ Compare-autoinsurance.Org is an online provider of life, home, health, and auto insurance quotes. This website is unique because it does not simply stick to one kind of insurance provider, but brings the clients the best deals from many different online insurance carriers. In this way, clients have access to offers from multiple carriers all in one place: this website. On this site, customers have access to quotes for insurance plans from various agencies, such as local or nationwide agencies, brand names insurance companies, etc. "Online quotes can easily help drivers obtain better car insurance deals. All they have to do is to complete an online form with accurate and real info, then compare prices", said Russell Rabichev, Marketing Director of Internet Marketing Company. CONTACT: Company Name: Internet Marketing CompanyPerson for contact Name: Gurgu CPhone Number: (818) 359-3898Email: [email protected]: https://compare-autoinsurance.Org/ SOURCE: Compare-autoinsurance.Org View source version on accesswire.Com:https://www.Accesswire.Com/595055/What-Are-The-Main-Benefits-Of-Comparing-Car-Insurance-Quotes-Online View photos
to request, modification Contact us at Here or [email protected]