Over 70 Bollywood celebrities, including 20 A-list stars, line up for the 23rd IIFA – The Munsif Daily | Latest India News | world news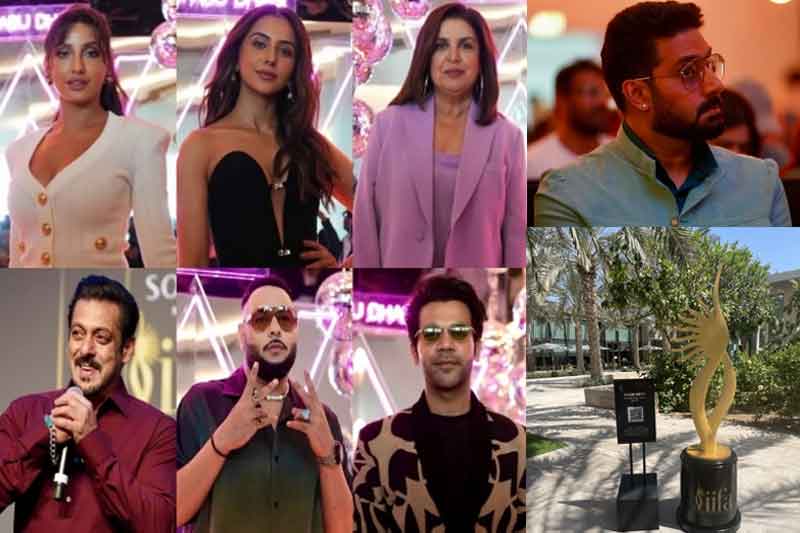 Abu Dhabi:International Indian Film Academy and Awards (IIFA), the biggest celebration of Indian cinema, is ready to delight fans with its 23rd edition at Yas Island, Abu Dhabi on 26-27 May 2023.
The event will take place at the largest state-of-the-art indoor entertainment venue in the Middle East, the Etihad Arena, which forms part of the Yas Bay waterfront on Yas Island.
During a press conference held on Thursday, this year's hosts Abhishek Bachchan, Vicky Kaushal, Farah Khan and Rajkummar Rao along with artists Salman Khan, Rakul Preet Singh, Nora Fatehi, Jacqueline Fernandez, Amit Trivedi, Badshah, Nucleya, Sunidhi addressed the media. Chauhan and Iulia Vantur
HE Saleh Mohamed Saleh Al Geziry, Chief Tourism Officer, DCT Abu Dhabi, said, "We are delighted to once again host the IIFA Awards in Abu Dhabi as it marks a significant milestone for our dynamic entertainment calendar. Our relationship with India, which is based on shared cultural and economic interests, has been further strengthened by the fact that Abu Dhabi has served as the setting for a number of Bollywood blockbusters, allowing people around the world to experience our wonderful country. . The greatest celebration of Indian cinema will take place in Abu Dhabi, and we are delighted to welcome the illustrious actors, directors and members of the Indian film community, and their supporters.
IIFA 2023 will kick off the mega celebrations today with the IIFA Rocks hosted by Farah Khan Kunder and Rajkummar Rao and feature performances by Amit Trivedi, as well as several popular singers, Badshah, Sunidhi Chauhan, Nucleya and Sukhbir Singh.
The most anticipated special addition this year to IIFA Rocks is the premiere of an exclusive showcase by renowned designer Manish Malhotra, who is celebrating 25 years in the fashion industry.
Host of IIFA Rocks 2023, Farah Khan said, "The IIFA is a true example of a global phenomenon that not only recognizes and honors excellence in Indian cinema globally, but also offers the entire film industry a tremendous opportunity. Personally, I am delighted to welcome IIFA Rocks back.
IIFA Rocks 2023, co-host Rajkummar Rao said, "I think I'm IIFA's biggest fan. Along with Farah Khan, I am incredibly honored and thrilled to co-host IIFA Rocks. The prospect of having fun and making memories excites me. It's going to be awesome.
The IIFA Awards Grand Final will take place on May 27, 2023 and will be hosted by Abhishek Bachchan and Vicky Kaushal with electrifying performances from Bollywood superstars Salman Khan, Jacqueline Fernandez, Varun Dhawan, Kriti Sanon, Nora Fatehi and Rakul Preet Singh.
Speaking on the occasion, Abhishek Bachchan said: "I am delighted to return to Yas Island, Abu Dhabi. It will be an absolute pleasure and honor to entertain and meet fans from all over the world. Looking forward to hosting the IIFA Awards.
IIFA Awards co-host, Vicky Kaushal shared, "My journey with the IIFA has been extremely exciting over the years and I can't wait to get on stage and co-host the 2023 IIFA Awards with my mate Abhishek. Bachchan!"
One of the highlights of the IIFA weekend is a set of masterclasses designed for movie buffs, aspiring filmmakers and enthusiasts. The masterclass series includes "Director's Cut" with Kabir Khan and Omung Kumar, plus a must-see session by famed hair and makeup artist Nabila.
This year, Kamal Haasan, Hrithik Roshan, Anil Kapoor, Alia Bhatt, Riteish and Genelia D'Souza, Sunny Kaushal, Mouni Roy, Fardeen Khan, Esha Gupta, Mrunal Thakur, Dia Mirza, Rashii Khanna, Sheeba Chaddha, Neelam Kothari, Bhavna Pandey, Maheep Kapoor and Seema Sajdeh will also walk the green carpet.
Producer Ramesh Taurani along with other movie moguls Boney Kapoor, Bhushan Kumar, Jayantilal Gada, Anees Bazmee and R. Madhavan are expected to attend the weekend and IIFA awards.
Performances by Salman Khan, Jacqueline Fernandez, Varun Dhawan, Kriti Sanon, Nora Fatehi and Rakul Preet Singh will be the stars this year.
URL copied
Sources
2/ https://munsifdaily.com/news/entertainment-news/over-70-bollywood-celebs-including-20-a-list-stars-line-up-for-23rd-iifa/
The mention sources can contact us to remove/changing this article
What Are The Main Benefits Of Comparing Car Insurance Quotes Online
LOS ANGELES, CA / ACCESSWIRE / June 24, 2020, / Compare-autoinsurance.Org has launched a new blog post that presents the main benefits of comparing multiple car insurance quotes. For more info and free online quotes, please visit https://compare-autoinsurance.Org/the-advantages-of-comparing-prices-with-car-insurance-quotes-online/ The modern society has numerous technological advantages. One important advantage is the speed at which information is sent and received. With the help of the internet, the shopping habits of many persons have drastically changed. The car insurance industry hasn't remained untouched by these changes. On the internet, drivers can compare insurance prices and find out which sellers have the best offers. View photos The advantages of comparing online car insurance quotes are the following: Online quotes can be obtained from anywhere and at any time. Unlike physical insurance agencies, websites don't have a specific schedule and they are available at any time. Drivers that have busy working schedules, can compare quotes from anywhere and at any time, even at midnight. Multiple choices. Almost all insurance providers, no matter if they are well-known brands or just local insurers, have an online presence. Online quotes will allow policyholders the chance to discover multiple insurance companies and check their prices. Drivers are no longer required to get quotes from just a few known insurance companies. Also, local and regional insurers can provide lower insurance rates for the same services. Accurate insurance estimates. Online quotes can only be accurate if the customers provide accurate and real info about their car models and driving history. Lying about past driving incidents can make the price estimates to be lower, but when dealing with an insurance company lying to them is useless. Usually, insurance companies will do research about a potential customer before granting him coverage. Online quotes can be sorted easily. Although drivers are recommended to not choose a policy just based on its price, drivers can easily sort quotes by insurance price. Using brokerage websites will allow drivers to get quotes from multiple insurers, thus making the comparison faster and easier. For additional info, money-saving tips, and free car insurance quotes, visit https://compare-autoinsurance.Org/ Compare-autoinsurance.Org is an online provider of life, home, health, and auto insurance quotes. This website is unique because it does not simply stick to one kind of insurance provider, but brings the clients the best deals from many different online insurance carriers. In this way, clients have access to offers from multiple carriers all in one place: this website. On this site, customers have access to quotes for insurance plans from various agencies, such as local or nationwide agencies, brand names insurance companies, etc. "Online quotes can easily help drivers obtain better car insurance deals. All they have to do is to complete an online form with accurate and real info, then compare prices", said Russell Rabichev, Marketing Director of Internet Marketing Company. CONTACT: Company Name: Internet Marketing CompanyPerson for contact Name: Gurgu CPhone Number: (818) 359-3898Email: [email protected]: https://compare-autoinsurance.Org/ SOURCE: Compare-autoinsurance.Org View source version on accesswire.Com:https://www.Accesswire.Com/595055/What-Are-The-Main-Benefits-Of-Comparing-Car-Insurance-Quotes-Online View photos
to request, modification Contact us at Here or [email protected]