Pride event sparks tense protest outside North Hollywood Elementary School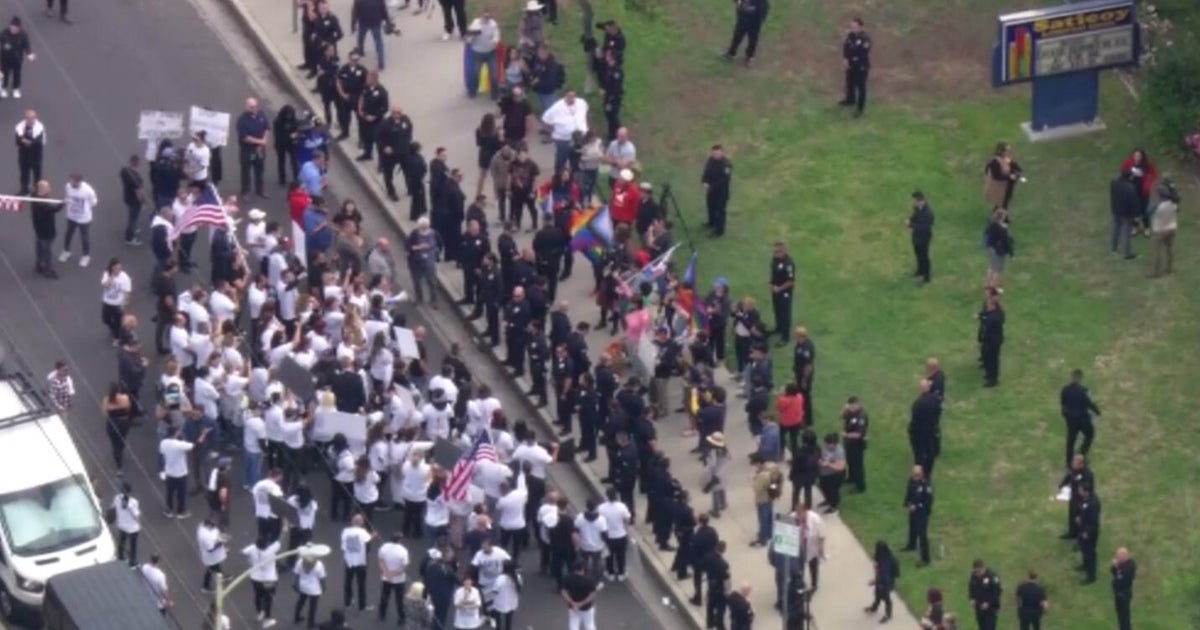 Saticoy Elementary School in North Hollywood will have increased security on Friday as some parents protest a Pride event on campus, sparking complaints that the subject should be left for parents to teach rather than forced on children at school.
"It's a sad morning," Los Angeles Unified School District Superintendent Alberto Carvalho told Fox11 outside campus as dozens of parents, protesters and others gathered outside. the school on Ethel Avenue, causing shouting matches, isolated skirmishes and disputes that forced the police to intervene. and separate the different factions.
A large police presence was at the school on Friday morning ahead of the Pride assembly parents' demonstration, which was to include the reading of a book on various types of families. "The great big book of families," the book read at the assembly, is approved by the district, Carvalho said.
"I think there's a pretty good awareness of what the book stands for (and) what the book doesn't stand for," Carvalho told reporters outside the school on Friday morning. "But as I said, people today easily choose political sides and decide to stick to the political sides, while to some extent ignoring reality and truth, so there is a grip general awareness of what the book represents."
No arrests were immediately reported, police said.
Parents opposed to the Pride event created an Instagram page to express their displeasure with the planned assembly and called on parents to keep their children home from school on Friday. But they also announced their intention to lead a protest on campus to distribute leaflets to others on the issue.
Renato Lira, director of the San Fernando Valley LGBTQ Center, said ahead of time that volunteers from that organization also plan to be on campus to show support for the school's LGBTQ teachers and parents.
This resulted in a mass of humanity gathering outside the school, with protesters wearing shirts and carrying signs with slogans such as "Leave Our Kids Alone" and "Parental Choice Matters". Some people in the crowd waved Pride and United States flags.
The parents organizing the protest insisted repeatedly this week that their grievance against the assembly was not a sign of bigotry or intolerance towards the LGBTQ community, but only a statement of their belief that an assembly Pride is inappropriate for elementary age children and parents should have the right to decide when to educate their children about it.
"We stand in solidarity with (the) LGBTQ community," proclaimed a message posted on the organizers' Instagram page on Thursday.
"Our protest is against LAUSD. In elementary schools, children should be taught math, English, science."
"We want to reiterate that our protest is in no way an attack on the LGBTQ community," according to a statement posted on the page. "We recognize the importance of promoting equality and acceptance for all. Our intention is to raise the voice of parents so that they have a say when this topic is discussed with our children."
Organizers also issued repeated messages calling on protesters to be peaceful, calm and respectful.
But tensions over the Pride assembly escalated this week with news that a small Pride flag that was displayed outside a classroom on campus was
burned over the weekend of May 20-21, causing a hate crime
investigation by the police.
Organizers of the parents' protest vehemently denied any involvement in the burning of the flag. But news of the crime quickly inflamed passions around the issue, likely contributing to the large crowd that gathered outside campus on Friday.
School officials have made special arrangements for teachers and students to enter the Saticoy campus through a rear entrance on Friday so they can avoid the commotion in front of the school.
In a statement Thursday, LAUSD insisted, "The safety of our students and staff remains our top priority."
According to the district, it "remains committed to maintaining a safe, inclusive, and supportive environment for all students. We are also committed to ensuring diversity and inclusivity, consistent with California nondiscrimination laws, so that all students feel empowered to achieve their greatest potential.. This includes recognition of the diverse communities we serve.
Carvalho released a statement Wednesday saying the district is "vigorously investigating" the burning of the small Pride flag at the school, calling it an "unacceptable act that serves no more than to diminish our school community."
"We take the safety and security of our students and our campuses very seriously," he said. "We are committed to creating a safe and inclusive learning environment that embraces the diversity of the communities we serve. There is no place for hatred or bigotry in Los Angeles Unified."
The Los Angeles Times reported that the burning flag was outside the classroom of a teacher who is a transgender man and has since been removed from school for safety reasons. Photos of the teacher were, however, posted on conservative Instagram pages used by some parents opposed to the planned Friday Pride assembly, the newspaper reported.
United Teachers Los Angeles, the union representing LAUSD teachers, released a statement on Wednesday saying it "condemns the egregious behavior of bigoted protesters who exposed a teacher's gender identity at Saticoy Elementary."
"At a time of unprecedented threats to the LGBTQIA+ community and anti-trans legislation, this unwarranted response is a blatant attempt to create a hostile environment, not just for visibly transgender people, but for anyone who doesn't fit perfectly. to strict masculinity or feminine gender presentations," according to UTLA.
"Whether in North Carolina or California, public schools should be seen as safe havens for our students, our communities, and the educators who serve them. No educator, whether they conform to gender stereotypes or not, should have to go to work and fear any act or threat of physical violence, harassment, intimidation or other threatening disruptive behavior may occur against them."
The union called the actions at Saticoy "another brazen attempt by the intolerant minority to divide our communities and belittle educators. We can either teach students that people and families come in all shapes and sizes, or we can choose to teach fear and hatred."
The protesting parents, however, insisted that their actions are not based on hatred, but on a desire to maintain parental rights over their children's education.
"We are parents of elementary school children, who have the right to introduce sexually explicit subject matter at our discretion," according to the organizers' Instagram page. "Yes, any LGBTQ-related topic is sexually explicit. Why? Our children are innocent and have no idea what's going on. As parents, we have the right to introduce these topics at our discretion. Instead From this we are compelled to talk about matters that should not burden our children for many years to come."
The site includes phone numbers and email addresses for some school and district officials, urging parents to contact them to register complaints about the Pride assembly. The site also notes that the school has "a large population of Armenian and Hispanic families, many of whom are Christian and/or share conservative values ​​(and) do not think this material is appropriate for teaching children and believe it is. is a parent's right to choose."
Sources
2/ https://www.cbsnews.com/losangeles/news/parents-expected-to-protest-ahead-of-pride-event-at-saticoy-elementary/
The mention sources can contact us to remove/changing this article
What Are The Main Benefits Of Comparing Car Insurance Quotes Online
LOS ANGELES, CA / ACCESSWIRE / June 24, 2020, / Compare-autoinsurance.Org has launched a new blog post that presents the main benefits of comparing multiple car insurance quotes. For more info and free online quotes, please visit https://compare-autoinsurance.Org/the-advantages-of-comparing-prices-with-car-insurance-quotes-online/ The modern society has numerous technological advantages. One important advantage is the speed at which information is sent and received. With the help of the internet, the shopping habits of many persons have drastically changed. The car insurance industry hasn't remained untouched by these changes. On the internet, drivers can compare insurance prices and find out which sellers have the best offers. View photos The advantages of comparing online car insurance quotes are the following: Online quotes can be obtained from anywhere and at any time. Unlike physical insurance agencies, websites don't have a specific schedule and they are available at any time. Drivers that have busy working schedules, can compare quotes from anywhere and at any time, even at midnight. Multiple choices. Almost all insurance providers, no matter if they are well-known brands or just local insurers, have an online presence. Online quotes will allow policyholders the chance to discover multiple insurance companies and check their prices. Drivers are no longer required to get quotes from just a few known insurance companies. Also, local and regional insurers can provide lower insurance rates for the same services. Accurate insurance estimates. Online quotes can only be accurate if the customers provide accurate and real info about their car models and driving history. Lying about past driving incidents can make the price estimates to be lower, but when dealing with an insurance company lying to them is useless. Usually, insurance companies will do research about a potential customer before granting him coverage. Online quotes can be sorted easily. Although drivers are recommended to not choose a policy just based on its price, drivers can easily sort quotes by insurance price. Using brokerage websites will allow drivers to get quotes from multiple insurers, thus making the comparison faster and easier. For additional info, money-saving tips, and free car insurance quotes, visit https://compare-autoinsurance.Org/ Compare-autoinsurance.Org is an online provider of life, home, health, and auto insurance quotes. This website is unique because it does not simply stick to one kind of insurance provider, but brings the clients the best deals from many different online insurance carriers. In this way, clients have access to offers from multiple carriers all in one place: this website. On this site, customers have access to quotes for insurance plans from various agencies, such as local or nationwide agencies, brand names insurance companies, etc. "Online quotes can easily help drivers obtain better car insurance deals. All they have to do is to complete an online form with accurate and real info, then compare prices", said Russell Rabichev, Marketing Director of Internet Marketing Company. CONTACT: Company Name: Internet Marketing CompanyPerson for contact Name: Gurgu CPhone Number: (818) 359-3898Email: [email protected]: https://compare-autoinsurance.Org/ SOURCE: Compare-autoinsurance.Org View source version on accesswire.Com:https://www.Accesswire.Com/595055/What-Are-The-Main-Benefits-Of-Comparing-Car-Insurance-Quotes-Online View photos
to request, modification Contact us at Here or [email protected]