Tupac Shakur posthumously receives a star on the Hollywood Walk of Fame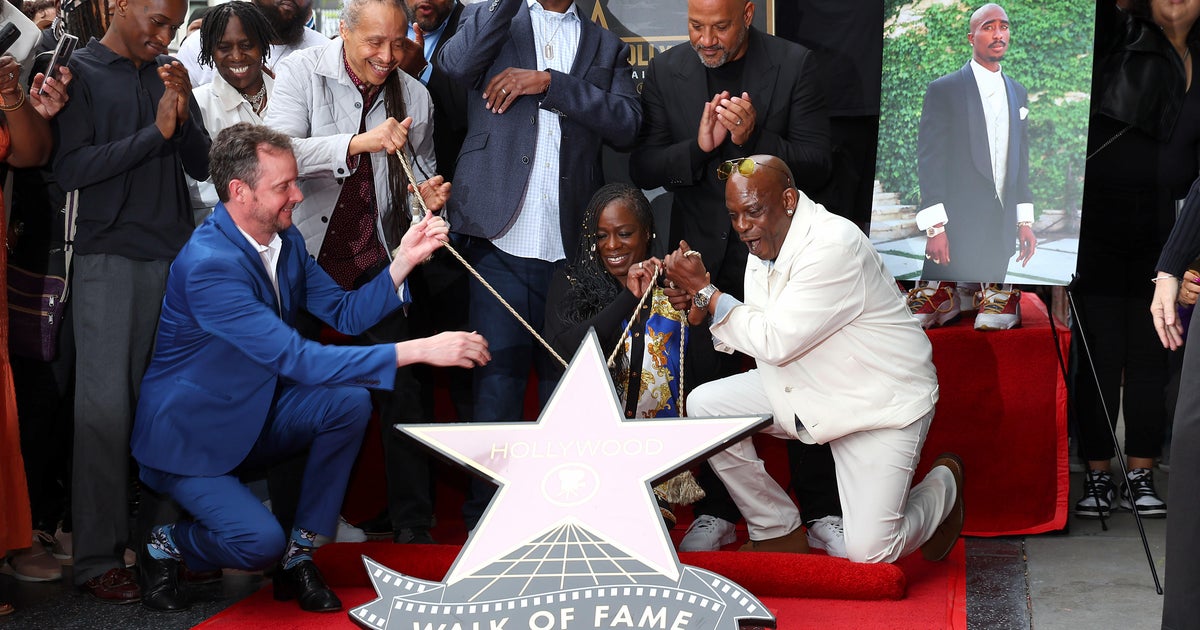 Legendary hip-hop star, actor and poet Tupac Shakur posthumously received a star on the Hollywood Walk of Fame Wednesday, honoring his many contributions to the arts, as well as his activism for racial equality.
The artist's sister, Sekyiwa "Set" Shakur, hosted the star on Hollywood Boulevard, alongside radio host Kurt "Big Boy" Alexander, who hosted the event, and director Allen Hughes, who recently worked on a docuseries about Tupac's life.
"Tupac knew deep down that he was always destined for something big," Sekyiwa said at the unveiling event. "And as a little sister, I had the privilege of seeing that greatness unfold."
Sekyiwa spoke about Shakur's goals, including her teenage dream of one day having her own star on the Walk of Fame.
"Today we are not just honoring a star on the pitch, but we are honoring the hard work and passion he put in to achieve his dreams," she said with emotion. "His celestial star will shine a little brighter today. And once again, he made us all extremely proud. We love you, Tupac."
The rapper, who was murdered in 1996 aged 25, influenced the hip-hop genre and amassed a global fanbase, selling over 75 million records worldwide and earning six Grammy nominations during his short five-year recording career.
Hughes, the docuseries director, spoke about Shakur's impact on hip-hop music, noting a milestone for the genre.
"Befitting, in the year of hip-hop's 50th anniversary, the art form's most transcendent star is finally placed on the Hollywood Walk of Fame," Hughes said.
Shakur is one of 12 rap artists, including Queen Latifah and Ice-T, to receive a star on the Walk of Fame – likely as a result of Americans misunderstanding the hip-hop genre, said hip-hop historian Kevin Powell to CBS News.
Powell added that it took Shakur so long to receive this honor because people still don't understand who Shakur was as a person and an artist, especially given the nature of his death.
"He's the most important hip-hop icon we've ever had in 50 years of hip-hop," Powell said, explaining why Shakur deserves a star.
The rapper has also enjoyed great success as an actor, receiving critical acclaim for starring in films like 'Juice', 'Poetic Justice', 'Above The Rim', 'Gridlock'd' and 'Gang Related".
Powell, who is currently writing a biography on the artist, said Shakur was an even better actor than the rapper, saying the multi-talented star would have been in the ranks of Denzel Washington and Robert De Niro had he lived. and continued to act. .
"Hip-hop, rapping was his way out, but his real passion — training as an actor in Harlem as a child, then in Baltimore at school. [For The] Arts with Jada Pinkett — [acting] It was his calling, I believe," he said. "But rapping was the fastest money."
In addition to his artistic abilities, Shakur was applauded for his work in defense of black Americans, which he often spoke about in his songs and films.
In May, Shakur was honored by Oakland, Calif., whose city council voted to rename a street "Tupac Shakur Way."
Sources
2/ https://www.cbsnews.com/news/tupac-shakur-posthumously-receives-star-on-hollywood-walk-of-fame/
The mention sources can contact us to remove/changing this article
What Are The Main Benefits Of Comparing Car Insurance Quotes Online
LOS ANGELES, CA / ACCESSWIRE / June 24, 2020, / Compare-autoinsurance.Org has launched a new blog post that presents the main benefits of comparing multiple car insurance quotes. For more info and free online quotes, please visit https://compare-autoinsurance.Org/the-advantages-of-comparing-prices-with-car-insurance-quotes-online/ The modern society has numerous technological advantages. One important advantage is the speed at which information is sent and received. With the help of the internet, the shopping habits of many persons have drastically changed. The car insurance industry hasn't remained untouched by these changes. On the internet, drivers can compare insurance prices and find out which sellers have the best offers. View photos The advantages of comparing online car insurance quotes are the following: Online quotes can be obtained from anywhere and at any time. Unlike physical insurance agencies, websites don't have a specific schedule and they are available at any time. Drivers that have busy working schedules, can compare quotes from anywhere and at any time, even at midnight. Multiple choices. Almost all insurance providers, no matter if they are well-known brands or just local insurers, have an online presence. Online quotes will allow policyholders the chance to discover multiple insurance companies and check their prices. Drivers are no longer required to get quotes from just a few known insurance companies. Also, local and regional insurers can provide lower insurance rates for the same services. Accurate insurance estimates. Online quotes can only be accurate if the customers provide accurate and real info about their car models and driving history. Lying about past driving incidents can make the price estimates to be lower, but when dealing with an insurance company lying to them is useless. Usually, insurance companies will do research about a potential customer before granting him coverage. Online quotes can be sorted easily. Although drivers are recommended to not choose a policy just based on its price, drivers can easily sort quotes by insurance price. Using brokerage websites will allow drivers to get quotes from multiple insurers, thus making the comparison faster and easier. For additional info, money-saving tips, and free car insurance quotes, visit https://compare-autoinsurance.Org/ Compare-autoinsurance.Org is an online provider of life, home, health, and auto insurance quotes. This website is unique because it does not simply stick to one kind of insurance provider, but brings the clients the best deals from many different online insurance carriers. In this way, clients have access to offers from multiple carriers all in one place: this website. On this site, customers have access to quotes for insurance plans from various agencies, such as local or nationwide agencies, brand names insurance companies, etc. "Online quotes can easily help drivers obtain better car insurance deals. All they have to do is to complete an online form with accurate and real info, then compare prices", said Russell Rabichev, Marketing Director of Internet Marketing Company. CONTACT: Company Name: Internet Marketing CompanyPerson for contact Name: Gurgu CPhone Number: (818) 359-3898Email: [email protected]: https://compare-autoinsurance.Org/ SOURCE: Compare-autoinsurance.Org View source version on accesswire.Com:https://www.Accesswire.Com/595055/What-Are-The-Main-Benefits-Of-Comparing-Car-Insurance-Quotes-Online View photos
to request, modification Contact us at Here or [email protected]