EXCLUSIVE: Janhvi Kapoor on the PR game in Bollywood: 'There's an inherent fear in this industry of going unnoticed'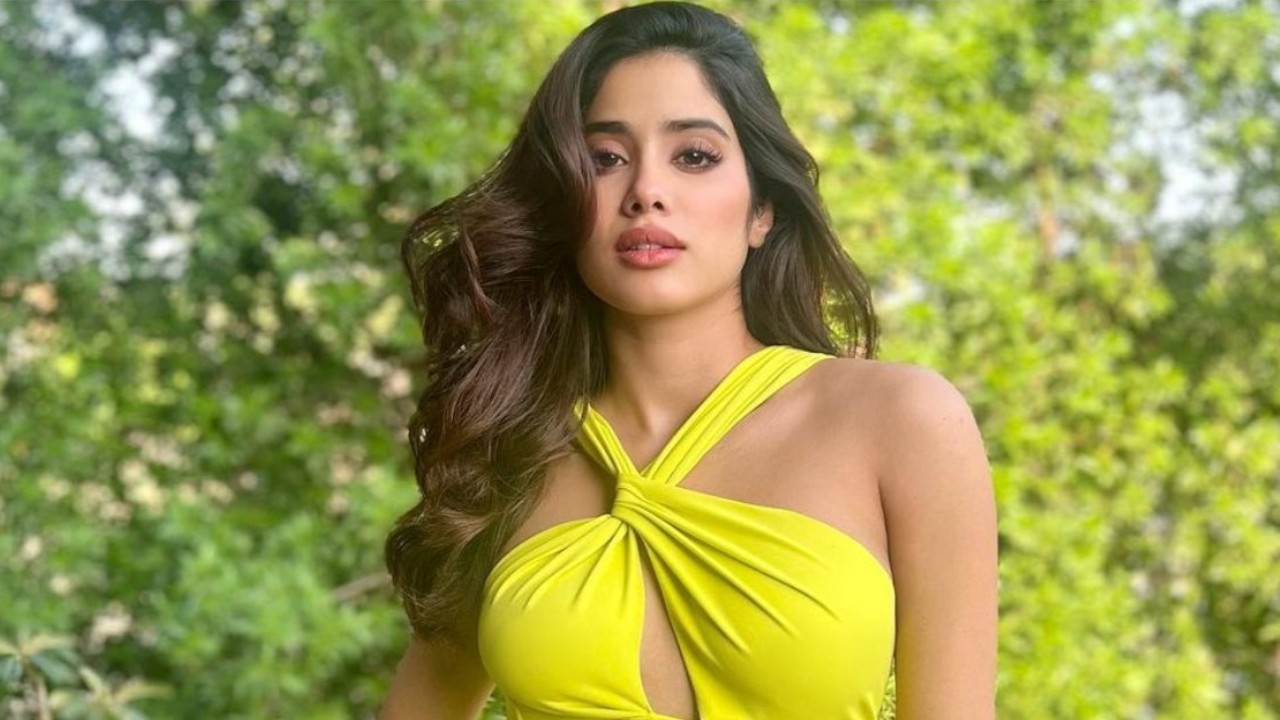 Janhvi Kapoor and Varun Dhawan are delighted with the success of their latest release, Bawaal. Kapoor who played the female lead, Nisha Dixit, against Varun Dhawan in Bawaal, is making headlines for delivering a nuanced and scintillating performance in the film. Varun Dhawan and Janhvi Kapoor's jodi Bawaal with their director Nitesh Tiwari, sat down for an exclusive chat at the Pinkvilla Masterclass. Janhvi Kapoor, who was at her best, talked about public relations, marketing and how the film industry is driven by such aspects.
Janhvi Kapoor talks about her PR game
Janhvi Kapoor's latest OTT release, Bawaal, is about image rather than reality and PR is all about cleaning up the image and presenting a person or a project in the best possible way. When asked how she perceives public relations at the moment, the Bawaal star replied: I was told that there was a major lack of public relations on my part. But, you know, I've noticed over the last five years, so many people after a movie comes out always have conversations that there's no such thing as a bad movie, it's just bad marketing. Arre ease promote karna chahiye tha (You must have promoted your movie this way).
Who told you that? Varun asks interrupting Janhvi. The actress immediately replied: So many people, so many times. When Varun insisted that Janhvi reveal the name of the person who told her, Janhvi laughed it off and said, I can't.
Adding further, Janhvi said, I think there's an inherent fear when you're in an industry or in an environment where everyone has, you know, these speakerphones and sab chilla rahe hain yeh karo woh karo (everyone is shouting to do this and do that), and you're afraid that if I'm the only one someone would even notice. But I think it takes a lot of courage to stick to your guns and be like nahin kaam kaafi hai (my work is enough). I think it takes a lot and it's very intimidating. And most of the time we can't keep up and I know I hesitated.
I think it's interesting to observe how the conversation is still focused on marketing and PR and not so much on thinking about your movie choices or maybe this or maybe that unlike Aree thoda zyada naach leti toh shayad achha kar leti, Janhvi added.
Janhvi Kapoor reveals what she did least safe to promote her film
When Varun asked Janhvi about the most uncertain thing she did to promote her movie, Janhvi said, "So I did this movie called Mili and got a lot of good reviews and appreciation for my performance, but it didn't do well at the box office at all. So I was told to get what you can out of it, and then they created these creatives of people saying a lot of positive things about the performance.
They (the makers) were like okay, let's put it all over the place so people forget that he (Mili) was only making negligible sums at the box office. You know the great reviews, which is great and makes perfect sense. It's not even like we mention, it's the truth. I think having your brain work in this way is like 10% bikau (salable) nature compared to what should be a sacred art form I think, Janhvi concluded.
About Bawaal
Directed by Nitesh Tiwari, Bawaal is a romantic drama starring Varun Dhawan as Ajay Dixit and Janhvi Kapoor as Nisha. Bawaal was released on July 21, 2013 on a leading OTT platform.
READ ALSO : EXCLUSIVE: Varun Dhawan on Criticism of Auschwitz Analogy in Bawaal: 'Where Sensitivity Goes in English Films'
Sources
2/ https://www.pinkvilla.com/entertainment/news/exclusive-janhvi-kapoor-on-pr-game-in-bollywood-there-is-intrinsic-fear-in-this-industry-to-go-unnoticed-1232020
The mention sources can contact us to remove/changing this article
What Are The Main Benefits Of Comparing Car Insurance Quotes Online
LOS ANGELES, CA / ACCESSWIRE / June 24, 2020, / Compare-autoinsurance.Org has launched a new blog post that presents the main benefits of comparing multiple car insurance quotes. For more info and free online quotes, please visit https://compare-autoinsurance.Org/the-advantages-of-comparing-prices-with-car-insurance-quotes-online/ The modern society has numerous technological advantages. One important advantage is the speed at which information is sent and received. With the help of the internet, the shopping habits of many persons have drastically changed. The car insurance industry hasn't remained untouched by these changes. On the internet, drivers can compare insurance prices and find out which sellers have the best offers. View photos The advantages of comparing online car insurance quotes are the following: Online quotes can be obtained from anywhere and at any time. Unlike physical insurance agencies, websites don't have a specific schedule and they are available at any time. Drivers that have busy working schedules, can compare quotes from anywhere and at any time, even at midnight. Multiple choices. Almost all insurance providers, no matter if they are well-known brands or just local insurers, have an online presence. Online quotes will allow policyholders the chance to discover multiple insurance companies and check their prices. Drivers are no longer required to get quotes from just a few known insurance companies. Also, local and regional insurers can provide lower insurance rates for the same services. Accurate insurance estimates. Online quotes can only be accurate if the customers provide accurate and real info about their car models and driving history. Lying about past driving incidents can make the price estimates to be lower, but when dealing with an insurance company lying to them is useless. Usually, insurance companies will do research about a potential customer before granting him coverage. Online quotes can be sorted easily. Although drivers are recommended to not choose a policy just based on its price, drivers can easily sort quotes by insurance price. Using brokerage websites will allow drivers to get quotes from multiple insurers, thus making the comparison faster and easier. For additional info, money-saving tips, and free car insurance quotes, visit https://compare-autoinsurance.Org/ Compare-autoinsurance.Org is an online provider of life, home, health, and auto insurance quotes. This website is unique because it does not simply stick to one kind of insurance provider, but brings the clients the best deals from many different online insurance carriers. In this way, clients have access to offers from multiple carriers all in one place: this website. On this site, customers have access to quotes for insurance plans from various agencies, such as local or nationwide agencies, brand names insurance companies, etc. "Online quotes can easily help drivers obtain better car insurance deals. All they have to do is to complete an online form with accurate and real info, then compare prices", said Russell Rabichev, Marketing Director of Internet Marketing Company. CONTACT: Company Name: Internet Marketing CompanyPerson for contact Name: Gurgu CPhone Number: (818) 359-3898Email: [email protected]: https://compare-autoinsurance.Org/ SOURCE: Compare-autoinsurance.Org View source version on accesswire.Com:https://www.Accesswire.Com/595055/What-Are-The-Main-Benefits-Of-Comparing-Car-Insurance-Quotes-Online View photos
to request, modification Contact us at Here or [email protected]