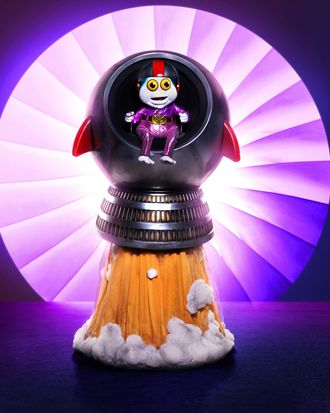 Were old enough to remember when The masked singer first created so many moons ago, and the concept of Nick Cannon parading celebrities behind masked, wide-eyed costumes developed to sing for us was remarkable, wacky, and eerie. Now we call it Wednesday. On September 13, Fox aired a Masked singer Super Sneak Peek special to introduce the public to the 16 costumed characters who will compete in season four, which begins airing on September 23. This special served several purposes: it generated enthusiasm for the new season; it allowed everyone to guess who the famous contestants might be based on their cryptic clues; and it inoculated us with the shock and terror of seeing some spooky costumes for the first time, like Gremlin and Lips. There is also a concept of Baby Alien which is not at all a full costume but rather a tiny, cute handy effects puppet. Baby Yoda better have his space lawyers keep an eye on this. Here are the 16 new characters:
It's a little more Crazy frog than Baby Yoda.
Proof that we live in a post-Asian OHaras fish mask culture.
Too many tails! Why so many tails ?!
A crocodile straight out of the Pink friday time.
You look at this broccoli and you know he laughs like Seth Rogen.
Joe Dante, I am so sorry. Quiznos-rat atmosphere.
Is this the first cottagecore Masked singer competitor?
Don't hug me, I'm afraid be like
Shes got a point; shes a legend; shes an icon; and she is the moment.
Rocky Horror Picture NO !!!
Squiggly Monster auditioned for Dr. Teeth and the Electric Mayhem and didn't get in, so now he's going solo.
Yes it is impressive, but it is is a couple costume and therefore boring.
We respect the audacity to go to Masked singers costume designer and tell them you want to be the literal sun.
Frankly sad this live-action Mulan did not have Mushu. We could have had that.
This costume looks like a statement about colonialism.