Jaya Bachchan defends entertainment industry, Twitterati overflows with memes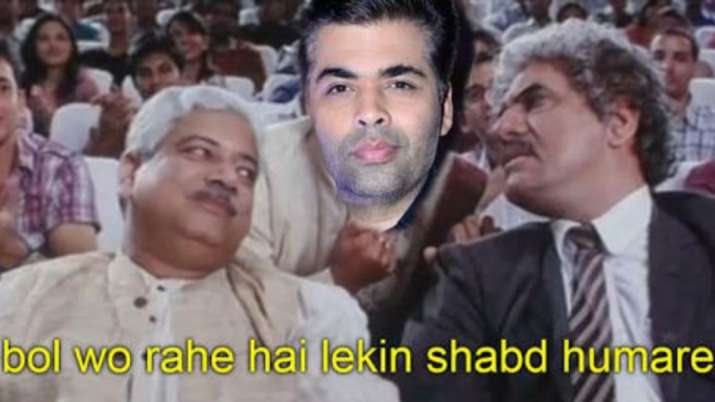 Veteran actor and Rajya Sabha MP Jaya Bachchan on Tuesday accused the movie industry of being vilified and criticized those in the entertainment industry who indulge in it, saying they bite the hands that feed them. Although Bachchan did not take any names, his remarks came a day after BJP MP Lok Sabha and Bhojpuri actor Ravi Kishan said there was a drug addiction problem in the film industry and recent remarks from actor Kangana Ranaut calling Bollywood a "gutter". Through a mention of Zero Hour to Rajya Sabha, Bachchan said the entertainment industry was being whipped up by social media and called on the government to protect and support it. As soon as his statement arrived, many Internet users began to react to his words. On the one hand, where some trolled her for standing up for the industry, there were others who shared hilarious memes.
"People who have made a name for themselves in this industry called it a gutter. I totally disagree and really disassociate myself," she said. In a reference to Kishan's statement to Lok Sabha on the alleged Bollywood drug cartel, Bachchan said she was "really embarrassed and ashamed". proverb which means to bite the hands that feed you.
Jaya ji would you say the same if in my place it was your beaten, drugged and molested daughter Shweta as a teenager, would you say the same if Abhieshek constantly complained about bullying and harassment and found herself hanged one day ? Show compassion for us too https://t.co/gazngMu2bA

Kangana Ranaut (@KanganaTeam) September 15, 2020
"I was really embarrassed and ashamed that yesterday (September 14) one of our members from Lok Sabha, which is from the industry, spoke.
I don't take names. It's a shame, "she said.
See how Twitterati reacted:
Ravi Kishan in Lok Sabah discusses drugs used in Bollywood.#JayaBachchan replied by saying jis thali mein khate usmein hi ched karte.

Everyone at Jaya ji: pic.twitter.com/ZCuPvcn04N

Sachin (@Sarcasticbf) September 15, 2020
The reason here is why #JayaBachchan is the spokesperson for Bollywood. pic.twitter.com/iszD6Qi5Kf

Rebel (@leo_rebelious) September 15, 2020
Mr. @SrBachchan & @juniorbachchan , please tell Jaya Ji that the industry does not need any protection. #JayaBachchan don't have enough backbone to talk about drug culture and casting? Jisse kamate hai, jin logo se pyaar milta hai, unhe hi dhoka dete hai. BOLLYWOOD hai gutter. pic.twitter.com/YPtQgBOEWv

Manish Srivastava (@ ManishSrv786) September 15, 2020
#KaranJohar would be like that for people after seeing #JayaBachchan statement in #RajyaSabha….. pic.twitter.com/OtvHN5mCeX

Ashutosh_Mishra (@ Ashu_real01) September 15, 2020
The Bachchans are total dodos in terms of using their social influence! An absolute waste!

I have never seen this cowardly family take a stand against any injustice before this. But of course, they will come out to ask for "protection" for the Bullywood drug cartel.#JayaBachchan https://t.co/fHeUsX2Bcp

Nehal Tyagi () (@ nehaltyagi08) September 15, 2020
#JayaBachchan gives an absurd speech.

Everyone at Amitabh: Sir, Samjao kuch.

Amitabh: pic.twitter.com/8Ws1hUxOtD

Harsh Trivedi (@harshstan) September 15, 2020
#JayaBachchan
Can someone tell him that the Bullywood is already vilified, because you have a "nepotism provider". pic.twitter.com/vaHU4Ez8KV

Panda Ashish (@ Ashishp83947647) September 15, 2020
After #JayaBachchan statement to Rajya Sabha.
Nepo kids and Bollywood gang at #JayaBachchan : pic.twitter.com/PTYvKb2Pjg

Chaitanya Kende (@ChaitanyaKende) September 15, 2020
Ms. Bachan is fighting for the so-called reputation of Bollywood.
Now we know how dirty and dirty your Druggywood is#JayaBachchan#DrugMafiaOfBollywood pic.twitter.com/5UoISPxori

SHASHI RANJAN YADAV (H SHASHIR96164735) September 15, 2020
I thought #JayaBachchan will ask for a full investigation of Sushant and the drugs used in Bollywood, but she's upset that someone called Bollywood Gutter? Shameless woman

#AllLivesMatter (@ExSecular) September 15, 2020
NCB before Sushant's case when you tell them the Bollywoodiya are using drugs. #JayaBachchan # WeStayUnited4SSR #RheaChakraborthy pic.twitter.com/Td2fI24Iho

Deepash Shukla (@sab_mein_expert) September 15, 2020
#JayaBachchan try to defend bollywood in rajyasabha
The other members are like ..)@KanganaTeam pic.twitter.com/cRlakNLGIH

Niraj Gupta (@ NirajGupta73) September 15, 2020
-With PTI inputs
For all the latest news and updates, stay tunedFacebook page
MoreBollywood storiesandimage galleries
Fight against coronavirus: full coverage
What Are The Main Benefits Of Comparing Car Insurance Quotes Online
LOS ANGELES, CA / ACCESSWIRE / June 24, 2020, / Compare-autoinsurance.Org has launched a new blog post that presents the main benefits of comparing multiple car insurance quotes. For more info and free online quotes, please visit https://compare-autoinsurance.Org/the-advantages-of-comparing-prices-with-car-insurance-quotes-online/ The modern society has numerous technological advantages. One important advantage is the speed at which information is sent and received. With the help of the internet, the shopping habits of many persons have drastically changed. The car insurance industry hasn't remained untouched by these changes. On the internet, drivers can compare insurance prices and find out which sellers have the best offers. View photos The advantages of comparing online car insurance quotes are the following: Online quotes can be obtained from anywhere and at any time. Unlike physical insurance agencies, websites don't have a specific schedule and they are available at any time. Drivers that have busy working schedules, can compare quotes from anywhere and at any time, even at midnight. Multiple choices. Almost all insurance providers, no matter if they are well-known brands or just local insurers, have an online presence. Online quotes will allow policyholders the chance to discover multiple insurance companies and check their prices. Drivers are no longer required to get quotes from just a few known insurance companies. Also, local and regional insurers can provide lower insurance rates for the same services. Accurate insurance estimates. Online quotes can only be accurate if the customers provide accurate and real info about their car models and driving history. Lying about past driving incidents can make the price estimates to be lower, but when dealing with an insurance company lying to them is useless. Usually, insurance companies will do research about a potential customer before granting him coverage. Online quotes can be sorted easily. Although drivers are recommended to not choose a policy just based on its price, drivers can easily sort quotes by insurance price. Using brokerage websites will allow drivers to get quotes from multiple insurers, thus making the comparison faster and easier. For additional info, money-saving tips, and free car insurance quotes, visit https://compare-autoinsurance.Org/ Compare-autoinsurance.Org is an online provider of life, home, health, and auto insurance quotes. This website is unique because it does not simply stick to one kind of insurance provider, but brings the clients the best deals from many different online insurance carriers. In this way, clients have access to offers from multiple carriers all in one place: this website. On this site, customers have access to quotes for insurance plans from various agencies, such as local or nationwide agencies, brand names insurance companies, etc. "Online quotes can easily help drivers obtain better car insurance deals. All they have to do is to complete an online form with accurate and real info, then compare prices", said Russell Rabichev, Marketing Director of Internet Marketing Company. CONTACT: Company Name: Internet Marketing CompanyPerson for contact Name: Gurgu CPhone Number: (818) 359-3898Email: [email protected]: https://compare-autoinsurance.Org/ SOURCE: Compare-autoinsurance.Org View source version on accesswire.Com:https://www.Accesswire.Com/595055/What-Are-The-Main-Benefits-Of-Comparing-Car-Insurance-Quotes-Online View photos
picture credit
to request, modification Contact us at Here or [email protected]