I was amazed at the length of an actor: Atanu Ghosh on Soumitra Chatterjee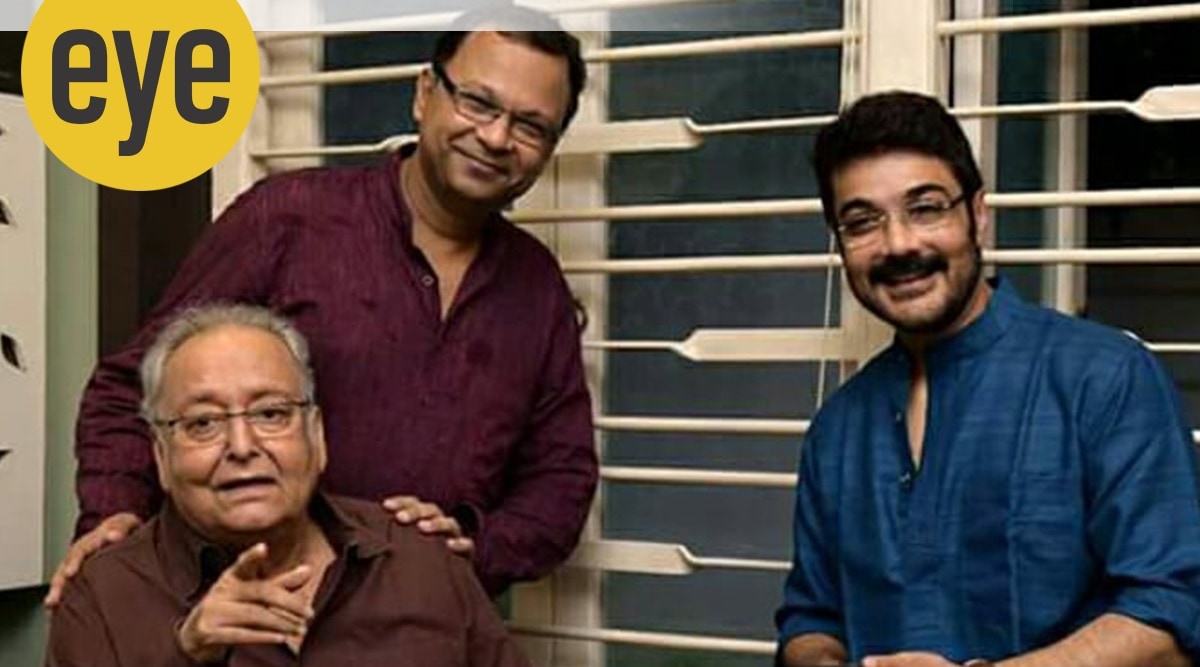 Nov. 22, 2020, 6:15 a.m.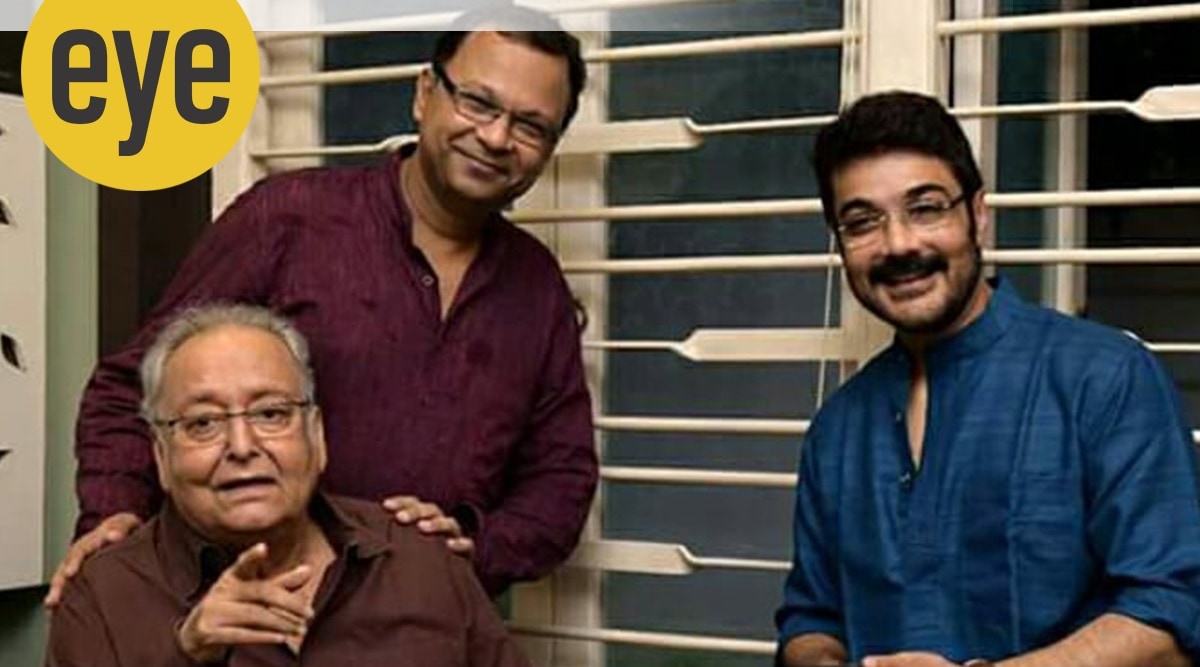 (Left to right) Soumitra Chatterjee, director Atanu Ghosh and actor Prosenjit Chatterjee during the filming of the nationally awarded movie Mayurakshi (2017)
Atanu ghosh
Cinema, theater, television all his life, Soumitra Chatterjee had to work with thousands of directors. I'm just one of them. But long before that, I'm an eternally captivated fan, one among thousands of fans but always a little different, he would smile every time I told him that. Growing up, however, I was also a die-hard Mahanayak (Uttam Kumar) fan, and knew films starring the two by heart. Soumitra Kaku was one of the two legends I lived near, the other was the renowned filmmaker Mrinal Sen. Seeing them up close would feel like you've taken over the world. I must have been in class VII or VIII when I saw him for the first time. I had gone to buy some medicine for my grandfather in my maternal uncle's neighborhood, right next to the Priya cinema. When I walked into the store, he was there right in front of me buying medicine. I saw people looking at him, but he was nonchalant. Pocketing his purchase, he drove off in his Ambassador car. Absurd, but at that point I wanted to look at myself once. Many moons later, when I got to know him well, I recounted this incident. He replied: Do you remember what medicine I bought that day? It must have been for headaches. This is often required in this area.
Since I was bitten by the cinema bug, I only had one dream, only once, I wanted to work with Soumitra Chatterjee. When God wants it, he showered in abundance. Life would have been worth it with just one movie, but over time we ended up making six four feature films and two TV movies. In the early days, my hands were shaking when I handed the scripts in Bengali to someone as knowledgeable as him. My Bengali was rusty, I told him, my roots were in Allahabad more than in Kolkata. Being careful not to embarrass me, he had a special way of what he didn't want to hear, he pretended not to have heard it. No wonder he keeps repeating that the entire film industry knew he was hearing impaired!
Chatterjee with Indrani Haldar in a still image by Angshumaner Chhobi (2009)
My date with him started in 2005, with the TV movie Asamapto. The filming location was a short walk from his Golf Green residence in South Kolkata. The first day after the lunch break, the camera stopped working. Immensely anxious, I wondered how long it would take for the replacement camera to arrive and when will I receive Soumitra Kaku, actors Kaushik Sen and Indrani Haldars reunite when the power goes out, adding to my woes. At that time he called me. When I went to see him, on the third floor, I saw that the scene had changed. The unit had settled on the balcony and sat around him as he feasted on them with anecdotes, soaked in sweat on that hot summer afternoon. I was standing at a distance and watching the scene, amazed at his zest for life, when he waved to me and said: Listen, such obstacles are natural during filming. If the director gets angry, it affects his art. Instead, listen to my PJ, it will give you relief. PJ maane jaane toh (you know what a PJ is)? A bad joke! His humor was impeccable. Once during a load shedding at his exhibition, he noted, the mood couldn't have been better to showcase amateur paintings.
Chatterjee with Radhika Apte in Rupkatha Noy (2013)
I had worked with him before, but somehow, during Mayurakshi (2017), I rediscovered him. Four days before I told him the scenario, his grandson had a terrible accident. I was hesitant, but he insisted on hearing the script on time. He had a special habit during script reading sessions, he made sketches, translating his visceral perception of the story on paper. To my surprise, this sketch would reflect the theme of the film. Being pushed, he would say, is a special way to establish a deep relationship with the character. During Angshumaner Chhobi (2009) and Rupkatha Noy (2013), he made two such lovely pencil sketches. But during Mayurakshi, he couldn't draw. He listened intently and told me later, this is your story and that of your father. Someday tell me about your father in detail. He took the time to hear about my scientist father and his insatiable curiosity for things. I was amazed at how long an actor takes to bring his character to life. Maybe this is only true for an actor of his caliber.
A still from Mayurakshi
While filming Mayurakshi, music director Debojyoti Mishra and I wanted him to sing the song Babachheler gaan instead of just reading it. He categorically refused. At his age, he has no song left in him, he said, that he turns off and is out of breath, and the film would suffer because of his attempt. I urged Debuda to sing the song for now while I tried to convince him again afterwards. Debuda was hesitant given the complexity of the composition (the ascent and descent), filming it with someone else's voice, then blackmailing Soumitra Kaku would make it even more difficult for her, he said. declared. But we had no choice. Soumitra Kaku was happy to hear the reading, how hard Debu sang, he said, and was especially thrilled that he could do a song streak after years. I saw my chance and told him that I would only keep the song a crucial streak if he sang it. Your voice is very familiar, it has its own importance, I say. He sank deep into his thoughts and remained silent. After a few days, he called me to ask if I had changed my mind. I hadn't, and he finally agreed. It was a day of celebration for us. Unfortunately, his recording was perfectly suited to the shoot. I'm still amazed at how quickly and easily he got through the difficult task. The world knew how good he was at voice acting, but that he could also create magic with music, we had no idea.
Recently, age, illness and anxiety left him feeling a little tired and brooding at times. But when he was in the mood, he was the king of kings, ready to meet everyone's demand, to share an endless supply of anecdotes, laughter and childlike exuberance. Great artists bind us in invisible bonds of affection, heal our wounds and hope that we give the same consideration to their limitations and pain as we do to their talent and intellect.
Wherever Mayurakshi has traveled, audiences have not been able to distinguish between the actual Soumitra and his on-screen characterization of Sushobhon. The incomparable credibility of his characters made many cry during the screenings. He once told me that cinema only succeeds if it creates maximum effect using minimum strokes. This unique ability to establish a spiritual relationship with his character with a little brushstroke will remain unforgettable forever. In these dark times, devoid of ideal and inspiration, he was for us the beacon of light. The light of knowledge, of feeling, of creativity. The amalgamation of so many different qualities in a human being is so rare.
No story project written with him in mind will come out of the drawer, but my search for him will continue. In a scene from Mayurakshi, he draws a window in the clouds with his hands and tells his on-screen son (Prosenjit Chatterjee), if you are feeling distressed, come and sit here. You can see me. This window is mine. All my life, I'll look at the sky, out that window, to find it over there.
Atanu Ghosh is a national award-winning filmmaker
READ ALSO | My friend, Soumitra Chatterjee
READ ALSO | If he was on stage you wouldn't look at nobody else
READ ALSO | Soumitra Chatterjee has lived a busy life beyond the screen
READ ALSO | Soumitra Chatterjee was a politically conscious artist, with his own voice
The Indian Express is now on Telegram. Click on here to join our channel (@indianexpress) and stay up to date with the latest headlines
For all the latest eye news, download Indian Express App.
The Indian Express (P) Ltd
What Are The Main Benefits Of Comparing Car Insurance Quotes Online
LOS ANGELES, CA / ACCESSWIRE / June 24, 2020, / Compare-autoinsurance.Org has launched a new blog post that presents the main benefits of comparing multiple car insurance quotes. For more info and free online quotes, please visit https://compare-autoinsurance.Org/the-advantages-of-comparing-prices-with-car-insurance-quotes-online/ The modern society has numerous technological advantages. One important advantage is the speed at which information is sent and received. With the help of the internet, the shopping habits of many persons have drastically changed. The car insurance industry hasn't remained untouched by these changes. On the internet, drivers can compare insurance prices and find out which sellers have the best offers. View photos The advantages of comparing online car insurance quotes are the following: Online quotes can be obtained from anywhere and at any time. Unlike physical insurance agencies, websites don't have a specific schedule and they are available at any time. Drivers that have busy working schedules, can compare quotes from anywhere and at any time, even at midnight. Multiple choices. Almost all insurance providers, no matter if they are well-known brands or just local insurers, have an online presence. Online quotes will allow policyholders the chance to discover multiple insurance companies and check their prices. Drivers are no longer required to get quotes from just a few known insurance companies. Also, local and regional insurers can provide lower insurance rates for the same services. Accurate insurance estimates. Online quotes can only be accurate if the customers provide accurate and real info about their car models and driving history. Lying about past driving incidents can make the price estimates to be lower, but when dealing with an insurance company lying to them is useless. Usually, insurance companies will do research about a potential customer before granting him coverage. Online quotes can be sorted easily. Although drivers are recommended to not choose a policy just based on its price, drivers can easily sort quotes by insurance price. Using brokerage websites will allow drivers to get quotes from multiple insurers, thus making the comparison faster and easier. For additional info, money-saving tips, and free car insurance quotes, visit https://compare-autoinsurance.Org/ Compare-autoinsurance.Org is an online provider of life, home, health, and auto insurance quotes. This website is unique because it does not simply stick to one kind of insurance provider, but brings the clients the best deals from many different online insurance carriers. In this way, clients have access to offers from multiple carriers all in one place: this website. On this site, customers have access to quotes for insurance plans from various agencies, such as local or nationwide agencies, brand names insurance companies, etc. "Online quotes can easily help drivers obtain better car insurance deals. All they have to do is to complete an online form with accurate and real info, then compare prices", said Russell Rabichev, Marketing Director of Internet Marketing Company. CONTACT: Company Name: Internet Marketing CompanyPerson for contact Name: Gurgu CPhone Number: (818) 359-3898Email: [email protected]: https://compare-autoinsurance.Org/ SOURCE: Compare-autoinsurance.Org View source version on accesswire.Com:https://www.Accesswire.Com/595055/What-Are-The-Main-Benefits-Of-Comparing-Car-Insurance-Quotes-Online View photos
picture credit
to request, modification Contact us at Here or [email protected]