Unpublished Bob Dylan Lyrics, Letters Sell Nearly Half a Million Dollars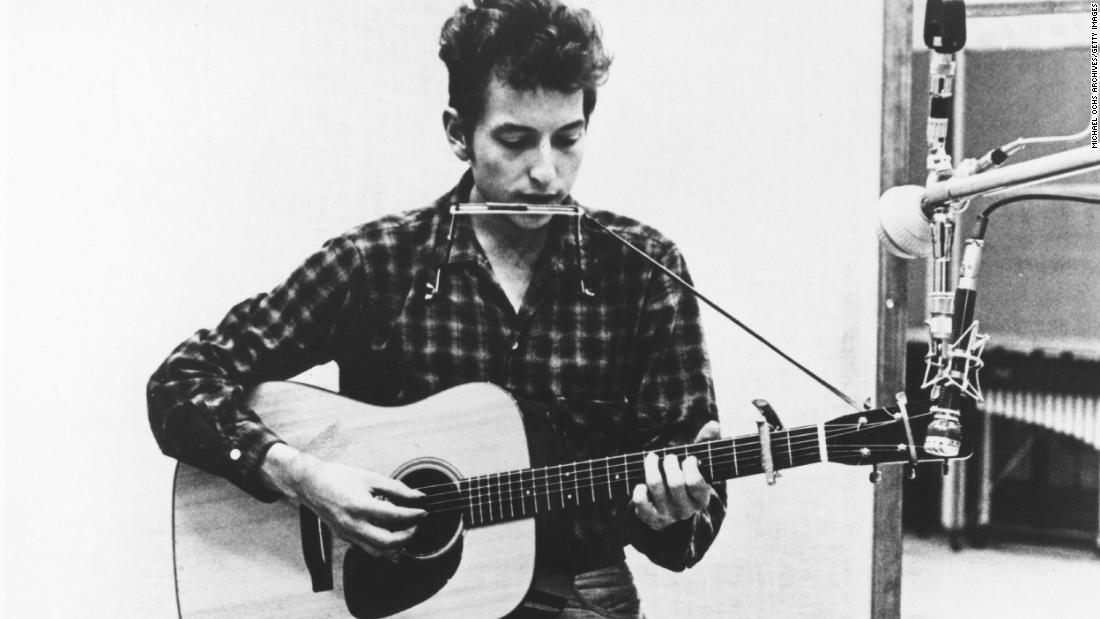 Dylan's collection of memorabilia from Glover included personal letters and transcripts of an interview conducted by Glover and hand-annotated by Dylan.
In a typed and signed letter – sent from Bearsville, New York, his manager Albert Grossman's retirement to the countryside – Dylan calls The Beatles John Lennon and Ringo Starr "groovy" after meeting them for the first time in 1964.
"… I write green songs and play words linked together … I'm out a bit free / long for nothing. john lennon groovy also ringo. holy house here something out of a fictional gandi novel "writes Dylan. "I write by candlelight. Almost never during the day / bob dylan he plays bakes at the threat of kind people in their tub / they call him names and pay outrageously just to see what he looks like … bob dylan he laughs / it's all a joke to see me in the sky. the sky is on fire … "
The letter's steady rhythm and flowing lyrical style seem to mirror the very way he approached the songwriting process in an aggressive manner, with the smashing of the typewriter's keys almost audible when reading the page. , sold for $ 36,187, "RR Auction Company said in a statement.
The lyrics for "Blowin 'in the wind", dated 2011 and signed by Dylan, fetched the highest price, $ 108,253.75,
RR Auction Company said
.
Meanwhile, unreleased lyrics written on a 1962 road trip with Glover and musician John Hammond Jr. – to see Woody Guthrie at Brooklyn State Hospital – sold for $ 38,781.
"My eyes are cracked I think I've been framed / I can't remember the sound of my name / What did you learn from it? I heard someone scream / You taught you to roll and roll up / Did he teach you to reveal, respect and repent of the blues / No Jack he taught me to sleep in my place, "Dylan wrote.
RR Auction Company said the lyrics were about Dylan's experiences with blues legend Big Joe Williams. He quoted Glover of Dylan's journey and writing in "No Direction Home" – a 2005 documentary:
"[Hammond] was driving, I was in the front seat and Bob was in the back. And at one point he started to scribble something on a piece of paper … It was like a little poem. We were talking about Big Joe Williams. Because he met Big Joe in Chicago, and I played with Big Joe Williams [too]… and I thought [the lyrics] really summed up Big Joe Williams, you know, and Bob's attitude towards him too. "
For decades, the song was believed to have been written for the 1969 film "Midnight Cowboy".
The transcriptions were
would have
for an Esquire article Glover had written, although the story was never published. in the
conversation
which took place on March 24, it's clear Dylan wrote the song for Streisand, but it wasn't necessarily her.
"You said Father of Night was written for a play and Lay Lady Lay was made for Midnight Cowboy," Glover said.
"Actually, it was written for Barbra Streisand," Dylan replied.
After the transcription was discovered, Streisand told NBC she didn't know the song was written with her in mind.
RR Auction said Glover befriended Dylan in the Minneapolis coffee shop scene. "He was one of the few city friends that Dylan kept in touch with after going to New York. Dylan dedicated his prose-poem contribution to the 1963 Newport Folk Festival program to Glover, calling it" best friend in the highest form, "RR Auction said in the release.
The auction house said its client was "delighted" with the prices obtained.
"The most satisfying result is the tribute to Tony Glover and the way the public has realized his importance in rock and roll history," Bobby Livingston, an executive with RR Auction Company, said in a statement.
What Are The Main Benefits Of Comparing Car Insurance Quotes Online
LOS ANGELES, CA / ACCESSWIRE / June 24, 2020, / Compare-autoinsurance.Org has launched a new blog post that presents the main benefits of comparing multiple car insurance quotes. For more info and free online quotes, please visit https://compare-autoinsurance.Org/the-advantages-of-comparing-prices-with-car-insurance-quotes-online/ The modern society has numerous technological advantages. One important advantage is the speed at which information is sent and received. With the help of the internet, the shopping habits of many persons have drastically changed. The car insurance industry hasn't remained untouched by these changes. On the internet, drivers can compare insurance prices and find out which sellers have the best offers. View photos The advantages of comparing online car insurance quotes are the following: Online quotes can be obtained from anywhere and at any time. Unlike physical insurance agencies, websites don't have a specific schedule and they are available at any time. Drivers that have busy working schedules, can compare quotes from anywhere and at any time, even at midnight. Multiple choices. Almost all insurance providers, no matter if they are well-known brands or just local insurers, have an online presence. Online quotes will allow policyholders the chance to discover multiple insurance companies and check their prices. Drivers are no longer required to get quotes from just a few known insurance companies. Also, local and regional insurers can provide lower insurance rates for the same services. Accurate insurance estimates. Online quotes can only be accurate if the customers provide accurate and real info about their car models and driving history. Lying about past driving incidents can make the price estimates to be lower, but when dealing with an insurance company lying to them is useless. Usually, insurance companies will do research about a potential customer before granting him coverage. Online quotes can be sorted easily. Although drivers are recommended to not choose a policy just based on its price, drivers can easily sort quotes by insurance price. Using brokerage websites will allow drivers to get quotes from multiple insurers, thus making the comparison faster and easier. For additional info, money-saving tips, and free car insurance quotes, visit https://compare-autoinsurance.Org/ Compare-autoinsurance.Org is an online provider of life, home, health, and auto insurance quotes. This website is unique because it does not simply stick to one kind of insurance provider, but brings the clients the best deals from many different online insurance carriers. In this way, clients have access to offers from multiple carriers all in one place: this website. On this site, customers have access to quotes for insurance plans from various agencies, such as local or nationwide agencies, brand names insurance companies, etc. "Online quotes can easily help drivers obtain better car insurance deals. All they have to do is to complete an online form with accurate and real info, then compare prices", said Russell Rabichev, Marketing Director of Internet Marketing Company. CONTACT: Company Name: Internet Marketing CompanyPerson for contact Name: Gurgu CPhone Number: (818) 359-3898Email: [email protected]: https://compare-autoinsurance.Org/ SOURCE: Compare-autoinsurance.Org View source version on accesswire.Com:https://www.Accesswire.Com/595055/What-Are-The-Main-Benefits-Of-Comparing-Car-Insurance-Quotes-Online View photos
picture credit
to request, modification Contact us at Here or [email protected]