Kreese's season 3 story makes it even more terrifying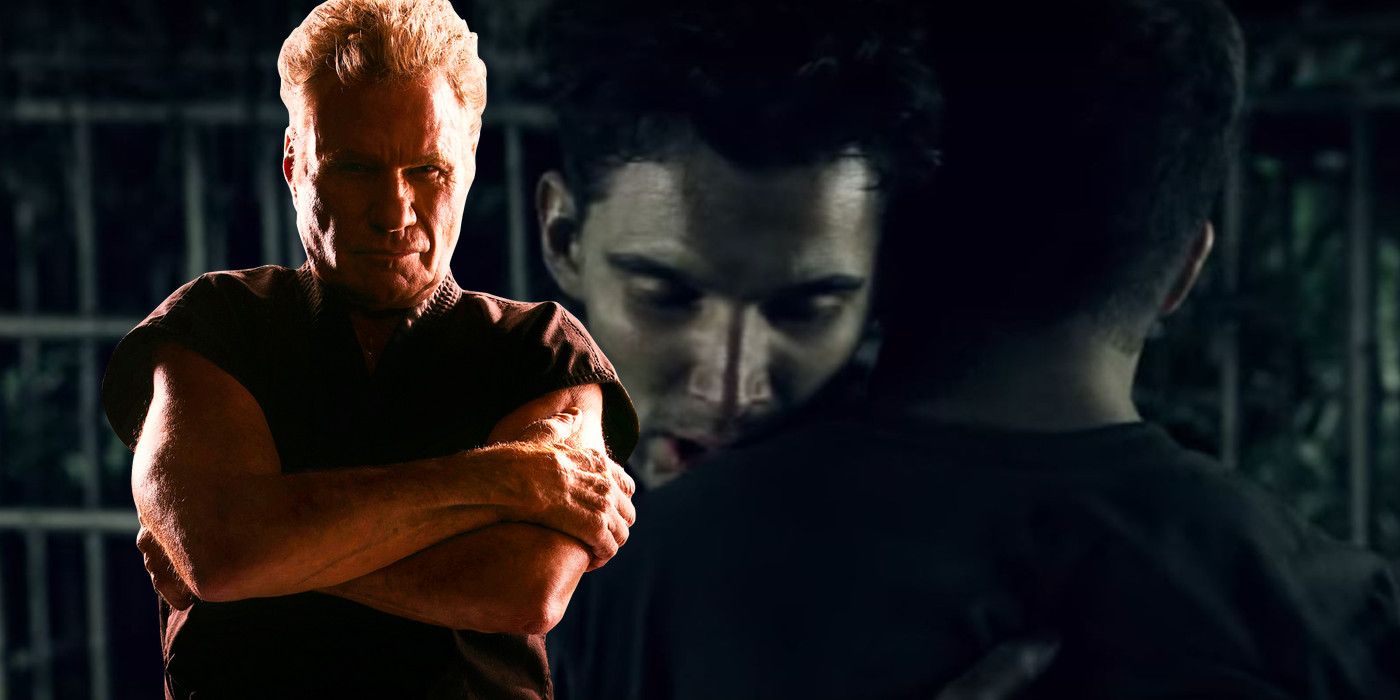 Cobra Kai Season 3 reveals new details about John Kreese's backstory but, rather than sympathetic, it makes him an even scarier villain.
Warning: SPOILERS ahead for Cobra Kai season 3.
Cobra Kai Season 3 dived into John Kreese's backstory but, rather than making him likable and setting him up for redemption, it just made him really terrifying. Played by Martin Kove, Kreese was a major antagonist in the original trilogy of The Karate Kid movies. AsCobra Kai's zealous sensei, he guided Johnny Lawrence and others through Daniel LaRusso's merciless attack in the franchise's first installment. Back alongside Terry Silver and Mike Barnes in The Karate Kid 3, he sought brutal revenge against Mr. Miyagi and Daniel-san. The plan again ended in defeat and humiliation.
Keep scrolling to keep reading
Click the button below to start this article in quick view.
John Kreese has returned once again in Cobra Kai. For a while, it seemed like he could have really changed with his homeless status (living in a men's shelter), eliciting sympathy from Johnny. However, Kreese's old habits eventually resurfaced. Having taken control of the dojo, he has poisoned a new generation to embrace his uncompromising ways. Simultaneously, flashbacks shed light on Kreese's past and the true origin of the Cobra Kai dojo's "merciless" mantra. While the new details fleshed out Kreese and made him more human, they didn't serve to make him likable or facilitate redemption. Instead, the flashbacks simply demonstrated what made him the bad guy he was and pointed out that he was, in fact, a truly terrifying individual.
Related: Cobra Kai Season 3 Ends & Season 4 Dojo War Setup Explained
For decades, John Kreese has been viewed as larger than life and, arguably, even a somewhat cartoonish villain. However, his flashbacks plunged headlong into what fueled his logic and peculiar processes. Likewise, these scenes showed how deeply rooted his methods are in serious psychological issues. At the start of the new episodes, it was revealed that he lost his mother to suicide. Meanwhile, later in Cobra Kai season 3, Young Kreese suffered another tragic loss when his girlfriend was involved in a fatal car crash. He was already fearless to the point that he was accused of having a death wish. As a result of this last death, however, he truly became a man with absolutely nothing anchoring him to his previous humanity.
Kreese had fought his whole life and his survival had always been second nature to him. It wasn't until he had lost everything, however, that he was finally able to cross the line his captain had pushed him to. In a case of poetic irony, it's letting that same captain die who completely anchored Kreese's mentality. It was that moment that sealed him that there was no common ground. Survival had to mean the absolute defeat (or death) of your enemy whether in the dojo, on the streets or in competition. contrary to The Karate Kid 2's Chozen, who had turned around, that black and white distinction remained intact and nestled even deeper into Kreese's personality.
This mentality previously seemed overdone, given the context of the films. By describing the genesis of his mental scars, however, Kreese has become a psychologically disturbed character on a much more conceivable level. Kreese's belief further solidified in the immediate consequences of rescuing Terry Silver when Kreese was caught in a brotherly embrace and incurred a lifetime debt. One of the reasons Kreese enlisted in the military was to be a hero. And, at that time, he received his wish. With this gesture, Kreese got an apparent reward for his newly ruthless demeanor and the closest thing to warmth he could possibly still feel.
Like everything else in the flashbacks, it added a deeper and more visible context this time around as to why he continually returned to teaching. Kreese longs for both the satisfaction of violence and the admiration of those who admire him. Almost like a serial killer, it was all about recreating that experience in Vietnam. He had developed a need for this hero worship. This cycle of ruthless victory followed by immense gratitude gave him a renewed purpose and a way to justify his deranged actions. It also explained why he lashed out at murders whenever he was denied such grateful loyalty. That's all he has. This is what he has lived for most of his life. And he wouldn't let anything other than death stop him. As such, even the most absurd elements of Cobra Kai – like settling violent and illegal feuds with the All-Valley karate tournament rather than the police – are now based on richly explored characterizations.
More: What To Expect From Cobra Kai Season 4
Umbrella Academy season 3 launches villains of Sparrow Academy
About the Author
What Are The Main Benefits Of Comparing Car Insurance Quotes Online
LOS ANGELES, CA / ACCESSWIRE / June 24, 2020, / Compare-autoinsurance.Org has launched a new blog post that presents the main benefits of comparing multiple car insurance quotes. For more info and free online quotes, please visit https://compare-autoinsurance.Org/the-advantages-of-comparing-prices-with-car-insurance-quotes-online/ The modern society has numerous technological advantages. One important advantage is the speed at which information is sent and received. With the help of the internet, the shopping habits of many persons have drastically changed. The car insurance industry hasn't remained untouched by these changes. On the internet, drivers can compare insurance prices and find out which sellers have the best offers. View photos The advantages of comparing online car insurance quotes are the following: Online quotes can be obtained from anywhere and at any time. Unlike physical insurance agencies, websites don't have a specific schedule and they are available at any time. Drivers that have busy working schedules, can compare quotes from anywhere and at any time, even at midnight. Multiple choices. Almost all insurance providers, no matter if they are well-known brands or just local insurers, have an online presence. Online quotes will allow policyholders the chance to discover multiple insurance companies and check their prices. Drivers are no longer required to get quotes from just a few known insurance companies. Also, local and regional insurers can provide lower insurance rates for the same services. Accurate insurance estimates. Online quotes can only be accurate if the customers provide accurate and real info about their car models and driving history. Lying about past driving incidents can make the price estimates to be lower, but when dealing with an insurance company lying to them is useless. Usually, insurance companies will do research about a potential customer before granting him coverage. Online quotes can be sorted easily. Although drivers are recommended to not choose a policy just based on its price, drivers can easily sort quotes by insurance price. Using brokerage websites will allow drivers to get quotes from multiple insurers, thus making the comparison faster and easier. For additional info, money-saving tips, and free car insurance quotes, visit https://compare-autoinsurance.Org/ Compare-autoinsurance.Org is an online provider of life, home, health, and auto insurance quotes. This website is unique because it does not simply stick to one kind of insurance provider, but brings the clients the best deals from many different online insurance carriers. In this way, clients have access to offers from multiple carriers all in one place: this website. On this site, customers have access to quotes for insurance plans from various agencies, such as local or nationwide agencies, brand names insurance companies, etc. "Online quotes can easily help drivers obtain better car insurance deals. All they have to do is to complete an online form with accurate and real info, then compare prices", said Russell Rabichev, Marketing Director of Internet Marketing Company. CONTACT: Company Name: Internet Marketing CompanyPerson for contact Name: Gurgu CPhone Number: (818) 359-3898Email: [email protected]: https://compare-autoinsurance.Org/ SOURCE: Compare-autoinsurance.Org View source version on accesswire.Com:https://www.Accesswire.Com/595055/What-Are-The-Main-Benefits-Of-Comparing-Car-Insurance-Quotes-Online View photos
picture credit
to request, modification Contact us at Here or [email protected]