Rihanna Savage X Fenty's photo and Ganesha pendant cause backlash in India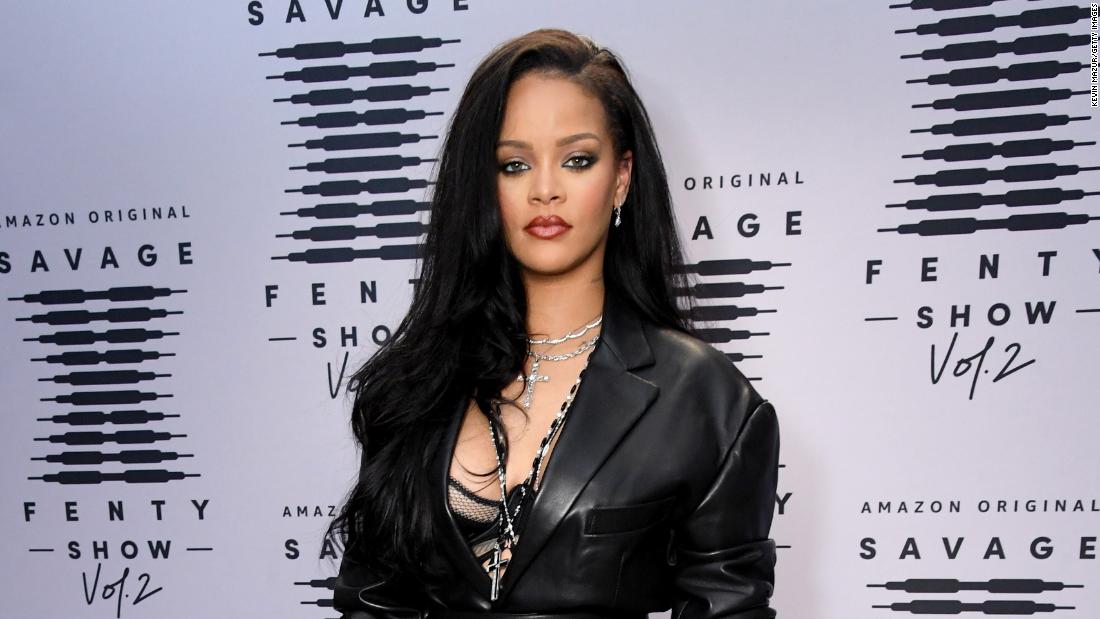 The photo, which appeared on her Twitter and Instagram accounts on Tuesday, shows the singer in lavender satin boxers from her lingerie brand Savage X Fenty. Among her matching purple jewelry is a bracelet, a large pair of earrings, and what appears to be a diamond-adorned sculpture of the elephant-headed deity – a move described as "disrespectful" by some Hindus and other social media users in India.
"You are wearing a deity necklace and a Murthi (image of a deity) from my culture which has already been sufficiently culturally appropriate in recent years," read a response to the post, loved over 5,000 times on Instagram . "How's it going when a person has more than enough resources to at least find out the meaning and significance of the chains and the pendant around their neck?"
"Can we stop sexualizing people's religion to gain weight," another commentary read. "I just don't understand the point of having a necklace with Lord Ganesh as part of a lingerie campaign." Another user, meanwhile, wrote: "Our culture is not your costume".
Not all comments are outraged, with one user stating, "I agree with you wearing this as long as you respect Hinduism." Others complimented the star's style without referring to the controversial pendant.
On Rihanna's Twitter account, the image has amassed more than 40,000 retweets. Savage X Fenty also posted the photo to Instagram, where it racked up over 345,000 likes, with the caption "Stay out of my Instagram, pure temptation".
Ganesha traditionally represents wisdom and success, and is often sought after by Hindus who are embarking on new business ventures. The production of paintings or statues of deities is widely practiced in India, and they are used to help devotees connect with the gods.
The move angered the Indian government, which issued a statement condemning "sensationalist hashtags and comments on social media, especially when used by celebrities and others."
A number of commentators have quickly linked Rihanna's decision to wear a Ganesha pendant to her stance on the protests. Lawmaker Ram Kadam, member of ruling party Bharatiya Janata (BJP), has hinted that she has now discredited her involvement in the affair.
This is not the first time in recent years that the singer and businesswoman from Barbados has been accused of cultural appropriation. In 2019, she faced backlash online after posing in Chinese clothing and ornaments for the cover of Harper's Bazaar China. The images were meant to show what happens "when the Western style icon meets Eastern aesthetics," the publication said at the time.
Savage X Fenty was subsequently criticized by some Muslims, after using a song containing sacred Islamic verses during a lingerie parade last October. The label then apologized, telling CNN at the time, "We really apologize for the song that appeared on the Savage x Fenty show. We shouldn't have used it. The vocal tracks from the song are being replaced and the show is being edited. "
Top Image: Rihanna pictured at Savage X Fenty Show Vol. 2 in October 2020.
What Are The Main Benefits Of Comparing Car Insurance Quotes Online
LOS ANGELES, CA / ACCESSWIRE / June 24, 2020, / Compare-autoinsurance.Org has launched a new blog post that presents the main benefits of comparing multiple car insurance quotes. For more info and free online quotes, please visit https://compare-autoinsurance.Org/the-advantages-of-comparing-prices-with-car-insurance-quotes-online/ The modern society has numerous technological advantages. One important advantage is the speed at which information is sent and received. With the help of the internet, the shopping habits of many persons have drastically changed. The car insurance industry hasn't remained untouched by these changes. On the internet, drivers can compare insurance prices and find out which sellers have the best offers. View photos The advantages of comparing online car insurance quotes are the following: Online quotes can be obtained from anywhere and at any time. Unlike physical insurance agencies, websites don't have a specific schedule and they are available at any time. Drivers that have busy working schedules, can compare quotes from anywhere and at any time, even at midnight. Multiple choices. Almost all insurance providers, no matter if they are well-known brands or just local insurers, have an online presence. Online quotes will allow policyholders the chance to discover multiple insurance companies and check their prices. Drivers are no longer required to get quotes from just a few known insurance companies. Also, local and regional insurers can provide lower insurance rates for the same services. Accurate insurance estimates. Online quotes can only be accurate if the customers provide accurate and real info about their car models and driving history. Lying about past driving incidents can make the price estimates to be lower, but when dealing with an insurance company lying to them is useless. Usually, insurance companies will do research about a potential customer before granting him coverage. Online quotes can be sorted easily. Although drivers are recommended to not choose a policy just based on its price, drivers can easily sort quotes by insurance price. Using brokerage websites will allow drivers to get quotes from multiple insurers, thus making the comparison faster and easier. For additional info, money-saving tips, and free car insurance quotes, visit https://compare-autoinsurance.Org/ Compare-autoinsurance.Org is an online provider of life, home, health, and auto insurance quotes. This website is unique because it does not simply stick to one kind of insurance provider, but brings the clients the best deals from many different online insurance carriers. In this way, clients have access to offers from multiple carriers all in one place: this website. On this site, customers have access to quotes for insurance plans from various agencies, such as local or nationwide agencies, brand names insurance companies, etc. "Online quotes can easily help drivers obtain better car insurance deals. All they have to do is to complete an online form with accurate and real info, then compare prices", said Russell Rabichev, Marketing Director of Internet Marketing Company. CONTACT: Company Name: Internet Marketing CompanyPerson for contact Name: Gurgu CPhone Number: (818) 359-3898Email: [email protected]: https://compare-autoinsurance.Org/ SOURCE: Compare-autoinsurance.Org View source version on accesswire.Com:https://www.Accesswire.Com/595055/What-Are-The-Main-Benefits-Of-Comparing-Car-Insurance-Quotes-Online View photos
picture credit
to request, modification Contact us at Here or [email protected]