Cruella de Vil may have become Disney's Joker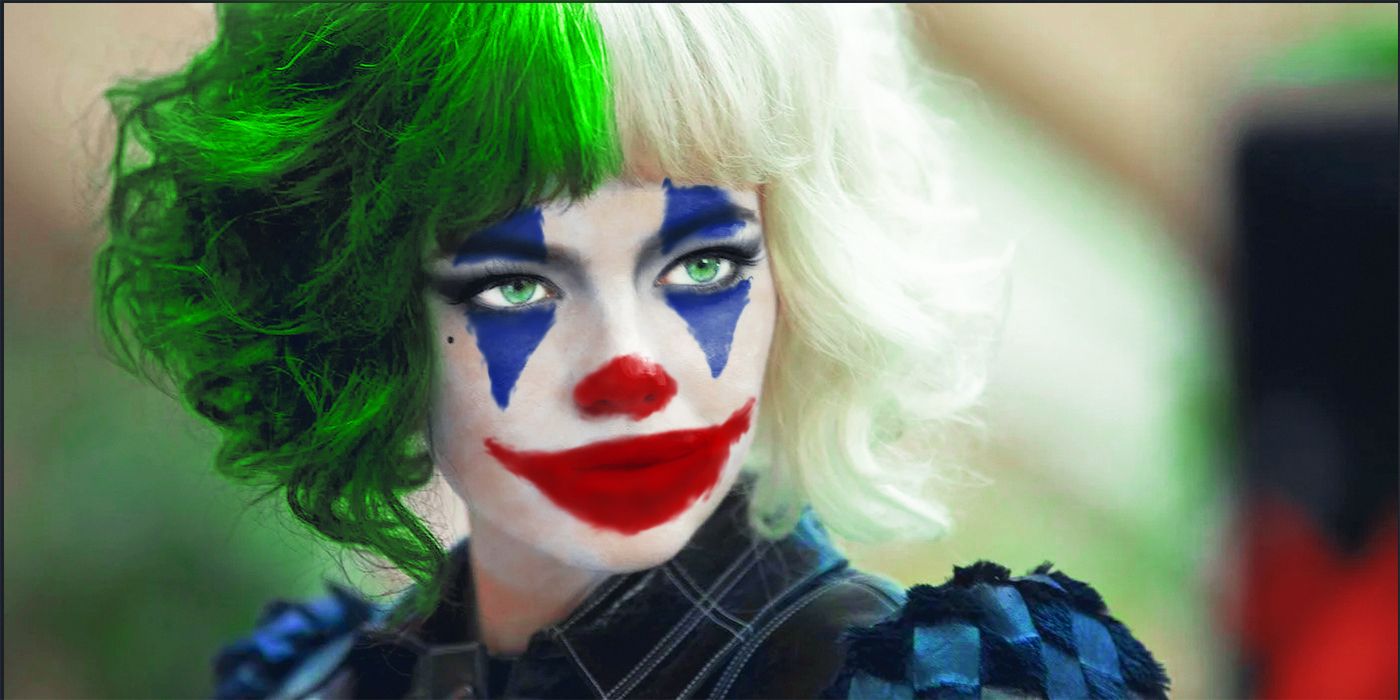 With the release of Cruella's first trailer, it's clear the future villain isn't Disney's Harley Quinn, as some suggest; she is closer to the Joker of 2019.
Following the release of the first Cruella trailer, many fans have compared his rebellious attitude to the Harley quinn movie,Birds of prey. They see Cruella de Vil's portrayal of Emma Stone as somewhat similar to Margot Robbie's Harley – breaking free from the shackles, expectations and oppression of women in society to create someone who bathes in the chaos and freedom.
However, upon closer inspection, Cruella might not be Harley at all. Instead, she could be Disney's version of the Joker.
RELATED: Batman: Three Jokers Brings Joker Movie Logic To The DC Universe
When you compare the first Todd Phillips trailer ' Jokerat Cruella's, you can see why this is a suitable link. Look and feel are almost the same. Firstly, they both have a dark, vintage aesthetic – Cruella takes place in the 70s and Joker in the early '80s. Dull cinematography aside, even the way the trailers are cut is similar. Joker had Joaquin Phoenix's Arthur Fleck, in voiceover, talking about how society mistreats people. Stone's Cruella does the same, mentioning that it is sometimes good to be bad, especially after its glow isn't fully appreciated by the powers that be.
Keep scrolling to keep reading
Click the button below to start this article in quick view.
At this point, the essences of both properties already stand out: they are about anti-establishment. Cruella is dealing with Emma Thompson's Baroness Von Hellmann, at the head of a prestigious fashion house who hires her (Estella) and who will clearly break her and transform her into Cruella. We even see her arrive at a gala and show off her new look, rejoicing at how it scares people as she goes from a redhead to her black and white hairstyle.
RELATED: Joker Slammed By David Fincher For Portraying Mental Health
It is reminiscent of Arthur turning into the Joker, bitter about how his comedy ruined him and wanting to show predatory talk show hosts like Murray Franklin. Obviously, these two up-and-coming villains are career burnt and seek revenge, along with popularity and validation. In Joker's case, he also had the wealthy Thomas Wayne in his sights, portraying him as a rebel wanting to dismantle society, starting with the elites at the top. Cruella could easily be characterized in the same way given the industry in which it operates.
In addition, we also spot Cruella's future objects of hate, the Dalmatians, which revert to Arthur playing with young Bruce Wayne in Joker. All of this creates tension and suspense. We can say that all is not well with these two individuals – they are both unstable and as their antecedents unfold, the only result is that it all goes wild.
What is also apparent is Cruella wants to humanize and make us sympathize with the villain, maybe even make her more of an antihero, a symbol reflecting the vanity and ego of the world she is in. Arthur / Joker was the same – a forgotten son who reminded us of how the poor were treated by narcissists. In that sense, both films deliver (or have the ability to deliver) relatable stories that reflect the worst aspects of modern life.
Musical choices are also the key to this parallel. As all of these scenes unfold and we get a glimpse of their travels, the Cruella the trailer is covered with "Who's Sorry Now", while Joker'suses "Smile." Obviously, these movies want us to remember that there is always someone on the verge of breaking point. All they need is a bad day to reach it. Basically, this is what separates Cruella of Harley Quinn and no longer makes her a Joker " of all ages " – she's not a prop, crutch, or slave to anyone her origin story; she is a leader who calls the shots and like the clown prince of crime. And anarchy seems to be the only way she thinks the world can be fixed.
Directed by Craig Gillespie, Cruella stars Emma Stone, Emma Thompson, Paul Walter Hauser, Joel Fry and Emily Beecham. It is set to hit theaters on May 28.
Joker stars Joaquin Phoenix, Robert De Niro, Zazie Beetz, Bill Camp, Frances Conroy, Brett Cullen, Glenn Fleshler, Douglas Hodge, Marc Maron, Josh Pais and Shea Whigham. The film is now available on Digital HD, Blu-ray, 4K UHD, DVD and HBO Max.
KEEP READING: Watchmen: Paul Greengrass Movie Reportedly Looked Like Joker
Star Wars: Rogue One's biggest plot twists – and why they mattered
About the Author
What Are The Main Benefits Of Comparing Car Insurance Quotes Online
LOS ANGELES, CA / ACCESSWIRE / June 24, 2020, / Compare-autoinsurance.Org has launched a new blog post that presents the main benefits of comparing multiple car insurance quotes. For more info and free online quotes, please visit https://compare-autoinsurance.Org/the-advantages-of-comparing-prices-with-car-insurance-quotes-online/ The modern society has numerous technological advantages. One important advantage is the speed at which information is sent and received. With the help of the internet, the shopping habits of many persons have drastically changed. The car insurance industry hasn't remained untouched by these changes. On the internet, drivers can compare insurance prices and find out which sellers have the best offers. View photos The advantages of comparing online car insurance quotes are the following: Online quotes can be obtained from anywhere and at any time. Unlike physical insurance agencies, websites don't have a specific schedule and they are available at any time. Drivers that have busy working schedules, can compare quotes from anywhere and at any time, even at midnight. Multiple choices. Almost all insurance providers, no matter if they are well-known brands or just local insurers, have an online presence. Online quotes will allow policyholders the chance to discover multiple insurance companies and check their prices. Drivers are no longer required to get quotes from just a few known insurance companies. Also, local and regional insurers can provide lower insurance rates for the same services. Accurate insurance estimates. Online quotes can only be accurate if the customers provide accurate and real info about their car models and driving history. Lying about past driving incidents can make the price estimates to be lower, but when dealing with an insurance company lying to them is useless. Usually, insurance companies will do research about a potential customer before granting him coverage. Online quotes can be sorted easily. Although drivers are recommended to not choose a policy just based on its price, drivers can easily sort quotes by insurance price. Using brokerage websites will allow drivers to get quotes from multiple insurers, thus making the comparison faster and easier. For additional info, money-saving tips, and free car insurance quotes, visit https://compare-autoinsurance.Org/ Compare-autoinsurance.Org is an online provider of life, home, health, and auto insurance quotes. This website is unique because it does not simply stick to one kind of insurance provider, but brings the clients the best deals from many different online insurance carriers. In this way, clients have access to offers from multiple carriers all in one place: this website. On this site, customers have access to quotes for insurance plans from various agencies, such as local or nationwide agencies, brand names insurance companies, etc. "Online quotes can easily help drivers obtain better car insurance deals. All they have to do is to complete an online form with accurate and real info, then compare prices", said Russell Rabichev, Marketing Director of Internet Marketing Company. CONTACT: Company Name: Internet Marketing CompanyPerson for contact Name: Gurgu CPhone Number: (818) 359-3898Email: [email protected]: https://compare-autoinsurance.Org/ SOURCE: Compare-autoinsurance.Org View source version on accesswire.Com:https://www.Accesswire.Com/595055/What-Are-The-Main-Benefits-Of-Comparing-Car-Insurance-Quotes-Online View photos
picture credit
to request, modification Contact us at Here or [email protected]