Exclusive! I would love to be in Bollywood but right now I'm happy with my show: Shivangi Joshi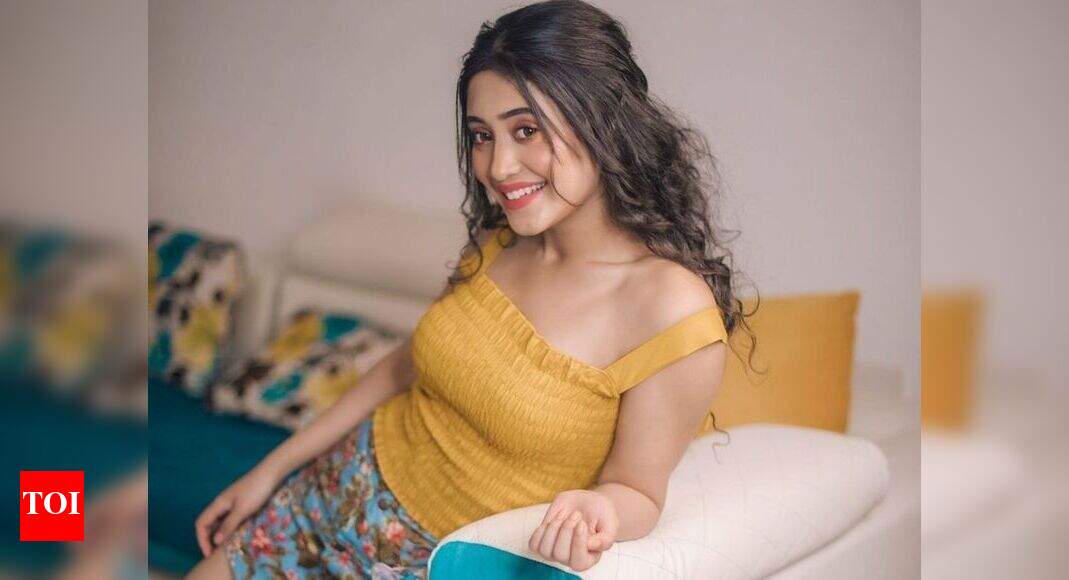 I was in Dehradun during the lockdown and ended up baking a variety of cakes for my family and trying some delicious recipes my mom taught. I come from a common family and after many years I have been fortunate enough to spend some quality time with them all. I always wanted to learn the piano, but getting it in Dehradun during the lockdown seemed difficult to me. So I learned it through an app on my phone and now I can play the piano. The forced break taught me to spend quality time with my family and myself. Now that I am working, I am often homesick. Video calls with my family are now part of my daily routine, explains Shivangi Joshi.
I've been doing the same show for almost five years but it hasn't been monotonous
Shivangi, made his television debut with Khelti Hai Zindagi Aankh Micholi (2013) and continued to do shows like Beintehaa (2013) and Begusarai (2015), has become a household name after playing the role of Naira in Yeh Rishta Kya Kehlata Hai and is now seen as Sirat, a boxer and a lookalike of Nairas. Shivangi, who has been associated with the show for almost five years, thinks it's common that after a while it can get monotonous, but it all depends on how the actor sees things. Fortunately, there wasn't a single day that I felt like doing the same character over and over again or overwhelmingly. Every day I learn something new and it has helped me to perfect my art.
His chemistry with his co-star Mohsin Khan has been talked about and loved by audiences often over the years. Speaking of their chemistry, she says, it's really great to be loved even after so many years. Mohsin is a conscientious professional and that really makes it easier for us. While we both have incredible understanding and a great friendship that often translates to onscreen, it's also the script that has been a catalyst here.
Whether on TV or Bollywood, the script should be interesting

Many actors in the past have made the transition from television to Bollywood. Ask Shivangi about her Bollywood plans and she quickly says, I would love to be a part of Bollywood but not anytime soon. Right now, YRKKH is keeping me very happy and satisfied in a creative way. I would take the plunge when I was mentally ready and the script was engaging.

Learning boxing was a big help to me, ab simple muscles bhi ban gaye hai


The actress, who is currently considered a boxer in the series, believes that playing any type of sport can help us stay in shape both physically and mentally. Shivangi says, I have always been in yoga but due to my busy work schedule, I was not regular. But since I started boxing I feel energetic all day long and it has helped me a lot. Initially, I practiced 3-4 hours a day, but now I do it three times a week for an hour. It made me energetic, alert, fitter and
ab simple muscles bhi ban gaye hai (Laughs). Did she also make any changes to her diet? She says: I'm a foodie and love gorging on chaats, donuts, panipuri and spicy noodles. However, I started to eat more consciously and increased my protein intake and my carbohydrate intake was slow. I also enjoy my cheating days to the fullest.
Social media is great, but an actor needs to know where to draw the line

For many actors, social media has become a very handy tool during the lockdown. But Shivangi believes that an actor should use social media to encourage and inspire people. I think social media is a great tool because you can connect with your fans and should be used in a positive way to inspire people around. However, spending too much time on social media and being constantly available can be emotionally draining. So you have to know where to draw the line.
On mental health, Shivangi says: Lockdown has made us realize that our mental health needs care as a backbone in every stage and phase of life. With so much going on around us, we need to pay attention to how we are feeling mentally and emotionally and take the necessary help when needed. Speaking of her de-stressing mantra, she says: After a stressful and hectic day, I meditate, talk to family or friends, or dance as I please.
What Are The Main Benefits Of Comparing Car Insurance Quotes Online
LOS ANGELES, CA / ACCESSWIRE / June 24, 2020, / Compare-autoinsurance.Org has launched a new blog post that presents the main benefits of comparing multiple car insurance quotes. For more info and free online quotes, please visit https://compare-autoinsurance.Org/the-advantages-of-comparing-prices-with-car-insurance-quotes-online/ The modern society has numerous technological advantages. One important advantage is the speed at which information is sent and received. With the help of the internet, the shopping habits of many persons have drastically changed. The car insurance industry hasn't remained untouched by these changes. On the internet, drivers can compare insurance prices and find out which sellers have the best offers. View photos The advantages of comparing online car insurance quotes are the following: Online quotes can be obtained from anywhere and at any time. Unlike physical insurance agencies, websites don't have a specific schedule and they are available at any time. Drivers that have busy working schedules, can compare quotes from anywhere and at any time, even at midnight. Multiple choices. Almost all insurance providers, no matter if they are well-known brands or just local insurers, have an online presence. Online quotes will allow policyholders the chance to discover multiple insurance companies and check their prices. Drivers are no longer required to get quotes from just a few known insurance companies. Also, local and regional insurers can provide lower insurance rates for the same services. Accurate insurance estimates. Online quotes can only be accurate if the customers provide accurate and real info about their car models and driving history. Lying about past driving incidents can make the price estimates to be lower, but when dealing with an insurance company lying to them is useless. Usually, insurance companies will do research about a potential customer before granting him coverage. Online quotes can be sorted easily. Although drivers are recommended to not choose a policy just based on its price, drivers can easily sort quotes by insurance price. Using brokerage websites will allow drivers to get quotes from multiple insurers, thus making the comparison faster and easier. For additional info, money-saving tips, and free car insurance quotes, visit https://compare-autoinsurance.Org/ Compare-autoinsurance.Org is an online provider of life, home, health, and auto insurance quotes. This website is unique because it does not simply stick to one kind of insurance provider, but brings the clients the best deals from many different online insurance carriers. In this way, clients have access to offers from multiple carriers all in one place: this website. On this site, customers have access to quotes for insurance plans from various agencies, such as local or nationwide agencies, brand names insurance companies, etc. "Online quotes can easily help drivers obtain better car insurance deals. All they have to do is to complete an online form with accurate and real info, then compare prices", said Russell Rabichev, Marketing Director of Internet Marketing Company. CONTACT: Company Name: Internet Marketing CompanyPerson for contact Name: Gurgu CPhone Number: (818) 359-3898Email: [email protected]: https://compare-autoinsurance.Org/ SOURCE: Compare-autoinsurance.Org View source version on accesswire.Com:https://www.Accesswire.Com/595055/What-Are-The-Main-Benefits-Of-Comparing-Car-Insurance-Quotes-Online View photos
picture credit
to request, modification Contact us at Here or [email protected]