Nyay The Justice actor Zuber K Khan says film is not a Sushant Singh Rajput biopic, but a "tribute"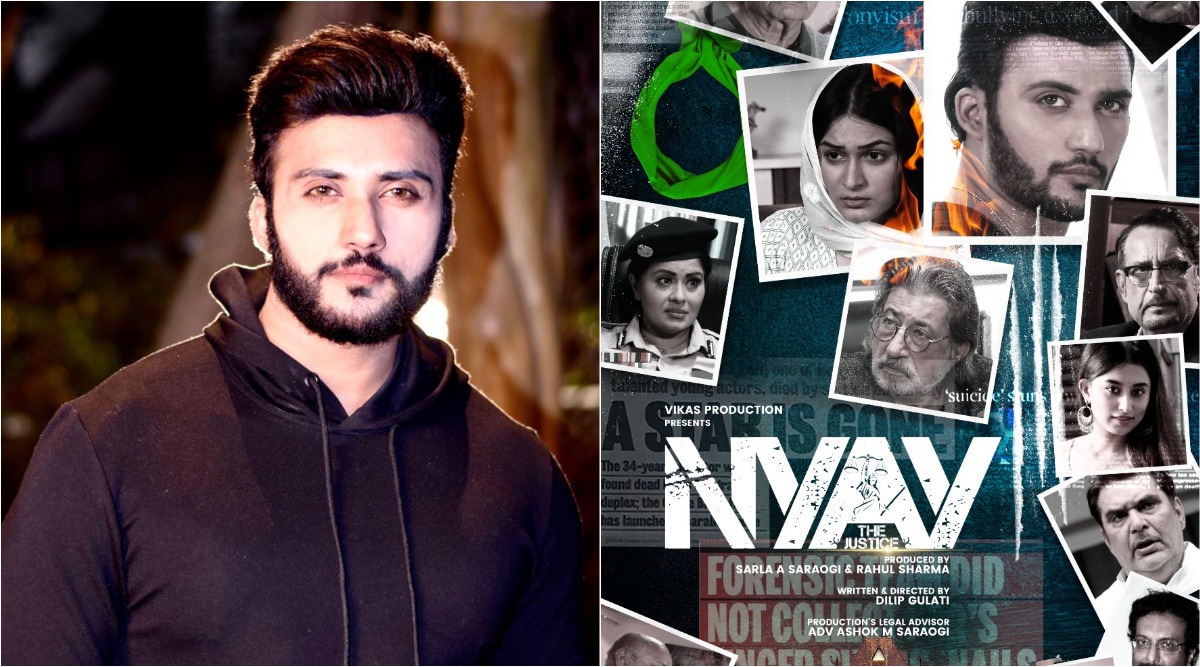 The Delhi High Court on Thursday refused to suspend the release of Nyay: justice, which is said to be based on the death of Bollywood actor Sushant Singh Rajput. The plea was filed by the late actor's father, KK Singh, who requested a suspension of several films shot after his death. Singh had said in his plea that the films "took advantage of the situation" and "tried to seize this opportunity for ulterior motives".
Welcoming the verdict in favor of the film, its lead actor Zuber K Khan said he was waiting for audiences to watch the film. The trailer for Nyay: The Justice was released on Friday, days before the first anniversary of the actor's death. While featuring veterans like Asrani, Shakti Kapoor and Sudha Chandran, it seemed like poor work, with the worst grisly media coverage in the aftermath of Sushant's death finding a place in it.
In an exclusive conversation with indianexpress.com, Zuber was however careful to say that the film is not a biopic about Sushant but an inspired story from his life. The actor also added that he has felt miserable since the film's release was blocked due to the affair, as he sees the project as a tribute to Sushant Singh Rajput.
"It was very disappointing for me, I even cried several times. There was so much backlash, but I want to tell people that I was her fan. And that was my way of paying homage to the actor. There is no personal agenda for me or anyone to make this film. I was really confused the whole time and now that the film has been given the green light, I can't wait for people to watch the film, "Zuber added.
The Naagin actor said he has known Sushant Singh Rajput for years and they even trained together. "He was the one who taught me martial arts. I was pretty close to him, but once he moved we lost contact over the years, "Zuber said, adding that he was devastated by the actor's death. "I could do. I think I manifested this film towards myself. I didn't even try to copy it but I used my acting to pay homage to it," he added. .
Zuber Khan explained that Sushant's manager's attorney produced Nyay: The Justice, so he was confident they wouldn't try to paint him in a negative tone. "I took the time to say yes because I didn't want anything bad or negative to be projected. If the film is very close to reality, it was inspired by his life and is not based on a single controversy. It's about this man's journey, from a stranger to fame as a TV actor, and then becoming a star. There is no big reveal because the public already knows this story, it's all there in the public domain.
The actor shared that filming the film was a difficult time for him and that he often breaks down. "As an actor, I could relate to travel and emotions. Whether it's Sushant or Mahendra Singh in the movie and even me, we've all seen our ups and downs and reliving it on screen has been a tough time. I had goosebumps as I articulated the dialogues. And the death scene definitely moved me, "he added.
"We are not trying to make a statement, the law is there for that. As for our movie, it's a commercial and entertaining movie with romance, thrill, and even song and dance. I would ask everyone to watch it before judging us. Each of us has worked hard on this, "he added.
On a final note, the actor said that while the team wants to release the film in theaters, in case they remain closed, they could have a digital release.
What Are The Main Benefits Of Comparing Car Insurance Quotes Online
LOS ANGELES, CA / ACCESSWIRE / June 24, 2020, / Compare-autoinsurance.Org has launched a new blog post that presents the main benefits of comparing multiple car insurance quotes. For more info and free online quotes, please visit https://compare-autoinsurance.Org/the-advantages-of-comparing-prices-with-car-insurance-quotes-online/ The modern society has numerous technological advantages. One important advantage is the speed at which information is sent and received. With the help of the internet, the shopping habits of many persons have drastically changed. The car insurance industry hasn't remained untouched by these changes. On the internet, drivers can compare insurance prices and find out which sellers have the best offers. View photos The advantages of comparing online car insurance quotes are the following: Online quotes can be obtained from anywhere and at any time. Unlike physical insurance agencies, websites don't have a specific schedule and they are available at any time. Drivers that have busy working schedules, can compare quotes from anywhere and at any time, even at midnight. Multiple choices. Almost all insurance providers, no matter if they are well-known brands or just local insurers, have an online presence. Online quotes will allow policyholders the chance to discover multiple insurance companies and check their prices. Drivers are no longer required to get quotes from just a few known insurance companies. Also, local and regional insurers can provide lower insurance rates for the same services. Accurate insurance estimates. Online quotes can only be accurate if the customers provide accurate and real info about their car models and driving history. Lying about past driving incidents can make the price estimates to be lower, but when dealing with an insurance company lying to them is useless. Usually, insurance companies will do research about a potential customer before granting him coverage. Online quotes can be sorted easily. Although drivers are recommended to not choose a policy just based on its price, drivers can easily sort quotes by insurance price. Using brokerage websites will allow drivers to get quotes from multiple insurers, thus making the comparison faster and easier. For additional info, money-saving tips, and free car insurance quotes, visit https://compare-autoinsurance.Org/ Compare-autoinsurance.Org is an online provider of life, home, health, and auto insurance quotes. This website is unique because it does not simply stick to one kind of insurance provider, but brings the clients the best deals from many different online insurance carriers. In this way, clients have access to offers from multiple carriers all in one place: this website. On this site, customers have access to quotes for insurance plans from various agencies, such as local or nationwide agencies, brand names insurance companies, etc. "Online quotes can easily help drivers obtain better car insurance deals. All they have to do is to complete an online form with accurate and real info, then compare prices", said Russell Rabichev, Marketing Director of Internet Marketing Company. CONTACT: Company Name: Internet Marketing CompanyPerson for contact Name: Gurgu CPhone Number: (818) 359-3898Email: [email protected]: https://compare-autoinsurance.Org/ SOURCE: Compare-autoinsurance.Org View source version on accesswire.Com:https://www.Accesswire.Com/595055/What-Are-The-Main-Benefits-Of-Comparing-Car-Insurance-Quotes-Online View photos
picture credit
to request, modification Contact us at Here or [email protected]