Zoe Saldaa on Red Carpet Fashion and Her Adidas Collection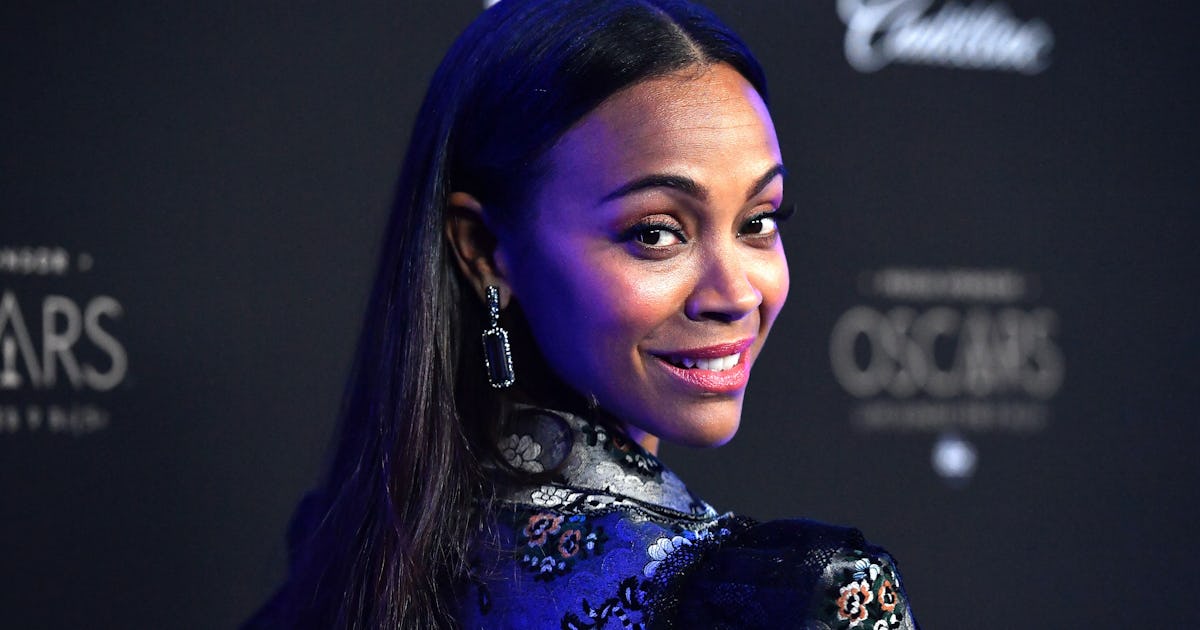 Zoe Saldaa hasn't let go of her sweatpants yet.
During the pandemic, I definitely became more casual in my everyday attire while my family and I were at home, the 43-year-old actress and producer told Bustle. Leggings, t-shirts and sneakers have made countless appearances. We've all gotten so used to being comfortable on a regular basis that I honestly think it's all here to stay.
Additionally, as a mother of three young boys under the age of six, Saldaa finds athleisure makes the transition from playground to dinner easier.
Since sportswear and loungewear are a permanent part of her wardrobe, it is only fair that she designed a few trendy but functional pieces. She teamed up with Adidas to bring her vision for everyday wear to life: think leggings with abstract, graphic prints and zip-up track jackets in cool blue tones for fall.
This collaboration really incorporates everything I had hoped for, says Saldaa of the collection, which launched on July 16 in Kohls. My goal is for the line to be not only accessible to all women, but also to make them feel comfortable, confident and beautiful.
Saldaa says she loved the creative process from start to finish, and loved working with different moodboards and color palettes to capture the essence of the collection, which is to look great while multitasking on the go.
I remember going to a business meeting at the park with my kids, she said. And running with my little ones, I remember thinking: Yes, that's why moms need versatile pieces! We don't have time to switch between work and being a mom.
Here, Saldaa talks about her favorite sportswear trends, her athletic look, and her tip for getting ready for a red carpet.
What sportswear trends are you wearing the most right now? On the other hand, which trends don't you really like?
I really like high waisted tights. Whether I'm on the set, traveling, or at home with my family, they're always a must-have because they're versatile and comfortable. Sportswear is great for my busy days and can be super stylish too, so I have no complaints. There isn't an athleisure trend that I don't like.
What's your favorite look for going to the gym in style?
Definitely involve sweatpants, Puremotion sneakers, and a long sleeve top. I like [outfit] because it's comfortable, easy and allows for a touch of color.
We only include products that have been independently selected by the Bustle editorial team. However, we may receive a portion of the sales if you purchase a product through a link in this article.
How would you describe your personal style at the moment?
I love the bright colors, flowing silhouettes and bold prints. In the new collection, I especially like the bright colors and prints on tights, capris and sweatshirts. It's like I'm wearing works of art.
Do you have any tips for red carpet emergencies and how to avoid wardrobe accidents?
I always try to be as prepared as possible before hitting the red carpet by testing my outfits and asking all the questions. Can I walk in it? Do i feel better? Does everything fit correctly? If he can pass these tests, I try to completely embrace the look and work on him!
What are your predictions for the future of red carpet fashion?
Red carpet fashion will see people taking a lot of risk with fun and refreshing looks. After all the time spent indoors, even though sportswear has become a staple, there is always something exciting about dressing and expressing yourself through fashion. Lots of people have even redefined their personal style during downtime, so they've had some fun during awards season and beyond.
Would you ever wear athletic clothes on the red carpet?
Everyone should wear what they feel best [in], not only on the red carpet but every day. I love expressing myself and trying new looks so yeah I think I would! I love to wear sneakers with a dress, wear active dresses, and would love to pair a track jacket on a red carpet piece.
Sources
2/ https://www.bustle.com/style/zoe-saldana-red-carpet-fashion-adidas-collection
The mention sources can contact us to remove/changing this article
What Are The Main Benefits Of Comparing Car Insurance Quotes Online
LOS ANGELES, CA / ACCESSWIRE / June 24, 2020, / Compare-autoinsurance.Org has launched a new blog post that presents the main benefits of comparing multiple car insurance quotes. For more info and free online quotes, please visit https://compare-autoinsurance.Org/the-advantages-of-comparing-prices-with-car-insurance-quotes-online/ The modern society has numerous technological advantages. One important advantage is the speed at which information is sent and received. With the help of the internet, the shopping habits of many persons have drastically changed. The car insurance industry hasn't remained untouched by these changes. On the internet, drivers can compare insurance prices and find out which sellers have the best offers. View photos The advantages of comparing online car insurance quotes are the following: Online quotes can be obtained from anywhere and at any time. Unlike physical insurance agencies, websites don't have a specific schedule and they are available at any time. Drivers that have busy working schedules, can compare quotes from anywhere and at any time, even at midnight. Multiple choices. Almost all insurance providers, no matter if they are well-known brands or just local insurers, have an online presence. Online quotes will allow policyholders the chance to discover multiple insurance companies and check their prices. Drivers are no longer required to get quotes from just a few known insurance companies. Also, local and regional insurers can provide lower insurance rates for the same services. Accurate insurance estimates. Online quotes can only be accurate if the customers provide accurate and real info about their car models and driving history. Lying about past driving incidents can make the price estimates to be lower, but when dealing with an insurance company lying to them is useless. Usually, insurance companies will do research about a potential customer before granting him coverage. Online quotes can be sorted easily. Although drivers are recommended to not choose a policy just based on its price, drivers can easily sort quotes by insurance price. Using brokerage websites will allow drivers to get quotes from multiple insurers, thus making the comparison faster and easier. For additional info, money-saving tips, and free car insurance quotes, visit https://compare-autoinsurance.Org/ Compare-autoinsurance.Org is an online provider of life, home, health, and auto insurance quotes. This website is unique because it does not simply stick to one kind of insurance provider, but brings the clients the best deals from many different online insurance carriers. In this way, clients have access to offers from multiple carriers all in one place: this website. On this site, customers have access to quotes for insurance plans from various agencies, such as local or nationwide agencies, brand names insurance companies, etc. "Online quotes can easily help drivers obtain better car insurance deals. All they have to do is to complete an online form with accurate and real info, then compare prices", said Russell Rabichev, Marketing Director of Internet Marketing Company. CONTACT: Company Name: Internet Marketing CompanyPerson for contact Name: Gurgu CPhone Number: (818) 359-3898Email: [email protected]: https://compare-autoinsurance.Org/ SOURCE: Compare-autoinsurance.Org View source version on accesswire.Com:https://www.Accesswire.Com/595055/What-Are-The-Main-Benefits-Of-Comparing-Car-Insurance-Quotes-Online View photos
to request, modification Contact us at Here or [email protected]