How a village boy became a fashion sensation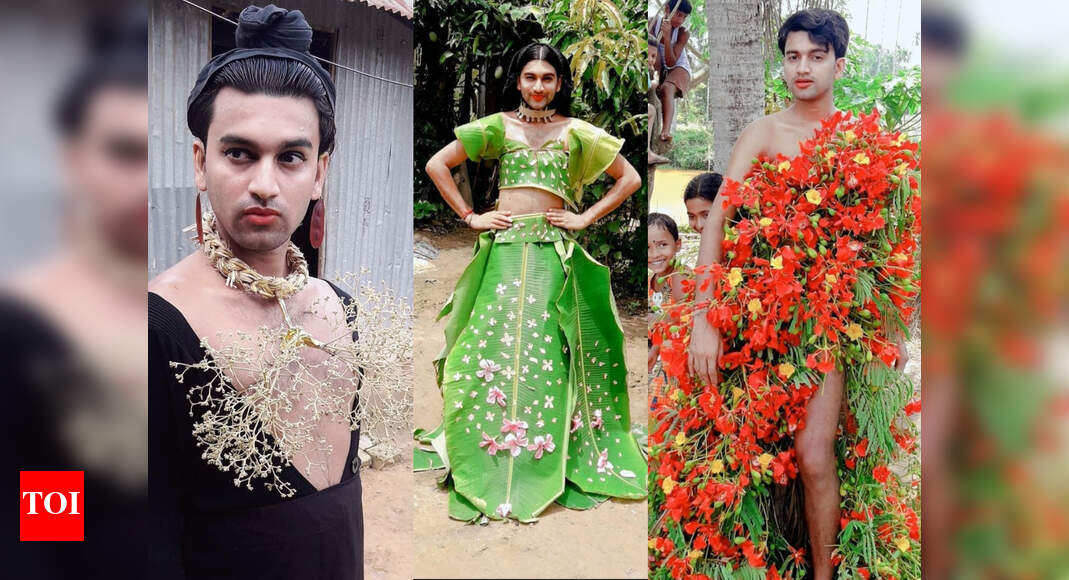 Sarbajit Sarkar aka Neel Ranaut, 26, became a village fashion influencer by recreating celebrity styles using natural and free things.
He has done hundreds of these fashion parodies ranging from Bollywood actors to Hollywood models, he has recreated each supercharged look with his own twist. In an interview with ETimes, when asked how he started to create such daring social media content, he replied that I have wanted to do something extraordinary and groundbreaking since I was a child. In my village, based in Tripura, it is common for people to follow societal norms and study and then do regular 9 to 5 hour work.
He continued: In 2018, I started making TikTok videos. I used to recreate ads like lux and Lakme ads, but after coming to Instagram I started to explore more. I've been coming to my village from college to create these fashion parodies and the very first fashion parody that influenced me was Deepika Padukones' green dress (lime green puffy dress at the 2019 Grazia Millennial Awards) that was trolled all over the internet . I used banana leaves for the outfit and did my first breakthrough fashion parody. Then my social media journey started when I started to recreate more styles of celebrities online using things that are natural, durable, and at home.
In 2020, Neel Ranaut, who is also apparently a huge Kangana Ranaut fan, found his very first inspiration for his fashion parody journey from Abu Jani and Sandeep Khosla, the extravagant and eclectic Indian fashion designers. He said, I was not always confident about this concept and my designs. I was afraid to face prejudice and criticism. At first, my family did not support me either but in 2020, Sandeep Khosla sir complimented me on one of my creations and it not only inspired me but also gave me the support of my family.
Neel recently recreated Bella Hadids Cannes' golden lungs look with things that are absolutely recyclable and don't cost her a dime. He recreated the golden lungs using a golden spray painted tree branch tied to a circular jute rope. He also recreated Zendayas 2019 Lancme, red ruffles using natural red flowers and his mother's petticoat. He wondered why shouldn't he use items already available in his home to create these looks. He looked for things that can be recycled or inexpensive, essentially readily available materials like leaves, flowers, his grandmother's sari, his mother's petticoat and socks, t-shirts from his father, he's literally looking for anything to create his fashion parody.
Even though this village fashion influencer is determined and relentless with his impeccable ideas and designs, there are still people who despise him. He said: My family started supporting me in 2020 but not the people in my village. They say I have no future and I only shame mine and their names. My village also has people who are primitive and stubborn and who wanted me to pursue normal jobs which are more acceptable in this society. My villagers have never respected my work, but I don't let them destroy my will or undermine my concentration.
He continued, people will wear whatever they want, not everyone needs to like my job but that shouldn't stop me from expressing my true self.
People don't want to easily understand the extraordinary things in our world. Doing something outside the norm is considered abnormal or crazy by a very large part of our population. There will be people all around this universe ready to take you down, but all you need is to be confident in who you are and what you want to become.
He concluded by saying that he wants to inspire people to follow their passion. He said, I want people to think that if a boy from the village can do that, then why can't I.
By Navya Mittal
Sources
2/ https://timesofindia.indiatimes.com/life-style/fashion/buzz/a-village-boy-becomes-a-fashion-parody-sensation-on-instagram/articleshow/84869751.cms
The mention sources can contact us to remove/changing this article
What Are The Main Benefits Of Comparing Car Insurance Quotes Online
LOS ANGELES, CA / ACCESSWIRE / June 24, 2020, / Compare-autoinsurance.Org has launched a new blog post that presents the main benefits of comparing multiple car insurance quotes. For more info and free online quotes, please visit https://compare-autoinsurance.Org/the-advantages-of-comparing-prices-with-car-insurance-quotes-online/ The modern society has numerous technological advantages. One important advantage is the speed at which information is sent and received. With the help of the internet, the shopping habits of many persons have drastically changed. The car insurance industry hasn't remained untouched by these changes. On the internet, drivers can compare insurance prices and find out which sellers have the best offers. View photos The advantages of comparing online car insurance quotes are the following: Online quotes can be obtained from anywhere and at any time. Unlike physical insurance agencies, websites don't have a specific schedule and they are available at any time. Drivers that have busy working schedules, can compare quotes from anywhere and at any time, even at midnight. Multiple choices. Almost all insurance providers, no matter if they are well-known brands or just local insurers, have an online presence. Online quotes will allow policyholders the chance to discover multiple insurance companies and check their prices. Drivers are no longer required to get quotes from just a few known insurance companies. Also, local and regional insurers can provide lower insurance rates for the same services. Accurate insurance estimates. Online quotes can only be accurate if the customers provide accurate and real info about their car models and driving history. Lying about past driving incidents can make the price estimates to be lower, but when dealing with an insurance company lying to them is useless. Usually, insurance companies will do research about a potential customer before granting him coverage. Online quotes can be sorted easily. Although drivers are recommended to not choose a policy just based on its price, drivers can easily sort quotes by insurance price. Using brokerage websites will allow drivers to get quotes from multiple insurers, thus making the comparison faster and easier. For additional info, money-saving tips, and free car insurance quotes, visit https://compare-autoinsurance.Org/ Compare-autoinsurance.Org is an online provider of life, home, health, and auto insurance quotes. This website is unique because it does not simply stick to one kind of insurance provider, but brings the clients the best deals from many different online insurance carriers. In this way, clients have access to offers from multiple carriers all in one place: this website. On this site, customers have access to quotes for insurance plans from various agencies, such as local or nationwide agencies, brand names insurance companies, etc. "Online quotes can easily help drivers obtain better car insurance deals. All they have to do is to complete an online form with accurate and real info, then compare prices", said Russell Rabichev, Marketing Director of Internet Marketing Company. CONTACT: Company Name: Internet Marketing CompanyPerson for contact Name: Gurgu CPhone Number: (818) 359-3898Email: [email protected]: https://compare-autoinsurance.Org/ SOURCE: Compare-autoinsurance.Org View source version on accesswire.Com:https://www.Accesswire.Com/595055/What-Are-The-Main-Benefits-Of-Comparing-Car-Insurance-Quotes-Online View photos
to request, modification Contact us at Here or [email protected]