15 Holiday Dresses You'll Shine This Christmas Season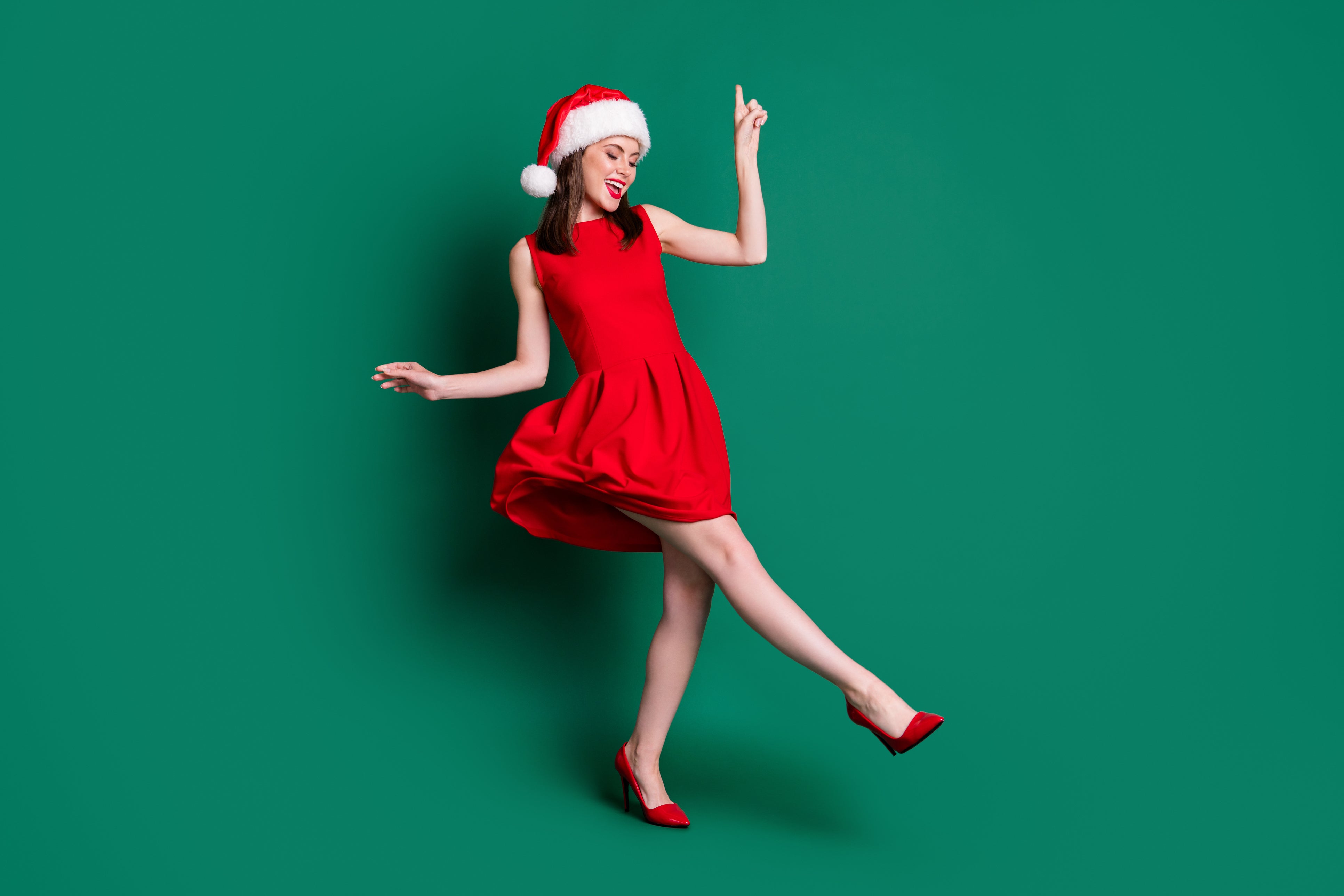 It's been a few years since we've been able to properly celebrate the holidays in person, but if you're collecting the Christmas party invitations this year, it's time to show up and show yourself in a new dress.
Below are some of our favorite festive clothing deals available this year, from those featuring classic elements like red or green velvet, to glittery minis designed to show off after dark. Take a look, add a few to your favorites, and see which Christmas party dress is perfect to help you look fabulous as you make your long-awaited return to holiday gatherings.
Kenya mini dress
Let's start with a classic LBD, updated with a one-shoulder shape and a slanted hem to add intrigue. It hugs all the right curves, looks appropriate yet sexy in various situations, and you can wear it for years thanks to its versatility and style.
Velvet sweetheart dress
Few fabrics are more festive than gold velvet, and this one has the added benefits of a flowy skirt and flattering sweetheart neckline. The real asset here is the price: Buy now during the Forever 21s Black Friday sale and you'll pay less than $ 20!
Hell Bunny Plus Size Black & Gold Star Infinity Flare Dress
Unique Vintage has so many gorgeous dresses that it's hard to determine what we want to suggest the most. This shimmering celestial number is at the top, however, with its beautifully flowing silhouette and delicate, sheer layering. It comes in a wide array of sizes and flatters all body types by cinching at the waist and providing bust support.
Sure To Be Splendid A-Line Dress
Retro-inspired and perfectly suited for a cozy gathering at home, this plaid dress will bring back nostalgic memories of Christmases long ago and will be divine when you pose in front of the tree for a photo.
Brand New You Gold Sequin Bodycon Mini Dress
A simple shape, plunging neckline and gold sequins are all you need to be the star of the party. This dress ticks all those boxes, throws in a trendy puff sleeve, and at less than $ 100 we have a winner.
Imani glitter knit jumpsuit
Forget the dress and wear a sparkly pantsuit instead if you're in the mood for a change this year. The glittery fabric and dark red hue will shine like a beacon in the night, and you never have to worry about your skirt blowing away in the strong winter winds once you leave the party.
Sequined ball gown
For a more traditional formal look, try this sparkly sequin top and ball skirt combo that is sure to dazzle on the dance floor and under the mistletoe.
Beacon velvet dress
Green velvet is an obvious choice for a Christmas party, but for good reason: it never seems out of place this time of year, the rich emerald looks great on all skin tones and is lavish. touch. Once dressed in a timeless tube dress form like this, you will be thankful for years to come for investing in this beauty.
Carmen sparkly long dress
For a Christmas outfit that screams for joy, you can't go wrong with red, flowing and dripping with glitter. Pair it with a delicate lacing you've been dreaming of showing off for a dreamy, sparkling head-to-toe look.
Ana sequin mini dress
Guessing intense Tina Turner vibes from that short, swinging number, and it's always a good thing. Liven up the party as you weave your way through the crowds and let your wallet rejoice when you snatch it for under $ 50.
Good Tidings Plaid Puff Sleeve Dress
It's fun, flirty, cute, and laid back, all serving up chic good news, just like the name suggests. The best part of everything with this J. Crew special is the price, as it's already gone down 25%, so you'll have extra cash for all the gifts on your list.
Asymmetric asymmetric long dress
Yes, this Abercrombie & Fitch still exists and they have grown as much as we have.
Try this asymmetrical little red number to impress at an office party or near-formal meeting this season, and enjoy the stunning simplicity of a bold red shade paired with minimal accessories to keep all eyes on you.
Ruched Leopard Dress Lurking Around
If all that velvet, red and green makes you less than happy, tell the devil of tradition and wear this leopard dress to your next gathering. The side ruching, boat neckline and three-quarter sleeves are as flattering as it gets, and the leopard is fundamentally neutral, so you can pair it with any number of shoes, accessories, and layers to create unlimited outfits all year round.
Velvet tie dress with studs at the back
Keeping with the slightly more punk theme (barely, a little touch of harsh), this studded velvet mini looks fantastic when paired with chunky boots or thin heels, a pair of silver earrings bold and a fancy Christmas bun.
PrettyGuide Women's Vintage Sleeveless Sequin Cocktail Dress
If you're on a budget but still want to make a statement, try this sequined stunner from Walmart. Its simple shape allows the placement of sequins and sparkle to take center stage, and with embellishments like this, you won't even need jewelry!
Sources
2/ https://www.indy100.com/wishlist/15-holiday-dresses-you-ll-shine-in-this-christmas-party-season-b1960915
The mention sources can contact us to remove/changing this article
What Are The Main Benefits Of Comparing Car Insurance Quotes Online
LOS ANGELES, CA / ACCESSWIRE / June 24, 2020, / Compare-autoinsurance.Org has launched a new blog post that presents the main benefits of comparing multiple car insurance quotes. For more info and free online quotes, please visit https://compare-autoinsurance.Org/the-advantages-of-comparing-prices-with-car-insurance-quotes-online/ The modern society has numerous technological advantages. One important advantage is the speed at which information is sent and received. With the help of the internet, the shopping habits of many persons have drastically changed. The car insurance industry hasn't remained untouched by these changes. On the internet, drivers can compare insurance prices and find out which sellers have the best offers. View photos The advantages of comparing online car insurance quotes are the following: Online quotes can be obtained from anywhere and at any time. Unlike physical insurance agencies, websites don't have a specific schedule and they are available at any time. Drivers that have busy working schedules, can compare quotes from anywhere and at any time, even at midnight. Multiple choices. Almost all insurance providers, no matter if they are well-known brands or just local insurers, have an online presence. Online quotes will allow policyholders the chance to discover multiple insurance companies and check their prices. Drivers are no longer required to get quotes from just a few known insurance companies. Also, local and regional insurers can provide lower insurance rates for the same services. Accurate insurance estimates. Online quotes can only be accurate if the customers provide accurate and real info about their car models and driving history. Lying about past driving incidents can make the price estimates to be lower, but when dealing with an insurance company lying to them is useless. Usually, insurance companies will do research about a potential customer before granting him coverage. Online quotes can be sorted easily. Although drivers are recommended to not choose a policy just based on its price, drivers can easily sort quotes by insurance price. Using brokerage websites will allow drivers to get quotes from multiple insurers, thus making the comparison faster and easier. For additional info, money-saving tips, and free car insurance quotes, visit https://compare-autoinsurance.Org/ Compare-autoinsurance.Org is an online provider of life, home, health, and auto insurance quotes. This website is unique because it does not simply stick to one kind of insurance provider, but brings the clients the best deals from many different online insurance carriers. In this way, clients have access to offers from multiple carriers all in one place: this website. On this site, customers have access to quotes for insurance plans from various agencies, such as local or nationwide agencies, brand names insurance companies, etc. "Online quotes can easily help drivers obtain better car insurance deals. All they have to do is to complete an online form with accurate and real info, then compare prices", said Russell Rabichev, Marketing Director of Internet Marketing Company. CONTACT: Company Name: Internet Marketing CompanyPerson for contact Name: Gurgu CPhone Number: (818) 359-3898Email: [email protected]: https://compare-autoinsurance.Org/ SOURCE: Compare-autoinsurance.Org View source version on accesswire.Com:https://www.Accesswire.Com/595055/What-Are-The-Main-Benefits-Of-Comparing-Car-Insurance-Quotes-Online View photos
to request, modification Contact us at Here or [email protected]