Colorado Springs Fashion Truck Brings Together 2 Best Friends and Trendy Clothes | Culture & Leisure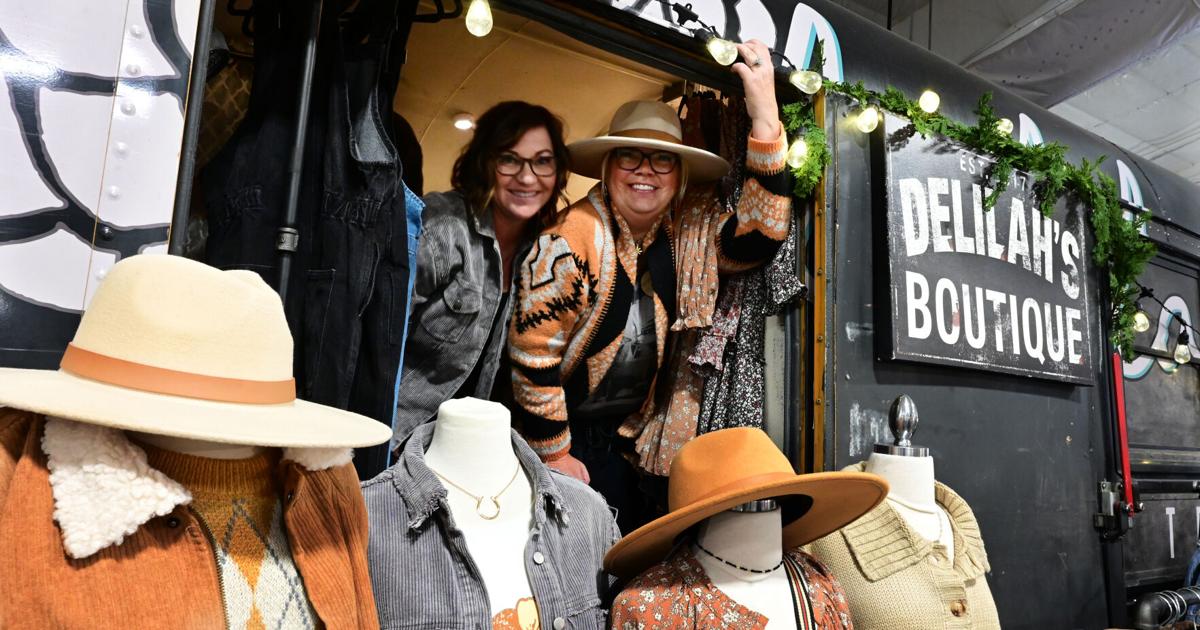 Let's say there was a checklist for how to spot two best friends.
Maybe they would have nicknames for each other, like the way Amie Bennight calls her best sister and the way Julie Megahan responds with a shortened version of Amie.
They would have a cute story on how it all started. Ten years ago, stay-at-home moms in Colorado Springs were chatting over the phone about arranging a play date for their preschoolers. They recognized themselves as out-of-state area codes.
We were like, are you from Texas? I'm from Texas, said Megahan. It was an instant friendship.
There would be jokes inside, like how Bennight likes to describe his friend as Chip and Joanna Gaines in one body.
And even their inner jokes would be compliments, because a best friend likes to brag about their best friend.
For Megahan, 52, and Bennight, 46, the checklist could go on. Best friends are also business partners.
On a trip in 2016, they walked in a fashion truck, a concept that stood out as the food truck craze emerged and the wheels of their minds began to spin.
Julie just looked at me and said, was doing that, said Bennight, who was immediately on board.
They never talked about starting a boutique together, but they had once bonded with a shared love for clothing and shopping, whether it was grocery shopping or trying on blue jeans.
It was our revelation, Megahan said. And we just kept going down this path.
While they weren't really looking for a vehicle, an old school bus for sale crossed their path.
One night, sipping cocktails, friends heard the crackle of Megahans Chihuahua cross the room. It was then that they decided to give their shop the name of little Dalila.
Delilahs Fashion Truck & Boutique was launched in 2017, serving as the Pikes Peak area's first mobile boutique and a place that fuses the passions of its owners.
Bennight, who has a background in technology and marketing, is the mastermind behind the operation. Megahan, who has worked in retail management and is a proud shopaholic, is the buyer.
Together, they have made Delilahs a welcoming boutique that catches people's eyes and keeps them coming back.
Boarding Delilahs, a worn leather driver's seat is one of the only signs that this bus was from 1999. You can tell the shelves of cozy sweaters and checkered shirts were chosen by someone following the fashion.
Megahan said she chooses trendy items as well as classics, like her favorite clothing category: denim. She is also looking for a less tangible trait.
You want clothes that will make you feel good, she says. What you wear is part of who you are. It uplifts your mood.
It's a lesson she passed on to her best friend years ago.
I don't think I knew how much of an impact clothing could have until I met Julie, Bennight said. She helped me find out who I am.
As they travel through Colorado and beyond on their truck, this is something they try to share with customers.
We want to share love and happiness, Bennight said. Fashion happens to be our way of doing good.
The Dalilas can be found on the road and in one location, inside the Splendor Boutique Salon in Old Town Colorado. They had limited merchandise near the front of the show and the truck was often parked outside.
Whether you're shopping on wheels or in the store, you'll usually meet two best friends who are smiling as they suggest things to try.
It's the best when we can play dress up with someone and see how they turn out, Bennight said. It's magic for us.
Sources
2/ https://gazette.com/arts-entertainment/colorado-springs-fashion-truck-brings-2-best-friends-and-trendy-clothes-together/article_bc71c068-41b0-11ec-b2b3-7f48e03ff6a3.html
The mention sources can contact us to remove/changing this article
What Are The Main Benefits Of Comparing Car Insurance Quotes Online
LOS ANGELES, CA / ACCESSWIRE / June 24, 2020, / Compare-autoinsurance.Org has launched a new blog post that presents the main benefits of comparing multiple car insurance quotes. For more info and free online quotes, please visit https://compare-autoinsurance.Org/the-advantages-of-comparing-prices-with-car-insurance-quotes-online/ The modern society has numerous technological advantages. One important advantage is the speed at which information is sent and received. With the help of the internet, the shopping habits of many persons have drastically changed. The car insurance industry hasn't remained untouched by these changes. On the internet, drivers can compare insurance prices and find out which sellers have the best offers. View photos The advantages of comparing online car insurance quotes are the following: Online quotes can be obtained from anywhere and at any time. Unlike physical insurance agencies, websites don't have a specific schedule and they are available at any time. Drivers that have busy working schedules, can compare quotes from anywhere and at any time, even at midnight. Multiple choices. Almost all insurance providers, no matter if they are well-known brands or just local insurers, have an online presence. Online quotes will allow policyholders the chance to discover multiple insurance companies and check their prices. Drivers are no longer required to get quotes from just a few known insurance companies. Also, local and regional insurers can provide lower insurance rates for the same services. Accurate insurance estimates. Online quotes can only be accurate if the customers provide accurate and real info about their car models and driving history. Lying about past driving incidents can make the price estimates to be lower, but when dealing with an insurance company lying to them is useless. Usually, insurance companies will do research about a potential customer before granting him coverage. Online quotes can be sorted easily. Although drivers are recommended to not choose a policy just based on its price, drivers can easily sort quotes by insurance price. Using brokerage websites will allow drivers to get quotes from multiple insurers, thus making the comparison faster and easier. For additional info, money-saving tips, and free car insurance quotes, visit https://compare-autoinsurance.Org/ Compare-autoinsurance.Org is an online provider of life, home, health, and auto insurance quotes. This website is unique because it does not simply stick to one kind of insurance provider, but brings the clients the best deals from many different online insurance carriers. In this way, clients have access to offers from multiple carriers all in one place: this website. On this site, customers have access to quotes for insurance plans from various agencies, such as local or nationwide agencies, brand names insurance companies, etc. "Online quotes can easily help drivers obtain better car insurance deals. All they have to do is to complete an online form with accurate and real info, then compare prices", said Russell Rabichev, Marketing Director of Internet Marketing Company. CONTACT: Company Name: Internet Marketing CompanyPerson for contact Name: Gurgu CPhone Number: (818) 359-3898Email: [email protected]: https://compare-autoinsurance.Org/ SOURCE: Compare-autoinsurance.Org View source version on accesswire.Com:https://www.Accesswire.Com/595055/What-Are-The-Main-Benefits-Of-Comparing-Car-Insurance-Quotes-Online View photos
to request, modification Contact us at Here or [email protected]