Cost of living: The price of women's clothing is rising much faster than men's here's why | UK News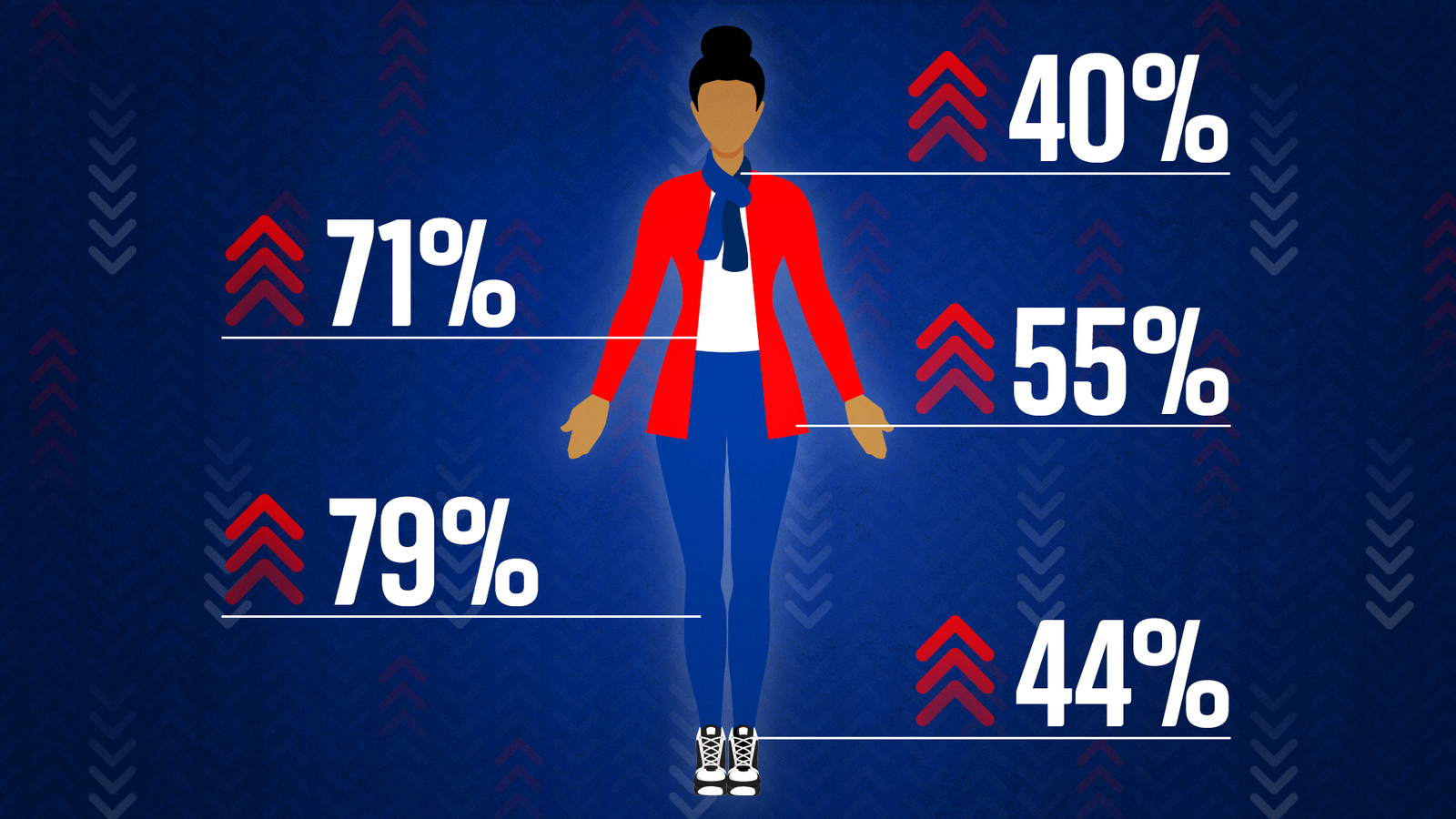 Everyone in the UK is feeling the pinch of rising prices, but the pain is not felt evenly.
Women face bigger price rises than men in categories such as clothing and toiletries, according to Sky News' analysis of data from the Office for National Statistics (ONS).
Prices for women's clothing have increased by 37% over the past five years, while those for men's clothing have increased by 25%.
That has far exceeded salaries, which are only 20% higher than they were at the start of 2017.
Find out how much more expensive different items are by clicking on the outfits below.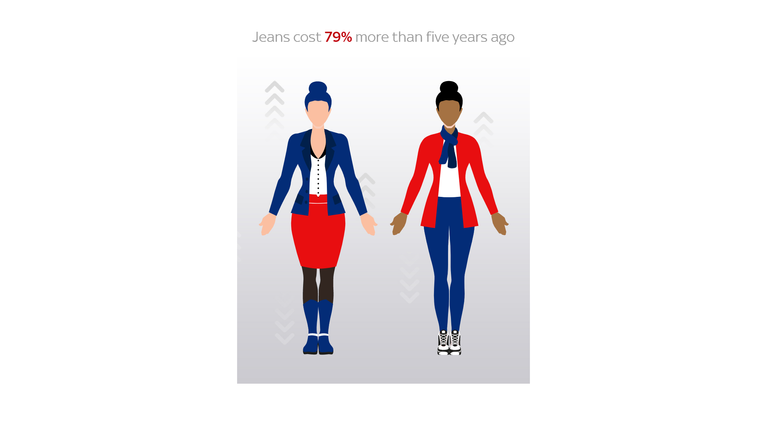 What about other women's clothing? Prices for bras have risen about as much as wages, but panties are more expensive, costing on average 37% more than five years ago.
The picture for accessories is mixed. Necklaces are cheaper than in 2017, but a handbag is 34% more expensive.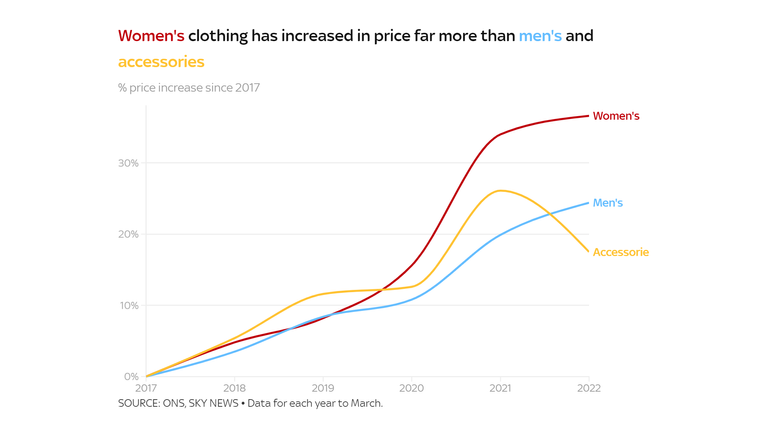 Toiletries traditionally purchased by women have also seen massive inflation. Nail polish and perfume are both more than 40% more expensive than five years ago.
Do traders discriminate against women?
Rising material costs and supply chain bottlenecks have driven up the cost of all garments. So why have women's clothing prices gone up so much?
Anita Balchandani, a senior partner at consultancy McKinsey, says that's because retailers can raise those prices further without losing customers.
"Women's fashion grew long before men's fashion potentially [as a] a result of expectations about the resilience of demand to price increases," she says, adding that womenswear trends also tend to move faster.
"Generally, the women's clothing catalog has a greater share of novelty compared to the basic continuity lines."
Kayla Marci, market analyst at retail intelligence platform EDITED, says customers have yet to be deterred by higher prices.
"This could be due to the post-pandemic revenge spending phenomenon where, after being indoors and wearing sweatpants for so long, people are reuniting with friends and looking to buy new outfits," he says. she.
Revenge spending is fueling demand for jeans and heels
Jeans are one of the most popular items since the pandemic restrictions were lifted.
Buying unbranded jeans will cost you 79% more than in 2017, according to ONS data. Branded jeans saw more moderate price increases.
Ms Marci says demand for heels and leather is also on the rise as people replace loungewear with more fashionable items.
Premium brands drive up prices the most. Inflation in the luxury sector is more than 25 times that of the mass market, according to data from EDITED.
"Luxury brands have increased their prices to compensate for the rise in commodity prices, to become more exclusive and to offset the poor results during the pandemic," explains Ms. Marci.
But as households are increasingly squeezed by rising fuel and food prices, how will demand hold up?
Ms Balchandani says people buying mainstream brands are disproportionately squeezed by price rises in other sectors.
"In the immediate term, demand should hold, but later in the year we expect to see some pressure," she says.
"Optimism is receding – consumer sentiment in the UK is now at the level we were at the start of lockdown."
---
the Data and forensics The team is a versatile unit dedicated to delivering transparent Sky News journalism. We collect, analyze and visualize data to tell data-driven stories. We combine traditional reporting skills with advanced analysis of satellite imagery, social media and other open source information. Through multimedia storytelling, we aim to better explain the world while showing how our journalism is done.
Sources
2/ https://news.sky.com/story/cost-of-living-the-price-of-womens-clothing-is-increasing-much-faster-than-mens-heres-why-12614399
The mention sources can contact us to remove/changing this article
What Are The Main Benefits Of Comparing Car Insurance Quotes Online
LOS ANGELES, CA / ACCESSWIRE / June 24, 2020, / Compare-autoinsurance.Org has launched a new blog post that presents the main benefits of comparing multiple car insurance quotes. For more info and free online quotes, please visit https://compare-autoinsurance.Org/the-advantages-of-comparing-prices-with-car-insurance-quotes-online/ The modern society has numerous technological advantages. One important advantage is the speed at which information is sent and received. With the help of the internet, the shopping habits of many persons have drastically changed. The car insurance industry hasn't remained untouched by these changes. On the internet, drivers can compare insurance prices and find out which sellers have the best offers. View photos The advantages of comparing online car insurance quotes are the following: Online quotes can be obtained from anywhere and at any time. Unlike physical insurance agencies, websites don't have a specific schedule and they are available at any time. Drivers that have busy working schedules, can compare quotes from anywhere and at any time, even at midnight. Multiple choices. Almost all insurance providers, no matter if they are well-known brands or just local insurers, have an online presence. Online quotes will allow policyholders the chance to discover multiple insurance companies and check their prices. Drivers are no longer required to get quotes from just a few known insurance companies. Also, local and regional insurers can provide lower insurance rates for the same services. Accurate insurance estimates. Online quotes can only be accurate if the customers provide accurate and real info about their car models and driving history. Lying about past driving incidents can make the price estimates to be lower, but when dealing with an insurance company lying to them is useless. Usually, insurance companies will do research about a potential customer before granting him coverage. Online quotes can be sorted easily. Although drivers are recommended to not choose a policy just based on its price, drivers can easily sort quotes by insurance price. Using brokerage websites will allow drivers to get quotes from multiple insurers, thus making the comparison faster and easier. For additional info, money-saving tips, and free car insurance quotes, visit https://compare-autoinsurance.Org/ Compare-autoinsurance.Org is an online provider of life, home, health, and auto insurance quotes. This website is unique because it does not simply stick to one kind of insurance provider, but brings the clients the best deals from many different online insurance carriers. In this way, clients have access to offers from multiple carriers all in one place: this website. On this site, customers have access to quotes for insurance plans from various agencies, such as local or nationwide agencies, brand names insurance companies, etc. "Online quotes can easily help drivers obtain better car insurance deals. All they have to do is to complete an online form with accurate and real info, then compare prices", said Russell Rabichev, Marketing Director of Internet Marketing Company. CONTACT: Company Name: Internet Marketing CompanyPerson for contact Name: Gurgu CPhone Number: (818) 359-3898Email: [email protected]: https://compare-autoinsurance.Org/ SOURCE: Compare-autoinsurance.Org View source version on accesswire.Com:https://www.Accesswire.Com/595055/What-Are-The-Main-Benefits-Of-Comparing-Car-Insurance-Quotes-Online View photos
to request, modification Contact us at Here or [email protected]