Meme Fashion is the next big trend according to Instagram creators What is Meme Fashion?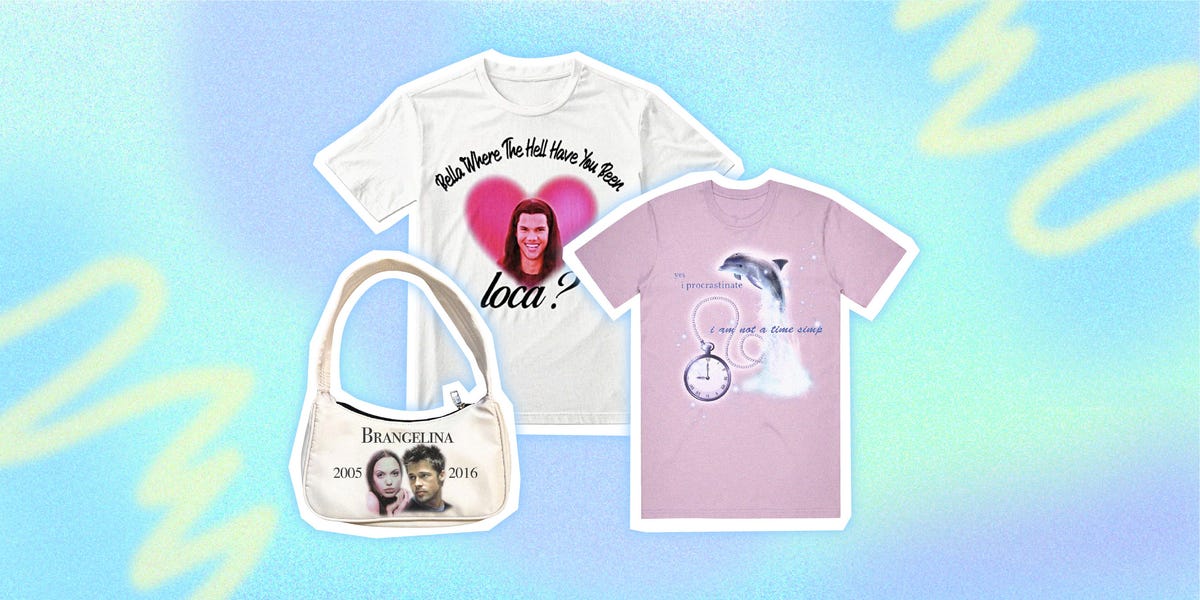 Have you ever seen a Tweet or post so funny you thought I'd wear it on a T-shirt? Thanks to meme creators on Instagram posting products adorned with your favorite social moments, now you can. And a lot of them are pretty cute graphic tees have been on a hot streak so while your dad is proudly rocking his I visited NYC and all I got was this t-top ugly shirt, these t-shirts are actually fashion because of how meme-y they are.
Thanks to the 2000 revival, celebrities and fashion influencers leaned into sarcastic graphic tops and tees to the point that they were completely stylish again. Emma Chamberlin posed for a photo in Bora Bora wearing a tank top that said Niche Internet Micro Celebrity and Chloe Cherry was spotted at Coachella wearing a bold one-shoulder tee in impact meme font. You can even buy a shirt with Megan Fox's face on it which reads "America's Next Top Girlboss" from @buggirl200brand on Instagram (and who wouldn't want that?)
It's the 2022 revival of 2000s celebrities like Britney Spears wearing the iconic "Dump Him" ​​shirt, or Paris Hilton in her famous STOP BEING DESPERATE tank top. Think ironic, culturally sensitive fashion brands like Praythe indie brand that designed the "Happy and Healthy" heart-shaped top that Olivia Rodrigo wore on her Sour Tour.
Would a celebrity have ironically worn a Happy and Healthy shirt, say, five years ago? Probably not, but so many people have looked into the camps trend (defined by Wikipedia as something that attracts due to its bad taste and ironic value) that the anti-trend is now the trend.
We understand that tongue-in-cheek t-shirts and Brangelina handbags are so bad they're almost good, and they're mostly appealing in an IYKYK (if you know, you know) way. People pair these fashionable tops with denim mini skirts, low rise jeans, funky platform boots, newsboy caps and tiny Y2K handbags. They add a bit of edge to an otherwise ordinary outfit and they also make for one hell of an Instagram photo.
Clara Cornet, Head of Fashion and Beauty Strategic Partners for Southern Europe at Instagram, said Seventeen, Slogan t-shirts have been around for decades, think the Britney Spears Dump Him t-shirt is from around 2002, but the next iteration is memes. As times become more phygital, where the physical world meets the digital world, memes leave our screens and settle on our chests and sleeves. These meme-ified shirts are the product of meme posts going viral that Instagram users love so much they comment "I want that tattoo on my forehead" or "I'd wear that on a t-shirt." It's a feedback loop between meme creators and their audience.
"Most of the products I have now come from publications that have done very well," says Cat Frazier of @itsanimatedtextwho sitting with Seventeen after the final segment of Meta's Global MemeCon 2022 at their New York offices. "I create memes in the nostalgic 3D PowerPoint style of the early 2000s, but a lot of my topics are about mental health and coping in a surreal and fun way. I will create different memes that poke fun at the world in which we are." now."The baseball caps sold by Cat are based on his most successful animated meme posts, a reading"be your own daddy" in bright pink thread and another proclaiming that "bad bitches go to therapy."
Aiden Arata (@aidenarata) is another meme creator who spoke at Meta's Global MemeCon 2022, known for her soothing and clever Instagram. meditation parodies. Aiden also dipped her toe into the world of meme merch when she created a t-shirt she wanted for herself, telling Seventeen"I just wanted to do things that I wanted to wear. My friend's boyfriend got to screen print it and my friend was like, 'there's a 36 shirt minimum.' And I was like, I want this shirt so bad that I'm going to buy 36 shirts and figure out what to do with the rest later. I merchandised out of necessity," she laughed.
And if the product is based on a successful meme, that's a pretty good indicator that other people will like it too. Maybe even people like Criminal minds actor Matthew Gray Gubler, who stopped Aiden at a cafe to tell him he liked his shirt so much he wanted to buy himself one. The actor ended up pulling out a $20 bill in the middle of the cafe to give to Aiden, who coordinated with his assistant to give him one of 36 t-shirts she had just screen-printed for herself- same. I think people just want to support people doing stuff," Aiden said.
If you are still wondering what is the appeal of memes, fashion and meme fashion? try to see it as an inside joke… that you share with 100,000 other people. "It's a niche, it's fresh, you can't get [a shirt like this] anywhere else, but it's also a fun joke that you can share with someone and that's a good balance," Aiden remarks. Sure, you can buy a meme-y shirt from Urban Outfitters (like this hoodie that reads "I cry a lot and it's okay"), but there is some appeal in buying a shirt from the person behind your favorite meme account since the product is designed specifically for their followers.
IRL is an example of this "inner joke" call Gossip Girl celebrity gossip account @twome, which regularly receives "Two Me in the Wild" photo submissions from fans who spot people wearing Two Me merchandise in their town. Two Me has grown so big and become such a cultural phenomenon that the Instagram account recently landed an HBO Max series and a book deal. It feels insider and exclusive, which brings the IYKYK niche factor that Clara tells Seventeen is "the cool factor engine for Gen Z on Instagram".
And when it comes to merch with slightly more meta references? You have to be smart enough to figure it out. Cat brings up one of her posts that reads, "I don't think, therefore I am not" as an example. "To understand the meme, you first have to understand the original quote and the joke made, then you have to be confident enough to wear it, but it's also self-deprecating at the same time," she added. . muses. "There are so many layers. But if you to have that, you are in the club and there is a collective feeling. A tacit alliance between people…a cool factor, because not everyone does. Still."
Aidan tells Seventeen that she gets her merch through a friend of a friend creating the band's merch, which is fitting because the meme creator's merch is practically the new band's merch. "That's crazy [these manufacturers] don't contact people about it because they have so many fans," she said.
If the meme fad becomes too mainstream, perhaps it won't have the same kind of appeal it currently has. But the mind behind @itsanimatedtext doesn't seem to be in tune with the idea of ​​doing something that ultimately won't be considered cool or fresh. When we asked Cat if she had any advice for Gen Z teens growing up in the era of tongue-in-cheek memes and slogan t-shirts that oscillate between cool and cringe, she had plenty of wisdom to share. . "You're going to wear clothes that you wish you wouldn't wear in the future, but enjoy what you're wearing and what you're creating in the moment, without necessarily worrying about whether it's going to get you subscribers. People will wear clothes based on whether other people will find it funny, or whether you will be liked more […] but I think you should just focus on being true to yourself and what you like, and then buying stuff based on that stuff based on the creators you like."
Aiden said it best after his MemeCon panel "We're moving away from the Girl Boss era. We're into our niche era, and it's going really well, frankly. Personally, I choose happiness over greatness and I love it."
* parts of the interviews have been edited for clarity.
Sources
2/ https://www.seventeen.com/fashion/a39971585/what-is-meme-fashion/
The mention sources can contact us to remove/changing this article
What Are The Main Benefits Of Comparing Car Insurance Quotes Online
LOS ANGELES, CA / ACCESSWIRE / June 24, 2020, / Compare-autoinsurance.Org has launched a new blog post that presents the main benefits of comparing multiple car insurance quotes. For more info and free online quotes, please visit https://compare-autoinsurance.Org/the-advantages-of-comparing-prices-with-car-insurance-quotes-online/ The modern society has numerous technological advantages. One important advantage is the speed at which information is sent and received. With the help of the internet, the shopping habits of many persons have drastically changed. The car insurance industry hasn't remained untouched by these changes. On the internet, drivers can compare insurance prices and find out which sellers have the best offers. View photos The advantages of comparing online car insurance quotes are the following: Online quotes can be obtained from anywhere and at any time. Unlike physical insurance agencies, websites don't have a specific schedule and they are available at any time. Drivers that have busy working schedules, can compare quotes from anywhere and at any time, even at midnight. Multiple choices. Almost all insurance providers, no matter if they are well-known brands or just local insurers, have an online presence. Online quotes will allow policyholders the chance to discover multiple insurance companies and check their prices. Drivers are no longer required to get quotes from just a few known insurance companies. Also, local and regional insurers can provide lower insurance rates for the same services. Accurate insurance estimates. Online quotes can only be accurate if the customers provide accurate and real info about their car models and driving history. Lying about past driving incidents can make the price estimates to be lower, but when dealing with an insurance company lying to them is useless. Usually, insurance companies will do research about a potential customer before granting him coverage. Online quotes can be sorted easily. Although drivers are recommended to not choose a policy just based on its price, drivers can easily sort quotes by insurance price. Using brokerage websites will allow drivers to get quotes from multiple insurers, thus making the comparison faster and easier. For additional info, money-saving tips, and free car insurance quotes, visit https://compare-autoinsurance.Org/ Compare-autoinsurance.Org is an online provider of life, home, health, and auto insurance quotes. This website is unique because it does not simply stick to one kind of insurance provider, but brings the clients the best deals from many different online insurance carriers. In this way, clients have access to offers from multiple carriers all in one place: this website. On this site, customers have access to quotes for insurance plans from various agencies, such as local or nationwide agencies, brand names insurance companies, etc. "Online quotes can easily help drivers obtain better car insurance deals. All they have to do is to complete an online form with accurate and real info, then compare prices", said Russell Rabichev, Marketing Director of Internet Marketing Company. CONTACT: Company Name: Internet Marketing CompanyPerson for contact Name: Gurgu CPhone Number: (818) 359-3898Email: [email protected]: https://compare-autoinsurance.Org/ SOURCE: Compare-autoinsurance.Org View source version on accesswire.Com:https://www.Accesswire.Com/595055/What-Are-The-Main-Benefits-Of-Comparing-Car-Insurance-Quotes-Online View photos
to request, modification Contact us at Here or [email protected]