Interview AMI SS23 Paris Fashion Week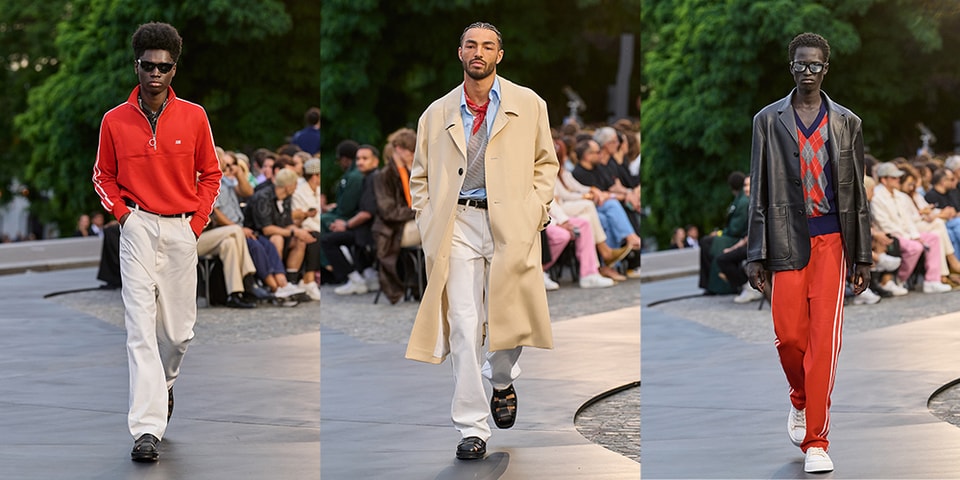 On the third closing day of Paris Fashion Week, local brand AMI dedicated its show and collection to its hometown. The location – on the steps of the Sacr Cur overlooking Paris – reflected the theme, while the collection itself was inspired by Paris.
Entitled Cur Sacr, translated by Heart Sacred and an inversion of the name of the basilicas, the collection is inspired by Parisians and more particularly by the Montmartre district. In a nod to this, a 60s influence was referenced through baggy blazers, argyle knits and leather jackets. Together, the pieces celebrated AMI's vision of Paris and also certain Parisian stereotypes.
This is my neighborhood, AMI founder and creative director Alexandre Mattiuissi told HYPEBEAST after the show. I've been on the hill for 20 years, it's a place I go to most of the time. It's a place that everyone loves, but Parisians don't go there so often because it's a tourist spot. I wanted to bring people back there because it's magic. I like the idea of ​​showing Paris in a romantic and cinematic way.
Mattiussi continued the Parisian references throughout the collection. All designs depicted a different character from Montmartre, continuing AMI's mission to create clothes for Parisians.
I always try to define the ideal of what a Parisian wardrobe is, a French quintessence in terms of style, continued Mattiussi. It was about trying to put everyone in the shoes of the Parisians living in the neighborhood. You had the cool girls, you had American tourists wearing Cur Sacr t-shirts, you had the posh, wealthy woman who might be an art dealer. You had all these characters because AMI is really about everyone. I tried to make this hyper-realistic little film, the streets of Montmartre are particularly beautiful for that.
The influence of the shows went far beyond the collection, with the set design and casting also referencing the city. The show was opened by Audrey Tautou, arguably best known for playing the main character in the film about Montmartre. Amelie, in front of a series of high-profile models, including Kristen McMenamy, Cara Delevingne, Paloma and Sage Elsesser, Precious Lee and Mona Tougaard walked alongside street models and up-and-coming models. The cast, location, and collection all added up to create Mattiussi's homage to the city he lives in.
"I'm in love with Paris, it's my favorite city in the world, a place I've called home for 24 years," he said. I feel so grateful every morning. Even when you're not feeling very well or feeling a little moody, Paris always offers you beauty that makes you feel very good. It's a love letter to Paris.
For more from Paris Fashion Week, go behind the scenes at Bianca Saunders' show.
Sources
2/ https://hypebeast.com/2022/6/ami-alexandre-mattiussi-paris-fashion-week-spring-summer-2023-interview
The mention sources can contact us to remove/changing this article
What Are The Main Benefits Of Comparing Car Insurance Quotes Online
LOS ANGELES, CA / ACCESSWIRE / June 24, 2020, / Compare-autoinsurance.Org has launched a new blog post that presents the main benefits of comparing multiple car insurance quotes. For more info and free online quotes, please visit https://compare-autoinsurance.Org/the-advantages-of-comparing-prices-with-car-insurance-quotes-online/ The modern society has numerous technological advantages. One important advantage is the speed at which information is sent and received. With the help of the internet, the shopping habits of many persons have drastically changed. The car insurance industry hasn't remained untouched by these changes. On the internet, drivers can compare insurance prices and find out which sellers have the best offers. View photos The advantages of comparing online car insurance quotes are the following: Online quotes can be obtained from anywhere and at any time. Unlike physical insurance agencies, websites don't have a specific schedule and they are available at any time. Drivers that have busy working schedules, can compare quotes from anywhere and at any time, even at midnight. Multiple choices. Almost all insurance providers, no matter if they are well-known brands or just local insurers, have an online presence. Online quotes will allow policyholders the chance to discover multiple insurance companies and check their prices. Drivers are no longer required to get quotes from just a few known insurance companies. Also, local and regional insurers can provide lower insurance rates for the same services. Accurate insurance estimates. Online quotes can only be accurate if the customers provide accurate and real info about their car models and driving history. Lying about past driving incidents can make the price estimates to be lower, but when dealing with an insurance company lying to them is useless. Usually, insurance companies will do research about a potential customer before granting him coverage. Online quotes can be sorted easily. Although drivers are recommended to not choose a policy just based on its price, drivers can easily sort quotes by insurance price. Using brokerage websites will allow drivers to get quotes from multiple insurers, thus making the comparison faster and easier. For additional info, money-saving tips, and free car insurance quotes, visit https://compare-autoinsurance.Org/ Compare-autoinsurance.Org is an online provider of life, home, health, and auto insurance quotes. This website is unique because it does not simply stick to one kind of insurance provider, but brings the clients the best deals from many different online insurance carriers. In this way, clients have access to offers from multiple carriers all in one place: this website. On this site, customers have access to quotes for insurance plans from various agencies, such as local or nationwide agencies, brand names insurance companies, etc. "Online quotes can easily help drivers obtain better car insurance deals. All they have to do is to complete an online form with accurate and real info, then compare prices", said Russell Rabichev, Marketing Director of Internet Marketing Company. CONTACT: Company Name: Internet Marketing CompanyPerson for contact Name: Gurgu CPhone Number: (818) 359-3898Email: [email protected]: https://compare-autoinsurance.Org/ SOURCE: Compare-autoinsurance.Org View source version on accesswire.Com:https://www.Accesswire.Com/595055/What-Are-The-Main-Benefits-Of-Comparing-Car-Insurance-Quotes-Online View photos
to request, modification Contact us at Here or [email protected]