Department of Defense schools adopt new gender-neutral dress code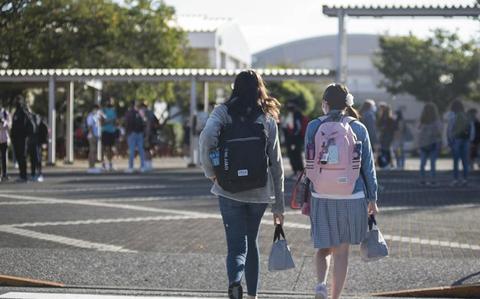 Students at Department of Defense schools will no longer have to measure the length of their skirts and shorts, or leave their caps at home on bad hair days.
The Department of Defense Education Activity has approved a new gender-neutral dress code for students that will take effect July 1 at all 160 DODEA schools in the Pacific, Europe, and Americas regions, including Puerto Rico. and Cuba.
The policy does not include language that focuses exclusively on one gender or race- or religion-specific dress styles, said DODEA education specialist Joy Medley.
The amount of skin students can show above the knees will no longer be measured in inches or a fingertip ruler, which required a hem to extend below the fingertips with the arms hanging out to the sides.
Updated guidelines released on the DODEA website just call for sleeved tops and solid clothing (not sheer or translucent) that fully covers the top and bottom, from armpit to mid-thigh.
The rules remove a myriad of standards that sometimes differed between schools on the same basis. Barred spaghetti straps, halter tops, baggy pants, excessively tight Spandex and headbands, among others.
The new dress code is easier for families to follow and simpler for managers to enforce, Medley said.
Ripped jeans will be allowed, which Medley said the students had to approve. So will hats, which the girls especially wanted for bad hair, she said.
However, the emphasis on gender neutrality means the new permissiveness will apply to everyone.
We couldn't say girls could wear hats, but boys couldn't, Medley added.
Most schools don't allow students to wear baseball caps inside buildings, she said, a rule that reflects military etiquette of removing hats indoors. They will be allowed as long as the edge does not obscure the face.
Shoes must be school safe, slippers not permitted unless approved by the principal. Open-toed shoes with a strap on the heel are permitted.
The goal, from the outset, was to create a dress code that was fair, unbiased and supportive of the learning environment while allowing for individual expression, said DODEA spokesperson Will Griffin.
Much of what students aren't allowed to wear hasn't changed, Griffin said. This includes anything that encourages violence, contains profanity, or depicts drugs, alcohol, or tobacco products.
If a student couldn't wear a T-shirt with a large marijuana leaf last year, that's still true, Griffin said.
Clothing deemed discriminatory, pornographic, obscene or promoting anything illegal is still not permitted.
When the new rules go into effect, minor infractions such as carrying something over the shoulder will not result in a student being suspended or sent to the nurse's office until a parent can bring spare clothes.
Across the United States, stories of dress code issues have captured national attention, as schools battle with parents, students and civil rights advocates over fair standards and disciplinary action against them. apply.
DODEA focuses on teachable moments, where a teacher and student discuss what is allowed, Medley said.
Our goal is that our students don't waste teaching time because of what they're wearing, she said.
Discipline may be appropriate for a student's repeated thing or attitude, Medley said.
DODEA's Education Policy Division, along with a Civil Rights Steering Committee and Diversity, Equity, and Inclusion specialists began revising the dress code in fall 2021. They reviewed the American Trends and gathered feedback from school and community members.
Some 460 responses were received from students, parents, school staff and administrators during a public comment period, with students providing the most feedback, Medley said.
They wanted to be able to express themselves, have their own individuality and feel like they were part of deciding what they could wear to school, she said.
Sources
2/ https://www.stripes.com/theaters/europe/2023-05-18/dodea-gender-neutral-dress-code-10156701.html
The mention sources can contact us to remove/changing this article
What Are The Main Benefits Of Comparing Car Insurance Quotes Online
LOS ANGELES, CA / ACCESSWIRE / June 24, 2020, / Compare-autoinsurance.Org has launched a new blog post that presents the main benefits of comparing multiple car insurance quotes. For more info and free online quotes, please visit https://compare-autoinsurance.Org/the-advantages-of-comparing-prices-with-car-insurance-quotes-online/ The modern society has numerous technological advantages. One important advantage is the speed at which information is sent and received. With the help of the internet, the shopping habits of many persons have drastically changed. The car insurance industry hasn't remained untouched by these changes. On the internet, drivers can compare insurance prices and find out which sellers have the best offers. View photos The advantages of comparing online car insurance quotes are the following: Online quotes can be obtained from anywhere and at any time. Unlike physical insurance agencies, websites don't have a specific schedule and they are available at any time. Drivers that have busy working schedules, can compare quotes from anywhere and at any time, even at midnight. Multiple choices. Almost all insurance providers, no matter if they are well-known brands or just local insurers, have an online presence. Online quotes will allow policyholders the chance to discover multiple insurance companies and check their prices. Drivers are no longer required to get quotes from just a few known insurance companies. Also, local and regional insurers can provide lower insurance rates for the same services. Accurate insurance estimates. Online quotes can only be accurate if the customers provide accurate and real info about their car models and driving history. Lying about past driving incidents can make the price estimates to be lower, but when dealing with an insurance company lying to them is useless. Usually, insurance companies will do research about a potential customer before granting him coverage. Online quotes can be sorted easily. Although drivers are recommended to not choose a policy just based on its price, drivers can easily sort quotes by insurance price. Using brokerage websites will allow drivers to get quotes from multiple insurers, thus making the comparison faster and easier. For additional info, money-saving tips, and free car insurance quotes, visit https://compare-autoinsurance.Org/ Compare-autoinsurance.Org is an online provider of life, home, health, and auto insurance quotes. This website is unique because it does not simply stick to one kind of insurance provider, but brings the clients the best deals from many different online insurance carriers. In this way, clients have access to offers from multiple carriers all in one place: this website. On this site, customers have access to quotes for insurance plans from various agencies, such as local or nationwide agencies, brand names insurance companies, etc. "Online quotes can easily help drivers obtain better car insurance deals. All they have to do is to complete an online form with accurate and real info, then compare prices", said Russell Rabichev, Marketing Director of Internet Marketing Company. CONTACT: Company Name: Internet Marketing CompanyPerson for contact Name: Gurgu CPhone Number: (818) 359-3898Email: [email protected]: https://compare-autoinsurance.Org/ SOURCE: Compare-autoinsurance.Org View source version on accesswire.Com:https://www.Accesswire.Com/595055/What-Are-The-Main-Benefits-Of-Comparing-Car-Insurance-Quotes-Online View photos
to request, modification Contact us at Here or [email protected]