An interview with actress Stacy Martin on red carpet fashion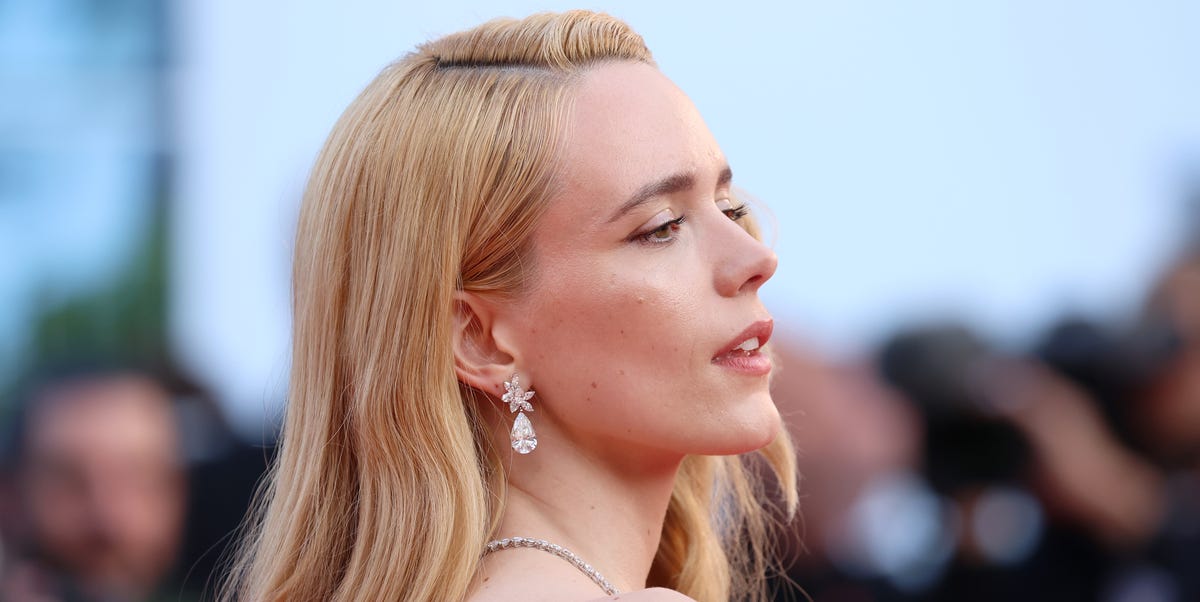 Considering the few years we've had, it's amazing to celebrate movies and fashion, Stacy Martin tells me. I usually try to be very French about it, but I'm so grateful to witness it all. The actress has certainly been busy making the most of life, after the last few years of restrictions and social distancing; recently she was on the Cannes Film Festival red carpet then flew to Italy for the Louis Vuittons Cruise 2024 show, sitting front row with Cate Blanchett, Gemma Chan, Oprah Winfrey, Emma Stone, Phoebe Dynevor and Alicia Vikander. Of course, her wardrobe lived up to the occasion.
The film that I presented [Bonnard, Pierre et Marthe] in Cannes speaks of a painter, whose work is full of colors. He is often known as the painter of joy, Martin tells me on the phone from France. I wanted something that went with that spirit and the color scheme of the story. After seeing Louis Vuitton's sketches and the fabrics that would create his look, she felt he perfectly embodied the personality of the film. It's amazing how it all fits together, she said, excitement in her clear voice. Usually I'm more messy with the organization side of things, but this time I made a very conscious effort to try to represent the film as much as possible.
Fashion and art are so intertwined, I think a lot of people forget that, Martin continues. Much like an iconic painting, hours of time and resources go into creating a red carpet moment. Just like she did with her Cannes dress, Martin enjoys working closely with designers who like to break the mold and try to reinvent the codes of fashion and identity, assigning some of her favorite names with which work like Miuccia Prada and now Nicholas Ghesquire of Louis Vuitton. .
Half my job is dressing up and wearing otherworldly costumes, she says. People turn to the red carpet to dream and tap into the imagination, much like art. In her eyes, red carpet dressing acts as an exhibition not just of a designer, but of the work of an entire team. It's a very specific short performance, she explains. There's a whole team of people behind it and when you walk onto the red carpet you really realize it's all about that defining moment. It's such a humbling experience, you want to celebrate all the hard work you and the team put in. You want to make everyone proud.
Months of work, for a short moment when you're the center of attention, that feels like a lot of pressure. Does she feel the weight of the search for perfection? When I started and the industry was so new to me, it was so overwhelming. Today, I am much more familiar with all that, she says. Having my stylist, Rebecca Corbin Murray, makes me feel less alone in the process. I no longer listen to that nagging voice inside that we all have; instead, I remind myself that not everyone has that opportunity and you just have to take advantage of it.
Finding such a dress for special occasions seems like a daunting task, but Martin keeps it simple and trusts his instincts. The more practical you can be in a fitting, the more honesty you can bring to the process and the better something looks on you. A dress can look so good on one person and completely different on the other, so I'm pretty brutal with what's not going to work for me, she says.
This inner intuition never fails her, as the actress always brings something special to the red carpet. As the Cannes Film Festival draws to a close for another year, Martin saves the best for last; for her personally, this is her most memorable fashion moment to date.
While trying on dresses for the event, I had that moment for the first time where I didn't want to let go of that dress, she admits, when usually she's not one to get attached to different pieces she wears to various events and premieres. However, this specific dress I just couldn't let go of. She had already had her first look sorted during the fitting in Paris, so when she was asked to wear this black and white dress to return to Cannes, she was overjoyed. Louis Vuitton very kindly said that the dress was for me. There is such a simplicity that is quite quirky in the manner of Ghesquire. It's so good.
Fashion defines identity and how we want to present ourselves to the world, she says. It's a very instinctive way of communicating. We value words and language a lot, but at the end of the day, the way we dress and the way fashion evolves is an instinctive, visceral, and personal way of saying things that sometimes we don't feel we can. -being not brave enough to say, or that we might not be fully able to understand or explain to other people. It will always be important.
Sources
2/ https://www.harpersbazaar.com/uk/fashion/fashion-news/a44015772/stacy-martin-red-carpet-fashion-interview/
The mention sources can contact us to remove/changing this article
What Are The Main Benefits Of Comparing Car Insurance Quotes Online
LOS ANGELES, CA / ACCESSWIRE / June 24, 2020, / Compare-autoinsurance.Org has launched a new blog post that presents the main benefits of comparing multiple car insurance quotes. For more info and free online quotes, please visit https://compare-autoinsurance.Org/the-advantages-of-comparing-prices-with-car-insurance-quotes-online/ The modern society has numerous technological advantages. One important advantage is the speed at which information is sent and received. With the help of the internet, the shopping habits of many persons have drastically changed. The car insurance industry hasn't remained untouched by these changes. On the internet, drivers can compare insurance prices and find out which sellers have the best offers. View photos The advantages of comparing online car insurance quotes are the following: Online quotes can be obtained from anywhere and at any time. Unlike physical insurance agencies, websites don't have a specific schedule and they are available at any time. Drivers that have busy working schedules, can compare quotes from anywhere and at any time, even at midnight. Multiple choices. Almost all insurance providers, no matter if they are well-known brands or just local insurers, have an online presence. Online quotes will allow policyholders the chance to discover multiple insurance companies and check their prices. Drivers are no longer required to get quotes from just a few known insurance companies. Also, local and regional insurers can provide lower insurance rates for the same services. Accurate insurance estimates. Online quotes can only be accurate if the customers provide accurate and real info about their car models and driving history. Lying about past driving incidents can make the price estimates to be lower, but when dealing with an insurance company lying to them is useless. Usually, insurance companies will do research about a potential customer before granting him coverage. Online quotes can be sorted easily. Although drivers are recommended to not choose a policy just based on its price, drivers can easily sort quotes by insurance price. Using brokerage websites will allow drivers to get quotes from multiple insurers, thus making the comparison faster and easier. For additional info, money-saving tips, and free car insurance quotes, visit https://compare-autoinsurance.Org/ Compare-autoinsurance.Org is an online provider of life, home, health, and auto insurance quotes. This website is unique because it does not simply stick to one kind of insurance provider, but brings the clients the best deals from many different online insurance carriers. In this way, clients have access to offers from multiple carriers all in one place: this website. On this site, customers have access to quotes for insurance plans from various agencies, such as local or nationwide agencies, brand names insurance companies, etc. "Online quotes can easily help drivers obtain better car insurance deals. All they have to do is to complete an online form with accurate and real info, then compare prices", said Russell Rabichev, Marketing Director of Internet Marketing Company. CONTACT: Company Name: Internet Marketing CompanyPerson for contact Name: Gurgu CPhone Number: (818) 359-3898Email: [email protected]: https://compare-autoinsurance.Org/ SOURCE: Compare-autoinsurance.Org View source version on accesswire.Com:https://www.Accesswire.Com/595055/What-Are-The-Main-Benefits-Of-Comparing-Car-Insurance-Quotes-Online View photos
to request, modification Contact us at Here or [email protected]